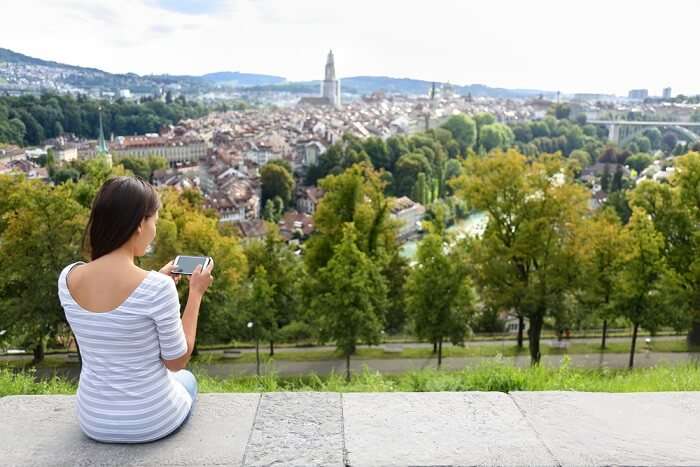 Switzerland is a land of many of our dreams. But the question is when to visit it? Now, this is where it gets a little tricky. The whole year round, Switzerland presents its visitors with a different scenario, a different atmosphere, which are again differently suitable for different kinds of activities. So, the kind of vacation you are looking for, and the kind of activities you intend to indulge in, will decide the time that is best for you to visit the country. However, we suggest that visiting Switzerland in June will be the perfect time for you to visit the land of extreme hospitality and punctuality, irrespective of the kind of vacation you are looking for or the kind of activities you are looking for. And we have our points to back up our statement. Just read them to find them out for yourself.
Switzerland Weather In June 2020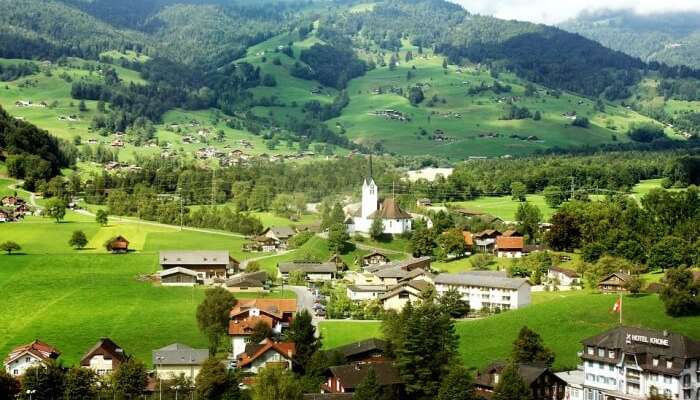 The average temperature on an average June day in Switzerland comes to about 160C, which on later days, could go up to 230C. The highest it goes up to 210C, while the lowest comes down to 110C. The maximum time between sunrise and sundown could go up to as much as 12 hours. It is the perfect time to visit, as in June, snowfall just starts to reduce so that you get a chance to enjoy the Swiss wonderland before summer seeps in. There is moderate rainfall during this month, that ranges between 137-173 mm.
Switzerland In June: Reasons For Visit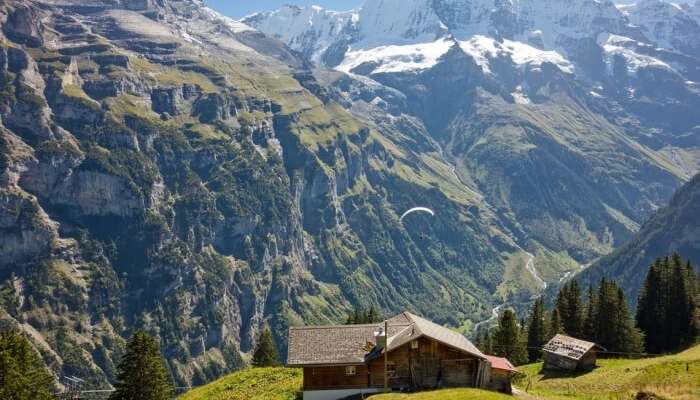 Here is why we insist that June is the best month to visit Switzerland irrespective of what is in your mind. Firstly, June is the bordering month of the Swiss shoulder season. Shoulder seasons are those during which the weather is the best, and there aren't a huge number of tourists. Means, you have the place to yourself. June is the best you can get close to the warmest without having to face a huge number of tourists. Moreover, there are about 50% rises in the prices. Hence June! However, for those of you who are diehard fans of snow sports like skiing, winter is the best time for you, i.e. between December and March. There will be intense snowstorms and a large quantity of snow.
---
Europe Holiday Packages On TravelTriangle
Explore the most beautiful places to visit in Europe, from Paris to the Venice canals and from the Greek islands to the Swiss alps. Book customized packages by expert agents on TravelTriangle. Inclusive of airport transfers, cab, resort, sightseeing and meals. Best holiday experience Guaranteed. Book Now
---
Switzerland In June: Top Things To Do
If you have decided on visiting Switzerland in June 2020, here are a few activities you could indulge in. with winters just out, this is the best time for you to go hiking and trekking. It is the best time to visit places and explore, as at this time you practically have Switzerland to yourself, with all other tourists gone, and prices dropping crazy. Here are a few activities we found, you could indulge in.
1. Hikes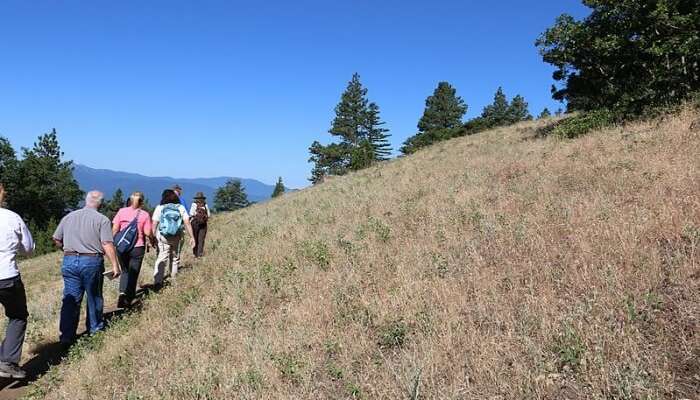 Image Source
With the snow out for the time, this is the time for you to go on hikes and trekking expeditions. Without the snow, you could go on trails as high as 2000 meters from the sea level. Form those heights, you will be presented with excellent views of the higher, inaccessible for the time being, ice-capped peaks. This is surely one of the best things to do in Switzerland in June with your squad, especially if you are in pursuit of a real adventure!
Must Read: 10 Interlaken Restaurants Serving The Most Delicious Food In Switzerland
2. Lakes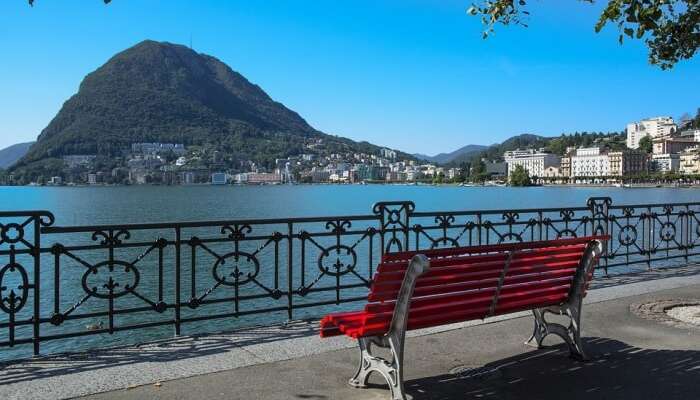 Image Source
In Switzerland, you will find a number of scenic lakes to visit and spend time around. You could also arrange a tiny picnic with your loved ones to one of those lakes. Although, we have a few names that exceptionally stand out. Be it the scenery against which they are located, or be it their geographical location or even the lake themselves. You should not miss out on Lake Maggiore, neither should you not visit lake Lugano, which is on the Italian-Swiss border. Be sure, however, to carry your passport while visiting Lake Lugano.
3. Cable Cars Cogwheel Trains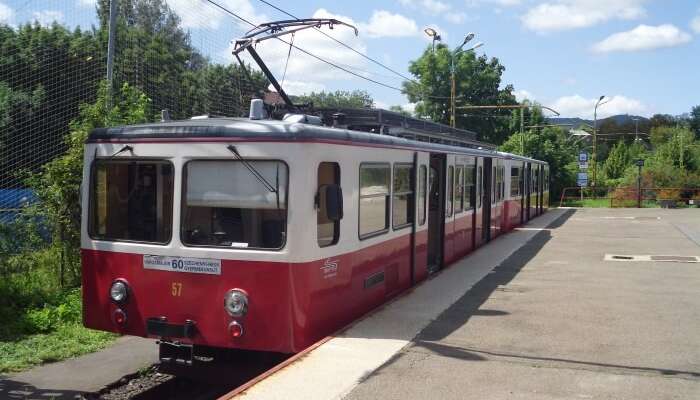 Riding the Swiss cable trains is every traveler's dream. And that could come true for you in June. During the low seasons, the cable cars and cogwheel rides are closed down, mostly because of the snow situation. But in June, they start operating once again, multiplying your chances of looking down at the scenic views of Switzerland, from high up in the sky.
Cogwheel train rides are another excitement you might not want to miss out on. However, not all might prefer to go on one such rode, especially the one up the Alpine mountains that is super steep, dizzying to most.
Suggested Read: Top 10 Places To Visit In Switzerland During Winters In 2020
4. Pass Roads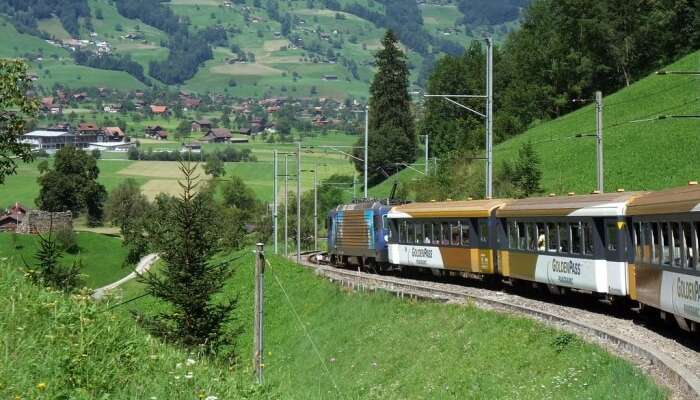 Once spring arrives, chances for you to explore Switzerland multiply. The scenic pass roads open up. So, you can access the places on the other sides of the pass roads unhindered. One such place to visit is Lucerne. An input to this place is possible through the Swill Travel Pass. However, if you don't have one, issuing the Golden Pass will do the job. It is best to take these scenic passes on one of the luxurious, rich in heritage, Swiss trains.
Suggested Read: Go Paragliding In Switzerland For The Most Amazing Swiss Alps Experience
5. Swimming And Sunbathing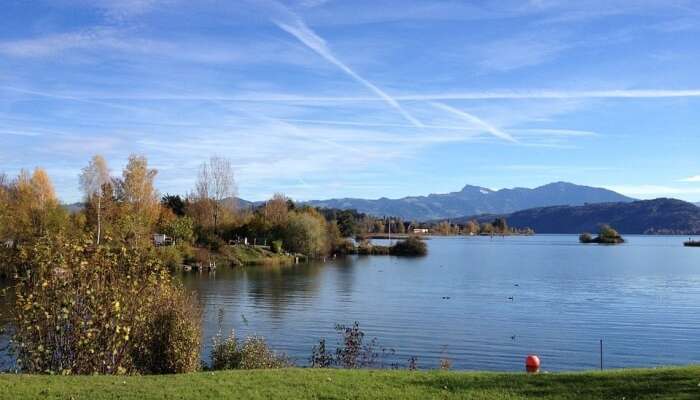 Spring and summer naturally call for outdoor activities. The places come to life, and the weather turns pleasant. And at this wonderful juncture, Zurich provides you with the best opportunities to bask in the sun. Go by the Lake Zurich, or up to the banks of Zurich's rivers, and you are open to swimming in them or just laying down to sunbathe. Moreover, there are over 40 swimming pools in the whole of Zurich. By swimming pools, we mean all water bodies we mean artificial outdoor pools, rivers, and lakes.
While there are a lot more activities for you to do in Switzerland in June, we have only provided the highlights to you. In fact, there is a never-ending list of things to do here. Even a lifetime could fall short, depending on your speed. So, be sure to explore more.
Suggested Read: 7 Best Homestays In Switzerland That Will Leave You Spoilt For Choice In The Alps
Switzerland In June: Places To Stay
For now, we have centered our search to Zurich, which is known to be the hospitality hub of the whole of Europe. Being like the center of Switzerland, Zurich gives you a good base option. Moreover, Zurich in itself can present itself as a perfect place to explore Swiss history and architecture. Here are a few places you can stay in Zurich.
1. Renaissance Zurich Tower Hotel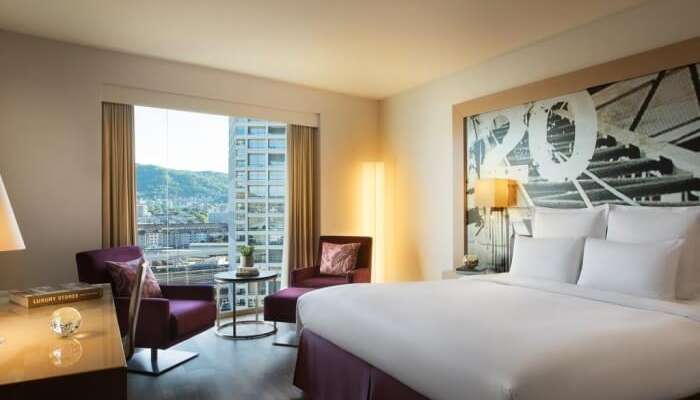 A superb 5-star hotel, with excellent soundproof rooms, and the whole 5-star experience. Each room in the hotel comes with a unique view of the city. Pretty close to the Swiss National Museum, and the Zurich Opera House, it provides you with the perfect evening activities.
Location: Turbinenstrasse, Zürich, Switzerland
Suggested Read: Switzerland Safari: All You Need To Know For A Thrilling Swiss Trip!
2. Hotel Storchen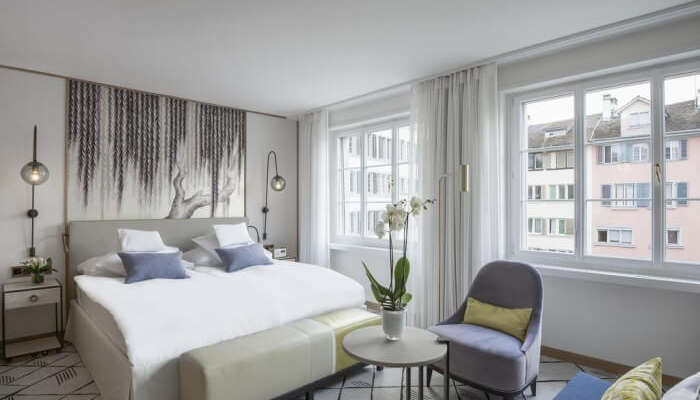 Storchen is a 4-star hotel, situated in Limmatquai. This place runs along the river and gives you excellent views of the west side. Along with their in-house bar offering exquisite live piano music, the guests surely enjoy digging into the Swiss breakfast from their buffet menu. You can surely enjoy most of the cultural attractions as they're all close by within a walking distance from the hotel.
Location: Weinplatz ,Zurich Old Town City Center, Zurich, Switzerland
Suggested Read: 11 Things That Make Visiting Switzerland In May An Awesome Experience
What To Pack For Switzerland In June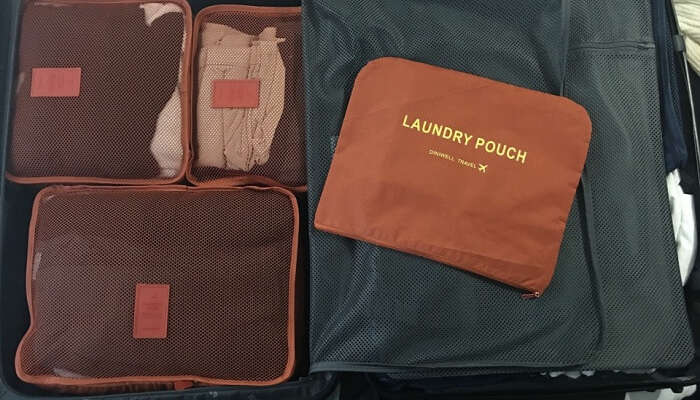 Here is a short list of items you could put in your bags while you prepare for Switzerland and have an amazing holiday experience amid the land of alps.
Water resistant shoes, or boots
Wet weather gear like Goretex jacket.
Over pants for the rain
Shorts, long sleeve shirts, and hats for the hikes and treks
Pants with zip off legs, preferably to adapt to the weather
Fleece clothing
Umbrella
Further Read: Behold These 10 Magnificent Switzerland Waterfalls That Will Blow Your Mind For Sure!
So, this is our suggestion for you about visiting Switzerland in June. You must be content with our arguments and hence cannot wait to make the plans. Well, plan well, and plan to move around, as moving around will give you a larger experience. Happy holidays.
Frequently Asked Questions About Switzerland In June
Q. What should be the duration of stay in Switzerland?
A. 5 days are enough to cover all the important attractions of Switzerland.
Q. Do the people of Switzerland understand English?
A. English is the dominant language spoken in Switzerland.
Q. What is Switzerland famous for?
A. With some of the world's best inventions, Switzerland is famous for The Velcro, Swiss army knife, potato peeler, Helvetica font, muesli, edible chocolate gold, cellophane, and milk chocolate to name a few.
Q. When does Switzerland experience the warmest weather?
A. The warm months of Switzerland are June, July, and August. Amongst these, the temperature is highest during mid July and stays around 22.7°C.
Q. When can I get low airfare for a trip to Switzerland?
A. Swiss travels are generally expensive. If you are a budgeted traveler, plan your visit to Switzerland in the winter months of November to March. It is easy to find great deals on airfare during this time.
Q. Are Euros acceptable in Switzerland?
A. The only currency that is accepted everywhere in Switzerland is Swiss Franc. Euro is a foreign currency, so if anyone accepts it in Switzerland, you will get the change in Swiss francs.
Q. Is it cold round the year in Switzerland?
A. No, the Swiss climate is not as cold as people generally think. The Alps experience snow throughout the year. Hence, the mountainous regions are colder and the plains are warmer.
Q. Can I travel with a Schengen visa to Switzerland?
A. Yes, you can travel with a Schengen visa to Switzerland without any further documentation required. Switzerland is one of the Schengen areas where you can travel freely.
---
Looking To Book An International Holiday?
Book memorable holidays on TravelTriangle with 650+ verified travel agents for 65+ domestic and international destinations.
---
Comments
comments