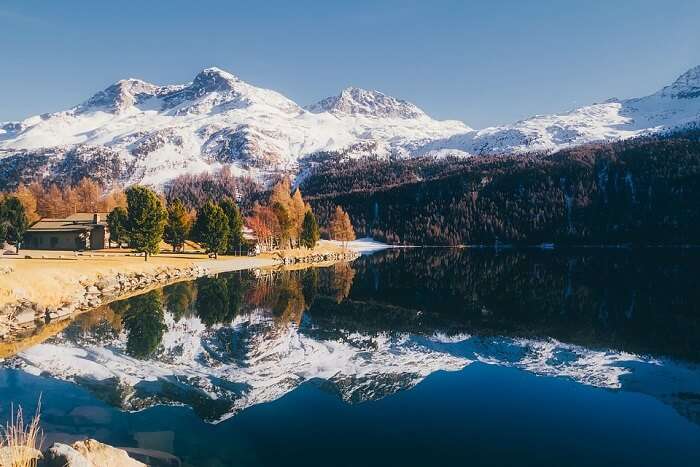 So much to see, so little time. How do you spend 3 days in Switzerland? Switzerland may be a small country but there is so much to see and experience here that you may feel that 3 days is not enough. There are more than 200 peaks, several ancient castles, a lake within every 10 km and breathtaking views of the countryside that you will never get over in this lifetime. Since the Swiss transport system is affordably priced, you will be able to include plenty of picturesque attractions in your itinerary.
17 Must-Visit Places In 3 Days In Switzerland
Based on the length of your trip, here are the 17 most popular attractions you should visit within 3 days in Switzerland in summer to make the most of your time in the country. If you're looking for a more relaxed outing, you can choose to skip two to three places:
1. The Matterhorn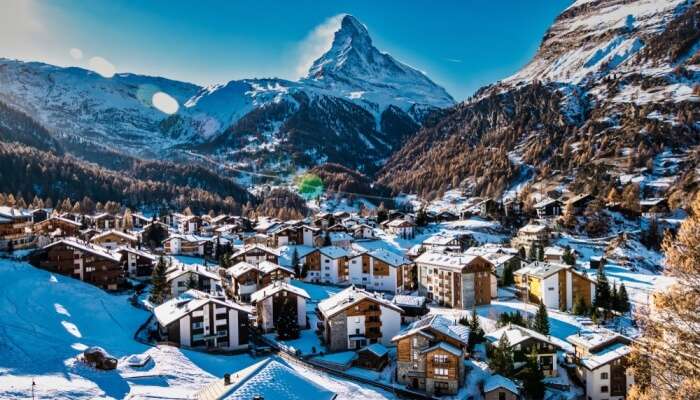 The Matterhorn is undoubtedly one of the best Switzerland places to visit in 3 days. There is a vast range of attractions you can explore here such as Gornergrat, the Matterhorn Museum, and the Matterhorn Glacier Paradise. Gornergrat is a 3000 m mountain ridge that offers unforgettable views of the Matterhorn and the adjoining mountain areas. The Matterhorn Glacier Paradise, on the other hand, is the highest summer ski region in Europe and is open 365 days a year. The Matterhorn Museum has many photographs and facts about the Matterhorn.
Best Time To Visit: June to September
Famous Markets: N/A
Famous Restaurants: Gandegghütte, Restaurant Alm, Jӓegerstube at Zmutt, Alphitta
Must Read: 10 Interlaken Restaurants Serving The Most Delicious Food In Switzerland
---
Europe Holiday Packages On TravelTriangle
Explore the most beautiful places to visit in Europe, from Paris to the Venice canals and from the Greek islands to the Swiss alps. Book customized packages by expert agents on TravelTriangle. Inclusive of airport transfers, cab, resort, sightseeing and meals. Best holiday experience Guaranteed. Book Now
---
2. Jungfraujoch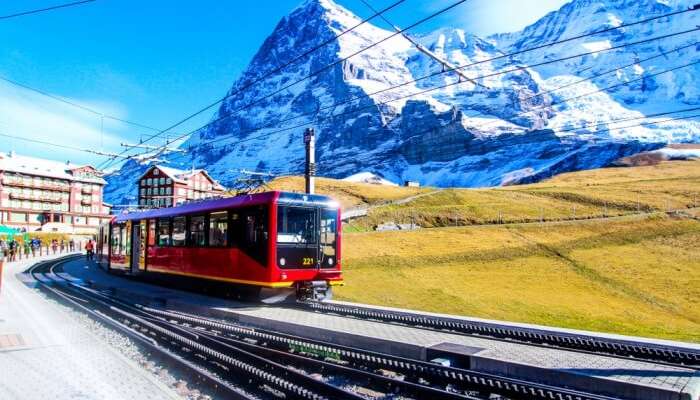 The highlight of your 3 days trip to Switzerland from London will be the train journey to Jungfraujoch, which at 3,454 meters is Europe's highest altitude railway station. Look out of your window to catch the scenic locales of Eigerwand and Eismeer. Jungfraujoch was recently designated as a UNESCO World Heritage Site. The highlights of the rail journey include Ice Palace, Alpine Sensation, Lindt Chocolate Heaven and Sphinx viewing platform, to name a few.
Best Time To Visit: June to August
Famous Stores: Molitor, Trummer Woodcarving, Mad Cow, Central Sport, Skiset Wengen
Famous Restaurants: Restaurant Eigergletscher, Restaurant Crystal, Schreinerei Ski Bar, Hotel Eiger Restaurant, Mochnsjochhutte
3. Interlaken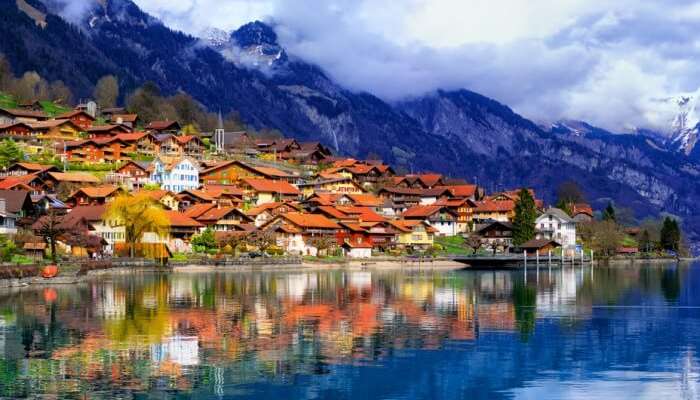 If you're wondering what to do in 3 days in Switzerland, why not take a mini getaway to Interlaken? A rustic resort town in the Bernese Oberland region of central Switzerland, Interlaken is surrounded by valleys, lakes, forests, meadows, and glaciers. There are numerous skiing and hiking trails in this destination. Apart from that, two of the most prominent attractions in Interlaken are Interlaken Ost and Interlaken West. These two beautiful lakes offer all-day round lake cruises. An ideal time for a cruise would be the sunset.
Best Time To Visit: June to August
Famous Markets: Hӧheweg, Swiss Mountain Market, Bucherer, EdelWeiss Shop, Otto's AG
Famous Restaurants: WineArt, La Terrasse, Little Thai, Goldener Anker, Top o'Met, Belvédere Brasserie
Suggested Read: Top 10 Places To Visit In Switzerland During Winters In 2018
4. Lucerne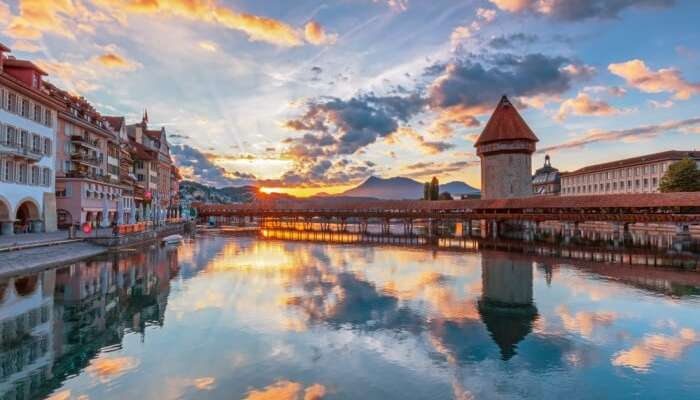 Lucerne is known for its well-preserved historical sites. Make sure to spend at least a day in Lucerne to explore the museums and bridges in the region. Go sightseeing by hopping on a steamship that traverses through Lake Lucerne. You can alternatively buy a ticket to the cogwheel railway, which is believed to be the world's steepest rail. Some of the prime attractions that you will see on your day-long journey include Chapel Bridge, Lion Monument, Swiss Museum Of Transport and Spreuer Bridge, to name a few.
Best Time To Visit: June to September
Famous Markets: Pilatusstrasse, Pilatusmarkt (DE), Länderpark
Famous Restaurants: Mill'Feuille, Wirtshaus Galliker, Valentino, Rathaus Brauerei, La Cucina
Suggested Read: 7 Best Homestays In Switzerland That Will Leave You Spoilt For Choice In The Alps
5. St. Moritz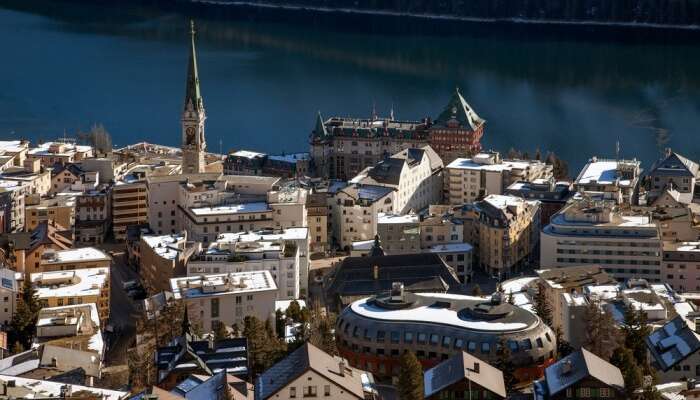 St. Moritz is a luxury resort town. It is known worldwide for hosting the Winter Olympics twice. It houses Cresta Run, a world-famous bobsled run made of natural ice and an outdoor Olympic ice rink. The prime attractions of this place include Corviglia, Diavolezza, and Corvatsch. If you're a skiing enthusiast, you will develop a profound love for its skiing trails. It is a designated UNESCO world heritage site.
Best Time To Visit: June to October; December to March
Famous Stores: Allegra Textilreinigung, Amavita Apotheke, Antique Ettlin AG, Asprey London Ltd
Famous Restaurants: Ecco St Moritz, Veltinerkeller, Chesa Veglia, Trutz, Viv Bistro
Suggested Read: Go Paragliding In Switzerland For The Most Amazing Swiss Alps Experience
6. Bern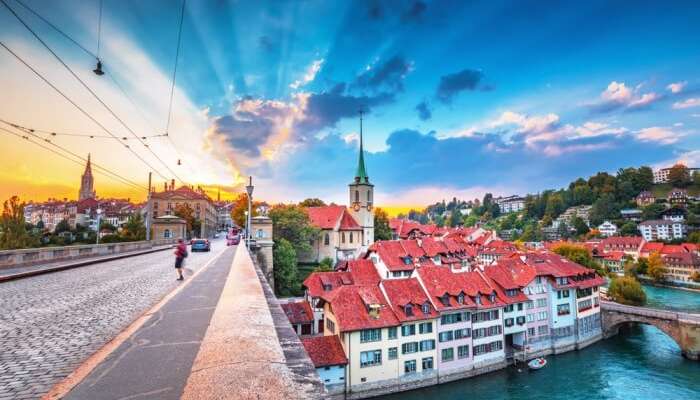 Do not ignore the capital city of Switzerland at any cost on your 3 days in Switzerland trip. Bern is built on a sandstone ridge. It is encircled from three sides by the river Aare. It is home to the Museum of Art, a world-famous art museum that boasts of accommodating over 51,000 paintings, sculptures, drawings, prints, photographs, and films. If you're looking for tranquility, you can sit by the pond at Rose Garden Park. There are various restaurants in the adjoining area.
Best Time To Visit: April to September
Famous Markets: Farmers Market on Bӓrenplatz, Weekly Market on Waisenhausplatz, Crafts Market on Münsterplattform, Flea Market on Mühleplatz
Famous Restaurants: Altes Tramdepot, Kornhauskeller, Della Casa, Jack's Brasserie, Moléson
Suggested Read: Switzerland Safari: All You Need To Know For A Thrilling Swiss Trip!
7. Ticino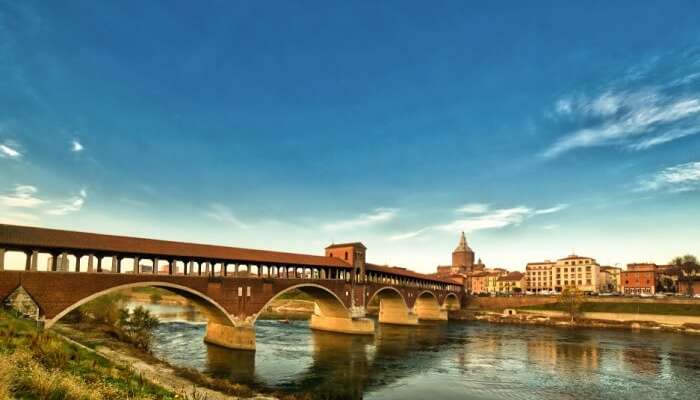 Ticino's architecture, cuisine, and culture are reminiscent of Italy. It is known for its medieval castles, waterfront promenade, and Piazza della Riforma. The latter is a square lined up with neoclassical buildings. Rent a Vespa to explore some of the prime attractions in Ticino. Enjoy a hearty lunch at a pavement cafe, float in the lakes of Lugano and Locarno and end the day with a glass of wine at a rustic Ticino-style inn.
Best Time To Visit: All-year-long
Famous Markets: Via Nassa, Negozio Sapori locali, local markets, the Belinzona Market, the Chiasso Market, the Ascona Market
Famous Restaurants: Restaurant Collinetta, Ristorante le Bucce di Gandria, Gabietta, Ristorante Galleria Arte al Lago, Principe Leopoldo Restaurant
Suggested Read: Behold These 10 Magnificent Switzerland Waterfalls That Will Blow Your Mind For Sure!
8. Zürich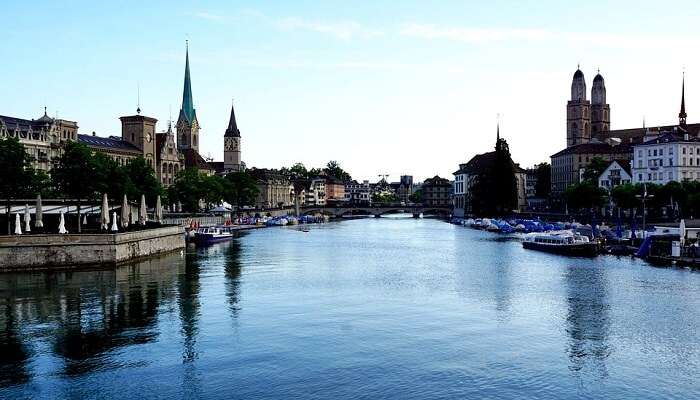 One of the largest Swiss cities, Zurich is one destination that should definitely find a place on the itnerary of 3 days trip to Switzerland. The gorgeous town of Zürich blankets an extensive number of marvels indicating the cultural essence of the town. Housing hundreds of museums and art galleries, Zürich boasts about the aesthetic and artisitc side of Switzerland. Zurich is the answer to the most common question- what to see in Swtizerland in 3 days? The cobbled streets, mighty mount Uetilberg, holy Fraumünster quaint cafes, finest shoping streets, Zürich Zoo, and friendly locals welcome tourists and wanderers with open arms, hiding experiences that will leave one awestruck.
Best Time To Visit: June to August
Famous Markets: Seefeld, Bahnhostrasse, Niederdorf, Flea Market Kanzlei, Rosenhofmarkt
Famous Restaurants: Restaurant Ies Halles, Kronenhalle, Italia, Iroqouis, Volkshaus
9. Montreux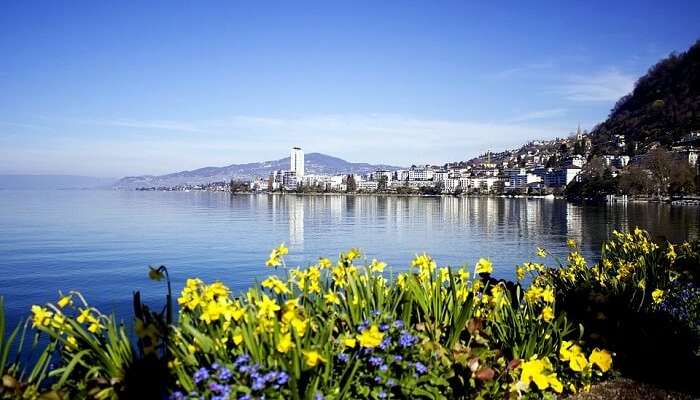 Sitting on the shores of the impeccable Lake Geneva, Montreaux is a must-visit on 3 days tour of Switzerland. Nestled amidst the surreal vineyards, this quaint, little town exhibits some of the most overwhelming and entrancing views of the snow-capped Alps and the Lake. Located on the lakeside, Chillon Castle is one spot that should certainly not be missed on the escapade to Montreaux. The tranquility and peaceful surrounding the atmosphere of this destination takes the breath away of visitors. With Lavaux Vineyards, Narcissus Trails, endless water sports, and numerous festivals, there is so much to do in three days in Switzerland.
Best Time To Visit: April to October
Famous Markets: Riviera's market, Market Hall, Covered market, lakeside flea market
Famous Restaurants: Montreaux Jazz Cafe, Caveau des Vignerons, II Brigantino, Eurotel Safran, La Rouvenaz
Suggested Read: Indian Restaurants In Zurich: The Spicy, Tangy, And Sweet India Of Switzerland

10. Geneva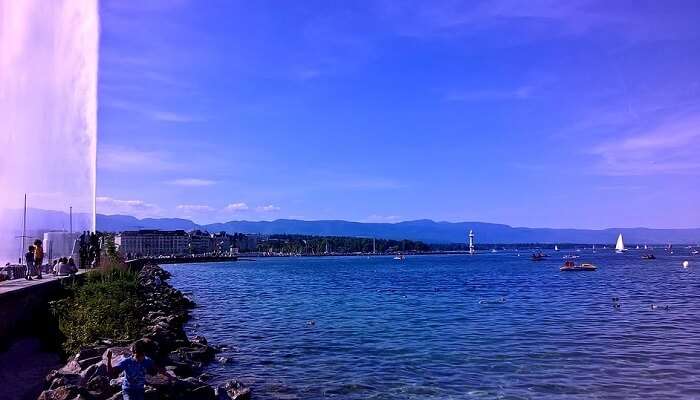 Nestled amongst the forest-capped mountains, Geneva boasts about the old-world charm that is bound to teleport visitors to the golden days. Strolling around the old town, exploring centuries old cathedrals, revisitng the history in museums, and taking in the charisma of this alluring town, visiting Geneva on a 3 days Switzerland tour would definitely be worth it. Apart from the luxury hotels and swiss chocolatiers, Geneva is also home to the headquarters of International Committee of the Red Cross, World Health Organization, World Trade Organization, and the second-largest branch of United Nations, making it one of the most important cosmopolitan cities of Switzerland.
Best Time To Visit: June to August
Famous Markets: Plainpalais, Carouge, Place de la Navigation, Place de la Fusterie, Boulevard Helvétique Market
Famous Restaurants: Cafe du Soleil, Bayview, Rasoi, Domaine de Châteauvieux, Cafe des Bains, L'Adresse
11. Zermatt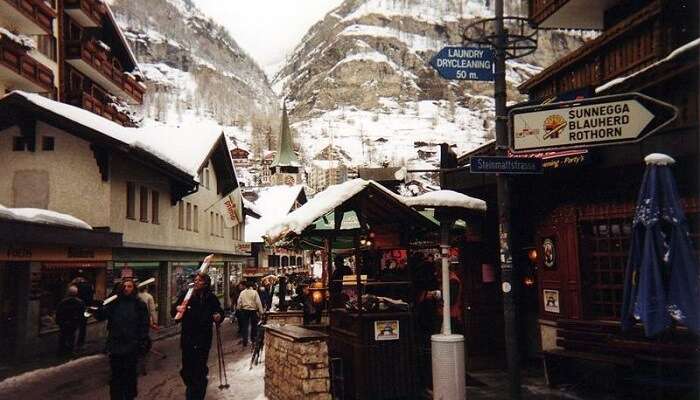 Located on the foothills of Matterhorn, Zermatt is a small town that should certainly be visited by those who are seeking to engage in adventurous experiences on their 3 days Switzerland trip. Allowing hikers and mountaineers to conquer one of the highest mountains in Switzerland, Zermatt is a destination that hides marvelous and exciting things that one can be a part of on their 3 days trip to Switzerland. The unpolluted and untouched city of Zermatt permits only battery-operated vehicles which makes strolling around the town much easier and more fun. The town also houses cable cars that makes it convenient for travelers to reach the peak of the surrounding mountains.
Best Time To Visit: June to September
Famous Markets: Kristallgeheimnis, Traditional weekly market, Christmas market
Famous Restaurants: Zum See, The Omnia, After Seven, Du Pont, Restaurant Alexandre, Ristorante Capri
Suggested Read: Treat Your Taste Buds With Luxury At These 10 Best Restaurants In Switzerland!

12. Basel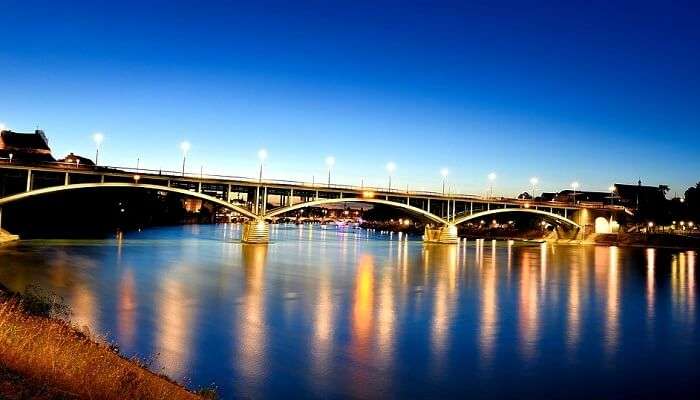 Exhibitng a fine amalgamation of old city with modern architecture, Basel makes every traveler fall in love with itself. For those seeking to get an insight into the traditional part of Switzerland on their 3 days Switzerland tour, Basel is a place to be. Housing a fair amount of museums, traditional boutiques, antique bookshops, desserts made with age-old recipes, and many more such elements, Basel showcases an exquisite juxtaposition of traditional and modern world. The Basel Theatre, Playhouse, Botanical Gardens, museums, Augusta Raurica, and many more such places are surely worth a visit on 3 days Switzerland trip.
Best Time To Visit: May to September
Famous Markets: Stadtmarkt, Schlemmermarkt, Basel Indoor Market, Flea Market Petersplatz, Flea Market Barfüsserplatz
Famous Restaurants: Schlüsselzunft, Matisse, Atelier, Noohn, Tibits
13. Grindelwald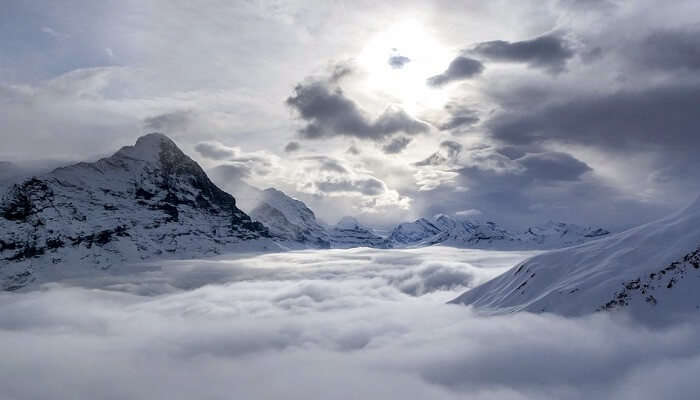 Nestled amidst the hills of Bernese Alps, Grindelwald showcases the countryside of Switzerland perfectly. A great escape for those travelers who are looking to take some time off from the city culture during their 3 days tour of Switzerland, the village of Grindelwald is a must-visit. Enveloping activities that make the hearts race like trail running, bike arena, sledging, mountain-carting, gliding, and much more, this tiny countryside does not seem little once visited. When spending three days in Switzerland, paying a visit to Grindelwald should be definite.
Best Time To Visit: All-year-long
Famous Stores: Mont-Bell, Skiset Wenge, Kirchhofer, Flea market on the main street
Famous Restaurants: Cafe 3692, Memory, C & M, Grindel Lounge, Onkel Tom's Hütte, Pizzeria da Salvi
Suggested Read: 8 Enticing Festivals In Switzerland For Mirth And Merriment In 2018!

14. Gruyères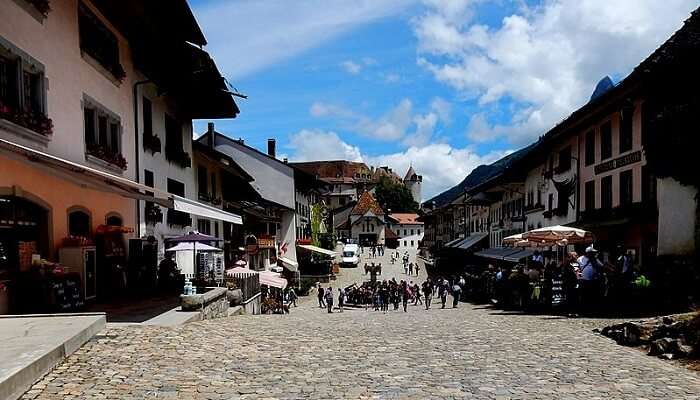 Located in the heart of Switzerland, Gruyères is bound to transport travelers to the medieval era. From architecture and streets to locals and restaurants, everything in this small town has preserved the old-world vibes and characteristics. Visiting Gruyères on the 3 days Switzerland tour is a destination that one should certainly not miss out on. Gruyères castles, Tibet museum, La Maison du Gruyères, Le Moleson, and much more places to visit in Gruyères makes it one of the most interesting destinations to visit. Also known as the cheese capital of Switzerland, one can easily grab the famous Swiss cheese when in Gruyères.
Best Time To Visit: March to August
Famous Markets: Thursday Market, Saturday Market, Folk Market In Bulle
Famous Restaurants: Chez Boudji, Auberge de la Halle, Le Chalet de Gruyères
15. Appenzell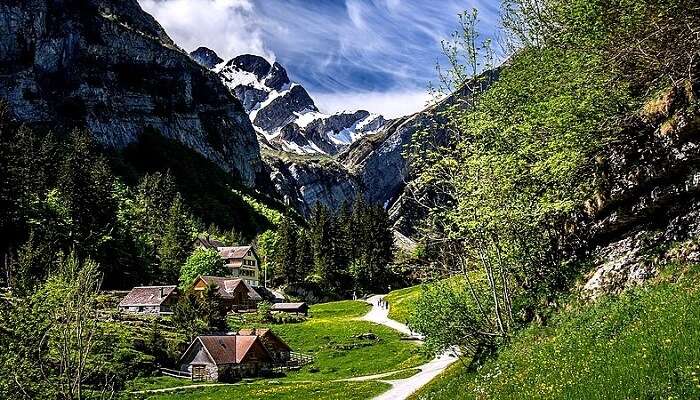 A destination that looks right out of a fairytale, Appenzell is another countryside that has retained the traditional essence of the city. Blanketing numerous number of cake shops, butchers, delis, craft stores, and tavers, visiting this vibrant and bustling town on 3 days tour of Switzerland will take the heart away of travelers. Housing museums, traditional architecture, stunning mountains as the back drop, intriguing farms, holy churches & chapels, and interesting breweries, Appenzell is a town that has no dearth of places to witness. Taking a trip to this quaint village on 3 days trip to Switzerland will surely not be a let down!
Best Time To Visit: June to September
Famous Markets: Christmas Market, Flauderei, Bazar Hersche, Zunfthaus zu Appenzell
Famous Restaurants: Romantik Hotel Säntis, Marktplatz, Gass 17, Gasthaus Linde
Suggested Read: 10 Unique Museums In Switzerland That Walk You Through History Of Humanity

16. Vevey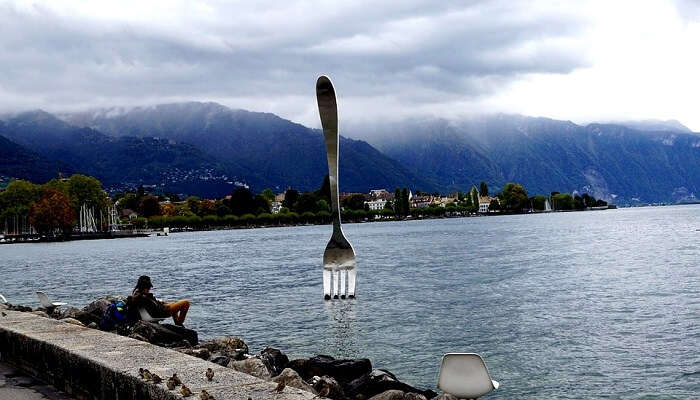 Hiding a fair amount of marvelous experiences in its lap, Vevey is a destination that deserves a top rank in the list of places to visit when on a 3 days Switzerland tour. A touch of 1970s with mermerizing and picturesque views of the French Alps make this tiny town breathtakingly beautiful. Also tagged as one of the 'Pearls of Swiss Riviera', Vevey blankets magnificent hotels along with palm-trees covering the floors of the lakeside. Home to an extremely famous comedian, Charlie Chaplin, and the renowned brand of Nestlé, the town of Vevey is one of its kind.
Best Time To Visit: June to September
Famous Markets: Vevey Folk Markets
Famous Restaurants: Denis Martin, Cafe Tivoli, La Crémerie, Ze Fork, Le Mazot, Ichioshi Sushi
17. St Gallen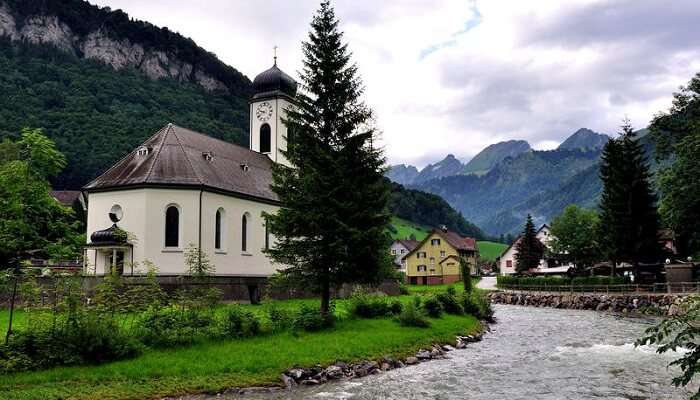 Located in the heart of eastern Switzerland, St Gallen is home to the famous Abbey Library that has earned itself a space in the list of UNESCO World Heritage Sites. The Library that houses 170,000 documents that are approximately a thousand years old is a must-visit on the 3 days Switzerland trip. Apart from the library, St Gallen envelops a monastery, catherdrals, textile museum, wildlife park, theatres, and much more. St Gallen also have a long, centuries old tradition linked with fashion and jewellery. For those looking for a road less traveled, St Gallen offers a great escape.
Best Time To Visit: May to October
Famous Stores: Chronoart, Bischoff Interior, Bucherer, Martel, Wein Berneck
Famous Restaurants: Einstein Gourmet, Bӓumli, Candela, Lansin, am Gallusplatz
Further Read: Hiking In Switzerland: A Guide For Embarking On A Journey With Splendid Views In 2019!

Switzerland, with its fairytale locations and rustic wood chalets, makes it impossible to leave. If you stumble upon a place in the country that we haven't covered in our blog, let us know in the comments section. Make sure to indulge in mouthwatering Swiss cuisine on your trip to Switzerland. Your 3 days in Switzerland trip remains incomplete if you don't hog on their world-famous cheese and hot chocolate. Bon appetit!
Frequently Asked Questions About Switzerland
Q. Are 3 days enough in Switzerland?
A. Yes, 3 days are enough to visit the important attractions of the beautiful country of Switzerland.
Q. What is the best time to visit Switzerland?
A. Switzerland is a destination that can be visited throughout the year. Although, those travelers who are seeking to visit the less crowded Swiss cities and still enjoy the pleasant weather, June to September would be the best time.
Q. What language is spoken in Switzerland?
A. Four national languages are spoken in Switzerland- German, French, Romansh, and Italian. English is another language that is spoken dominantly.
Q. Do you need a visa to travel to Switzerland?
A. Yes, one needs a visa to travel to Switzerland.
Looking To Book An International Holiday?
Book memorable holidays on TravelTriangle with 650+ verified travel agents for 65+ domestic and international destinations.
---
People Also Read:
Family Trip To Europe Switzerland Tourist Attractions
Comments
comments