Whether you're a fan of shopping or not, street markets are one place you'll find everything from souvenirs to tiny trinkets and from clothes to footwear, bags and more. Every tourist destination has at least one night market which makes it convenient for all those who like to wake up on their own time while they're out for a vacation. So, why not? The Temple Street Night Market will allow you to explore some of the best in Hong Kong for a memorable holiday. Scroll through the list below to know what all you can find here and what not to miss for sure!
About Temple Street Night Market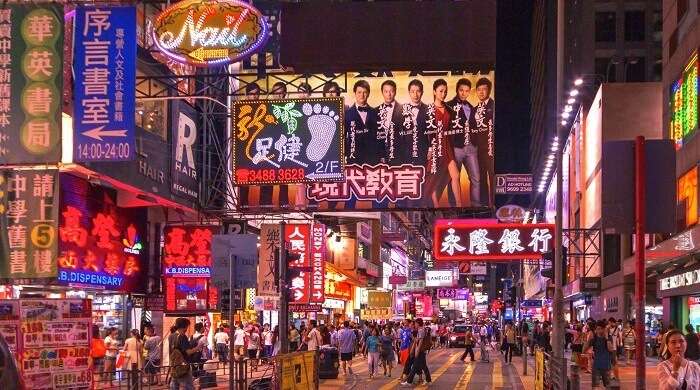 Surrounding the Tin Hau temple located in the centre, this market opens every night. A night market like this one, lets you buy all things Chinese and has a vibe of a typical market of Chinese culture. While you can choose from some of the rarities found only here, like tea ware, antiques and more, don't forget to try their local cuisines on the side as the Temple Street Night Market food is filled with some delicious grubs to pick from. Also known as the Men's market, it is famous for having a variety of men's fashion, from clothes to watches to footwear, at an unbelievably cheap price.
Location: Temple St, Jordan, Hong Kong
Opening Hours: 04:00 PM to 11:00 PM
Must Read: 13 Festivals In Hong Kong That Best Showcase The City Culture
What's so unique about Temple Street Night Market?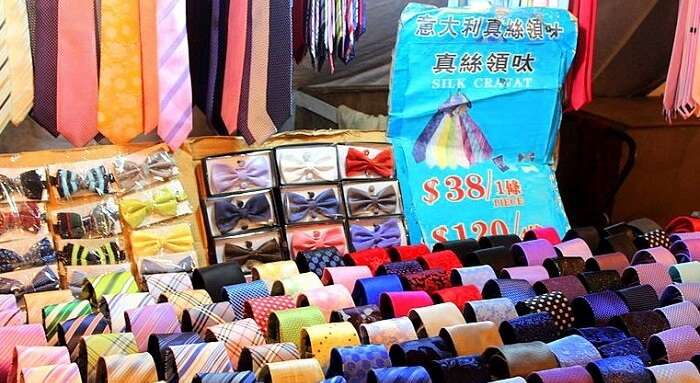 You'll find several night markets on your travels but here's why this one is so special that you just cannot afford to miss.
Men's Fashion: One can find this place in the top list of 'ladies night market in Hong Kong' but the Temple Street Night Market is also known for having Men's apparel and footwear. The prices are really cheap and there's still a scope for bargain. Ready yet?
Fortune Tellers: This is what adds to the rhythm of this bustling market. One can see a several fortune tellers around the corners, with flashy labels offering the services at a reasonable price. If you're in for a gypsy vibe, be sure to try one here.
Electronics: You can also buy a few electronic items here like mobile phones but be sure to ascertain a quality check first.
Second-hand goods: One can also buy cheap second hand goods like pirated DVDs, cassettes, old newspapers and video tapes.
Featured in movies: Due to its flashy, groovy yet authentic Chinese spirit, the Temple Street Night Market has been featured in many gangster movies and is very popular for the same.
Suggested Read: 8 Best Hong Kong Temples Every Traveler Should Visit To Explore Their Spiritual Side
Temple Street Night Market: What not to miss!
1. Traditional Chinese Medicines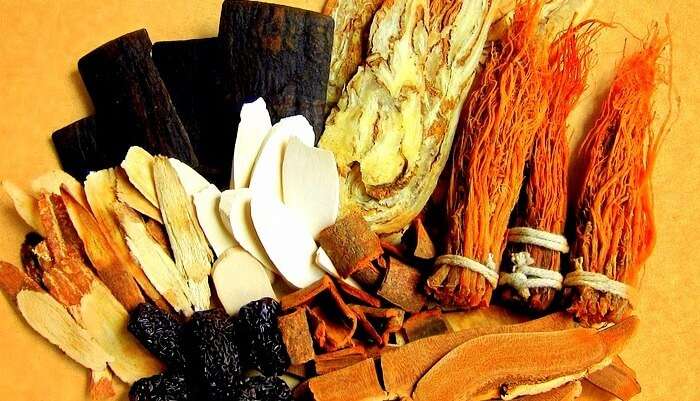 You can find a number of old clinics of Chinese culture lined on the streets providing various traditional medicines and herbs for illnesses. These authentic medicines are known to cure many of the diseases, so they're definitely worth a try.
Suggested Read: Destination Of The Month: 10 Reasons Why Hong Kong Is Perfect For A Family Vacation
2. Local Chinese Cuisines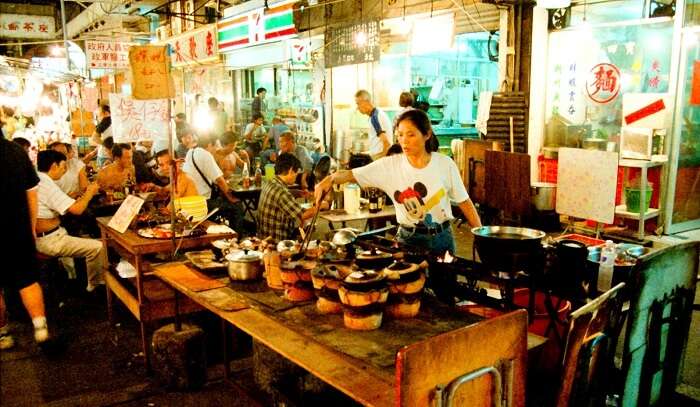 Amongst other street food stalls present here, offering pizzas, seafood and japanese dishes, you can also try their local cuisines while you shop for a souvenir. The restaurants here are a must try for Chinese street food and rice served in clay pots are perfect for a dinner of two.
3. Cantonese Opera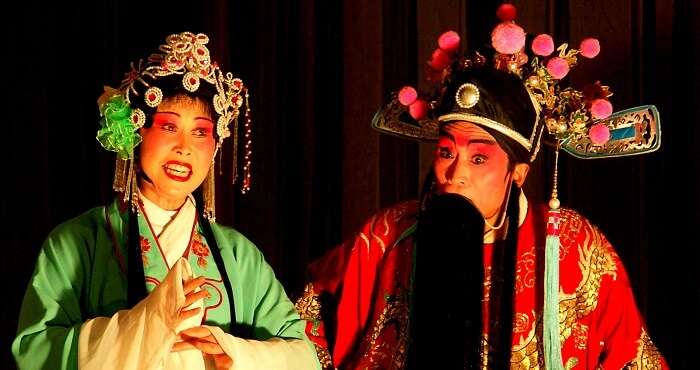 Groove with the opera singers at the Temple Street Night Market, while they give an open-air performance. Yes, one of the unique things about this market which makes it the best night markets in Hong Kong, as it offers a heartfelt experience and takes your mind off of the chaotic busy life, while the shopping just adds flavours to this colourful encounter in Hong Kong.
Suggested Read: 7 Wonders Of Hong Kong That Will Leave You Jaw Dropped!
4. Antiques, Watches, Clothes, and more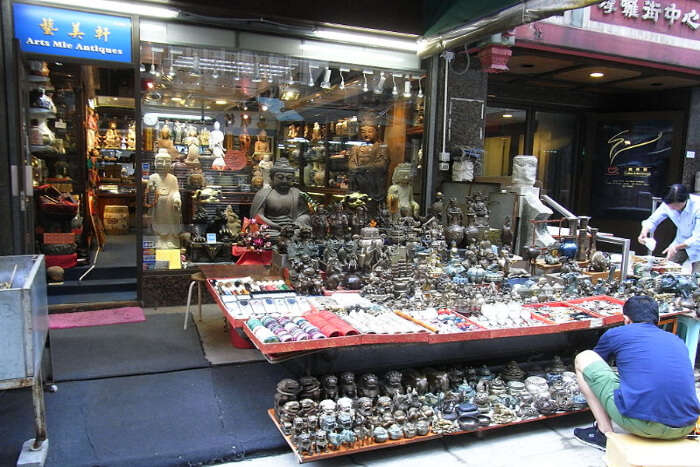 If you're not the kind of person who is brand conscious, be sure to check out the clothes, watches, shoes and other accessories like bracelets at this market as even though the labels are fake, the scope of bargain is very high. One can also choose from the variety of antiques and souvenirs of dragons in this market.
How to get to Temple Street Night Market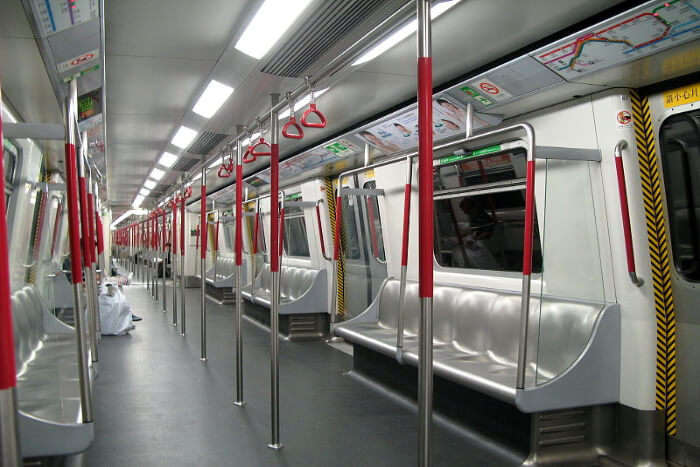 By Walk
From Nathan road, merely 3 blocks away, you can visit this market by walking towards the direction of the signs on the Nathan road.
By Bus
You can board an A22 Airport Cityflyer bus, outside the airport going towards Kowloon. Once you've reached the Shanghai Street stop, you can start walking towards the Temple Street.
By MTR
Boarding a Mass Transit Railway in Hong Kong can be convenient for you if you wish to commute faster. If you're at Nathan road, you can board a Kwun Tong line northwards towards Kwun Tong at Tsim Shau Tsui station and get down at Jordan station, exit A which is closer to the Temple Street.
Suggested Read: Ocean Park Hong Kong: An Attraction You Cannot Afford To Miss
Tips for shopping at Temple Street Night Market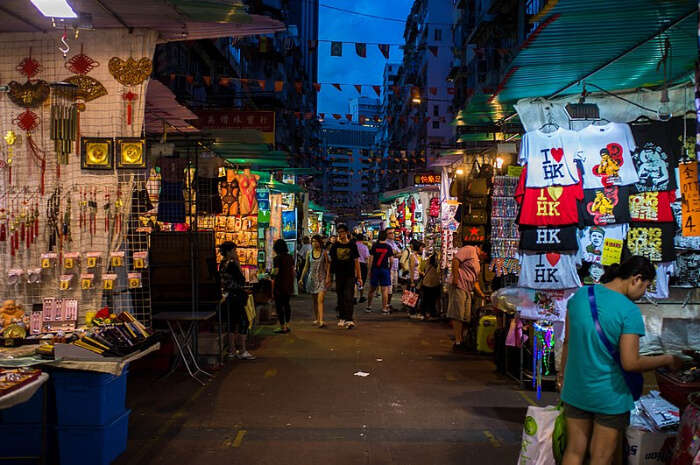 Be sure to check out the streets behind the stalls in the front to have a further variety of merchandise. You might get a better deal too!
Beware of the claims of the traders in this market that their Gucci and Prada labels are authentic. They're not. So bargain and buy according to the quality of the products.
If you feel like taking some cheap souvenirs, try the Chinese qipao dresses, and varying sizes of dragon shaped trinkets.
Further Read: A-Z List Of Best 26 Hong Kong Restaurants To Satiate The Cravings Of Forever Gastronomes!
So is it going to be a food or shopping buzz for you at this market? Plan a trip to Hong Kong with TravelTriangle today and find out what's in store for you at this famous market.
People Also Read:
Chiang Mai Night Markets Night Markets In Singapore Night Markets In Bali
---
Looking To Book An International Holiday?
Book memorable holidays on TravelTriangle with 650+ verified travel agents for 65+ domestic and international destinations.
---