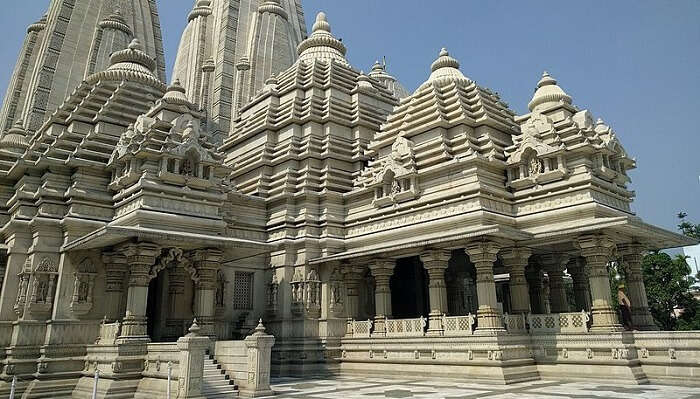 Kolkata, the city of vibrant cultures and diverse traditions, has more depth to it than just the superficial connotation of one hundred and eight deities. The streets of Kolkata have witnessed the development of several temples over time, which is quite famous until the date for its architectural designs, cultural and historical values. However, if you go on a journey to explore all of them, it will probably never end, and thus, we have sorted some of the best temples in Kolkata to make the exploration a bit easier for you.
12 Temples In Kolkata You Must Visit
Temples attract a large number of devotees on everyday basis. For some it is a place where their prayers are answered, and for some it is place of peace; either way temples are visited by everyone at least once in their life. Check out the list of the famous temples that you can visit and explore, on your visit to Kolkata.
Kalighat Kali Temple
Sri Bal Hanuman Mandir
Dakshineswar Kali Temple
Birla Mandir
ISKCON Temple
Pareshnath Jain Temple
Mira Mandir
Taraknath Temple
Lake Kalibari
Chinese Kali Temple
Agni Mandir
Thanthania Kalibari
1. Kalighat Kali Temple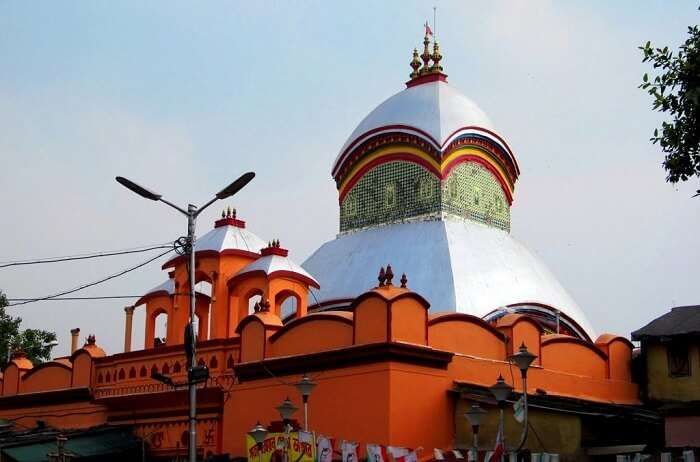 Being one among the fifty-one Shakti Peethas, Kalighat Temple in Kolkata is known for its magnificence and historical importance. It is considered that Devi Sati's right big toe fell at this place during Lord Shiva's Rudra Tandava, and was later built into a temple dedicated to Goddess Kali, an incarnation of Shakti. People from all over the world embark on the pilgrimage journey and visit the temple to witness the magnificence of the 200-year old Hindu temple.
The Kalighat Temple in Kolkata is divided into several sections like Shoshti Tala, Natmandir, Jor Bangla, Harkath Tala, Radha-Krishna Temple, and Kundupukur, where each is of great importance. The idol worshipped here is referred to as the Dakshina Kali, which has three eyes, and a protruding tongue made of gold. The deity is known to bless her devotees with divine knowledge and help them attain the path towards moksha, that is, freedom from the cycle of births.
Location: Anami Sangha, Kalighat, Kolkata, West Bengal 700026
Timings: 5.00 a.m. to 2.00 p.m.
Must Read: 10 Delightful Honeymoon Places Near Kolkata That Will Add To The Romance!
2. Sri Bal Hanuman Mandir
Dedicated to Lord Hanuman or Bajrangbali, Sri Bal Hanuman Mandir is counted among one of the most famous temples in Kolkata for its religious absurdity. The temple represents the source of energy and symbolizes strength and power. Apart from the Hindu devotees, the temple is also visited by the Jains and Buddhist followers.
The temple has many shops surrounding it, from where you can purchase the puja essentials to worship the deity. The temple is crowded on Tuesdays and Saturdays, as these two days are regarded to be very holy.
Location: 358 Block A, Lake Town, Kolkata, West Bengal 700089
Timings: 6 AM to 8 PM
Suggested Read: 33 Best Things To Do In Kolkata In 2022: Know What Makes It The City Of Joy
3. Dakshineswar Kali Temple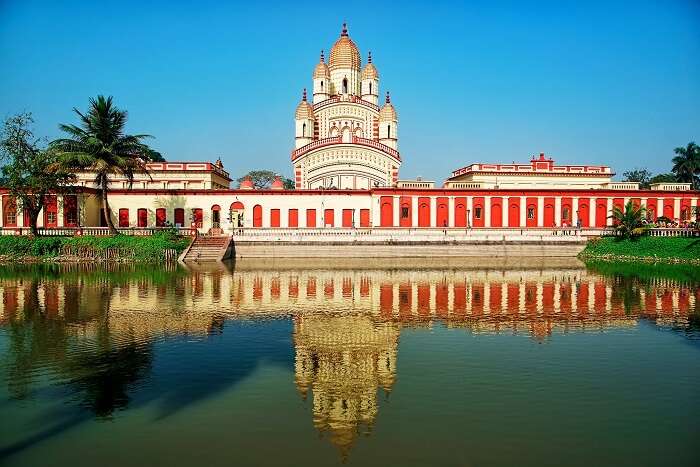 Located on the eastern bank of the Hooghly river, the Dakshineswar Kali Temple is one of the best temples in Kolkata, known widely for its religious magnificence and historical remarkability.Goddess Bhabatarini, another form of Goddess Kali is worshipped at the temple. The architecture of the temple replicates the nine spires and three-story style of Bengal architecture.
The major attraction of the temple has been derived from the presence of the spiritual personality named Ramkrishna Paramhansa, who was believed to be an incarnation of Lord Vishnu on earth. 
Location: Dakshineswar, Kolkata, West Bengal 700076
Timings: 5 AM to 8 PM
Suggested Read: 24 Picnic Spots Near Kolkata: Escape From The City Rush In 2022 For A Day's Retreat
4. Birla Mandir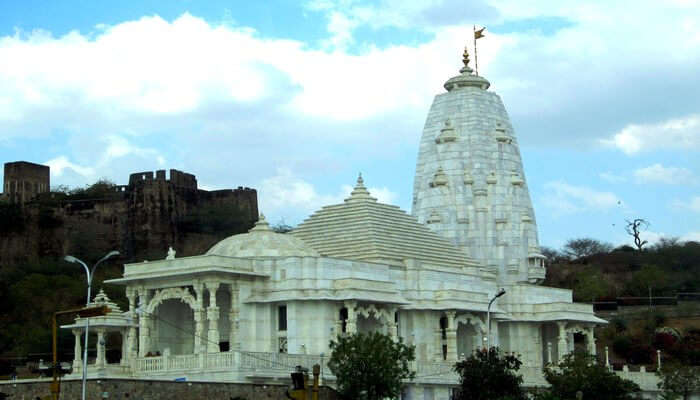 The grand temple features the deities of Lord Krishna and Radha, with an adorned traditional-style structure. The temple is intricately decorated with modern architecture, designs, and excellent craftsmanship ideas, which intensify the religiosity among the devotees. Birla Mandir in Kolkata is one of the most popular temples in Kolkata.
Built over twenty-six years, the temple features other deities like Lord Ganesha, Lord Hanuman, Lord Shiva, ten avatars of Lord Vishnu and Goddess Durga, along with Lord Krishna and Radha. The grandeur and beauty of the temple have also made it a primary shooting location for different daily soaps and films.
Location: 29, Ashutosh Chowdary Ave, Ballygunge, Kolkata, West Bengal 700019
Timings: 4:30 AM to 11:00 PM
Suggested Read: 20 Best Wedding Venues In Kolkata That Define Extravaganza
5. ISKCON Temple
Lord Krishna, who plays a significant part in the chapters of Hindu religiosity, is worshipped at the ISKCON temple in Kolkata. Here, the deity of Lord Krishna is worshipped along with the idol of Radha, who represents the example of eternal and higher love.
Built-in the year of 1970, the ISKCON temple in Kolkata is also referred to as the Sri Sri Radha Govinda Mandir. Apart from religious importance, the temple is also known for its immense architectural finesse and beautiful decorations in gold, which enhances the divinity. Comprising over a vast area, the ISKCON temple in Kolkata features a number of sections, where each regards great religious importance.
Location: Gauranga Ghat Road, Ramkrishna Pally, Panihati, Kolkata, West Bengal 700114
Timings: 4:30 AM 1 PM, 4 PM to 8:30 PM
Suggested Read: 60 Best Places To Visit In Kolkata In 2022 That Reflect Its True Art
6. Pareshnath Jain Temple
Dating back to 1914, Pareshnath Jain Temple is regarded among the few Jain temples in Kolkata, which has huge religious importance. The temple represents the source of power and strength, especially because of its bright red color. The vast area also features four sprawling gardens and is always filled with flowering plants and hedges, which replicates the natural wealth.
Besides spiritual abundance, the walls of the popular Jain temple in Kolkata are decorated with intricate architecture with carved marbles and glasswork, accompanied by various artistic illustrations. The well-maintained structure of the temple offers a religious retreat to the devotees, led by a charismatic vibe.
Location: Jiban Krishna Ghosh Rd, Saktinagar, Tala, Kolkata, West Bengal 700037
Timings: 6:00 AM – 10:00 AM & 5:00 PM – 8:00 PM
7. Mira Mandir
Mira Mandir is one of the most beautiful and sacred site in Kolkata. The temple is as beautiful as it is serene and pious and attracts a large number of devotees throughout the year. Mira Mandir is dedicated to Saint Mira. Saint Mira is a well known devotee of Lord Krishna. Mira Mandir is one of the best temples to visit in Kolkata, especially at the midnight of Janamashthami. During this festival, a large number of devotees come here to celebrate Lord Krishna's birthday.
Location: Moira St
Timings: 6 AM to 12 PM, 4 PM to 8 PM
Suggested Read: Best Street Food In Kolkata: 15 Dishes You Must Try In The City Of Joy In 2022
8. Taraknath Temple
Taraknath temple is one of the oldest temples in Kolkata. This temple is believed to be built in 1729 and is dedicated to Lord Shiva. This is one of the busiest and crowded temples in Kolkata and in the town of Tarakeshwar. Throughout the year, you will find this temple buzzing with a large number of devotees. However, during special occasions such as Shivratri and Gajan, you will find it impossible to stand. Thousand of devotees come here from different parts of Kolkata to attend the special prayers.
Location: Taraknath Mandir Rd
Timings: 6 AM to 1:30 PM, 4 PM to 7 PM
9. Lake Kalibari
Dedicated to the Goddess Kali, Lake Kalibari temple is one of the temples to visit in Kolkata known for its sacredness and its piousness. The temple was built in the year 1949, and is knonw as a house of worship of Goddess Karunamoyee; one of the lesser knonw aspect of Goddess Kali. Not many people are aware of this fact, but the actual name of the temple is Sree Sree 108 Karunamoyee Kalimata Mandir, but it is known as Lake Kalibari Temple.
Location: Sree Sree 108 Karunamoyee Kalimata Mandir
Timings: 6 AM to 12:130 PM, 3:30 PM to 9 PM
Suggested Read: 20 Cafes In Kolkata Where You Can Spend A Fine Evening In 2022
10. Chinese Kali Temple
Chinese Kali Temple serves as an example of how different religions can co-exist in harmony. The Chinese Kali Temple is one of the temples to visit in Kolkata and is known for its Chinese-Indian ways of praying of an Indian Goddess. The Chinese Kali temple is dedicated to the Goddess Kali and you will find a large number of devotees worshiping according to the Chinese rituals. The priests are also Chinese in this temple and they serve Chinese dishes as prasad to those who visit the temple.
Location: Matheswartala Road
Timings: 5 AM to 2 PM, 5 PM to 10:30 PM
11. Agni Mandir
Agni Mandir in Kolkata is one of the must visit temples. The temple is a shrine that was established in 1912 for the Parsi pilgrims. This is where they can worship the Fire God. It is one of the most religious places amongst the Parsis and thus it also has a significant roles in all their special occasions of the Parsi community. The place is famous for the marvelous architecture that this place displays. You can spot a fire on the top floor of the temple which is said to be burning constantly since the inception of the temple.
Location: Metcalfe Lane
Timings: 10 AM to 8 PM
Suggested Read: 17 Enchanting Road Trips From Kolkata You'd Love To Take In 2022!
12. Thanthania Kalibari
Founded in 1803 by Shankar Ghosh, Thantahnia Kalibari is one of the msot popular and sacred temples to visit in Kolkata. The Goddess that is worshiped here is the Goddess Durga in the form of Siddeshwari. A special prayer known as the Kali Puja is done here attracting hunders and thousand of devotees from every part of Kolkata. There is clay image of Goddess Durga in the Thanthania Kalibari that is changed every year.
Location: College Street Market
Timings: 6 AM to 11 AM, 3 PM to 7 PM
Further Read: 11 Haunted Places In Kolkata & Their Real Ghost Stories To Discover In 2022
Kolkata is a religious city that boasts multiple temples that each exude charm and positivity worth exploring and planning a trip to Kolkata. Explore these temples in Kolkata to go on a spiritual journey and experience the calm and positive vibes.
Disclaimer: TravelTriangle claims no credit for images featured on our blog site unless otherwise noted. All visual content is copyrighted to its respectful owners. We try to link back to original sources whenever possible. If you own the rights to any of the images, and do not wish them to appear on TravelTriangle, please contact us and they will be promptly removed. We believe in providing  proper attribution to the original author, artist or photographer.
Frequently Asked Question For Visiting The Temples of Kolkata
When is the best time to visit the temples of Kolkata?
You can come to Kolkata at any time of the year to visit the temples. If you want to avoid the crowd at the temples, then it is better to avoid the festive months.
Which of the temples is known for its extraordinary history?
The Dakshineswar Kali Temple is a renowned temple of Kolkata and regards tremendous religious significance. It also marks the existence of notable personalities Rani Rashmoni, and Ramkrishna Paramhansa.
Which temple has excellent vegetarian food joints?
The Dakshineswar Kali Temple hosts some great food joints to relish on after you have offered the puja. Foods like pooris, halwa, curries, desserts, and sweets are found in the above number of shops here.
---
Looking To Book A Holiday Package?
---
People Also Read:
Temples In Kangra Temples In Tirupati Temples In Rameshwaram
Comments
comments