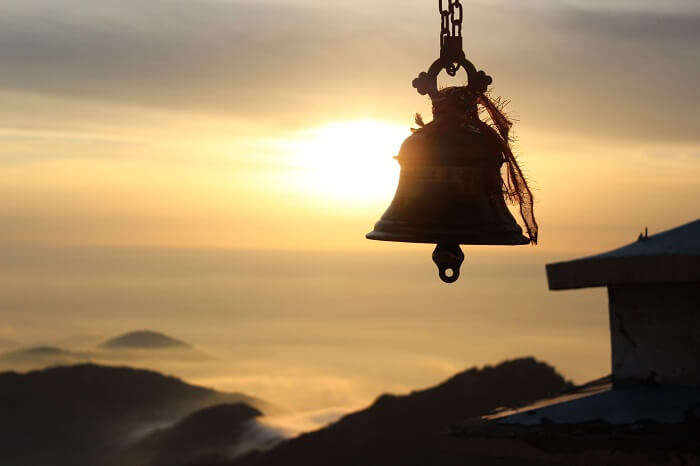 Set at an elevation of 69,322 feet above mean sea level in the foothills of Himalayas, Mussoorie is an enchanting hill station that makes up for a perfect getaway regardless of the season. But it's famous tourist attractions aren't all that make it visit-worthy. it shelters some of the most peaceful and architecturally marvelous holy shrines that draw pilgrims and tourists to this city in large numbers every month. In order to give you an insight into these, we have listed some of the most popular sacred pilgrimage sites and temples in Mussoorie in this article. Scroll down to know about the six most enigmatic temples and what all you should keep in mind while visiting them.
6 Famous Temples In Mussoorie
Here are the 6 most revered Mussoorie temples that ought to be on your itinerary when you're taking a trip to this city. Whether you're visiting them for inner peace or to dwell amidst ancient architecture, you'd be fascinated by the aura of these holy shrines.
1. Jwalaji Temple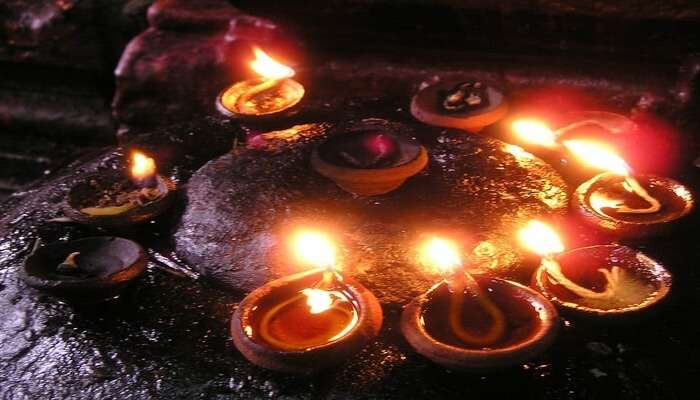 This temple is situated atop Benog Hill, about nine km west from Mussoorie at the height of 2240 meters surrounded with greenery all over. It is a temple devoted to Jwala Devi Goddess, one of the forms of Maa Durga. It has one old stone idol of goddess Devi Jwala in the white coloured temple structure.
To reach this temple, the devotees have to trek for about 2 kilometres. This path is densely covered with pine and deodar trees, which is an added bonus. On reaching the top, they are greeted by the magnificent sight of the Doon valley, Shivalik Range Yamuna River and Mussoorie. It is believed that the goddess blesses and grants wishes to her devotees at this temple. The Jwala Devi temple Mussoorie is a must-visit for the devotees as well as nature lovers or adventure enthusiasts.
Location: Benog Hill
Timings: 5:00 am – 12:00 pm and 4:00 pm – 8:00 pm
Must Read: 36 Amazing Places To Visit In Mussoorie For The Perfect Summer Getaway
2. Shedup Choephelling Temple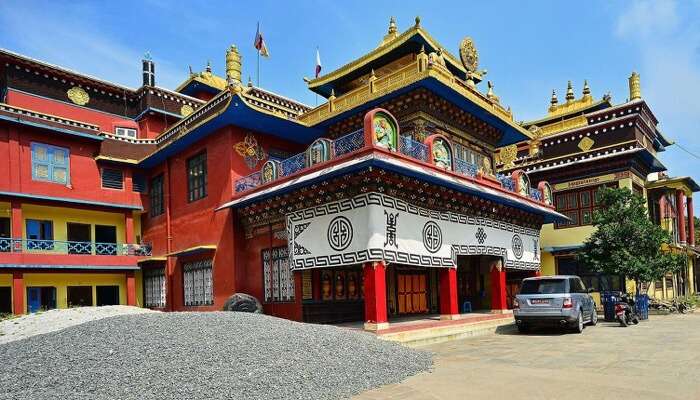 Far above the bustling city, hidden in the midst of emerald greenery, lies a solitary town named Happy Valley. Formed during the settlement of the 14th Dalai Lama as a refugee, the legacy of amiable Tibetan colony in Mussoorie is carried forward by the 5000 monks who reside in it today. And located in this mini-Tibet town is the Tibetan temple Mussoorie named the Shedup Choephelling Temple.
Built-in a traditional Buddhist style, the graceful architecture of this monastery gives a homely feeling. Illustrious murals painted on the walls and panels of the temple provide a dazzling multicoloured landscape, making it one of the best temples in Mussoorie.
Timings: 5:00 am – 12:00 pm and 4:00 pm – 9:00 pm
Suggested Read: 9 Most Adventure Sports In Mussoorie That Will Thrill You Up From Head To Toe
3. Surkanda Devi Temple

This is a famous Hindu temple located near Dhanaulti. It is a 3 km trek from Kaddukhal. It is flanked by dense, lush forests and a mesmerising view of mountains and valleys. The temple is covered with trees of rounslii. It's one of the most famous temples in Mussoorie owing to the festival of Ganga Dusshera which is celebrated here every year in June and May attracting a big number of tourists.
The deity of this temple is Surkhanda Devi. It is believed that the tale of worship in this temple is primarily associated with Goddess Sati. She was god Shiva's wife and King Dasha's daughter. It is believed that after Sati jumped in the fire, Lord Shiva in a complete rage, began his Tandava with Sati's body on his shoulders and he vowed to do tandava until his body decomposed completely.
Location: Dhanaulti
Timings: 5:00 am – 7:00 pm during summers and 7:00 am – 5:00 pm during winters
Suggested Read: Camping In Mussoorie Is Real Fun. Here Is All You Need To Know!
4. Nag Devta Temple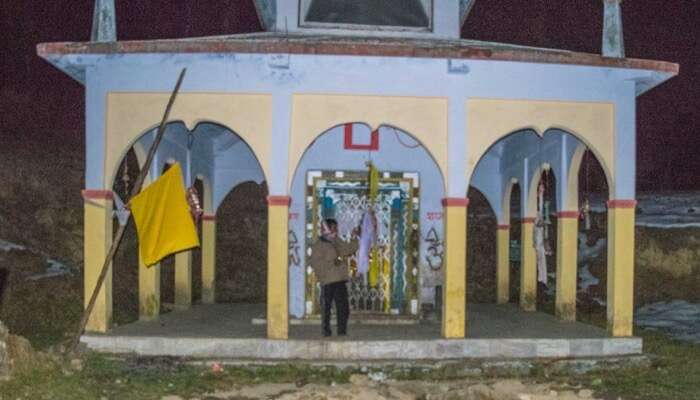 Nag Devta Temple is an ancient temple dedicated to the God of Snakes. The chief deity of this temple is Lord Shiva, who always had a snake around his neck. The temple is beautifully decorated and during the festival of Nag Panchami. Several rituals are undertaken here on this day. People are seen bathing live cobras and feeding them without any fear.
It is believed that Lord Shiva himself visits the temple in the form of these snakes to bless the devotees. It is visited by both – the devotees as well as the tourists. It is enclosed within beautiful views of the Doon valley and the Mussoorie town.
Location: Cart Mackenzie Road
Timings: 5:00 am – 12:00 pm and 4:00 pm – 9:00 pm
Suggested Read: Mussoorie In December: Explore The Queen Of Hill Stations This Winter
5. Bhadraj Temple

Commemorating the elder brother of Lord Krishna named Balram, the Bhadraj Temple is a white sanctum located at a high altitude in the rural village of Bhadraj. Legends cite this to be the place where Lord Balram retired to pray for penance of the sins he committed while fighting in the historical war of Mahabharata. On voyaging across the country, he came across the solitary hamlet of Bhadraj.
Pleased by the simplicity and humbleness of its people, Lord Balram decided to rest here and complete his meditation. He then resumed his journey to Badrinath Temple. However, he promised to return to the village as a stone. This stone will have sacred powers which can bless anyone who prays devotedly in front of it.
Location: Mussoorie Road, Barlow Ganj
Timings: 5:00 am – 8:00 pm
Suggested Read: 19 Things To Do In Mussoorie For A Hill Station Holiday Experience
6. Radha Krishna Mandir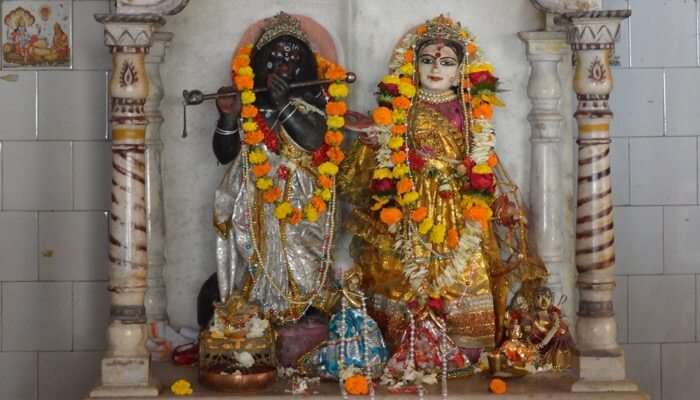 Cradled amidst the green blanket covering the hills stands tall a petite white temple. This temple worships Lord Krishna, the mischievous Hindu God, and his beloved Radha. Glorifying the lord's pure love for her, the temple houses a marble sculpture of these deities in their iconic pose. The idol depicts the Lord playing his flute, while Radha stands at his side, listening to the spellbinding melodies.
Heavily adorned with fine garments, ornaments and scented flowers, the idols are worshipped by pilgrims praying at the temple. There are steps inside the temple leading to the underground rooms where sages of the ancient time used to meditate. Visitors can also pay their homage to Ujiyar Sagar, the holy water body present in the temple complex.
Location: Charleville
Timings: 5:00 am – 12:00 pm and 4:00 pm – 8:00 pm
Further Read: 30 Resorts In Mussoorie You Must Stay At For A Laid Back Retreat
Lovingly called 'The Queen of the Hills', Mussoorie is an alluring getaway filled with adventurous activities and phenomenal sceneries. Over the years, it has seen an influx of Hindu devouts owing to the plethora of temples and holy shrines here. The traditional architecture and the peaceful aura surrounding these temples in Mussoorie are a good enough reason for you and your family to plan a trip to Mussoorie real soon.
Frequently Asked Questions Mussoorie Temples
How many temples are there in Mussoorie?
There are many Hindu temples dedicated to various Hindu gods. They are situated in very attractive locations with amazing views. However, the most celebrated shrine in the city is of Jwalaji temple Mussoorie.
Is there any dress code for visiting the temples in Mussoorie?
There isn't any strict dress code as such to visit these temples. Bare shoulders and short clothes should be avoided. You can carry a scarf or shawl to cover yourself up if you feel necessary.
Are there any rules to be followed when visiting a temple in Mussoorie?
There are some general rules to be followed when visiting a temple in Mussoorie. You should always enter bare-foot. There are many stalls where you can keep your shoes before entering the temples. These services are mostly free and sometimes chargeable. Cell phones and cameras are generally allowed inside.
How many days are required to explore Mussoorie?
A trip of 2-3 days is enough to completely explore and enjoy the beauty of Mussoorie.
What is the best way to travel around in Mussoorie?
The best way to explore Mussoorie is by a taxi or local rickshaws. You can also choose to walk to nearby places. You can best enjoy this place this way.
Which are the famous tourist attractions one can visit in Mussoorie?
There are many beautiful places to explore in Mussoorie like Kempty Falls, Cloud's End, Mall Road, Company Garden, Gun Hill, Lake Mist, Benog Wildlife Sanctuary, Bhatta Falls and many more.
---
Looking To Book A Holiday Package?
---