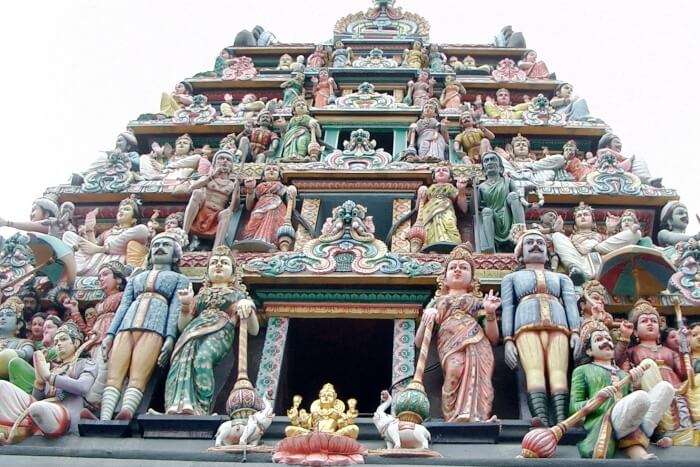 Temples in Singapore are amongst the most imperative heritage sites in the country. Constructed with brilliance, the temples in this Southeast Asian country are considered to be no less than some imperative tourist attractions that attract people from different regions of the world. Each temple has been thoughtfully established to rightly symbolise the significance of the religion it is based on. There are many sites worthy enough to tempt tourists and locals alike and one of them is Science Centre Singapore. Since religion is one of the focuses of the people of Singapore, you'll find various temples near Science Centre Singapore.
There are many religions followed in the country of Singapore, with Buddhism being the most popular one. The variety of religions is one of the reasons why this Southeast Asian country has an eclectic cultural system. All over the world, Singapore is known for its architecturally magnificent skyscrapers, museums, monuments, artificial islands, and more highlights that are the epitome of modernity. However, the presence of religious values in this country has never faced a declination.
Best Time To Visit Singapore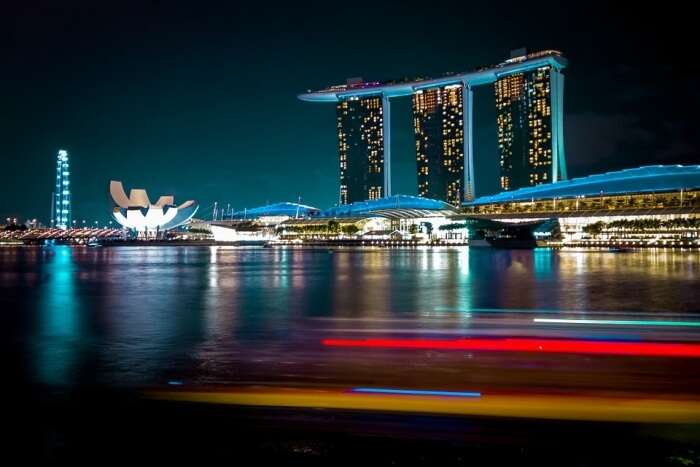 For a thrilling trip to Singapore, make your travel plan for the months of February, March, and April. However, since the country has a tropical rainforest climate consistently throughout the year, you can go any time for your vacation here. May and June are the hottest months but June to August is the best time in Singapore for shopping owing to the Great Singapore Sale – an event for shopaholics that happens every year.
If you want to witness the monsoons in Singapore, then the months of November, December, and January are considered to be perfect. For attending the mid-autumn festivities, October is considered the right time to visit Singapore.
4 Temples Near Science Centre Singapore
Science Centre Singapore is one of those places in the country that equally tempts kids and adults. Located in Jurong East, this is an institution that has been established in order to impart scientific knowledge to general audience in a fun and surprising way. This is the right place for all the techies and those who want to know about the trending technological developments.
After being a part of the rigorous sessions on the science and technology, you can visit some of the amazing Buddhist as well as Hindu temples that have been located at some distance from this science institution. This will ensure you undergo a peaceful experience and gain some more enlightenment – but this time regarding spirituality and religion. Some of the best temples have been shortlisted below!
1. Sri Veeramakaliamman Temple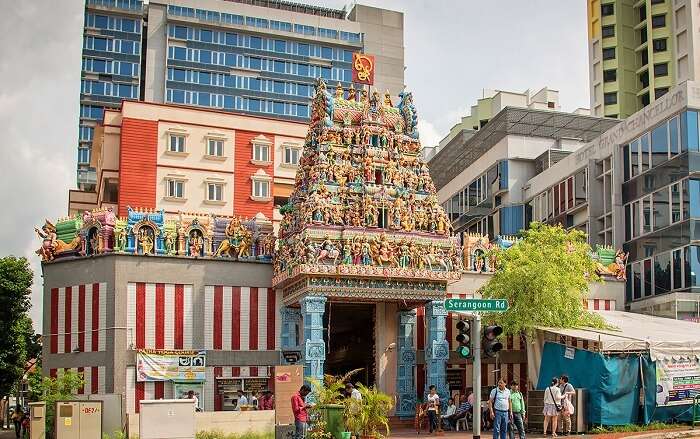 The oldest Hindu temple in Singapore, Sri Veeramakaliamman Temple is dedicated to Goddess Kali. It was built in 1881 by migrated Hindus, and today is among the most popular historical sites in Singapore. The temple was beautifully redesigned with six stories and colorful interiors in 2014. The intricate carvings and sharp detailing are spectacular.
It is also said that when Japan air-raided Singapore during World War II, the people taking refuge in the temple remained unscathed as the bombing did not affect the structure and statues of the temple.
Timings: 5:30 am to 9:30 pm
                       Blast From The Past: 11 Spectacular Historical Places In Singapore
2. Sri Sivan Temple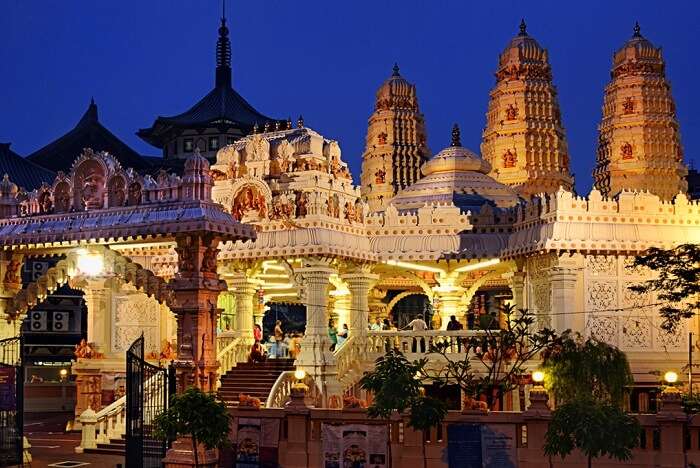 This place is dedicated to Lord Shiva, making it a rare Shiva temple in Singapore. One of the most beautiful and famous Hindu temples in Singapore, this place is shaped like an octagon, with a fine mix of North and South Indian styles. During the Hindu festival of Mahashivaratri, the temple looks phenomenal under the light of thousands of bulbs. It is the place to go to if you want to observe Hindu rituals and culture at close quarters in Singapore. The place is visited by hundreds on a daily basis, making it one of the most significant temples in Singapore.
Location: 24 Geylang East Ave 2, Singapore
Prayer Timings: 6 AM, 8 AM, 12 PM, 6 PM, 7 PM, 9 PM
                       11 Stunning Temples In Singapore You Must Visit On Your Holiday
3. Sri Thendayuthapani Temple (chettiars Temple)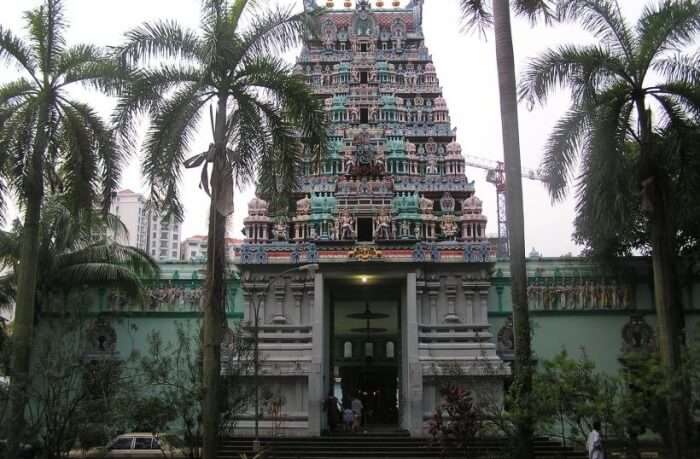 Popularly known as the Chettiars' Temple or the Tank Road temle, Sri Thendayuthapani Temple is one of the Singapores scared temples cum tourist attractions where visitors keep flocking every day. Listed as a national monument, this temple had been built in the year 1859 by the Nattukkottai Chettiar community migrant from the Southern part of India. It is well connected through road network, so any taxi driver would take you there. This temple also remains in the limelight for maintaining cleanliness and seething atmosphere. The statues kept inside this temple are beautifully decorated and colored. Devotees worship them with zeal.
                             9 Popular Hindu Temples In Singapore To Turn Your Trip Into A Mini Pilgrimage
4. Sri Sivan Temple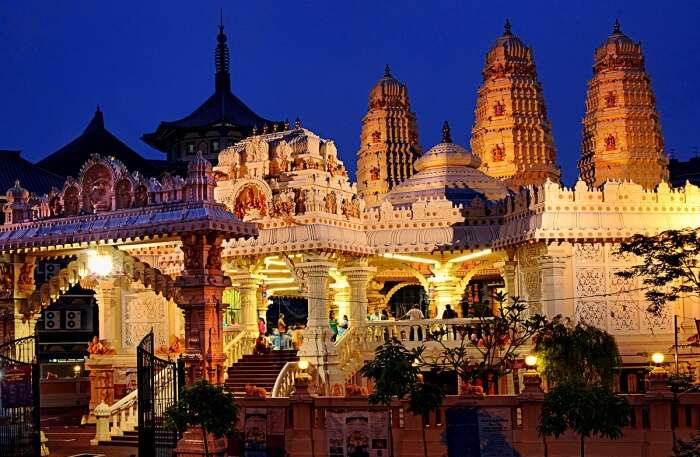 A Hindu temple, it was built in the name of the presiding deity, Lord Shiva. It also reflects the Indian populace that has settled in Singapore and offers a glimpse into their style of architecture and religious beliefs. The temple has undergone reconstruction several times, one of which was due to the damage caused by the Second World War.
Along with poojas being conducted every day, many Hindu festivals such as Maha Shivratri, Navratri, Guru Peyarchi, etc. are celebrated every year with much pomp. So, make sure you include this temple amongst the places to visit in Geylang and experience its unique octagonal structure.
Address: 24 Geylang East Ave 2, Singapore 389752
Contact: 67434566
                         12 Places To Visit In Geylang In 2022 That Will Steal Your Heart
For making your vacation to Singapore more interesting and comprehensively enlightening, you must go and be a witness to the glory of the various temples of this country. After attaining knowledge on interesting scientific developments and trends, you must plan a visit to the temples near Science Centre Singapore mentioned in the list above. This experience will definitely help you make your trip technologically as well as spiritually enlightening! Don't forget to make your kids part of this amazing experience.