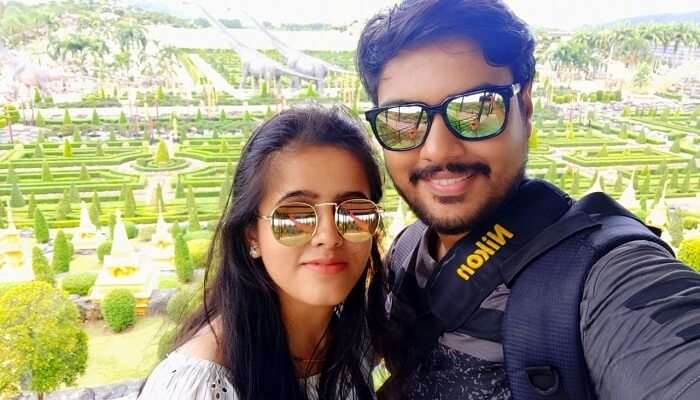 From the drop-dead gorgeous beaches to ancient temples, there is nothing that one cannot fall in love with in Thailand. Palaces, rainforests, nightclubs, restaurants, shopping centers, and thousands of other aspects come together to make this destination a wonderful paradise which is why it is much famed amidst the travelers. Be it the skyscrapers of Bangkok, beauty of Phi Phi Islands, beaches of Pattaya, or the nightlife of Phuket, the exploring never ends, and this is why Ketan and his wife chose Thailand as their honeymoon destination. Wanting to explore an international destination, know how Thailand on budget surprised them as they share their memorable experience!
It was our first international trip and there was a lot of skepticism about it which goes without saying. We were not able to find any suitable packages initially. Later on, I got to know about TravelTriangle from one of my colleagues, and finally managed to go on one of the best trips to Thailand ever. Everything went on smoothly, and soon we selected the best quote and were set on our journey. We boarded a flight from Mumbai Domestic Airport and reached Bangkok via Kolkata International Airport.
Details Of Our Trip To Thailand On Budget
Trip Type: Honeymoon Trip
Cost: INR 70,500
Duration: 5 Days & 4 Nights
Inclusion: Airfare, Airport Transfers, Breakfast, Sightseeing, Travel Insurance, Visa On Arrival, and Cab Transfers
Exclusion: Hotels, Lunch, Dinner, & Personal Expenses
Take A Look At The Itinerary Of Our Trip To Thailand On Budget
Day 1: Arrival, Dinner Cruise On Chao Phraya Princess, Bangkok
Day 2: Grand Palace, Bangkok, And Street Shopping
Day 3: Thai Massage, Pattaya
Day 4: Nong Nooch Garden, And Elephant Show
Day 5: Coral Island, Departure
Is Thailand In October Really A Good Time For A Vacation? Here's Your Answer
Weather In Thailand
For the time we were in Thailand, the weather was moderate but varied from time to time. It was humid throughout but sometimes it was cloudy as well. However, we did enjoy exploring as the weather was not so bad either.
Best Experiences To Enjoy On A Trip To Thailand On Budget
1. Dinner Cruise On Chao Phraya Princess Cruise



We arrived in Bangkok, and rested for a while post checking-in at the hotel. On this day, we were looking forward to experience the beautiful city of Bangkok all lit up at night. After getting enough rest, we got ready and went to enjoy our special dinner cruise and boarded the Chao Phraya Princess Cruise. It was one of the best moments for us as a couple to witness such a different culture and setting altogether. The cruise was indeed a great experience that was full of music, dance, live entertainment, amazing food of course, and the views of Bangkok city from the riverside were just spectacular.
2. Bangkok Sightseeing & Street Shopping



Much famed as the city of skyscrapers, Bangkok was mesmerizing to the core. From the sky touching skyscrapers to the vibrant and upbeat streets, and from the ancient temples to the beautiful attractions, we loved every bit of Bangkok. While all the attractions were nice to explore, one particular attraction that we found to be pretty refreshing was that of the Grand Palace. The place was just too beautiful to put it in words. We visited the ornate temples, and then also indulged in a bit of street shopping which was a relaxing therapy for both of us.
3. Exploring Pattaya


Next up on our travel bucket list was the mind blowing Pattaya. It was a very mesmerizing experience amidst the beaches. The best part that we enjoyed the most in Pattaya is that of the traditional Thai massage. Both of us felt relaxed and rejuvenated post the massage, and we would definitely recommend for everyone to try it when in Thailand.
4. Nong Nooch Garden, And Elephant Show









Spread across a land of about five hundred acres, we were more than amazed while exploring the tropical gardens of Nong Nooch. It is not only a beautiful theme park, but also had amazing restaurants, lively cultural shows, great places to stay, and much more that almost took us a full day to explore. In addition to that, we also got to witness a fantastic Elephant Show that showcased all the talent and skills that the trained elephants had. It was pretty brilliant and also should be witnessed by everyone at least once when in Thailand.
22 Exciting Things To Do In Bangkok – Thailand On A Holiday In 2022
5. Coral Island Tour


Our tour to the pristine Coral Island was also one of the best memories of our entire trip. We not only enjoyed soaking in the beauty of the crystal clear waters but also couldn't get over how beautiful the beaches were on the island. Although we couldn't get enough time to spend on the beach, it was a great time exploring the Coral Island.
Shopping In Thailand On Budget
While we did not explore any major shopping place as such, we did enjoy a bit of street shopping. You can buy a lot of souvenirs and small items like that of art & craft items made of traditional Thai wood, home décor items, the wooden Elephants as a souvenir, handmade jewelry, antiques, and funky clothes.
Hotels To Stay At On A Trip To Thailand On Budget
We spent two days at the Hotel Grand Alpine, Bangkok, and the rest of the days at the Hotel Crown Pattaya Beach Hotel.
Hotel Grand Alpine: It was a decent hotel and it was located in the busy market area of Bangkok. The good things about the hotel was that there were many Indians around and there was a variety of Indian cuisine as well. The services were great and the hotel staff was pretty cool and cooperative as well.
Hotel Crown Pattaya Hotel: It was one of the best hotels we've ever been to. From the location to the staff, and from the services to the food and the views, everything was on point. The hotel also had a convenient location which was close to Pattaya Beach, and the food was pretty impressive too.
13 Best Places For Shopping In Phuket That Prove Thailand Is The Ultimate Paradise!
Do's And Don'ts In Thailand For Future Travelers
For all those who are planning to visit Thailand on budget soon, keep things tips handy.
While not everyone develops a taste for International cuisine, one can still try some of the Thai food items. If not, there are many Indian restaurants around where you can eat a variety of Indian food.
In case you're looking to eat something light, you can get a lot of snacks and light food items from the 7 Eleven stores.
Thailand is a beautiful country and so are the people, but one has got to be aware of the money when it comes to a trip to Thailand on budget and the expenses as it is pretty common in every country to fool the foreigners.
Make sure you do not forget to bargain as much as you can while shopping.
Climate is a bit humid in Thailand, so it is good to get hold of a pair of shorts, slippers, and light tees.
Also, make sure you exchange your currency before leaving for Thailand in order to get the best rate. In addition to that, never exchange money at the airport and do check the visa on arrival fees once.
While exploring the areas in Thailand on budget, beware of the tuk-tuk drivers as they will try to charge you way higher than the actual price and drop you off at the wrong location sometimes. Instead, use public transportation like the metro or the cabs.
5 Surreal Things To Do On Thailand Honeymoon That No One Except Rohit Knows!
Our Experience With TravelTriangle
In one word, our experience with TravelTriangle was just perfect. We were a bit skeptical even after getting the customized package since we opted for a budget package. However, everything from the airport transfers to the hotel services, only took us by surprise without any glitches. I would like to thank and mention one of TravelTriangle's agent named Miss Shreyoshi Sengupta from RK Travels who helped and supported us throughout the trip. From solving all our queries to following up with us for the feedback, she along with TravelTriangle put in tremendous efforts in making our first international trip, a great success and a memorable one indeed. So thank you guys, and cheers to the entire team!
Frequently Asked Questions About Thailand
How much should I budget for a trip to Thailand?
As far as the budget is concerned, our trip cost around INR 1 lakh. However, one can still plan better and well in advance to save some more.
What is the cheapest month to fly to Thailand?
The off season from the months of April to June, and from September to October happens to be the time to ditch the crowd and enjoy exploring Thailand at your own pace. This is also a good time to fly cheap to the destination.
Is Krabi or Phuket better?
Both the places have their own charm. While nightlife scenes in Phuket are famous, Krabi has a bit of everything under its hood to surprise the travelers.