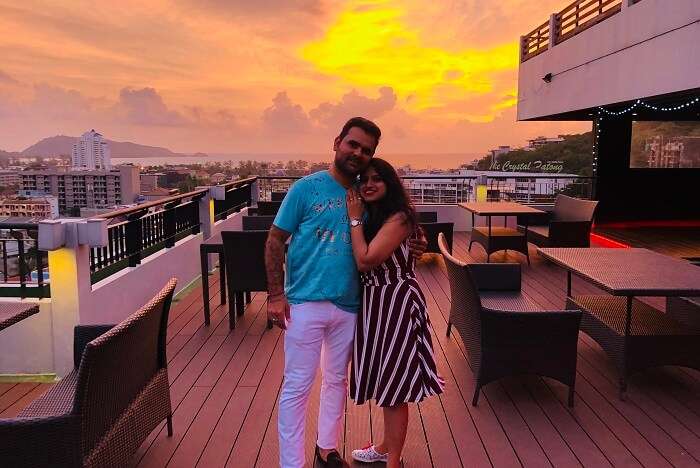 If you're planning a getaway to start your married life on the right note, there can be no better place than Thailand. The island has all the ingredients of a perfect tropical honeymoon. If you don't believe us, let Rohit Sehrawat take you through the top things to do on Thailand honeymoon based on his experience.
My wife and I have a penchant for sun-kissed beaches, aqua-coloured seas, powder-soft sand, and beachside resorts that are set far away from the hustle-bustle of the city. Which is why, Thailand seemed like a natural choice. The idea of relaxing and unwinding in the Thai jungles was too romantic to let go of. Once we were certain about where we want to go, we got in touch with TravelTriangle. Our travel agent ensured that we spent time with each other instead of micro-managing our trip. We certainly couldn't have planned our 6 days honeymoon in Thailand any better.
Details Of Our 6 Days Honeymoon In Thailand
Trip Cost: INR 71,000
No. Of People: 2
Trip Duration: 6 days and 5 nights
Inclusions: English speaking driver, sightseeing, four island tour, Phi Phi island tour, airfare, private cab, breakfast, airport transfers
Exclusions: Visa fees, honeymoon supplements, national park fees, travel insurance, lunch, dinner, fees for video or camera permit, tips, laundry
Thailand 6 Days Honeymoon Itinerary
Day 1: Arrival in Krabi and leisure day
Day 2: Four Island Tour
Day 3: Leisure Day
Day 4: Arrival in Phuket and sightseeing
Day 5: Phi Phi Island Tour
Day 6: Departure
Thailand In September: A Pocket Guide For An Amusing Vacation In 2022!
Weather At Thailand
The weather at Thailand in May is optimal for you to take a honeymoon. We were caught unaware by a light drizzle every now and then, but the rain set the mood for romance and merriment. There was a light breeze blowing throughout the day and the nights were cool too. The sunlight was never too harsh.
5 Romantic Things To Do On Thailand Honeymoon
After a lot of thought, I have arrived at 5 things to do on Thailand honeymoon that will render your experience unforgettable. You can read them here:
1. Four Island Tour





One of the highlights of our trip was relaxing on the white sandy linkage between Tap Island and Chicken Island at low tide. After some time, we left Chicken Island behind and arrived at Poda Island, where we indulged in sunbathing and romantic walks on the beach. It is, hands down, one of the best things to do on Thailand honeymoon.
7 Attractive Cruises In Thailand For A Wonderful Trip To The Land Of Smiles
2. Phi Phi Island Tour







We visited the 'Three Beaches' viewpoint where we took in the beautiful vistas of KataNoi, Kata, Karon and Kho Pu Island. This viewpoint is considered as one of the most scenic points in Thailand. This tour gave us an insight into the highlights of the 'Pearl of the Andaman'. It also included a leisurely drive from Phuket west coast line to Patong beach.
3. Safari World Tour






During our safari, we kid you not, we forgot that we are in a zoo in Bangkok. Safari Park is a utopia of wilderness and adventure. We met crocodiles, giraffes, and Koalas, as we drove through the wild lanes. It was an experience that we will cherish throughout our lives.
4. Exploring Phra Nang Cave





We stopped by Phra Nang Cave to learn the history of the sacred structure. We also came across spectacular stalagmite and stalactite rocks. It was a breathtaking sight to behold and we had to pinch ourselves to believe that what was in front of us was true.
5. Thrilling Water Sports



We tried several exciting water sports in Thailand. The experience was very refreshing and one-of-a-kind. Under the water, we forgot all our fears and our worries. The ambient temperature of the sea water only enhanced our experience. Our guide gave us an insight into the marine life of Thailand.
22 Exciting Things To Do In Bangkok – Thailand On A Holiday In 2022
Our Hotels In Thailand
We stayed at Marina Express in Krabi. Their deluxe room looked straight out of a Renaissance painting. The ambience of the hotel was pleasing and the staff was hospitable. Later in Phuket, we crashed at Casa Del M. The head chef prepared delicious Indian meals for us. We still crave for them!
Local Food Of Thailand
During our stay at Krabi, we went to Temple Flower restaurant where we had delicious Indian food. From there, we took a stroll to the Seven Eleven store where we had local chips. You may have to take help from the locals to understand what the ingredients of a dish are since the ingredients on packaged foods are written in Thai language. We also had sumptuous South Indian food at Madras Cafe in the local streets of Krabi. Their dosas were out of the world. We also tasted exceptional Thailand street food at Bangla street in Thailand, which is one of the most appealing things to do on Thailand honeymoon.
Local Markets In Thailand
Thailand shopping is one of the primary reasons why tourists visit the island. The local markets in Thailand are flooded with makeup items and beachwear. There are several things to buy from Krabi and Phuket like fragrant soaps and customised t-shirts, among other things. You will find everything you want at these local markets.
This Couple's Thailand Honeymoon Itinerary Shows Why It's The Perfect Paradise For Romance
Thailand Travel Tips For Couples
Here's a list of Thailand travel tips for couples that I believe will help you avoid mistakes and vacation like a pro while pursuing the aforementioned things to do on Thailand honeymoon:
1. If you're traveling with a travel agency, make sure to wake up in time or else you may have to miss breakfast or even worse, your pickup may get cancelled.
2. Carry a sunscreen at all times with you.
3. Keep a scarf or stole handy in case you plan to visit temples, since it is necessary to cover your head in the premises.
4. Carry sufficient cash because online transaction is not possible everywhere in Thailand.
5. Keep a hard copy of your travel documents handy.
Our Experience With TravelTriangle
We're immensely thankful to our agent for customising our travel itinerary according to our requirements and preferences. Despite racing against the clock, our itinerary had enough breathing space for us to take ample leisure days to do our own thing. I would go as far as to say that the itinerary was foolproof.
14 Thailand Airports For Easy-Breezy Commute To The Tropical Paradise In 2022
We hope the aforementioned things to do on Thailand honeymoon inspire you to take a honeymoon with your partner right away. Whenever you plan to embark on your honeymooncation, make sure to contact TravelTriangle for availing special deals and discounts. Write about your experiences on your honeymoon in Thailand in the comment section below to help others plan their holiday better!
Common Queries About Things To Do On Thailand Honeymoon
Here's a compilation of all the travel queries you may have vis-a-vis things to do on Thailand honeymoon. I am sure you will find all your queries and concerns addressed below:
Is Thailand safe for honeymoon?
Thailand is generally a safe place for honeymooners, but we advise you to exercise caution when you're dealing with strangers.
Where do couples go in Thailand?
Most couples usually throng Phi Phi islands and Phuket to revel in the lap of nature.
Is Thailand cheap to visit?
Thailand is a cheap place to visit, especially in the low season which begins in the month of July and ends in October.
What is the cheapest month to fly to Thailand?
The cheapest month to fly to Thailand is August, September, and October.
Do I need a visa for Thailand?
Citizens of the US and 18 other countries do not need a visa for Thailand. Check online if your country requires a visa.
Comments
comments