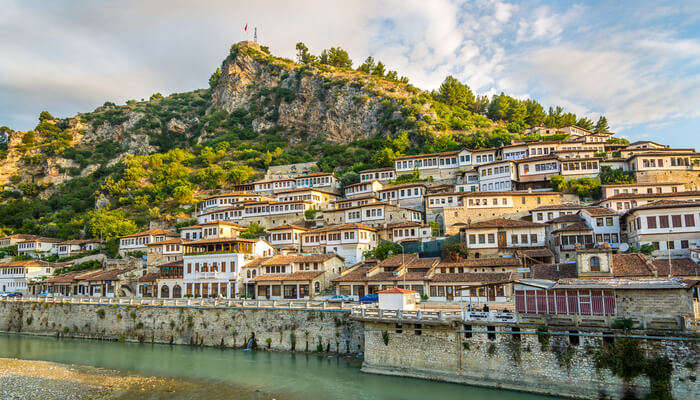 Hidden from the limelight since many years, Albania came out from the closet around the 20th century. Albania is one of the most picturesque countries in the Balkans in Europe which is adorned with the scenic landscapes, ancient fortresses town and pristine sparkling beaches which makes it a perfect location for an offbeat vacation. Though it is still hidden from the crowd of tourists, but it's beautiful hiking trails, natural hot springs, enchanting lakes and historical ottoman towns gives a long list of things to do in Albania if you're a first time traveler.
14 Top Things To Do In Albania
Planning a vacation to this Mediterranean Europe paradise and thinking what to do in Albania? If yes, then make sure to indulge into these 9 fascination things to do and explore the best sides of this land which stills holds its heritage and culture.
Theth To Valbona – Hike up to the beauty
Komani Lake – Take a ferry
Rozafa Castle – Capture the stunning view
BUNK'ART – Explore the past
Tirana Cable Ride – Enjoy the aerial view
Camping At Albania – Amidst the beaches
Berat – Visit the city with thousand windows
Gjirokaster Old Town – See the flat stone roofs
Benja Hot Springs – Take a dip
Himara – Go beach hopping
Filikuri Beach – Go kayaking
Butrint National Park – Embark on a safari
Durres – Visit the most stunning amphitheater
Sarande – Gorge on delicious food
1. Theth To Valbona – Hike Up To The Beauty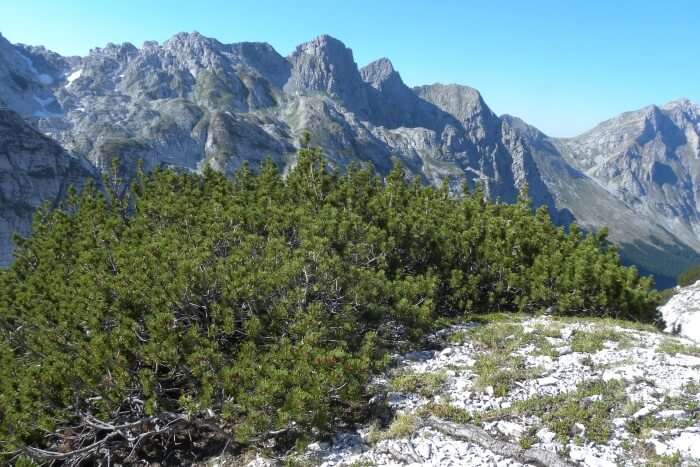 The adventure junkies cannot miss the chance to hike from Theth to Valbona. One of the best and challenging hiking trails for hikers, this route starts from the traditional mountain village and passes through the mountain pass which connects with the Valbona National Park. This 6-8 hours hike will give you a glimpse of the finest views of nature's treasured beauty and also the hikers can know about the simple mountain life by interacting with the locals.
Distance: 17 Kms
Difficulty: Medium (Moderate level of fitness required)
Must Read: 11 Fascinating Things To Do In Slovenia On Your Trip To Europe
2. Komani Lake – Take A Ferry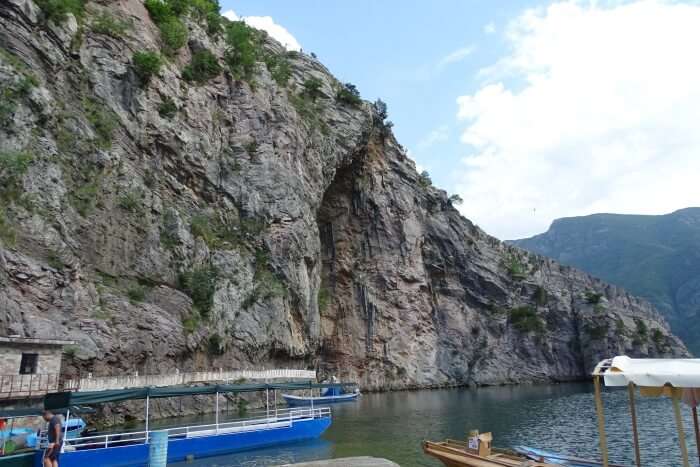 Beyond the famous hiking trail from Theth to Valbona, the Komani lake is another fascinating attraction which cannot be missed. Located close to the Shkoder area, the finest views of the lake can be witnessed by taking a ferry ride. While you sail amidst the wilderness of the region, take a glimpse of the beauty of the lake along with its surroundings which will actually be a good alternative to strenuous hiking.
Location: Drin River In Northern Albania
Suggested Read: 10 Incredible Places To Visit In Albania To Witness The Historical Beauty Of This Balkan Paradise!
3. Rozafa Castle – Capture The Stunning View
Rozafa castle is an incredible heritage site which gives a beautiful landscape view of the Shkodra city and lake. This ancient fortress is one of the most impressive sights of the town which was founded by the Illyrians. لاعب ومدرب كرة قدم سعودي The legends state that this fort was named after a woman who sacrificed her life as an offering to the god for making the castle stand. Later the fort was taken over by the Venetians and Turks. yyy online casino This castle is situated at a distance of 3.5 kms from the south of city centre. On the way travelers can witness the fishing villages and the vast countryside.
Location: Rruga Rozafa, Shkodër, Albania
Timings: 8AM-7PM
Entry Fee: 200 leke (INR 125)
Suggested Read: Summer In Lithuania: A Traveler's Guide To Enjoy A Vibrant Summer Vacation At This European Country!
4. BUNK'ART – Explore The Past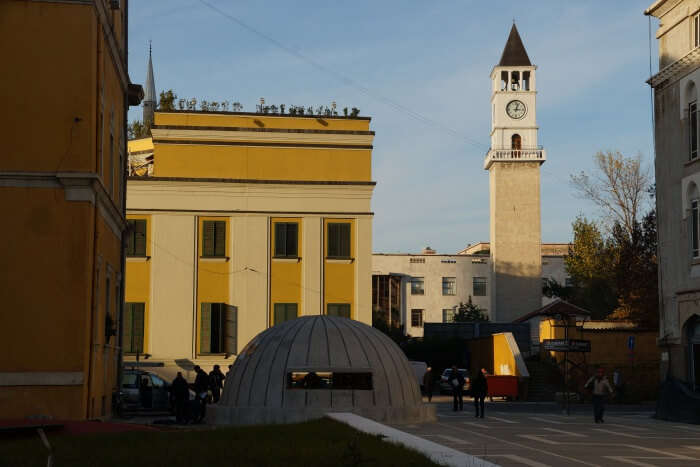 If quirky places are your thing then, Bunk'Art is a place which cannot be missed while in Albania. It is one of the hippest places to visit where one can indulge into some fun things to do in Albania, Tirana. Transformed from a cold war bunker situated at the outskirts of the Tirana city, this contemporary museum is a haven for the artistic souls. This place was once Albania's political elite which now hosts art exhibitions and showcases the modern side of the city in the form of different contemporary art forms.
Location: Rruga Fadil Deliu 1001, Tiranë, Albania
Timings: 9AM-4PM (Wed-Sun), Mon & Tues closed
Entry Fee: 500 leke (INR 313)
5. Tirana Cable Ride – Enjoy The Aerial View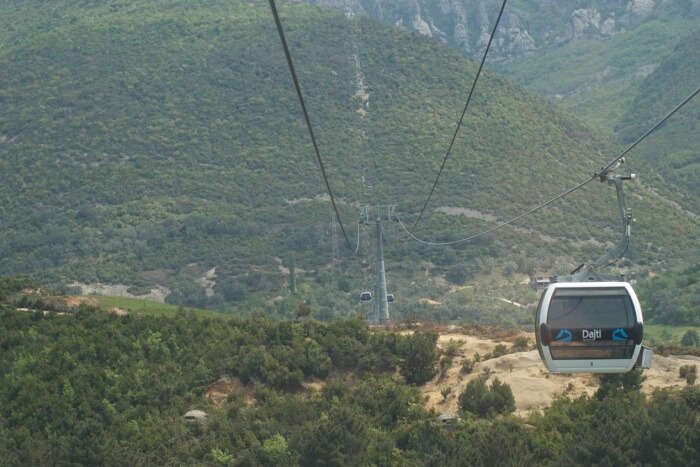 While Albania has a hint of its rich past, this Balkan country has a spell of nature's finest beauty. One of them is the Mount Dajti which stands tall and beautiful making a splendid view to admire. To enjoy a panoramic view of the entire Tirana city, take the cable ride to reach the top. One of the best things to do in Albania, taking this thrilling ride will not only give you an aerial view of the city, but will be an easy option for the people who don't want to hike. So ride up to the mountain to enjoy a beautiful sunset and also delicious food at the restaurant situated at the height.
Location: Tirana, Albania
Timings: In Summer (9AM-9PM) In Winter (9AM-7PM) Tuesday closed
Suggested Read: Tour Du Mont Blanc: A Complete Guide To Trek Through The Magical Beauty Of Europe
6. Camping At Albania – Amidst The Beaches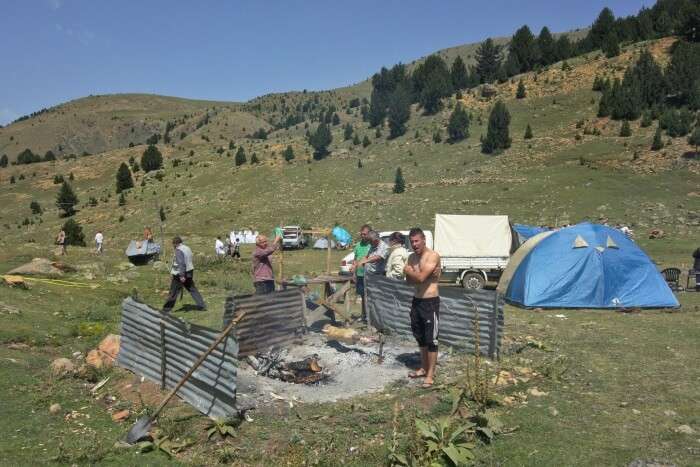 Want to do a wild camping at the beaches of Albania? Free camping is legal in this country and the adventure junkies can find their spot easily at the pristine beaches. This is one of the most exciting things to do in Albania and perfect for the budget backpackers. The travelers can relax at the beaches and set up their camps at the coasts. Finding a spot at the Albanian beaches is not a tough task and it will definitely be a different experience altogether.
Best Beaches For Camping: Rrjolli Beach, Duress, Divjaka-Karavasta National Park, Narte
7. Berat – Visit The City With Thousand Windows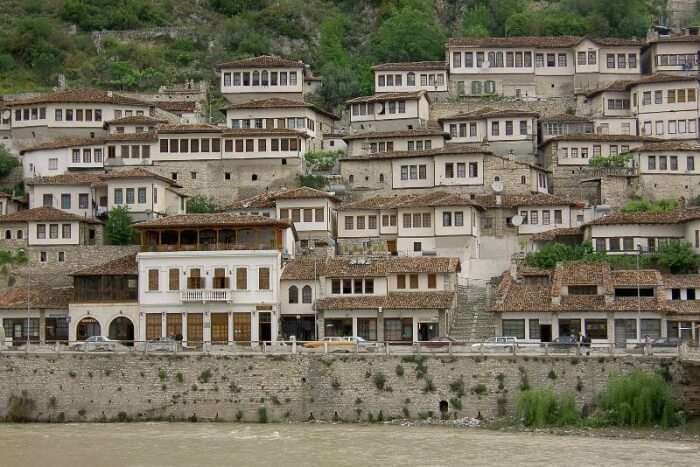 Take a glimpse of this Ottoman-era city in Albania which is known for its beautiful alleys and hidden staircases which adds an edge to the historic lanes of Berat. Situated at the banks of the Osum River, this incredible hilltop castle is a must visit in the city. This ancient town can be a perfect frame for the photographers to capture the cobblestoned streets, fascinating mosaic of window frames and white-washed streets.
Main attractions: Hiking to the Kalaja E Beratit
Suggested Read: Denmark Nightlife: Get Ready To Party Hard At These 10 Places In The Dairy Of Northern Europe
8. Gjirokaster Old Town – See The Flat Stone Roofs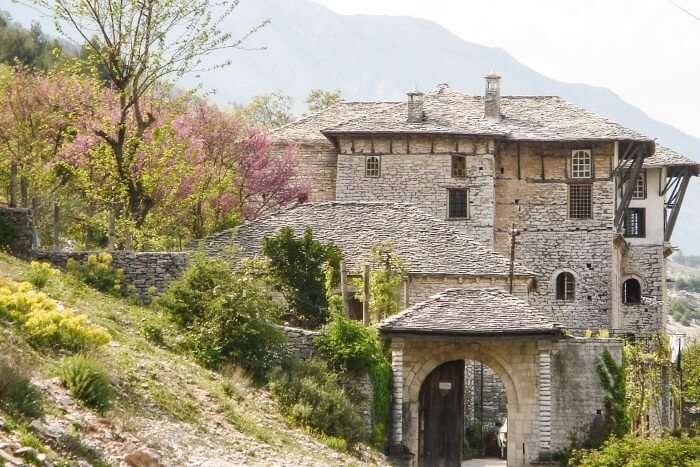 The Gjirokaster is a UNESCO world heritage site which makes an incredible first impression in the eyes of the travelers. Settled at the plains of the Drino Valley, this little quaint ottoman town is one of the beautiful places to visit in Albania where the history buffs can capture the beauty of the flat stone roofs and the majestic fortress which stands tall across the valley. While in this ancient town, travelers can take a short tour of the Gjirokaster Town and also the Skenduli House. Apart from this one can also go on a long drive to Antigonea or the hikers can also go and explore the Ali Pasha Bridge. This old little town has a lot to offer to the enthusiastic travelers.
Suggested Read: 10 Mountains In Europe That Will Put To Test The Adrenaline Junkie In You
9. Benja Hot Springs – Take A Dip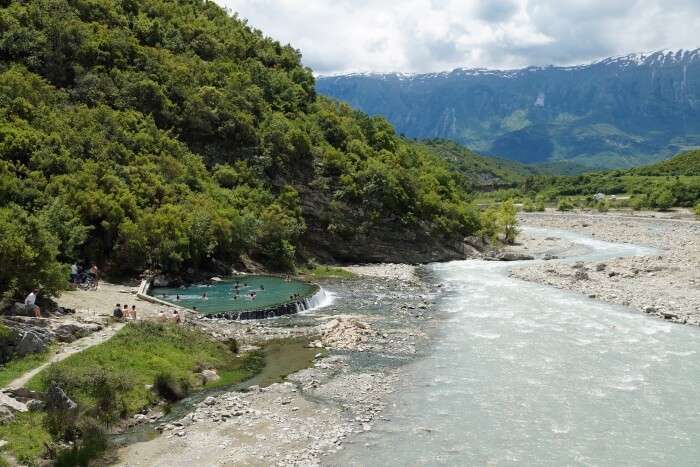 Apart from the historic towns, Albania is also home to the pristine hot water springs. After a tough day, dip your feet at the Benja hot water springs while enjoying the scenic views of this Balkan country. Blessed with the most pristine surroundings,the Permet town has some of the best adventures in its treasure and the Benja hot water springs is one of them. These hot water springs are smooth and clear with having a high content of sulphur. So if you want to get a spa like feeling sitting amidst the nature's finest views then this place is a must visit.
Location: Permet, Albania
10. Himara – Go Beach Hopping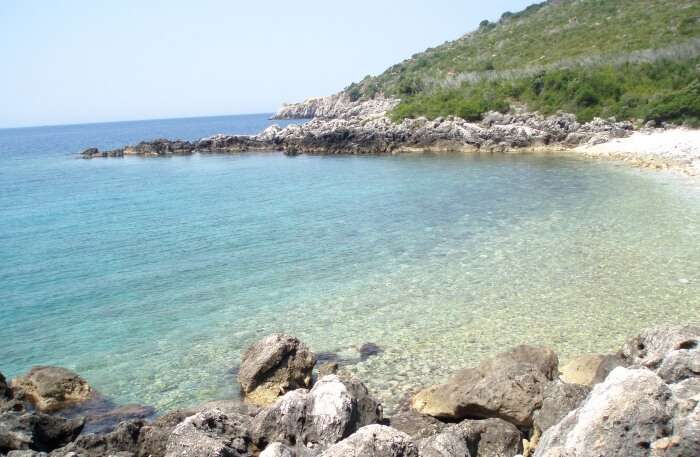 Himara is Albania's most loved beach towns. It is dotted with beautiful bays, colourful umbrellas and villas overlooking the aqua blue ocean. لعبة كازينو There are no signs of the hustle and bustle of the city here. This region is far away from the noise pollution that traffic in the city often creates. You can dive into delicious Mediterranean meals here. The country's best beaches are within easy reach and a hammock is never far away.
Main attractions: Day trips to Gjipe Beach
11. Filikuri Beach – Go Kayaking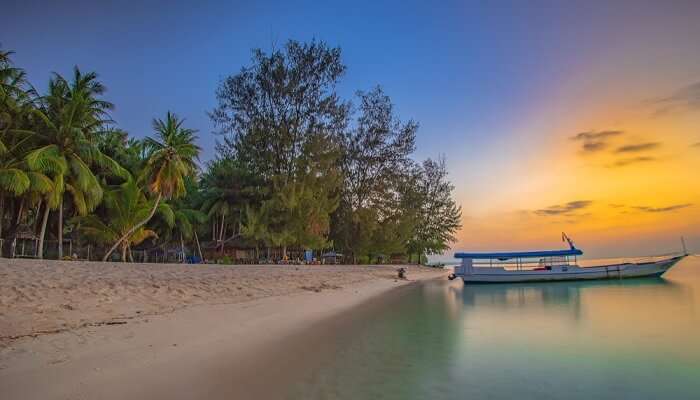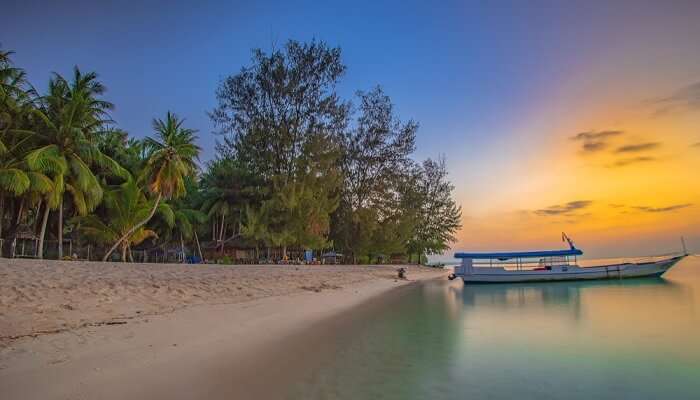 Filikuri Beach lies just 2.5km south of Himara. It is a perfect spot for those of you who are seeking a more secluded beach hideaway. The region is wrapped in cliffs and has a rather rocky shore. you can reach it via a boat or a kayak. If you are feeling a little adventurous, go ahead and scale the rocks with the aid of a rope which is fixed to the cliff. it couldn't get any better than this!
Location: between Potami and Llamana
12. Butrint National Park – Embark On A Safari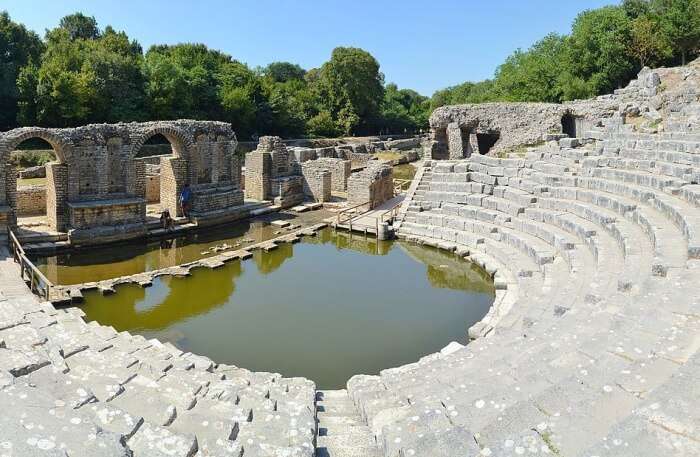 Butrint National Park may be off your radar on a trip to Albania, but it holds just as much historical importance as anywhere in the country. We kid you not! It boasts of 2,000+ year old artifacts that are equal parts impressive and surreal. The theatre of Butrint is said to have been able to seat a mind blowing 2,500 people. The theatre is surrounded by ruins of a public bathhouse, gymnasium, and even traces of an aqueduct that brought fresh water into the old city.
Opening hours: 8 AM – 8 PM
Location: SH81, Butrint
13. Durres – Visit The Most Stunning Amphitheater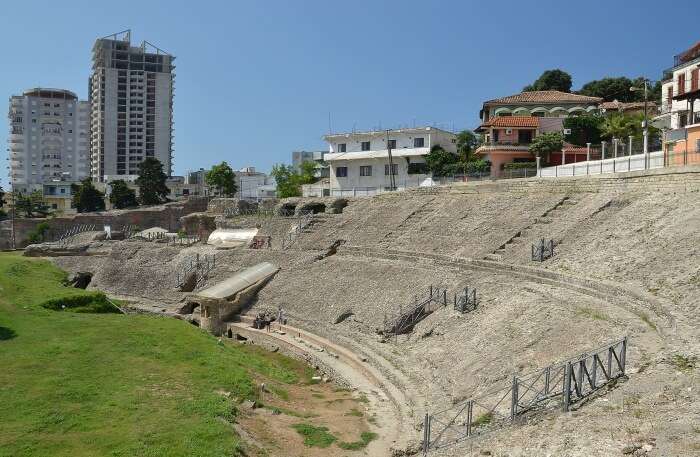 The Durres Amphitheatre was built in 100 AD by Hadrian. It was rediscovered in the 1960s. Interestingly, the amphitheatre was used for about 300 years and back then it could accommodate as many as 20,000 spectators. The grand scale at which this piece of architecture was built is part of what makes the landmark special, but archaeologists are also intrigued by how the building demonstrates the civilisation's transition to Christianity.
Location: Rruga Kalase, Durrës, Albania
14. Sarande – Gorge On Delicious Food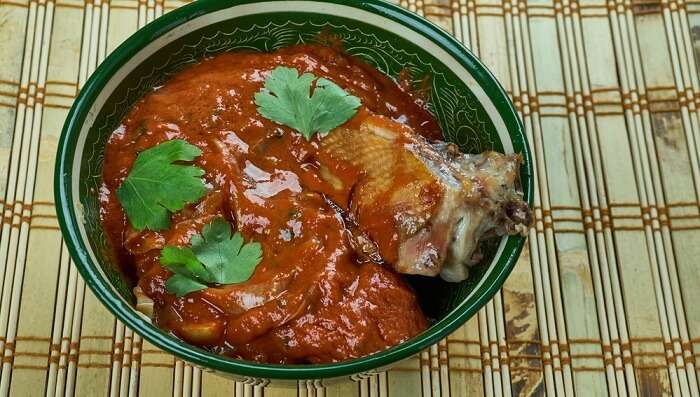 Albanians are devoted cooks, chefs, culinary experts and general food and pleasure enthusiasts. Preparing a nice meal, enjoying fresh foods, being gracious hosts, and giving in to life's simple pleasures are important activities for any Albanian! Sarande is mentioned in every list of recommendations of places to eat in Albania. The restaurants here have stolen the hearts of locals and tourists alike.
Must-eat dishes: roasted lamb, byrek, fërgesë, pllaqi
Further Read: 10 Mountains In Europe That Will Put To Test The Adrenaline Junkie In You
So now you know that there is a long list of things to do around this Balkan country apart from just the scenic landscapes and ancient architectures. What are you waiting for now then? Plan your trip to Europe and make sure to tick off these exciting things to do in Albania from your bucket list!
Disclaimer: TravelTriangle claims no credit for images featured on our blog site unless otherwise noted. All visual content is copyrighted to its respectful owners. We try to link back to original sources whenever possible. If you own rights to any of the images, and do not wish them to appear on TravelTriangle, please contact us and they will be promptly removed. We believe in providing proper attribution to the original author, artist or photographer.
Frequently Asked Questions about Things to Do in Albania
What is Albania known for?
Albania is a beautiful country that is known for its astounding landscapes and historical buildings that were built during the ancient times. Ideal for an offbeat holiday, Albania welcomes its visitors with numerous attractions that are perfect for a quaint getaway.
Which is the best time to visit Albania?
The best time to visit Albania is from April to June, and September to October, when the destination is pleasantly cold and it would be fun to explore it. Make sure to plan your tour during these months for a hassle-free holiday experience.
Is it safe to visit Albania during covid times?
Yes, it is perfectly safe to visit Albania during covid times, as it has a relatively low number of covid cases. But don't take our word for it: check up on the latest travel advisory, Covid-19 measures, and the number of cases before your departure. It is safer to undertake solo travel or with a small group of people to somewhere that is not overly crowded at the moment.
Which are the best attractions in Albania?
Some of the popular attractions that one must explore during their visit to this destination are Komani Lake, Rozafa Castle, Berat, Gjirokaster Old Town, Benja Hot Springs, Himari, Fikuri Beach, and Butrint National Park.
Which are the best things to do in Albania?
Being one of the most offbeat places in the world, Albania surprises its visitors with tons of adventures such as visiting the Blue Eye natural spring, exploring Butrint National Park, and visiting historical monuments such as Berat Castle, Gjirokaster Castle, Rozafa Castle, and Et`hem Bey Mosque.
How many days are required for Albania?
Albania includes various amazing attractions that ensure an intriguing vacation. If you are planning to visit Albania then it is suggested that you plan at least a 7-8 days tour to explore various exquisite attractions that it has on offer.
Which are some of the offbeat places in Albania?
Some of the most unusual places in Albania are the Cape of Rodon, the Blue Eye of Theth, Rana e Hedhun Beach, Dajti Ekspres Cable Car, Mirror Beach, Ksamil Island, Porto Palermo Castle, Preza Castle, and Lake Koman.
Which are the best traditional dishes of Albania?
Some of the most popular traditional dishes of Albania are Byrek, Tava e Kosit, Bakllava, Speca të Mbushura, Fërgesa, Qofte, Shëndetli, Petulla, Tave Peshku, and Imam Bajalldi. Make sure to try these savory cuisines during your Albania tour.
People Also Read
Things To Do In Croatia Things To Do In Greece Things To Do In Bulgaria
Comments
comments