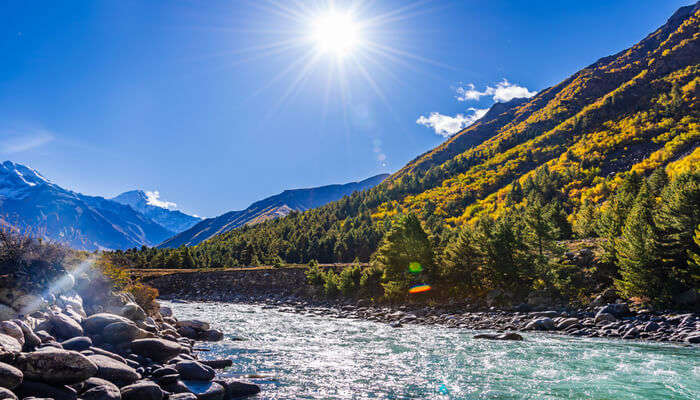 Been to the hills too many times and feeling like you are done with the ordinary and regular things to do? Well, try Chitkul then. It is a small village with a great potential in Himachal Pradesh and had always been a mesmerizing and classic getaway for travelers. Located in the district of Kinnaur, the village rests 24 km to the north of another attractive tourist place, Sangola. which is also believed to be the last village on the old Hindustan – Tibet trade route. We bet you will be awestruck at the sight of the scenic beauty that Chitkul offers its guests and the many things to do in Chitkul goes on to add to the adventure. And according to a recent survey Chitkul has the cleanest air in India. We think that's enough building up. Let's get to the point and tell you about the interesting things to do here.
11 Best Things To Do In Chitkul
If you were wondering what are the top things to do in Chitkul then here are those. Just take a quick look at these and decide what suits your needs.
1. Mathi Temple: Dive Into The Spirituality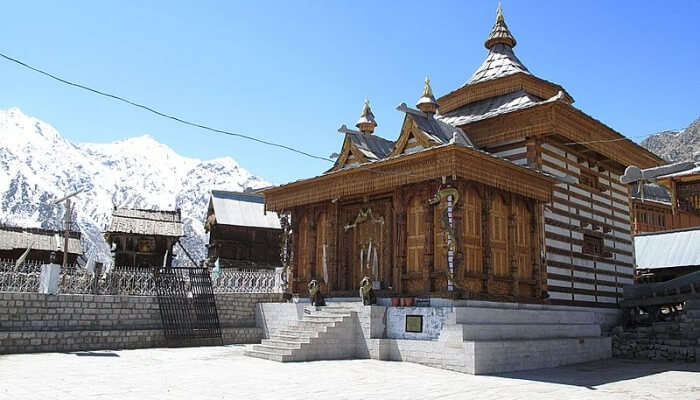 According to the sage, Mathi is said to the goddess for the local people here. Shestarted her quest from Vrindavan via Mathura and later reached Tibet. On the way she encountered the seven provinces in the valley of Barua Khad. This land was divided into 7 parts. After she appointed various deities to guard these provinces, she then reached this small village of Chitkul and decided to reside there which is now called Mathi hence the temple was built and visiting the place is considered to be one of the religious things to do in Chitkul. As the goddess arrived at the village, the village had begun prospering and growing in abundance with food and grass to graze for the cattle. This temple was said to be built 5 centuries ago which is made up of walnut wood. Then this walnut wood is covered with some clothes and a tuft of yak tail.
Location: Sangla – Chitkul Road
Price: No entry fee
Timings: 9am to 5pm
Must Read: 7 Stunning Lakes In Himachal Pradesh That Are Absolute Natural Wonders
2. Charang Chitkul Pass Trek: Rejuvenate Your Body And Mind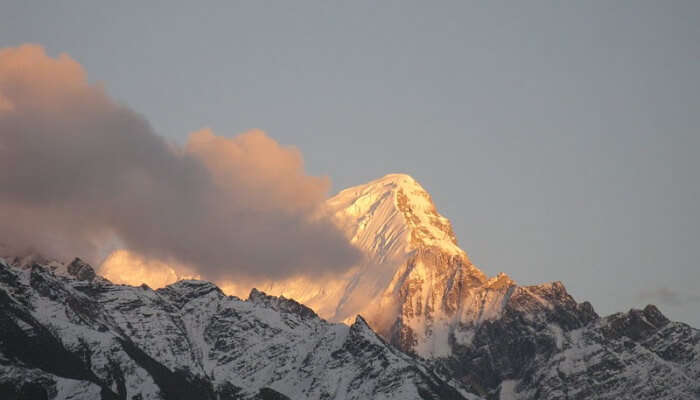 This is one hell of a trek in the state of Himachal Pradesh. It goes on for a duration of 12 days which stretches up to 60 kilometers altogether. It is 5242 m high and long steel slithery scree slopes. It is the best trek in the country for adventure enthusiasts and taking it is one of the adventurous things to do in Chitkul. Along with the spectacular mountain views and lush meadows. One can experience the view of great vineyards, Buddhist monasteries, lovely apple orchards and most rewarding experience of the lifetime. The trek guarantees glance of the Kinner Kailash Mountain also an opportunity to pay a visit to the highest cricket pitch in Chail.
Location: All of Kinnauri region, Shimla-Sarahan-Reckong Peo-Lambhar-Lalanti-Charang La Chitkul-Sangla-Shimla
Suggested Read: Himachal Pradesh In May: Top 10 Places To Escape The Busy City Life In Summer
3. Kagyupa Temple: Learn About Buddhist Schools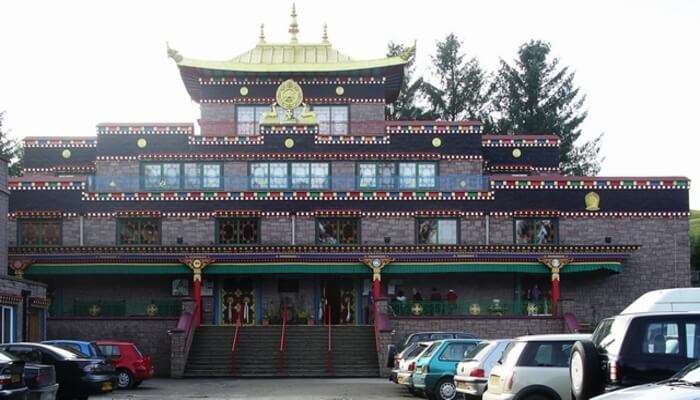 The temple is very similar to the Mathi Temple. It is also made up of walnut wood and is a sight to see. It has unique carved designs on its wooden structure. It also has an idol of Shakyamuni Buddha, which is considered to be very old and beautiful and praying here is one of the sacred things to do in Chitkul. There are cravings on the doors of the four Kings of the four different directions. The Kagyupa is one of the six main schools of Tibetan Buddhism. Kagyu literally means "Oral Lineage" or "Whispered Transmission" school. The origin of these schools traces back to the 11th century.
Location: Near Rampur
Price: No entry fee
Suggested Read: Travel Tips For Himachal Pradesh: 11 Things You Need To Know Before Visiting This Paradise In 2021
4. Baspa River Front View: Make Peace With Your Inner Self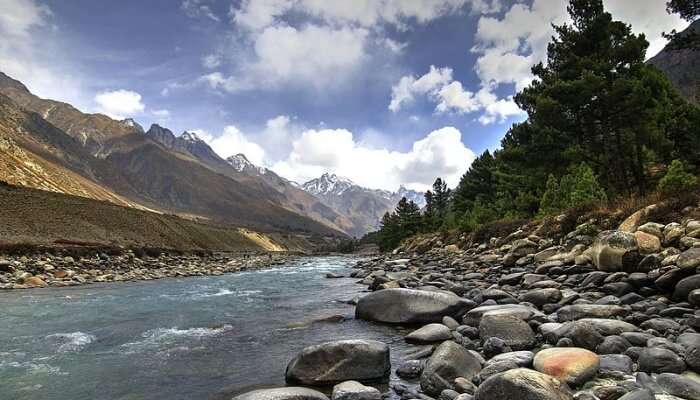 Baspa River lies in the valley of Baspa. The valley is named after this river that origins due to the perennial glaciers which share the catchment area with Ganga.
This river later joins the river Yamuna near Karcham and enjoying the front view is one of the best things to do in Chitkul. The valley of Baspa is covered with pine and oak forest which gives every traveler a scenic view.
Suggested Read: 10 Best Places To Visit In Himachal Pradesh In December 2020 For A Snowy Retreat!
5. 7 Pebbles Wish: Have Your Wishes Fulfilled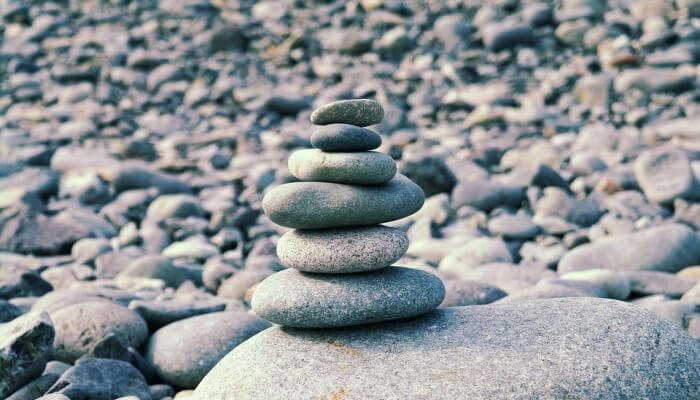 Image Credit: BeaTzJooDy for Pixabay
Many travel to the Himalayas for various reasons and yet you never fall short of reasons. Here is another reason to fall in love with the Himalayas, you can get your wishes granted by the most famous legends of Himalayas which involves stacking of seven pebbles on each other and making a wish which is not materialistic in anyway to get granted and is actually a test of faith and is one of the most intriguing things to do in Chitkul. This is just an ideal place to go for it on the banks of the river Baspa.
Suggested Read: Top 5 Waterfalls In Himachal Pradesh That Treat Your Eyes To The Best Sights Ever!
6. Sangla Meadows: Be Mesmerised By Lush Greenery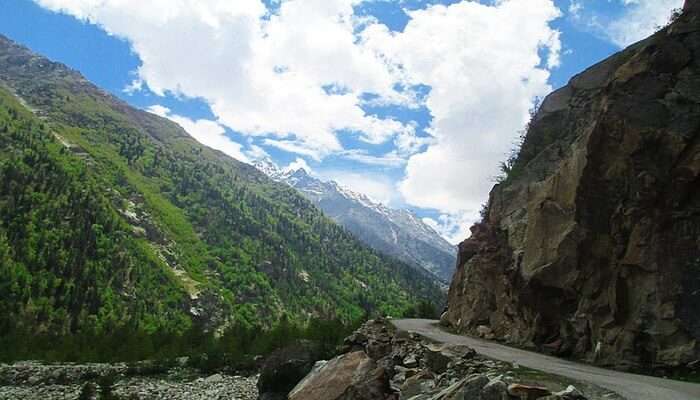 These meadows are situated in the village of Sangla which offers you lush green fields just as if God has painted this Earth green and the skies just as blue as they should be and checking them out is one of the best things to do in Chitkul. It's just like a dream come true with the Himalayan mountains in the background which is covered with snow. These meadows not only gives you peace of mind but also rejuvenates your body, mind, and soul. This place should definitely be your 'must visit' list.
Suggested Read: Himachal Pradesh In April 2021: An Escape For Our Family To Unveil The Wonders Of The Hills
7. Kamru Fort: Stand At The Grandeur Of Himalayan Mountains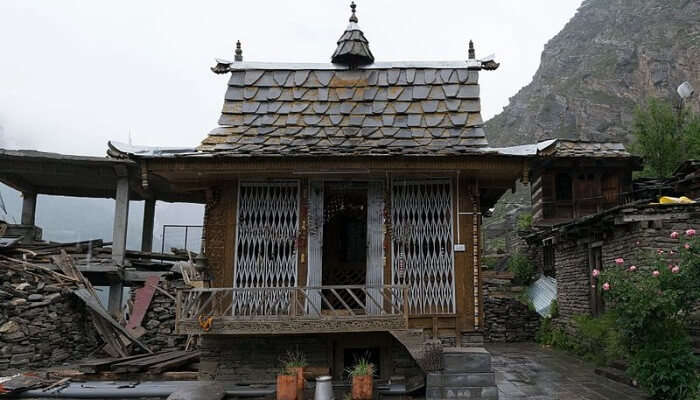 Kamru Fort attracts a lot of tourists from all over the world. It is situated just one or two kilometers away from the valley of Sangla and visiting it is one of the most popular things to do in Chitkul. The fort has a series of gate before you actually enter the fort. There is a statue of Buddha at the entrance of this fort. The fort has a balcony to this blissful view of the grandeur of the Himalayan mountains. At the entrance of this fort, it is a tradition to wear a Kinnauri cap and a Gachhi around your waist. There is a temple of Kamakshi Devi just in the middle of this fortress.
Location: Sangla Valley
Price: no fee
Suggested Read: 12 Snowfall Places In Himachal Pradesh: A List For Your 2021 Trip
8. Bering Nag Temple: Visit The Only Shiva Temple In Chitkul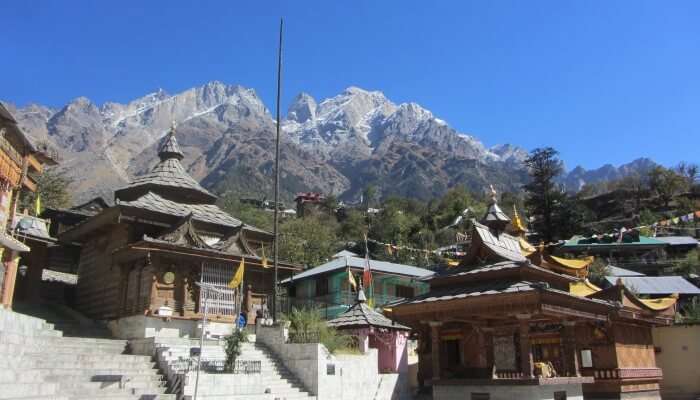 It is yet another famous temple in the district of Kinnauri. This temple attracts a huge number of pilgrims mostly during August and September. It is famous for its fair called Phulaich Fair which is attended by many Hindu devotees and attending it is actually one of the best things to do in Chitkul. You can reach this temple easily by car or bus. There are other temples like Badrinarayan ji and Vishnu Narayan ji in Sangla village itself.
Suggested Read: Delhi To Himachal Pradesh With Friends? Take Tips From This Gang's Budget Trip To Dharamshala!
9. Buddhist Monastery: Confront The Kindness In Existence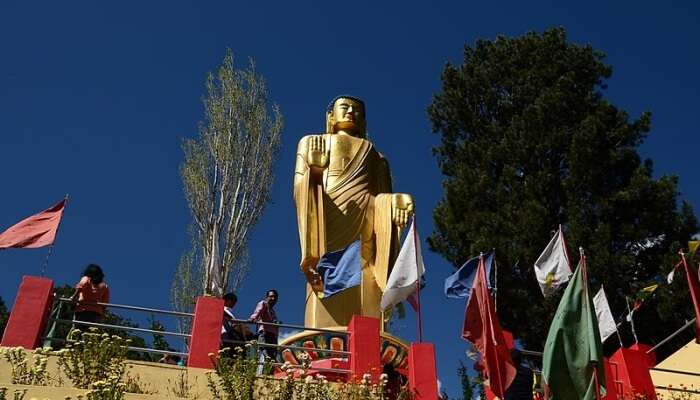 This monastery is also known as Brelengi Gompa which is located near Sangla. It was constructed in 1992 by the Mahabodhi Society to perform Kalachakra Ceremony for Dalai Lama and visiting the place is one of the most famous things to do in Chitkul. There is a statue of a standing Buddha which is 10m tall near the monastery. To get to the monastery there is a long way to talk, it's better if you are equipped with enough water. This monastery being very old is of great reverence to the local people of the village.
Suggested Read: 7 Best Things To Do In Khajjiar For A Refreshing Holiday In Himachal Pradesh
10. Tibetan Wood Carving Centre: Learn The Art Of Wood Carving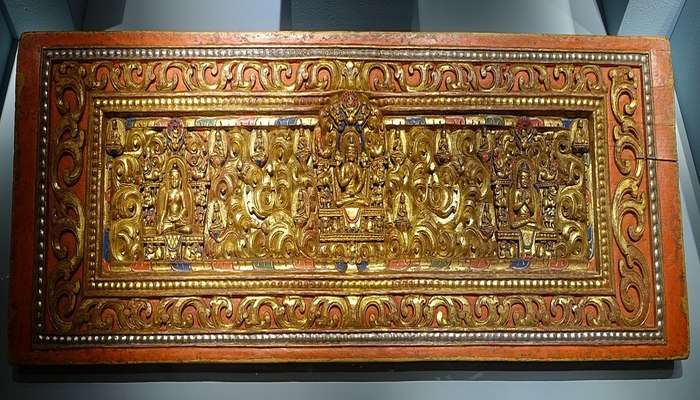 Learning the art of wood carving is time consuming and difficult but is one of the interesting things to do in Chitkul. This wood carving center has been of attraction for all the tourists around the world to see the best of the carvings in Asia. It is one of the top 5 tourist attractions in Chitkul.These carvings are mainly in Tibetan style. The workings and new structures at this center are available to see as well as for sale purposes. On the way to this carving center the Badrinarayan Ji and Vishnu Narayan ji temple is a must visit.
Location: Sangla
Suggested Read: 13 Monuments In Himachal Pradesh For Your Vacay In The Snow Laden State!
11. Rakcham Landscapes: Experience The Delightful & Magnificent Glory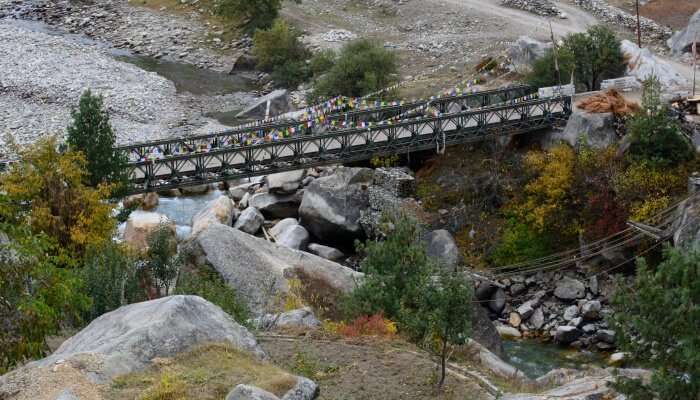 These landscapes are mountains with steep slope and scenic blue skies. The slopes are covered with pine trees and apple orchards. These landscapes are literally heaven on earth and losing yourself in the beauty is one of the best things to do in Chitkul you could do for yourself. During winter these slopes are covered with white snow, changing its view completely. The remoteness of the valleys detaches you from the hectic life of an urban person and settles you calmly.
Further Read: 7 Best Airbnbs In Himachal Pradesh For One Of The Coziest Staycations Ever
Now you have all the required information and are free to dive into the adventure of a lifetime. What are you waiting for? Grab your backpack and run on an adventure in the lap of nature and try these amazing things to do in Chitkul. Plan your trip to Himachal Pradesh and rejuvenate your mind, body, and soul and let the scenic beauty and mesmerizing white-capped Himalayas in the background take over you.
Disclaimer: TravelTriangle claims no credit for images featured on our blog site unless otherwise noted. All visual content is copyrighted to its respectful owners. We try to link back to original sources whenever possible. If you own rights to any of the images, and do not wish them to appear on TravelTriangle, please contact us and they will be promptly removed. We believe in providing proper attribution to the original author, artist or photographer.
Frequently Asked Questions About Things To Do In Chitkul
How to reach the village of Chitkul?
Chitkul is 540km from the capital Delhi, this means that the foremost thing to do is get to Delhi. You can get to Delhi by any means possible i.e car, train, buses or airplanes. From Delhi you have options like trains, buses, public transports or by renting cars. There is easy access to HRTC buses from cities like Shimla, Chandigarh, and Delhi to Chitkul. The frequency of buses is moderate enough and affordable as well as comfortable. There are not much of train options to the place exactly, however the nearest railway station is at Shimla. From Shimla, you may have to make use of buses or other public transportation.
What are the prices of hotels in Chitkul?
The prices of hotels in Chitkul on an average reaches' rupees 18,000 for a 3-star hotel for 4 nights. However, there are other great hotels at a cheaper price according to your needs and budgets. Google travel and other apps are best to find the perfect hotels catered as per your needs. But the best of experience is available at the traditional homes that convertible into hotels. They provide you with wooden traditional interiors.
What type of restaurants is available in Chitkul?
Their number of cafes and restaurants available in the village, while The Wanderer's Best is very famous among the tourists and a lot of them love the food at this place. It has a great scenic view with outstanding ambiance. There are other few restaurants available just nearby which offer you North Indian food along with campfire nights.
How much time does it take to reach Chitkul?
As mentioned earlier, one can travel from various parts of the world to the nearest Airports available at Delhi, Shimla, and Chandigarh and from there on travel to Chitkul by various other means of transport. Of course, to travel to these airports will take time according to how far you are from the place. However, once you reach Chandigarh, it can take up to 3 days to reach Chitkul depending on how fast you reach your destination.
What kind of clothes should one take to Chitkul?
Every traveler must be aware of the weather according to the month you're visiting Chitkul in. But most of the time as it is cold one must carry 2 thermals, two caps, heavy woolen jackets, 3 pairs of socks, hand gloves, a good pair of shoes with enough water and medicinal needs.
What is the best time of the year to visit Chitkul?
Well, there is never a perfect time you see! However, the most welcoming months to visit Chitkul are May to September. That means summer is perfectly suitable for your scenic getaway. When you say summer, you might assume that it might be hot and sweaty but that's not the case with Chitkul. To your surprise, it's still very cold enough to be wearing 2-3 layers of clothes. The summer offers you clear blue skies and lush green fields and clear view of the white-capped mountains.
---
People Also Read:
Things To Do In Madurai Things To Do In Himachal Pradesh Things To Do In Mahabalipuram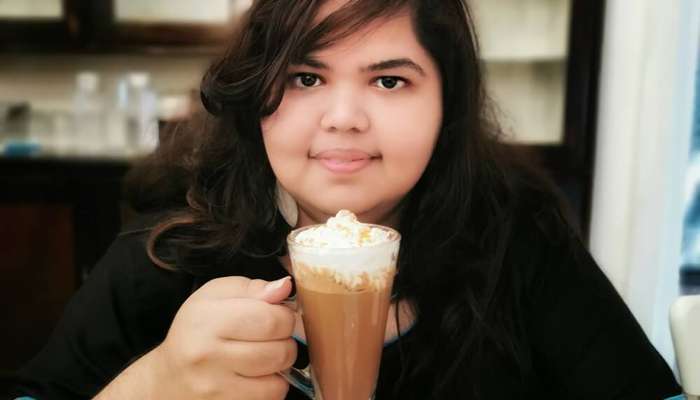 Comments
comments