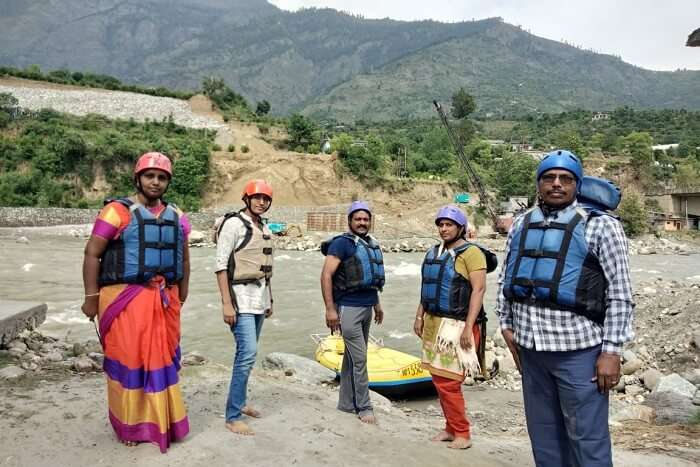 Himachal is an exotic destination adorned with the spectacular peaks festooned with snow and brimming river valleys. This state offers its visitors an assortment of thrilling water sports like rafting and water skiing. The snowy peaks offer travelers a plethora of adventure sports like paragliding, trekking, mountain climbing, and skiing. For family kind of travelers, Himachal is a spectacular destination where they can explore the wonders of the city on foot or by using public transport. Every step the travelers put forward, will take them to the new world and a new story of that exotic destination. Every valley in this state has its own story and its unique culture for travelers to unwind. This state is not only a perfect pick for the couples because of the cozy environment offers or a backpacker choice because of the adventurous miracles to unwind. Svany and his family had the time of their lives on their trip to Himachal Pradesh in April. 
Every year my family and I used to travel to a state and most primarily the temples of the place to have a savor of the religious aspects of the state. This year we chose to visit the state of Himachal Pradesh in April. There is no particular reason behind choosing Himachal Pradesh. We have already taken a trip we TravelTriangle. The great service and the responsiveness of the travel agent made it easier for us to travel from the south. Our experience of our visit to this beautiful place was awesome. We would definitely like to travel to this place again some other time.
Our 6 Days Himachal Trip Package Details
Trip Type: Family Trip
Cost: INR 60250.0
No. Of People: 5 Adults
Duration: 5 Nights/6 Days
Inclusions: Airport Transfers, Breakfast, Dinner, Innova Cab, Government Taxes, Accommodation
Exclusions: Lunch, Private Cab, Airfare
Itinerary Of Our 6 Days Trip To Himachal Pradesh In April
Day 1: Arrival in Simla, Hotel Check-in, A Day at Leisure
Day 2: Kufri Fun Wold, Horse Ride to the Mahasu Peak, The Himalayan National Park, Indian Institute of Advanced Study, Mall Road
Day 3: Transfer to Manali, Vaishno Devi Temple, Kullu River rafting Point, Shawl Factories, Hotel Check-in
Day 4: Hadimba Devi Temple, Vashist Kund, Van Vihar, Manu Temple, Manali Club House, Tibetan Monastery, Solang Valley
Day 5: Hotel check-out, Transfer to Delhi
Day 6: Local Sightseeing in Delhi, Departure from Delhi
Weather In Himachal And Delhi
During our trip to Himachal, the weather of Himachal Pradesh in April was very cool and calm. We have encountered snowfall in Manali that increased our excitement levels and rejuvenate us and made us nostalgiac while enjoying the snowfall. We were also expecting snowfall in Simla but it did not happen. We missed the snowfall but the pleasant weather of Simla raised the level of our curiosity to travel the place. In Delhi, the weather was comparatively hot but the sun calmed itself and we had a wonderful sightseeing experience in Delhi.
Admirable Experiences From Our Family Trip To Himachal
Our visit to Himachal Pradesh was accompanied by the local sightseeing in Delhi was an experience that worth a mention in the written account of our trip. Some of the best places to visit in Himachal Pradesh in April.
1. A day in Shimla for the local sightseeing


During our trip to Kufri, to the small hill station in Simla District, we visited various places like Kufri Fun Wold, Horse Ride to the Mahasu Peak, The Himalayan National Park, Indian Institute of Advanced Study, Mall Road. Kufri Fun World was an amazing amusement park with its location in the snowy mountain peaks. The enthralling horse ride was the best part of our trip. The popular and main street in Simla called Mall road was a perfect place for shopping.
Explore The Himalayas: 48 Best Places To Visit In Himachal Pradesh
2. A glimpse of places of tourist destination on the way to Manali






Vaishno Devi Temple, Kullu River rafting Point, and Shawl Factory visit are some of the places that we visited during our day 1 of Manali Travel. The Vaishno Devi Temple in Manali is a small glimpse of the Vaishno Devi in Katra. The Kullu River Rafting Point is well known for the white water river rafting. Rafting is an activity that is meant for the challenging souls to have a thrilling activity. The shawl factory visit makes us aware of the preparation process of the shawls.
10 Best Homestays In Himachal Pradesh That'll Make You Fall In Love At First Sight!
3. A day in the valleys and temples of historical importance



Hadimba Devi Temple, Vashist Kund, Van Vihar, Manu Temple, Manali Club House, Tibetan Monastery, Solang Valley were some of the spots that we unwinded on our second day in Manali. These temples in Manali are the symbol of the utmost purity and great spiritual values. A Tibetian monastery is a place where one can feel the peace and calmness in the atmosphere. The Solang valley is a beautiful place to visit in Himachal Pradesh in April where we enjoyed numerManali Travelous sports to challenge our souls.
30 Best Hill Stations In Himachal To Experience Pure Bliss
4. A visit to the popular landmarks in our national capital





One our last day of the trip, we were in Delhi after a journey from Manali. There we traveled some of the best places like The Red Fort, Qutub Minar, India Gate, Jama Masjid, and Chandni Chowk market. Here we got a patriotic feel in the various monuments that we visited. The market of Chandni Chowk where one can get some of the daily necessity products at cheaper prices.
5 Types Of Offbeat Stays In Himachal You've Been Missing All This While
Our Hotels In Himachal Pradesh
During our trip to Himachal Pradesh, we visited 2 places called Manali and Shimla. In Shimla, we stayed in a hotel called Hotel Woodpark. We stayed in the Deluxe type of accommodation. Our stay in the hotel was a comfortable experience with all modern amenities and facilities to make our stay comfortable. In Manali, we stayed in a hotel called Mohan palace. Our experience at this hotel was really great. The staff was very polite and served us with hospitality to make us feel comfortable. We were provided with great food. We were provided with delicious breakfast and lunch at the hotels.
Shopping In Himachal Pradesh
During our trip to Himachal Pradesh in April was really awesome with lots of shopping and great experinces. During our trip, we did a lot of shopping. We bought a bunch of stuff from Manali. We bought things like shawls and bedsheets. The things are available in the local market at cheaper prices. Our driver took us to the shop where one can not bargain for anything due to which we had to spend a lot on our shopping. Rest our shopping trip was a pleasure for us.
Travel Tips For Himachal Pradesh
For the guests traveling to Himachal Pradesh in April should take care of the following things while traveling.
One should opt to travel during the day times because the roads are quite deeper and narrow and it will be really difficult to travel in night hours.
One should never forget their identity proofs while traveling to Himachal Pradesh.
Himachal Pradesh is a kind of place where an emergency can happen anytime so one should have emergency contacts on speed dial to contact the relatives.
One should avoid having food from the local stalls as one might suffer indigestion and one should also drink bottled water.
One should ask for the permission of the locals well-before clicking any picture or filming for any kind of documentary.
Our Experience With TravelTriangle
We had taken trips with the Traveltriangle. Every time our experience with TravelTriangle was really awesome. The travel agent was always there by us to help us figure out every problem during our trip with TravelTriangle. Our agent never made us feel alone in this foreign land. They were all cooperative during our entire trip.
Common Queries You May Have About Himachal Pradesh
Q. Is Himachal only a good destination for the elder people?
A. Himachal is a home of religious places like temples and monasteries. But this, not the only thing that this place offers to the guests. The state offers a plethora of adventure sports and other places that make this state a perfect spot for youngsters.
Q. Is Himachal a destination where guests can travel?
A. Yes, this place is a perfect place to be visited by children. There are a couple of camping sites and numerous adventure sports. Yak and horse riding are some of the main attractions for the kids visiting the state.
Q. What are the better ways to travel to the state?
A. One can travel to the state using any means of transport. Most of the travelers prefer traveling via road.
Q. Is it safe to travel Himachal Pradesh in April?
A. this place is one of the best states to visit in April. One should avoid to visit this place is a monsoon. The state has good connectivity to the roadways.
Q. Is it safe for the girls to travel Himachal Pradesh?
A. Yes, the state is a safe place to travel for a group of girls. The state is well-equipped with all facilities for the guests to travel alone and safely.
If you are also planning a trip to this beautiful destination, check out the itineraries of Himachal Pradesh for a personalized and great trip. You will surely have an awesome trip like ours!
---
Looking To Book Your Honeymoon Package?
Book memorable honeymoon on TravelTriangle with 650+ verified travel agents for 65+ domestic and international destinations.
---
div.nav-links { display: block; float: left; width: 100%; padding: 0 20px 10px; } div.nav-links a { display: inline -block; float: left; margin-right: 4px; font-size: 13px; webkit-box-sizing: content-box; -moz-box-sizing: content-box; box-sizing: content-box; -o-text-overflow: clip; text-overflow: clip; text-decoration: none !important; margin-top: 5px; border: 1px solid #c8c8c8; font-style: normal; border-radius: .25em; padding: .2em .6em .3em; line-height: 23px; } div.nav-links a:hover { background-color: #009688; color: white; }