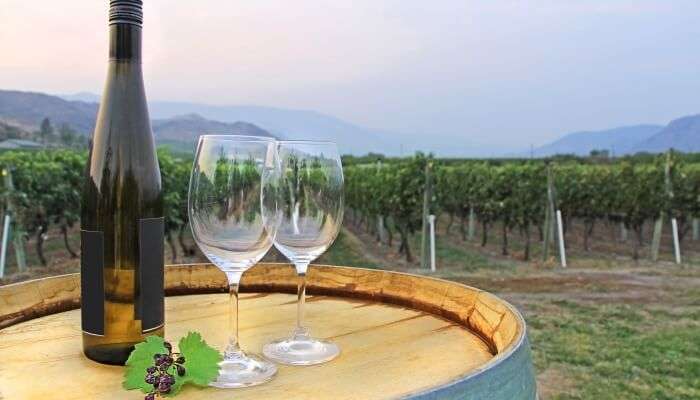 As humans, we are all driven by a universal instinct of spending some quality time with our families and travelling is one such activity which not only allows you to have some quality time with your loved ones but also enjoy the aesthetics of the place. There is nothing better than travelling to exquisite locations where one can experience tranquillity and peace; and without a doubt, Kamloops is one such place! Located in British Columbia, Kamloops is the meeting point of two significant rivers of Canada- North, and South Thompson. While you relax in the city, you can experience both the magnificence of the mountains and the calmness of the sea whilst also indulging in the many activities that the city has to offer.
10 Things To Do In Kamloops
There are many things to do in Kamloops, and specifically, 10 that will make your stay more adventurous and will help you know the depths of the city. So explore these as you read along our list about the same. 
1. British Columbia Wildlife Park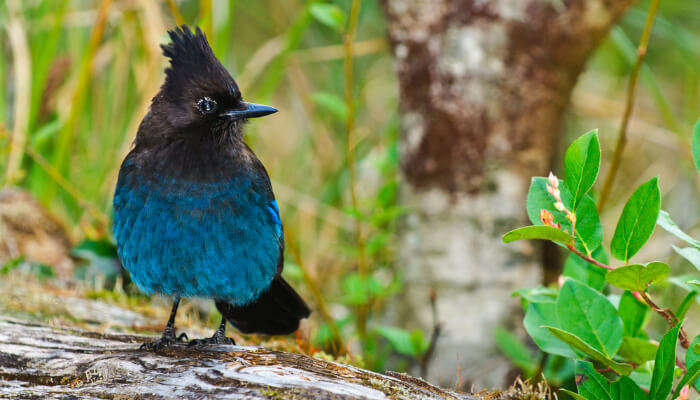 The BC(British Columbia) wildlife park is one of the best locations to visit across all seasons. The zoo is spread over an area of 106 acres and is said to have the largest facility for owl breading. The park was established in the year 1965, and at present, it is an active member of CAZA. Get to know the wildlife of Canada as you explore this wildlife Park!
Location: 9077 Dallas Dr, Kamloops
Timings: 9:30 am to 4:30 pm
Price: INR 880 for adults and INR 600 for kids.
8 Refreshing Toronto National Parks That'll Make Your Canada Trip In 2022 An Awesome Affair!
2. Riverside Park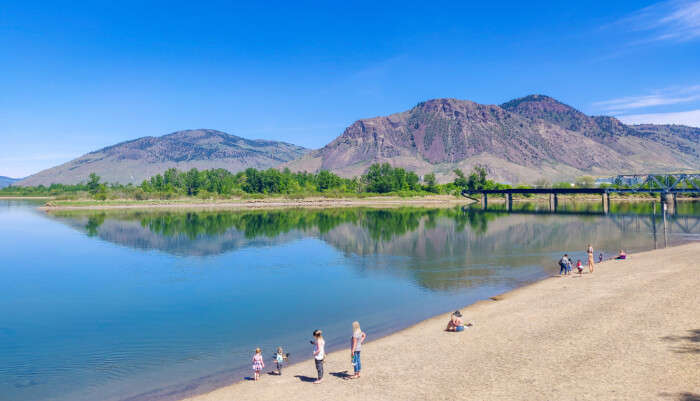 Riverside Park is a place situated on the banks of the Thompson River and it encompasses the only beach present in the town. You can also come across a monument which indicates the level of water risen across the three floods which struck the city. The park is the ultimate junction for river and land activities.
Location: 100 Lorne St, Kamloops
Timings: 10:00 am to 8:00 pm
Price: Free
3. Kamloops Lake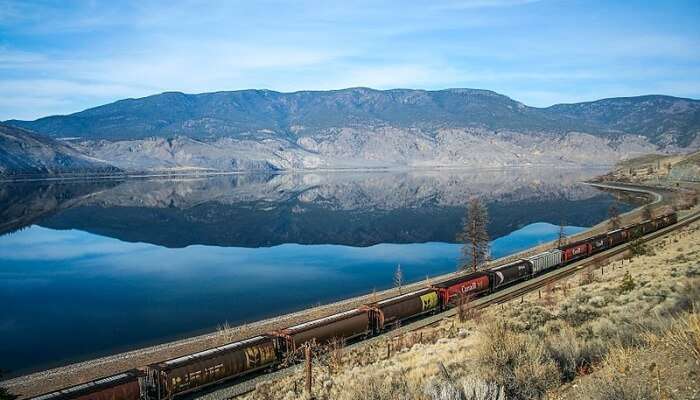 Nearly 29 km long, the lake is located on the western side of the city of Kamloops. You can witness the beautiful view of the mountains which surround the lake and since most of the lands which surround the lake are inhabited, it can be used as a perfect spot for a picnic afternoon with your loved ones! Happiness at Kamloops Lake costs nothing as enjoying a picnic is clearly one of the free things to do in Kamloops!
Location: West of Kamloops
Timings: 24 Hours Open
Price: Free
Explore These 10 Toronto Museums To Unravel The Cultural Tales Of Canada!
4. Kamloops Heritage Railway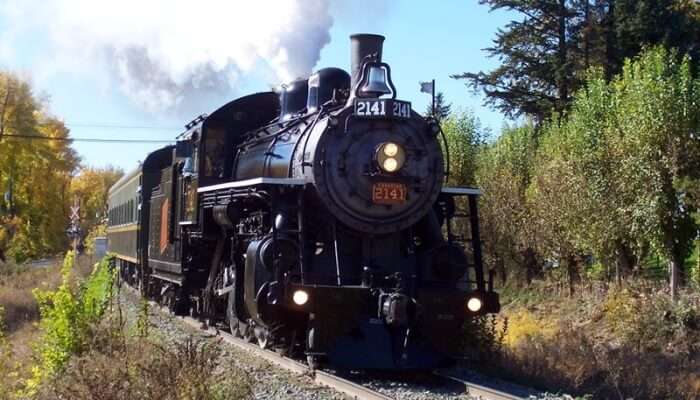 In the age of bullet trains, it is rare to catch sight of the old steam trains. But not in Kamloops! You can visit the vintage steam train at Kamloops Heritage Railway and enjoy the ride of the steam train for it is clearly one of the most fun things to do in Kamloops! It is interesting to know that the name of the engine which pulls the train is 'Spirit of Kamloops".
Location: 510 Lorne Street #3, Kamloops
Timings: 10:00 am – 3:00 pm
Price: INR 3700
---
Planning your holiday but confused about where to go? These travel stories help you find your best trip ever!
---
5. Sun Peaks Resort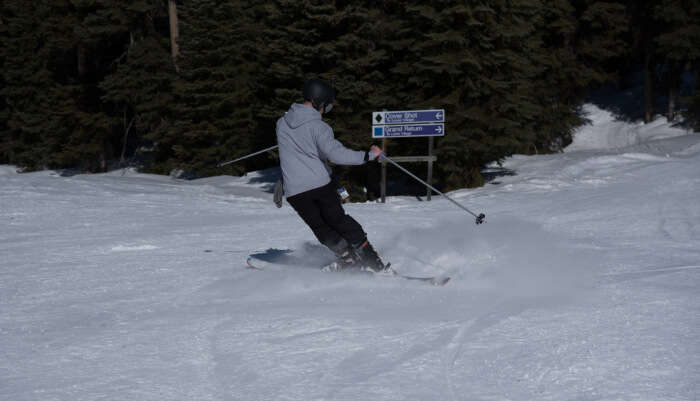 If you are an avid lover of adventure, then this ski-resort is placed in the northeast region of Kamloops has a lot to offer. The resort has a skiable area of 16 square meters and allows you to enjoy skiing at its best, and let's face it, skiing is without a doubt one of the best things to do in Kamloops in winter. The resort also has a golf course and tubing activity for you to enjoy!
Location: 1280 Alpine Road, Sun Peaks
Time: 9:00 am to 3:30 pm
Price: INR 3764
Skydiving In Canada: A Must-Have Experience On Your Canadian Holiday
6. Kenna Cartwright Park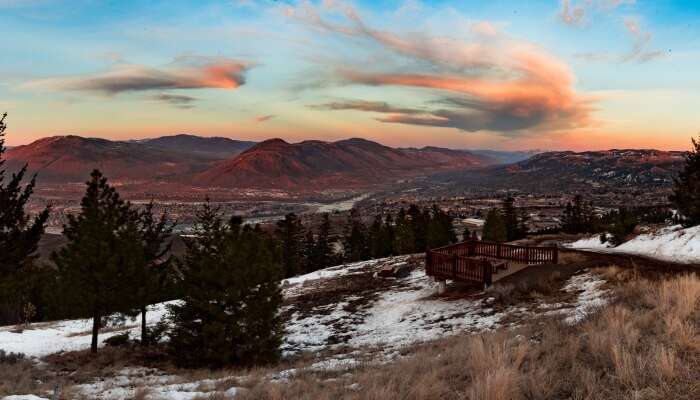 This park was established to protect one of the natural landscapes of the city and it is named after the former mayor of Kamloops – Kenna Cartwright. You can take out a day to hike to the park
and while you do that, you can experience the magical views of valleys, hills, Douglas forest, and pineland.
Location: Hills Drive, Kamloops
Timings: 5:00 am to 11:00 pm
Price: Free
7. McArthur Island Park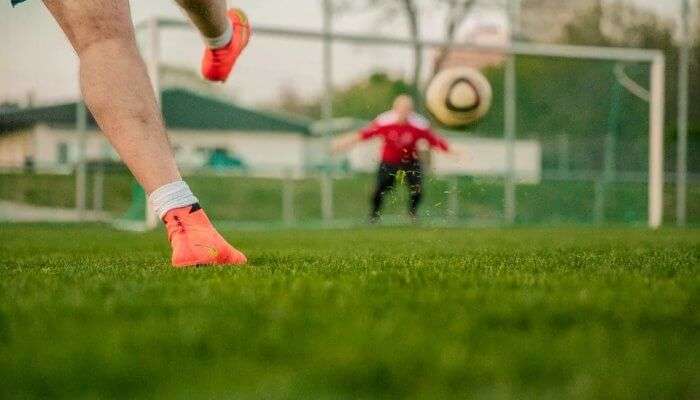 Image Credit: Phillip Kofler for Pixabay
If you are visiting British Columbia during warm weather and are confused about the things to do in Kamloops in summer, then look no further! McArthur Island Park is the perfect place to play baseball or soccer and other sports such as tennis. You can also take a walk around the park or go cycling to rejuvenate your mind and body!
Location: 1655 Island Pkwy, Kamloops
Timings: 8:00 am to 11:00 pm
Price: Free
Attend Montreal Festivals For A Super-Electrifying Vacation To Canada This Year!
8. Downtown Kamloops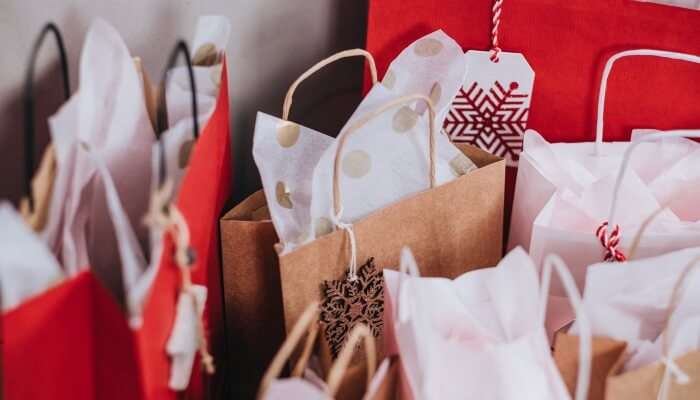 Downtown Kamloops is a place for shopaholics and food lovers; this place not only has a great range of local and international cuisines but also offers you to shop from exquisite stores around the avenue. The locality also offers a range of excellent ales of the town so you have a lot to explore in this place!
Location: 246 2, Ave Kamloops
Timings: 8:00 am to 4:00 pm
Price: Free
9. Privato Winery and Vineyard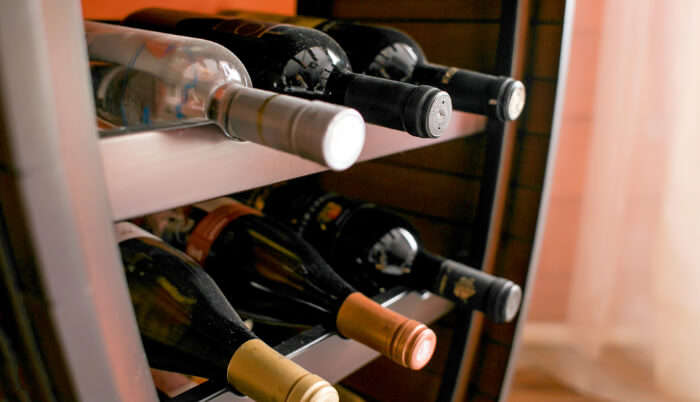 The Privato Vineyard is a place where you can enjoy well-crafted wine- one that is authentic and delicious! The site is not only aesthetic but also has a beautiful small wine tasting area and the vineyard proudly specializes in brewing Burgundy Wine.
Location: 5055 West Road, Kamloops
Timings: NA
Price: NA
7 Famous Temples In Vancouver Canada You Should Visit To Enlighten Your Souls
10. Cascades Casino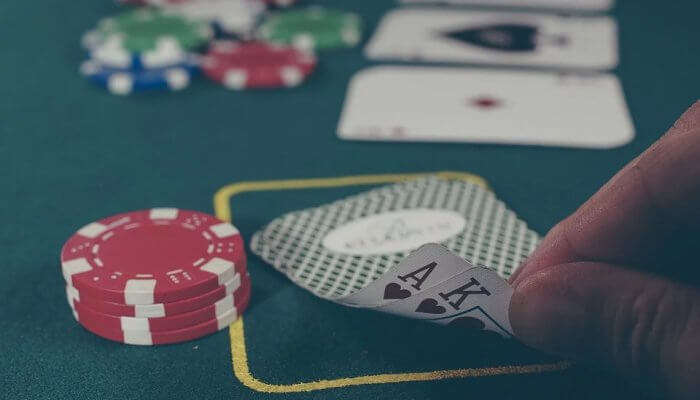 Cascades casino is one of the best places where you can try out your fortune. The casino has a range of gambling games where you can invest and double your amount! It is a fun atmosphere where you spend a night laughing and challenging your luck!
Location: 1555 Versatile Dr, Kamloops
Timings: 10:00 am to 12:00 am
Price: NA
Kamloops, Canada is one of the best destinations for adventure and family holidays. You can not only witness the natural beauty of the place but can also enjoy some of the best wines and local cuisine. The city offers a list of adventure activities all across the seasons and you can experience some of the most splendid things to do in Kamloops. So, why wait? Plan your trip to Canada with TravelTriangle now!
For our editorial codes of conduct and copyright disclaimer, please click here. 
Frequently Asked Questions About Things To Do In Kamloops
What things can one enjoy in Kamloops, Canada?
Kamloops is a city in Canada where you can enjoy a list of things:
1. Hiking in the Kenna Cartwright Park
2. Skiing in the Sun Peaks Resort
3. Wildlife adventures at the BC Wildlife Park
4. Gambling in the Cascades Casino
5. Steam Train Ride at Kamloops Heritage Railways
What can one witness between Kamloops and Vancouver?
The drive from Vancouver to Kamloops can offer you a bunch of beautiful destinations. Below listed are a few of these places:
1. Shannon Falls
2. Stanley Park
3. Capilano Suspension Bridge
4. Downtown Whistler
How far is Kamloops from Vancouver?
The city of Kamloops is nearly 220 miles or 354 kilometres away from Vancouver.
How many lakes do Kamloops have?
There are more than 100 lakes which are present at an hour's drive from the city of Kamloops. You can go Kayaking, fishing, swimming, picnic across these lakes.
How cold does it get in Kamloops?
Winters are cloudy and snowy and the average temperature recorded is between 19-degree Fahrenheit to 83-degree Fahrenheit.
How far is Kelowna from Kamloops?
Kelowna is located at a distance of 65 miles from Kamloops.
When is the best time to visit Kamloops?
The best to visit Kamloops is between September and November because of the moderate climate and because these months don't experience a lot of tourists making your stay affordable and enjoyable!
---
Looking To Book A Holiday Package?
---
People Also Read:
Things to Do in British Columbia Things to Do in California Thing to Do in Hallstatt
Comments
comments