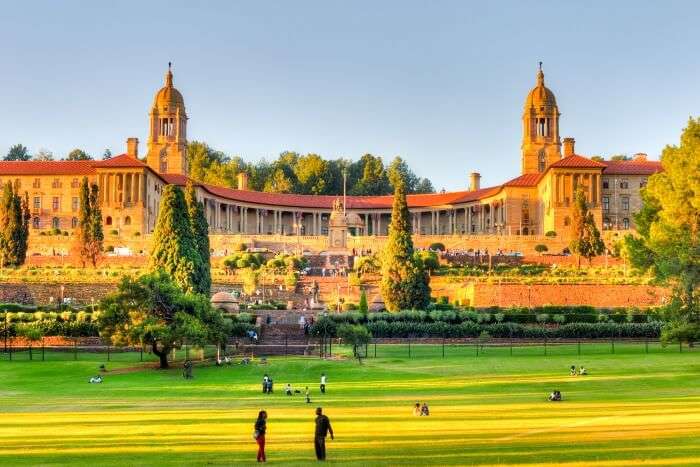 A beautiful small city located in the northern area of Gauteng, South Africa, Pretoria straddles the Apies River spreading into the lower regions of Magaliesberg Mountains. Being an urban area, it is one of the three capitals of South Africa . Pretoria fills in as the seat of the managerial part of government and remote international safe havens to South Africa.
Pretoria is famous among the tourists as well as is renowned as a scholastic city, as it is a hub of many educational and research centers. It houses three elite colleges, the Council for Scientific and Industrial Research (CSIR), and South African Bureau of Standards. During your vacation, you can get yourself engaged in a lot of things to do in Pretoria to make the most of it!
12 Best Things To Do In Pretoria
Pretoria stands its ground with an astonishing blend of social, culinary, and enlightening aspects. We have found out some moderate, free, and unusual things to do Pretoria that demonstrate why it is a city that ought to be known for something beyond Jacaranda blooms and the blue train!
1. Visit The Voortrekker Monument
It is situated in south of Pretoria, South Africa. This huge rock structure is conspicuously situated on a peak and was built as a tribute to the Voortrekkers who left the Cape Colony somewhere between 1835 and 1854. The whole planning of the infrastructure was done by planned by the modeler Gerard Moerdijk.
In 2011, this monument was declared a National Heritage Site by the South African Heritage Resource Agency. With 40 meters high altitude, the Voortrekker Monument has a base of 40 meters by 40 metres.
The building is rather similar to European landmarks like the Dôme des Invalides in France and the Völkerschlachtdenkmal in Germany. It also has African influences. The two main attractions are the Historical Frieze and the Cenotaph.
Location: Eeufees Rd, Groenkloof 358-Jr, Pretoria, 0027, South Africa
Rating: 4.5 out of 5!
Contact: +27 12 326 6770
2. Make A Visit To Vibey Market @ The Sheds
Visit this social market commending great vibes with music and delicious nourishments like tacos in a kombi. It's composed by the Capital Collective with the point of restoring Pretoria's inward city and making a space where everybody feels welcomed.
The Market @ The Sheds is set up on the last Saturday of the month from 11:00 to 20:00. There are date changes in the middle of the month to suit long ends of the week. For updates about the following spring up market look at the Market @ The Sheds logbook!
Location: 012 Central, 381 Helen Joseph Street, Arcadia
Rating: 4.2 out of 5!
Contact: +27 12 326 6770
Must Read: Experience The Timeless Beauty Of South Africa With These Top 7 Places To Visit In Paarl
3. Tall Stories And Agatha Panther
Only a short distance away from Pretoria focal is this sanctuary for avid readers. They move all around evaluated new books and entirely moderate second-hand ones on an extensive variety of themes. In case you're fortunate, great looking cat, Agatha Panther, will be there to welcome you.
Tall Stories is open each day of the week, from 9:00 to 19:00 Monday to Thursday, 9:00 to 20:00 on Friday, 9:00 to 18:00 on Saturday, and 9:00 to 17:00 on Sunday.
Location: Irene Village Mall, Cnr. Nellmapius & Pierre Van Reyneveld Roads
Rating: 4.5 out of 5!
Contact: 012 662 2829
4. Enjoy Some Peace At Ludwig's Rose Farm
Ludwig's Rose Farm has a peaceful and calm scene, highlighting an eatery in the focal point of the most fabulous rose garden. Orchestrate an excursion for the family on the rich grounds or make the most of their well known breakfast and teas.
Location: Plot 4, tygervalley, Lynnwood Road, Pretoria
Rating: 4.5 out of 5!
Contact: 012 817 2099
Suggested Read: Churches In South Africa: 10 Places Of Worship That Will Fill You With Divine Bliss
---
Planning your holiday but confused about where to go? These travel stories help you find your best trip ever!
Real travel stories. Real stays. Handy tips to help you make the right choice.
---
5. The Other Side Of Pretoria At Abseiling
There's a whole other world to Pretoria than the Union Buildings and jacaranda trees. Try your hand at abseiling experience close to the country's capital and get your adrenaline siphoning! Travel to Adventure Zone Cullinan, a close distance from Pretoria CBD, to abseil down sheer bluffs up to 60 meters high.
The delightful Muningi Gorge gives probably the best abseiling precipices with post focuses!
Location: Muningi Gorge, Gauteng
Rating: 4.7 out of 5!
Contact: 012 734 0507
6. Get wilder at the Pretoria Zoo
The National Zoological Gardens of South Africa (also known as The Pretoria Zoo) is a 85-hectare (210-section of land) zoo situated in Pretoria, South Africa. This national zoo was established by J. W. B. Gunning in 1899. Pretoria Zoo is one of the eight biggest zoos in the world and a standout amongst the most exceedingly evaluated.
Continuing from the passageway a guest experiences a stroll through aviary, walled in areas for chimpanzees, water birds and lemurs, a winged animal of prey aviary, further feathered creature nooks and the mandrill and monkey fenced in areas along the western limit.
Location: 232 Boom St, Daspoort 319-Jr, Pretoria, 0001, South Africa
Rating: 4.3 out of 5!
Contact: 27 12 339 2700
Suggested Read: Best Waterparks In South Africa – Get A Little Splashy & Live The Childhood Dream!
7. Enjoy Natural Beauty At Rietvlei Nature Reserve
The Rietvlei Nature Reserve is situated in Pretoria and is around 4,000 hectares (40 km2) in size. The reserve encompasses and incorporate the Rietvlei dam and is situated in the Gauteng Province of South Africa, south east of Pretoria, between the R21 interstate (OR Tambo Airport roadway) and the R50 (Delmas/Bapsfontein) street on the north-east.
This reserve is in the quarter degree network square 2528CD (Rietvlei Dam), somewhere in the range of 25º56'S scope and 28º15'E and 28º19'E longitude. The mean height above ocean level is roughly 1 525 meters, with the most astounding point at 1 542 m and the absolute bottom at 1 473 m (at the dam's surge).
The hold covers a surface zone of around 4003 ha or 40 km2 (the dam constitutes roughly 20ha of this zone) and a system of streets cross the whole region, which makes the save open to guests and the executives
Location: 14 Game Reserve Ave, Rietvallei 377-Jr, Pretoria, 0181, South Africa
Rating: 4.3 out of 5!
Contact: +27 12 358 1812
8. Hiking At Groenkloof Nature Reserve
Image Source
The Groenkloof Nature Reserve, found adjoining the Fountains Valley at the southern access to Pretoria, was the principal amusement haven in Africa. The hold of 600 ha is overseen by the Department of Nature Conservation. The National Heritage Monument is situated inside the hold.
In total, these stores moderate somewhere in the range of 1,400 ha of bankenveld vegetation which is compromised in Gauteng. The hold is available today guests from 5:30 to 19:00 in summer, and 7:00 to 18:00 in winter. Visit here if you're looking for some adventurous things to do in Pretoria!
Location: Christina De Wit Ave, Road, Pretoria, 0027, South Africa
Rating: 4.2 out of 5!
Contact: +27 12 358 1757
Suggested Read: 7 Most Popular Airports In South Africa That Are Boosting The Nation's Tourism Industry
9. Hike At Hennops Hiking & Mtb Trails
Image Source
Hennops Trails is found 30 km from Pretoria and Fourways on Road R511 to Hartbeespoort Dam. This untainted family cultivate is in a genuinely peaceful setting and its common excellence incorporates the Hennops stream coursing through a valley circumscribed by mountain extents toward the north and south.
This place is ideal for getting indulged in thrilling adventures in Pretoria. Notwithstanding these recreational offices, different territories of the property are at present used for cows eating and inundated harvest development.
Location: R511, Pretoria, 0001, South Africa
Rating: 4.5 out of 5!
Contact: +27 82 825 9205
10. Camera Obscura At The University Of Pretoria
The Camera Obscura (antecedent to the cutting edge camera) at Pretoria University is a wonderful innovation enabling you to see the entire of Pretoria as you alter the course of the focal points and the view is anticipated in an obscured room. You'll even have the opportunity to see feathered creatures and individuals running around.
It is suggested that you visit in the mornings to see the best perspective of the downtown area when it's enlightened by the daylight from the east. On a crisp morning, they say it's conceivable to see vehicles on the go in the Magaliesberg prompting Pretoria North.
Location: Roper Street Pretoria, South Africa
Rating: 4.5 out of 5!
Contact: 012 420 3767
Suggested Read: 5 Enchanting Castles In South Africa You Will Not Want To Leave From Ever
11. Join a Drumming Circle or Chill Out on a Sunday at Klitsgras
Klitsgras Drumming has drumming sessions around a fire that is about great vibes and great music. Attempt your hand at drumming or basically relax with pizza and a lager while watching fire artists move to a didgeridoo and neighborhood artists do their thing around a fire pit.
For an all-the-more accommodating day vibe, head there on Sunday for the Chillin' Sunday sessions and kick back with acoustic groups, wood fired pizza or a pre-requested cookout crate, and beverages under a gazebo.
Location: Garsfontein Road
Rating: 4.5 out of 5!
Contact: 083 311 0025
12. Fill in your tummies at the Afro Boer
This one of a kind eatery is packed with frame of mind and delectable sustenance. Request a glass of wine "for a whimper", appreciate the garden setting, breakfast, light or genuine snacks, and obviously, their unbelievable cakes.
They switch things up in the kitchen "to keep kitchen, rooms, and duplicate felines on their toes". Before long they intend to eat and lunch takeaway boxes for picnics under the trees.
Location: Cnr. Lynwood & Meerlust Roads, Equestri
Rating: 4.8 out of 5!
Contact: 012 807 3099
Further Read: Don't Miss These Food Festivals In South Africa If You Call Yourself A Foodie
With all the amazing sites and exciting things to do in Pretoria mentioned above, we are sure you would definitely like to plan a trip to South Africa! With so many activities to get involved in, your time in Pretoria would not only be productive but will be worth cherishing as well!
Frequently Asked Questions about Things to Do in Pretoria
What is Pretoria well known for?
Pretoria is in South Africa and serves as the de facto national capital. The beauty of city comprises well-kept landmarks, large parks, gardens, graceful government buildings, and wide avenues of purple flowering jacarandas.
How many days are enough for Pretoria?
Pretoria is home to numerous tourist attractions and you must plan a trip for at least 3 days to capture an ultimate experience.
Is it safe to visit Pretoria during Covid?
Make sure that you have completed both the doses of vaccinations and get yourself tested at least 48 hours before your departure. You need to follow all the travel guidelines mentioned by the authorities.
What is the best time to visit Pretoria?
The best time to visit Pretoria is during spring season. The temperatures ranges between 15°C and 28°C during this time.
What can you do in Pretoria for free?
The following are the places that can be visited for free in Pretoria:
1. Pretoria National Botanical Gardens
2. Union Buildings
3. Austin Roberts Bird Sanctuary
4. Melrose House
5. Pretoria Art Museum
What can a couple do in Pretoria?
The following are the romantic places that can be visited with your special one -
1. The Botanical Gardens
2. Brooklyn Theatre
3. Wonderboom Nature Reserve
4. The Climbing Barn
Which language is spoken in Pretoria?
Locals understand English here, but the main languages spoken in Pretoria include Afrikaans,Setswana, Sepedi, Xitsonga and Sesotho.
Why is Pretoria so hot?
The temperate climate of Pretoria is primarily because of its location which is in a sheltered area in the valley. The flow of cool southern and northern air is blocked in the valley almost all throughout the year.
People Also Read
Things To Do In Durban Things To Do In Soweto Things To Do In Kenya
---
Looking To Book A Holiday Package?
Book memorable holidays on TravelTriangle with 650+ verified travel agents for 65+ domestic and international destinations.
---