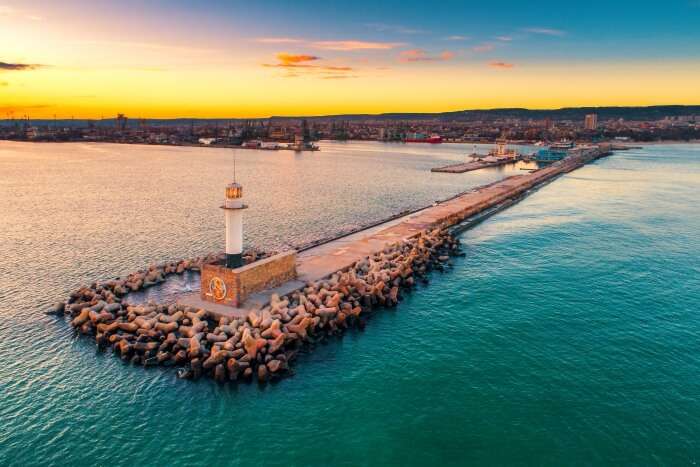 The Balkan nation of Bulgaria has so much to offer. It is so diverse that while it has the Black Sea, it also has mountains. It has a culture and heritage which very few countries can boast of. One of the most popular cities in Bulgaria, apart from the capital has to be Varna. The port city, along the coastline of Black Sea, has some spectacular beaches and an amazing nightlife. This city too though, is not devoid of culture and entertainment. There are so many things to do in Varna.
10 Amazing Things To Do In Varna
Varna is an ancient city in Bulgaria, Europe. Here is the best of the best list of what are the things you can explore while you are in the port city.
1. Take a walk at the Sea Garden

Just beside the coastline, is this lovely, lush garden that would remind you of the iconic Central Park of the USA. But, here's the thing…this is not just a park. It houses a number of other things of interest. It houses Natural Science Museum and the Naval Museum. It is also home to the Copernicus Astronomy Complex planetarium, a Terrarium, a Dolphinarium and also an Aquarium. The list just goes on. And oh yes, it also houses the zoo! If that is not enough, it also has a mini-amusement park, where your children will have a blast. This is definitely among the fun things to do in Varna Bulgaria.
Must Read: Museums In Bulgaria: 12 Wonders That Fascinate All Avid Travelers
2. Visit the Archaeological Museum

Image Source
One of the reasons that you should definitely make a trip to this museum is the Varna Necropolis. The burial site is considered one of the greatest archaeological discoveries of all times. Since the time it was discovered, around 294 tombs have been found. More than 3000 kinds of gold objects and around 160 copper articles, this museum is a treasure trove for all the history buffs and archaeology enthusiasts. Apart from the Necropolis, the museum also houses items from the Palaeolithic Age through the Middle Ages. Tombstones, ceramics and flint tools – the museum is home to a huge collection of archaeological delight. At the entrance, there is an information centre which will update you on everything you would want to know about the museum.
3. Be awed at the Stone Forest

If you think that this is a name given to the forest, you will be surprised when you reach this natural wonder. It is, in fact, what the name suggests – a forest of stones. Stones of all ages and shapes. The stones are half-dug into the ground, with only the other half visible on the surface. You would think that it is a magnificent work done by man, but this is where you will be proved wrong. It is in fact, all nature-given! It feels like someone has beaten the stones into the ground. The Stone Forest is 18 kilometres away from Varna, but it is worth making a visit to this 'desert-looking' forest of stones. It is also one of the first protected areas in Bulgaria.
Suggested Read: 10 Stunning Castles In Bulgaria That Showcase It's Awesome History & Heritage
4. Make a trip to the Retro Museum

Image Source
The life and times of this country comes alive at this museum. Situated in a mall, visiting this museum is one of the cool things to do in Varna. The utensils to cosmetics to everything related to everyday life of Bulgaria is exhibited at this very cool museum. Not just that, you will also be privy to wax figures of some of the most famous Bulgarian people like the Emil Dimitrov and Todor Zhivkov. But, the highlight of this museum has to be the collection of cars, from the Skodas to the Chaika limos, this a real crowd-puller.
Suggested Read: Bulgaria Nightlife: 15 Hip And Happening Places For A Dazzling Time
5. Discover the Cave Monastery

Image Source
Who would have thought that you would stumble across a monastery in one of the most unexpected places on earth! The Stone Forest is a natural beauty, this one is man-made and a stunning one at that. It has been carved from a cliff and is one of the most difficult treks in this region. The monastery, which was home to monks during the XIII- XIV centuries, has an amazing interior too, with frescoes, et all. There are two levels in this monastery, the first level houses the monastery church, dining hall and a kitchen among others, while the second level is home to a chapel. While you are there, also visit the Catacombs. There is also a museum for all the clueless travellers.
6. Visit the Battle of Varna Park Museum

Image Source
This is just a few miles away from the Stone Forest. This is a tribute to the time when, at Varna, a Hungarian-Polish Christian Army was defeated by Sultan Murad II's Ottoman Army in 1444. Arms and equipment like the swords and helmets, paintings and sculptures of the battle, flags and coats of arms are a few things that are on exhibit at this museum. A mausoleum of King Vladislav Varnenchik is also present at the premise. There is a special hall dedicated to Petar Dimkov, who was known famously as The Healer.
Suggested Read: 12 Legendary Festivals In Bulgaria: Rejoice The Balkans Local Traditions In 2022
7. Explore the Roman Baths

The baths belonged to the Roman city of Odessus and dates back to the latter half 2nd century AD. They are one of the largest and is the remains of the amazing era. At the complex, you can even spot typocausts. These are like olden-days geyser, which kept the baths warm. They look even more beautiful in the night, when it is all lighted up. The stunning exteriors just add more beauty to these remains.
8. Soak in the Golden Sands

Well, Varna is a port city and no trip is complete to this charming little place without spending a day at the Golden Sands. This sea-side resort town in Varna, is spread along the coast of Black Sea and travellers flock to it for its sandy beaches and a wild nightlife. During the summers, the place is a favourite haunt even among the locals, who make their way to this place to get some respite from the heat. There are a number of beaches in Golden Sands, some family-friendly and some for the crazy crowd. Beach bars offer some great cocktails and snacks.
Suggested Read: 10 Villas In Bulgaria That'll Ensure You Have A Luxurious Stay
9. Picnic at the University Botanical Garden

This is an eco-park of sorts and is a lovely place to take a stroll or have a picnic in, among the colourful flora of this garden. There are about 300 species of plants and bushes –roses, irises – the lush greenery will floor you completely. While you are at it, you could also take some horse-riding lessons at The Academic Jockey Club, located in the premise. There are also carriages or carts in which you could ride around the park and take in all the beauty of the place. This is one of the most romantic things to do in Varna. There is also a market in the garden where you can buy seeds for flowers and trees to plant back at home.
10. Take a stroll around Euxinograd

This palace was once a monastery. Prince Battenberg came to Varna in 1880, and he was invited at this monastery, which later became his residence. Later, Prince Ferdinand, called upon a few French park architects to design the park. These days, it is a summer residence for the President, but the park is open to all. Black oak and Atlantic Cedar are a just a few trees that you will spot while walking around. It is also home to many glasshouses and also an arboretum. Yet another surprise – it also has a mini-winery, with a bottling plant and all!
Further Read: 8 Water Parks In Bulgaria That Will Make Your Vacation More Fun
There are so many things to do in Varna that you will need to plan a whole trip, just to visit this part of Bulgaria. It is a perfect blend of old and new and this port city will take your breath away, metamorphically, and sometimes, literally too, because of so much natural beauty it has to offer. When on a trip to Europe, or more specifically, Bulgaria, do pay a visit to this beautiful city. Happy holidaying!