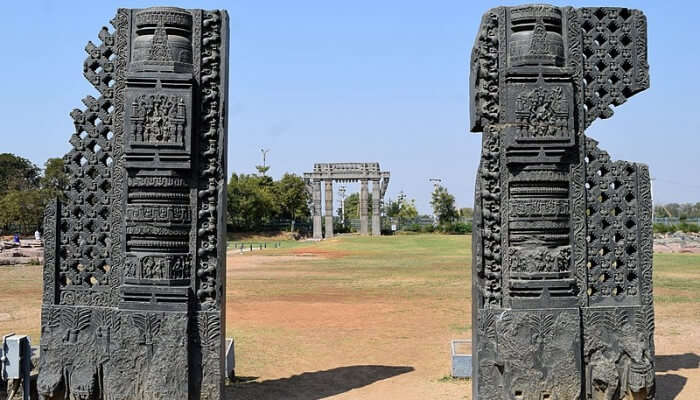 Warangal, a modern district in India, was established in the year 1183 by the Kakatiya dynasty. Presently, it is the second-largest city in the Telangana region. Warangal is a city that is the living proof of an eventful ancient history. The city is filled with beautiful stone structures that bear the remarks of the kings and their unforgettable architectures. With its forts, temples, lakes, and structures, legends say that the city of Warangal was curved from one giant rock. This place serves as an enchanting destination for the history buffs and travelers. While visiting this ancient city, we have planned some famous things to do in Warangal for you.
Top 6 Things to Do In Warangal
There are several interesting activities that you can try while on a trip to Warangal. These fun activities will make the trip exciting. Keep scrolling down and read along to know more!
1. Warangal Fort: Visit The Ancient Spot

Image Credit: Vasukrishnan57 for Wikimedia Commons
Disclaimer: The image is for representation purposes only.
Built-in the 12th century, by the Kakatiya dynasty ruler Ganapati Deva and his daughter Rudramma, Warangal Fort has a lot of significance in the ancient capital. Warangal was the capital city of the Kakatiyas and Musunuri Kamma Nayakas. Tourists can take a trip to this glorious Fort near Hanamkonda. Though the getaways are presently in ruins, these are known as the 'Kakatiya Kala Thoranam' that leads to the fort bearing the legacy of the bygone era. A huge stone statue of the Nandi in the stone Mandapa is situated on the premises. Visiting this vast area and the ruins is one of the best things to do in Warangal.
Must Read: 26 Fascinating Tourist Places In Telangana That Are Worth A Visit In 2022
2. Samakka Saralamma Jataka festival: Witness The Grandeur

Disclaimer: The image is for representation purposes only.
The Sammakka Saralamma Jataka is the festival that is celebrated over four days in January or February month of each year. This festival is the biggest congregation of any community around the whole world. The mighty Kumbh Mela falls short to this festival in terms of grandeur and numbers of footfalls. An ocean of 6 million tribal people gathers every year at the village of Medaram and adjacent Jampanna Vagu rivulet to celebrate this festival. Tourists around the world visit this unique festival to witness the remembrance of the heroic fight of a mother-daughter duo with an unjust ruler of the Kakatiya clan.
Suggested Read:14 Temples In Telangana That Depict The Religious Side Of The City In 2022!
3. Eturnagaram Wildlife Sanctuary: Trek Through The Wildlife

Image Credit: Wikimedia Commons
Disclaimer: The image is for representation purposes only.

Warangal has a lot of things to offer its tourists who wish to escape into the lush greenery to enjoy the calmness of it . One of the best things to do in Warangal is to take a trek through the Eturnagaram Wildlife Sanctuary, the oldest sanctuary of the state, and explore the variety of wildlife found there. The tribal villages nestled within the forest area are a perfect example of coexistence. Eturnagaram Wildlife Sanctuary is a hidden gem, loaded with inhabitants like sloth bears, chinkara deer, panthers, tigers, giant squirrels, birds, and many more treasures. Trek through the greens of the sanctuary, or take a jeep safari to reach its core and experience the wonder of nature.
Suggested Read: Winter In Telangana: A Handy Guide To Spend A Travel Spree Time At This Newbie State!
4. Thousand Pillar Temple: Connect With Spirituality

Image Credit: Wikimedia Commons
Disclaimer: The image is for representation purposes only.
The Thousand Pillar Temple is situated at the extended Warangal Fort, Kakatiya Kala Thoranam, and Ramappa Temple complex at Hanamkonda, Telangana. Located in the lap of the Hanamkonda hills, it was constructed by the Kakatiya King Rudra deva. Thousand pillar temple is also known as the Rudreshwara Swamy Temple. This place is a historic Hindu temple of Lord Vishnu, Shiva, and Surya. This fine evidence of architecture is in a tentative list of UNESCO World Heritage Sites.
Suggested Read: 9 Best Hotels In Telangana That Are All About Luxury, Comfort & Elegance
5. Warangal Market: A Wide Range Of Choice For Shopping

Disclaimer: The image is for representation purposes only.
Warangal is famous for its handicrafts, handlooms, and traditional crafts. Tourists can indulge themselves in the core shopping areas such as Lepakshi Handicrafts Emporium, Subedari, DWCRA Bazaar, and Hanumakonda. Brassware, Khadi items, dhurries, scroll paintings are the must-buy items from here. Whereas Hanumakonda is famous for its Khadi items, Subedari holds the place for printed Khadi dress materials. Kothawada is famous for its handmade dhurries, and Cherial offers its visitors some of its exotic scroll paintings. The state handlooms and handicraft entity Lepakshi Handicrafts Emporium offers authentic brassware to its visitors. Dolls, vessels, crockery pieces, decorative items, Attar pots, betel nut cases, dishes, paperweights, brass pots, peacock motif souvenirs are some of the examples from the long list of items available. To experience engaging, bustling bargaining experiences, head towards DWCRA Bazaar shops at Chowrasta which is ornamented with a huge stock of items.
Suggested Read:6 Amazing Resorts In Telangana That Offer Some Of The Best 2022 Abodes!
6. Warangal Restaurants: Have A Taste Of Local Cuisines

Image Credit: Wikimedia Commons
Disclaimer: The image is for representation purposes only.
Warangal is a melting pot of the Andhra Pradesh and Telangana region. The cuisines are majorly influenced by Afghan and Persian cuisines, making it spicy, hot, and flavorful. Try their local delicacies made from peanuts, mangoes, tamarind, corn, and sugarcane. Delicacies include both vegetarian and non-vegetarian foods. Some of the famous dishes of this region are Hyderabadi Biryani, Laskora Unda, Pickles, Gram powder vegetables, Jalebis, and many more. One of the best things to do in Warangal is to buy the famous tangy and spicy Mango pickle.
Further Read: 11 Restaurants In Telangana That Will Make You Lick Your Fingers On Your 2022 Trip!
From nature to ancient ruins, from temple to bustling bazaars, here are the details of some of the top things to do in Warangal for your consideration. This heritage place is proof of one of the most ancient Indian dynasties. If you are a soul in search of the history enriched sites, Warangal can be a perfect weekend destination for you to quench your thirst for history. Now plan your trip to Warangal and enjoy the best of this offbeat destination of the south.
Disclaimer: TravelTriangle claims no credit for images featured on our blog site unless otherwise noted. All visual content is copyrighted to its respectful owners. We try to link back to original sources whenever possible. If you own rights to any of the images and do not wish them to appear on TravelTriangle, please contact us and they will be promptly removed. We believe in providing proper attribution to the original author, artist or photographer.
Frequently Asked Questions About Things To Do In Warangal
What are the major tourist attractions in Warangal?
The best attractions to explore in Warangal include Ramappa Temple, Laknavaram Cheruvu, Bhadrakali Temple, Pakhal Lake, Thousand Pillar Temple, Kulpakji, Sri Vidya Saraswati Shani Temple, and Eturnagaram Wildlife Sanctuary.
What is there to do outdoors in Warangal?
During your visit to Warangal, there are various things that you can do outdoors such as exploring various historical temples, visiting the ancient monuments such as various forts and museums, and exploring the pristine lakes in Warangal.
Is it safe to visit Warangal during covid times?
As the tourism industry is slowly reopening, you can visit most of the above-mentioned places and more if traveling in a small group while following all the guidelines released. But don't take our word for it: check up on the latest travel advisory, Covid-19 measures, and the number of cases before your departure. It is safer to undertake solo travel or with a small group of people to somewhere that is not overly crowded at the moment or has few reported cases.
Is entry to Warangal Fort free?
No. The entry fee to visit the famous Warangal Fort is INR 15 for Indian Nationals and INR 200 for the foreign nationals. The video camera is chargeable separately, at a cost of INR 500. A guided tour is also available for additional costs.
What is Warangal known for?
Warangal is a popular city in Telangana and comprises several historical monuments such as elegant temples, forts, museums, and pristine lakes. The museums in Warangal are a popular attraction in Warangal as they contain well-preserved artifacts from the ancient times.
What can you do in Warangal in 2 days?
In your 2 days tour to Warangal you can explore some of the best attractions in Warangal such as Ramappa Temple, Laknavaram Cheruvu, and Bhadrakali Temple. There are various pristine lakes in Warangal that you could visit and enjoy some of the savory cuisines of Warangal.
What are the best months to explore Warangal?
The best months to explore Warangal is from October to March as the weather is really pleasant during this time and various attractions could also be explored without any hassle. Avoid the summer months as it gets really hot during these months.
How many days are required to explore Warangal?
For a brief visit to Warangal, a 1-2 days tour is recommended in order to explore the major attractions in the city but if you want to go for a thorough vacation, then 3 days are sufficient to explore the hidden gems of the city.
People Also Read:
Things To Do In Kovalam Things To Do In Wayanad Things To Do In Thekkady