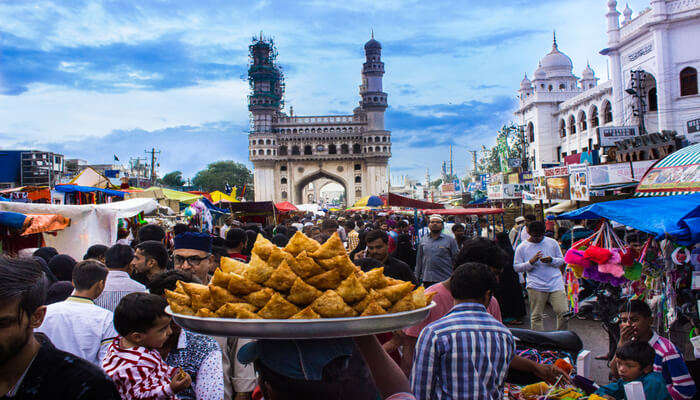 Telangana came into formation in the year 2014 on the second day of September and has a large number of tourist attractions that are visited by people from all over the world. The state has a rich historical and cultural heritage and has a large number of temples and monuments to prove so. The region has been under the rule of the Vakatas, the Chalukyas, the Satvahanas and later the Delhi Sultanate and the Nizams, and each of these has left a charming heritage and history that lures in travelers from far and wide. Given below are some of the tourist places in Telangana that are worth a visit.
10 Tourist Places In Telangana
Have a look at all the awesome places to visit in Telangana that you should visit on your trip and get going! Make sure you don't miss out on any of these on your tour!
1. Alampur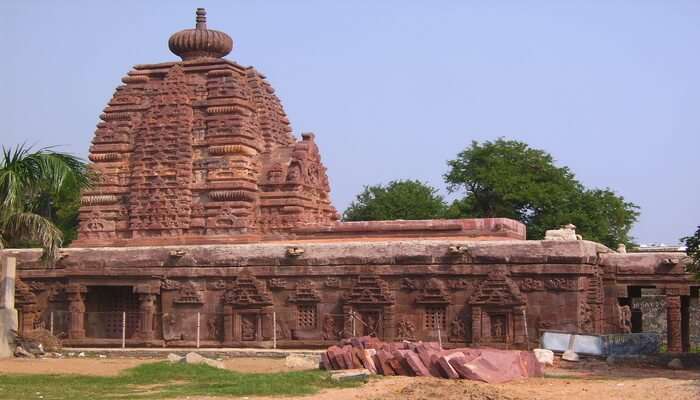 This is one of the well-known tourist places in Telangana. This place has a large number of temples and has a lot of religious significance. The place is just 218 km away from Hyderabad, and 22 km from Kurnool. Alampur is the western gateway to the pilgrimage town Srisailam. The temples that one can see ta this place are the Jogulamba Temple, the Navabrahma temples and the Sangameswara Temple. All the temples here have inscriptions dating back to the 7th and 16th century. Alampur is situated by the river Tungabhadra and has been ruled by several famous dynasties of the Satavahanas, the Chalukyas, the Kakatiyas, the Bahamani sultans, and the Vijayanagara kings
Location: Mahbubnagar district
Best time to visit: September to October and January to February
Must Read: 7 Resorts In Hyderabad Where You Can Plan You Lavish Getaway This Year!
---
Looking To Book A Holiday Package?
---
2. Khammam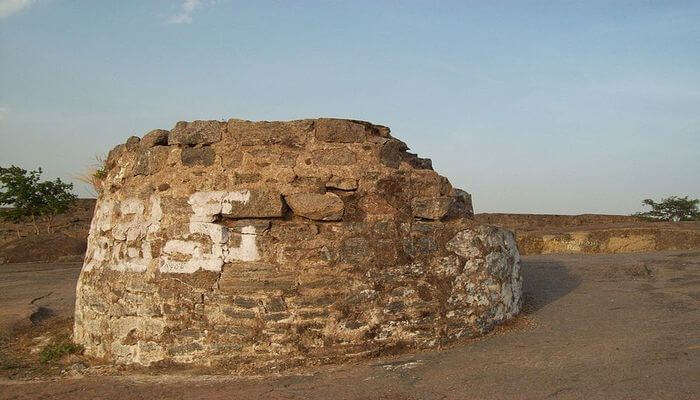 Considered to be one of the best tourist spots of Telangana, this town is located at a distance of 198 km from Hyderabad. This place is famous for its forts and sanctuaries and was once under the rule of the Kakatiyas, Musunuri Nayaks and Velama kings, Reddy kings, Qutb Shahi, and the Nizams of Hyderabad. As a result, the place is a store of architectural wonders. The place has derived its name from Stambadri, the Godavari River flows through the town. Some of the tourist attractions of this place are Bhadrachalam, Kinnerasani Dam & Sanctuary, Khammam Fort, Kusumanchi Temples, and Nelakondaalli.
Location: Khammam district, on the banks of Munneru River
Best time to visit: October to March
Suggested Read: 10 Resorts Near Hyderabad For Couples For The Most Romantic Time Together
3. Mahabubnagar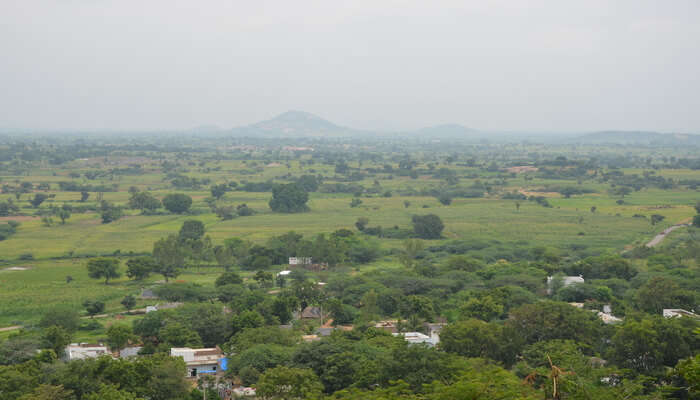 This place was once ruled by several great kings of Chalukyas, Bahmanis, Vijayanagar, and Golconda Nawabs. The place is well known for the several wars that were fought here. The mighty rivers of Krishna and Tungabhadra flow through the region making it a famous tourist town. There are a number of tourist attractions of this place like Alampur, Pillalamarri, Jurala Dam, Koilkonda Fort, Gadwal Fort, Kollapur, Somalsia, and others. All the tourist spots can be covered is a day or two. This makes Mahabubnagar one of the best Telangana tourist places.
Location: 105 km from Hyderabad
Best time to visit: October to March
Suggested Read: 15 New Year Eve Parties In Hyderabad 2020 You Should Not Miss!
4. Anantagiri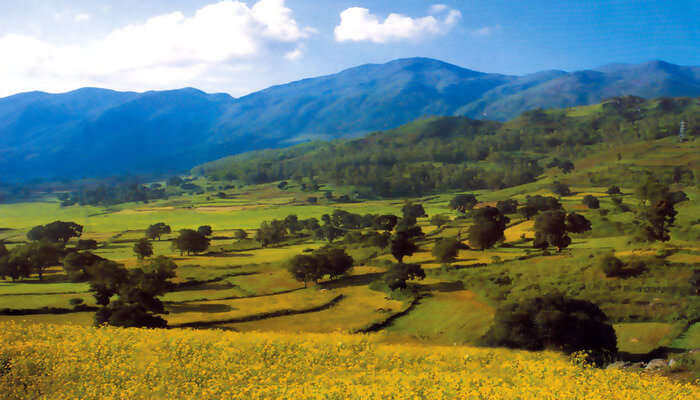 This is one of the best tourist places in Telangana. This place is just 79 kilometers from Hyderabad and has become important to get away from the mundane city life. The Anantagiri forests are famous for the Anantha Padmanabha Swamy Temple built by the Nizam Nawabs 400 years ago. A little away from the temple is a lake surrounded by lots of ruined structures and a temple of Lord Shiva. The main temple of Anantagiri is built around a cave. The condition of this place is being improved to draw in more tourists. There are also trekking facilities for those who love adventure.
Location: Ranga Reddy District
Best time to visit: October to March
Temple Timings: 5 AM – 8.30 PM
Suggested Read: 9 Honeymoon Places Near Hyderabad For A Short Romantic Escape In 2019
5. Medak Fort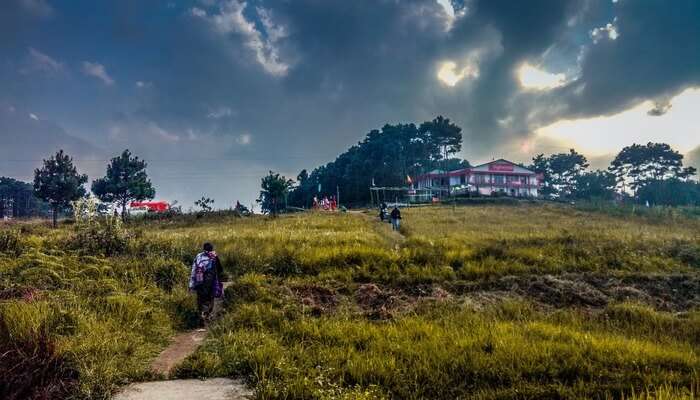 When we talk about tourist places in Telangana, the Medak fort must be mentioned. It is located at a distance of 2.3 km from the Medak Bus Station and 95 km from Hyderabad. This is one of the most important historical places in Telangana. This is a giant architecture located atop a hill and one needs to climb 500 steps to reach it. This fort is a blend of the Hindu and Islamic architectural styles. Right at the entrance, one will find the double-headed Gandabherundam of the Kakatiyas. The glory of the fort is not as it was before – for it is now in a ruined state. From the top of the fort, one can get a good picturesque view of the town and the regions around it.
Location: Medak town
Best time to visit: Year-round
Suggested Read: 10 Best Beaches Near Hyderabad For A Relaxing 2020 Vacation With Your Loved Ones!
---
Planning your holiday but confused about where to go? These travel stories help you find your best trip ever!
---
6. Sangareddy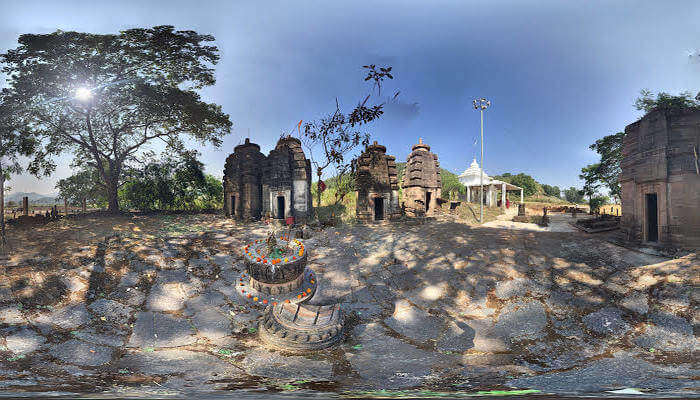 This recently framed region of Sangareddy is another famous tourist spot in Telangana situated close to the capital Hyderabad and it is well known fora 1796 A.D manufactured Jail Museum. Spread more than 3 sections of land, the historical center offers you a knowledge into the history and the jail life. This is an old region prison comprising two wings to visit – male and female. While the male segment of the historical center comprises of nine huge structures, the female area has one. It stores apportion rooms, gas room, storage spaces, kitchen, break room and washing space (for the porcelain and cutlery).
How to reach:
By Air: Rajiv Gandhi International Airport (70 km to Sangareddy)
By Rail: Secunderabad Junction Railway Station is the nearest railhead
By Road: Local cabs can be contracted from Hyderabad to get to Sangareddy
Suggested Read: 25 Best Resorts In Hyderabad For Couples To Relax And Rejuvenate In 2020!
7. Nizamabad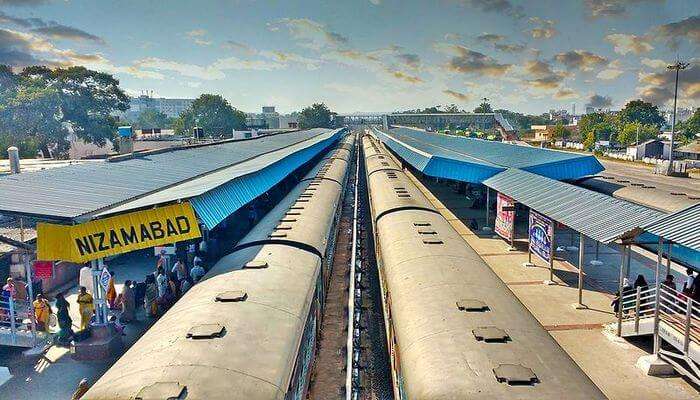 Another famous tourist place in Telangana is Nizamabad. Renowned for their wonderful stone-engraved sanctuaries and recorded landmarks, a visit to Nizamabad can be a strict issue for pioneers. Bring a look into an old sanctuary, Kanteshwar, where you can see the impact of the North Indian style of engineering. Attractions like Nizamabad Fort show a mix of straightforwardness and polish that delicately sits on a slope, around 300 meters high from the fields. Aside from the stronghold referenced above, you can take an odd outing to Alisagar Reservoir. The different spots you need to visit are two dams, to be specific, Nizam Sagar and Pochampad and spots for nature darlings, for example, Pocharam Wildlife Sanctuary and Mallaram Forest.
How to reach:
By Air: Rajiv Gandhi International Airport (225 km to Nizamabad)
By Rail: Nizamabad Junction Railway Station is the nearest station
By Road: You can reach Nizamabad by means of NH 44
Suggested Read: 6 Haunted Places In Hyderabad With Real Ghost Stories For Spooky Trips In 2020
8. Ramagundam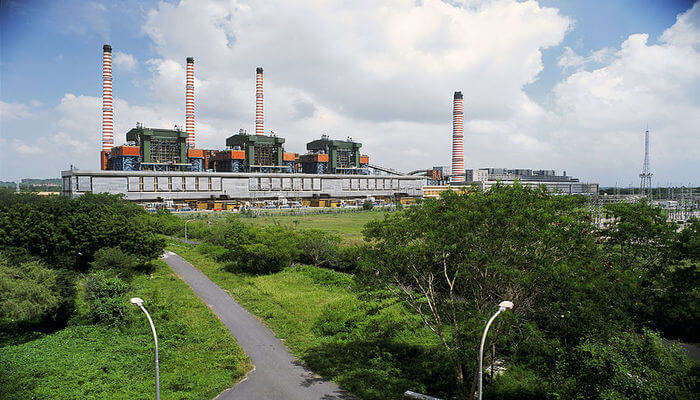 Ramagundam is one of the favored tourist spots in Telangana to visit for easygoing escapes particularly from Karimnagar and Warangal. It's quiet environs may make you need to stay here for a considerable length of time. Ramagundam perhaps somewhat strange goal however here, you can visit a couple of attractions. You can investigate nearby tourist spots like the Rama sanctuary situated in the old port town. It is the most established sanctuary in Ramagundam. Likewise, an imperative spot to visit is the Ramagundam Dam, which is probably the greatest dam in South India.
How to reach:
By Air: Rajiv Gandhi International Airport (268 km to Ramagundam).
By Rail: Ramagundam Railway Station is the primary rail head for the city.
By Road: TSRTC transports can get you to every single spot in Ramagundam
Suggested Read: 13 Gorgeous Waterfalls Near Hyderabad That You Can Visit In 2020 For A Jaw-Dropping Experience
9. Karimnagar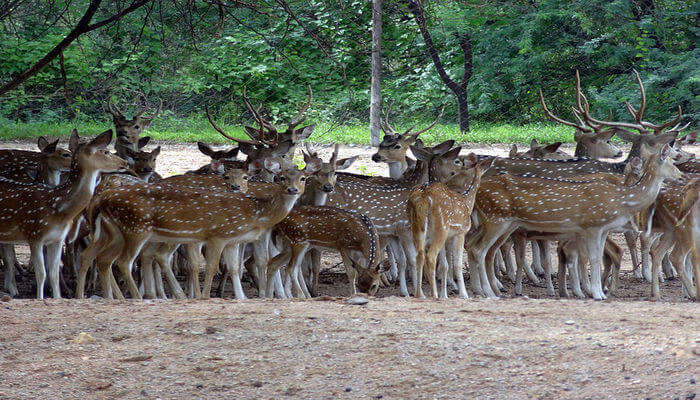 Karimnagar has a handful of attractions that makes it one of the most famous tourist places in Telangana. Supplied with a rich history, pause for a moment to value remains mixed with nature by visiting a portion of the charming landmarks like Elgandal Hill-Fort, Jagtial Fort, and Ramagiri Fort. One must visit Manthani Temple situated in the town named Manthani. It engages guests with its other intriguing spots. As far as untamed life is concerned, Karimnagar isn't a long ways behind; Shivaram Wildlife Sanctuary is the best spot to visit for creature sweethearts. Its riverine backwoods makes it a perfect territory for species like crocodiles, panthers, dark bucks and sloth bears.
How to reach:
By Air: Rajiv Gandhi International Airport (208 km to Karimnagar).
By Rail: Karimnagar railroad station is the fundamental railhead for the city.
By Road: Telangana State Road Transport Corporation routinely utilize to and from by means of NH 563.
Suggested Read: 13 Charming Tourist Places Near Hyderabad To Visit On A Weekend In 2020
10. Chaya Someshwara Temple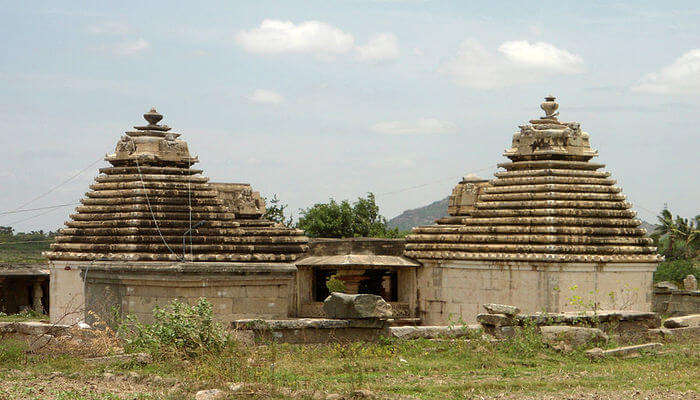 This is a famous historic site in Telangana. It is believed that the shadows of the pillars of the temple dance relentlessly on the main deity of Shivalingam – which gives it the name of Chaya Someswara Temple. This temple is proof of the awesome creative thinking and scientific knowledge of the architects of the Kunduru dynasty. The temple is famous for the architecture – the dance of the shadow of the pillars is just an illusion. The temple is so built that the rays of light fall at the same spot throughout the day. The stories of various episodes of the Ramayana and Mahabharata are inscribed onto the walls. There are a number of Shiva Lingas in the temple that were collected from the nearby villages – these were submerged during the construction of Nagarjuna Sagar Dam.
Location: Panagal, Nalgonda district
Best time to visit: Year-round
Timings: 6 AM – 8 PM
Suggested Read: Delve Into The Nightlife In Hyderabad At These 13 Exquisite Clubs And Bars
Travel Tips For Telangana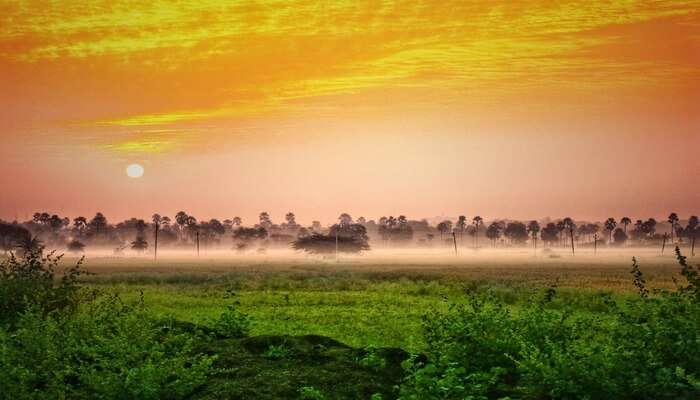 The place has a hot and humid climate all year around.
The early mornings are pleasant but the afternoons can be hot and humid.
The temperatures during the months between October to March are comparatively pleasant for a trip.
Wear comfortable cotton clothes that cover up your hands and legs.
All the monuments are not within walking distance from each other. It is advisable to rent a vehicle for exploring the place.
You should consider staying at homestays rather than hotels.
You'll find plenty of options for street food.
Drink plenty of water to keep yourself hydrated.
Further Read: Camping Near Hyderabad: 7 Spots To Reconnect With Yourself In 2020!
So, which of these amazing tourist places in Telangana will you visit first? Take a trip and have a fabulous time exploring all these marvels in South India! Also, if you're aware of any other place one can visit in Telangana, let us know in the comments below.
Frequently Asked Questions About Tourist Places In Telangana
Q. How many days are required for visiting Telangana?
A. You need 2-3 days to visit all the important tourist places in Telangana.
Q. Can the tourist spots be covered on a cycling trip?
A. Yes, cycling is a great option to explore the city, though it will keep you exposed to the sunlight.
Q. What are the other places one can visit in Telangana other than the ones mentioned?
A. Some of the best tourist places in Telangana other than the ones mentioned are:
1. Singur Dam
2. Wargal Saraswati Temple
3. Bhongir Fort
4. Devarakonda Fort
5. Jurala Dam
6. Lalitha Someswara Swamy Temple – Somasila
7. Domakonda Fort
8. Elgandal Fort
Q. What is the general budget I should consider while traveling to Telangana?
A. The cost can be as low as INR 5350 per person for a 2D/1N trip and from INR 7500 per person for 3D/2N vacation depending on factors like duration of the trip, accommodation type, and vehicle.
Q. Is Telangana worth a visit?
A. Yes, it's well worth seeing. Telangana is an excellent destination with great ambiance and so many wonderful things to be seen here.
---
Looking To Book An International Holiday?
---
People Also Read:
Tourist Places In Tamil Nadu Tourist Places In Assam Tourist Places In Jaipur
Comments
comments