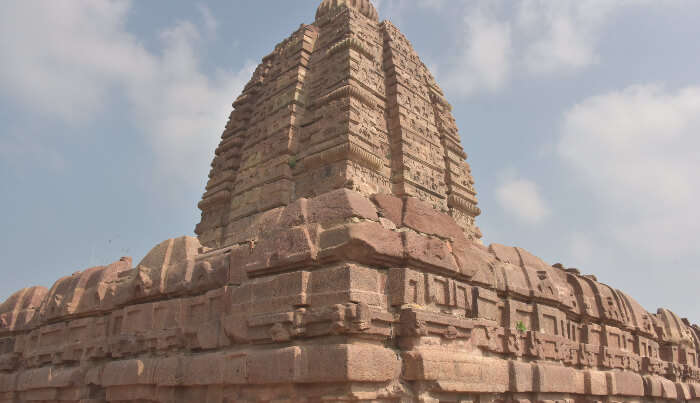 A newly formed state in India, Telangana has a reputation of having its core in holiness. The state was ruled by many dynasties namely the Kakatiya, Chalukyas, and the Mauryas. These kingdoms have left their imprint on the state and their legacy now lives in the popular places of worship. The various temples in Telangana are solid examples of grandeur and marvel. Boasting of an amazing architecture these shrines also have loads of stories veiled between them, giving them an interesting angle.
6 Temples In Telangana
Every place of worship across the country has a unique aspect to them which pulls millions of people from near and far. Apart from the peace and tranquil environment surrounding these holy institutions, the destinations are also rich in heritage.
The temples in Telangana evoke such architectural wonder that amplifies its beauty. The state has many places of worship to its name and to make your travel itinerary more diverse we have churned out a tailored list that contains some of the renowned places for pilgrimage.
1. Chilkur Balaji Temple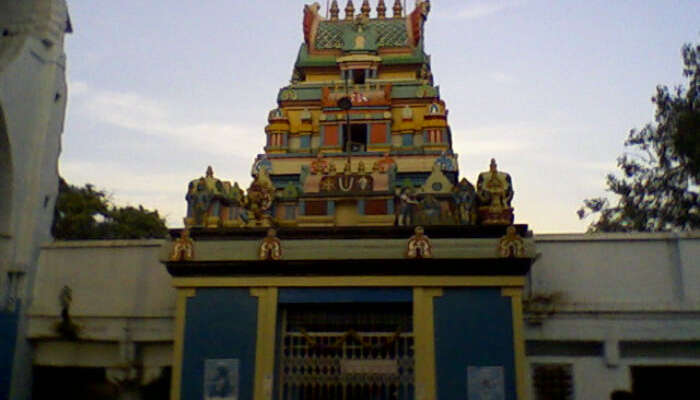 Chilkur Balaji, also called Visa Balaji is a temple located 25 km from Hyderabad. One of the most dominant temples in Telangana, the place of worship has many stories associated with it. One of the most popular stories that make round is that anyone who places a wish in the temple can get it fulfilled after 11 successful Pradakshanas.
Another very popular yet eccentric story is that offering prayers at this very temple grants you a Visa to the US successfully. Located on the outskirts of the state, the presiding deity of the temple is Lord Balaji who is also called "Visa Balaji" affectionately by the locals here.
Address: Chilkur Village, Hyderabad, Telangana-500075.
Timings: 5 am to 8 pm
Must Read: 20 Mesmerizing Hill Stations In South India That Are A Must Visit In 2020
---
South Weekend Holiday Packages On TravelTriangle
---
2. Hyderabad Birla Mandir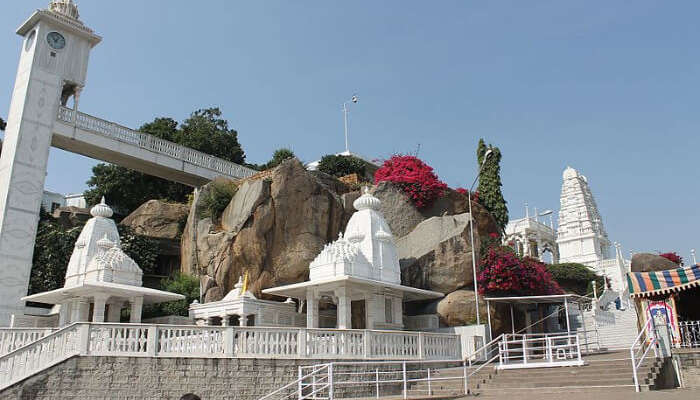 One of the most significant temples in Telangana, this place of worship is flocked by devotees all around the year. Carved extensively with white marble, the temple has a legacy of its own. The temple occupies a total area of 13 acres of land and is named after Birla Foundation.
While divinity resides inside the temple premises, the road through the hillock is filled with small shops that sell various goods like bangles, bags and street food. If you are on a trip to Telangana then a visit to the temple is a must. The presiding deity is "Lord Venkateshwara" and also, while inside one can view the Hussain Sagar lake in its full glory.
Address: Hill Fort Road, Ambedkar Colony, Khairatabad-500004.
Timings: Open 7 am to 12 pm and 3 pm to 9 pm.
Suggested Read: 12 Places To Visit Near Kabini You Must Consider To Make The Most Of Your Trip To South India
3. Thousand Pillars Temple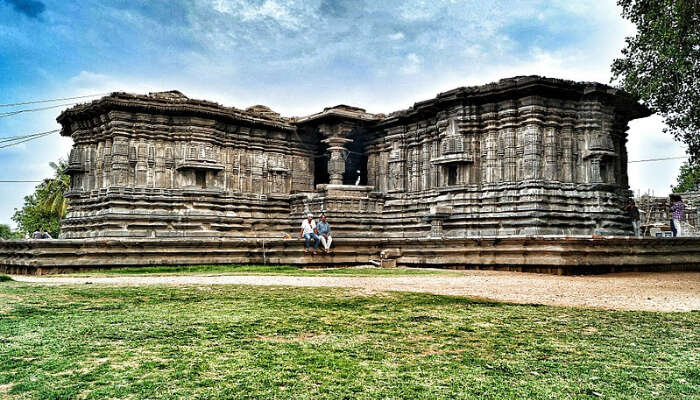 It is yet another architectural marvel which is also a clear example of Kakatiya craftsmanship. As the name suggests, the temple has a thousand pillars that make it different from the other temples in Telangana.
Intricately crafted each pillar is adorned with motifs, perforated screens, and other scriptures that evoke the charm of a bygone era. One of the significant historical sites in the city of Warangal, this gem of a place is also listed under the UNESCO heritage sites and should not be missed at any cost.
Address: Warangal-Hyderabad Road, Brahmanawada, Hanamkonda, Telangana 506011
Timings: 5:00 AM to 9:00 PM
Suggested Read: 6 Places To Visit Near Salem For That Perfect Vacation To South India!
4. Gnana Saraswathi Temple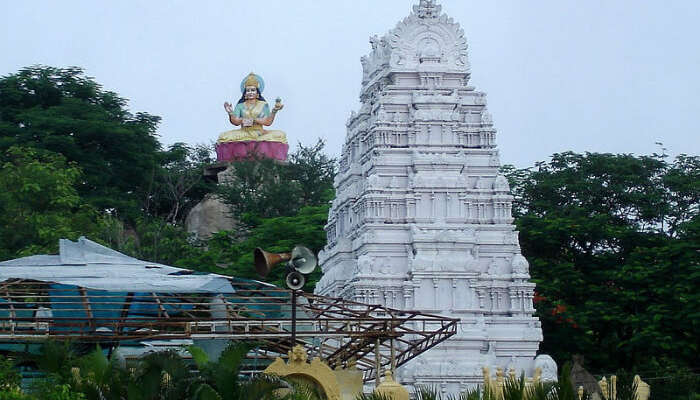 This temple in Basar has gained a reputation of being the second most popular temple of Goddess Saraswati, and one of the most beautiful temples in Telangana. The religious significance of the temple has earned a lot of footfalls from the devotees.
The place of worship represents the holy trinity in the form of Goddess Saraswati, Lakshmi, and Kali. As Goddess Saraswati is also known as the "Goddess of Learning" according to Hindu Mythology, small children are brought to this place for "Akshara Abhyasam" initiating their first collaboration with writing.
Address: Mudhole Mandal, Adilabad District, Basar, 504101
Timings: 4:30 AM to 12:13 PM
Suggested Read: 5 Scintillating Places To Visit In South India For An Exciting Vacay In 2020
5. Sanghi Temple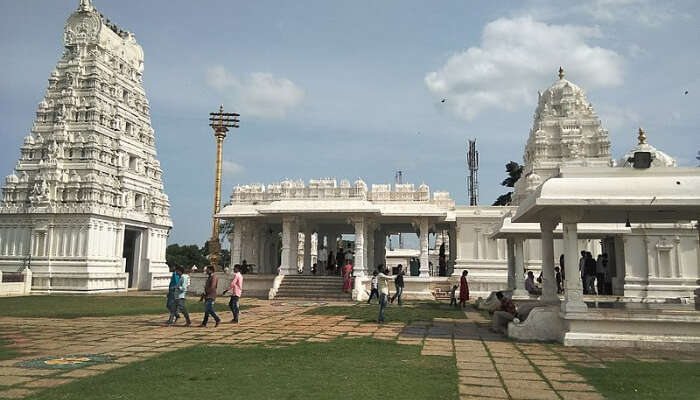 Perched atop a hill called 'Paramanand Giri' some 30 km away from Hyderabad, Sanghi Temple is one of the most famous temples in Telangana. The amazing architecture of the temple is a sight to behold. Located amidst scenic surroundings, the presiding deity here is Lord Venkateswara.
The idol of the Lord here is said to be a replica of the one situated in Tirumala Hills earning the temple a religious significance. The place of worship is frequented by devotees all around the year who enjoy the scenery around along with offering prayers at the temple.
Address: Omerkhandaira, Hyderabad, Telangana 501511
Timings: 8:00 am – 1:00 pm 4:00 pm – 8:00 pm
Suggested Read: 7 Offbeat Places In South India 2020 That Will Make You Go 'WOW' With Natural Beauty!
6. Bhadrachalam Temple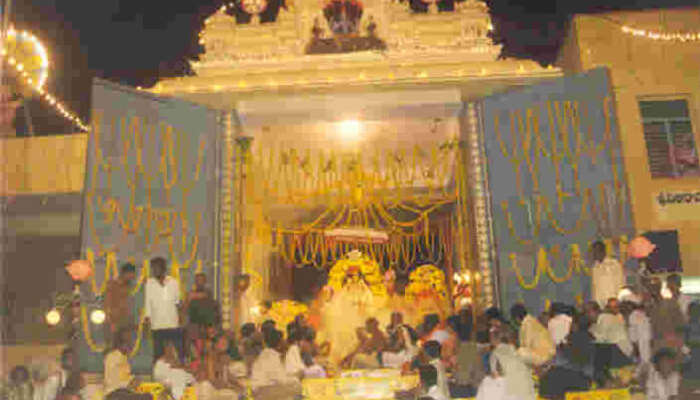 One of the ancient temples in Telangana, the place of worship is located on the banks of Godavari. All devotees who come to worship here are sure to get spellbound by the grandeur of the temple. The presiding deity here is Lord Rama Chandra Murthy or Lord Shri Ram.
While the idol inside the temple is said to be manifested on its own or as the locals say "Swayambhu", the shrine sees major footfalls of believers all throughout the year. Considered as one of the important pilgrimage sites of the state, the temple is often referred to as "Dakshina Ayodhya".
Address: District Khammam, Bhadrachalam, Telangana 507111
Timings: 4:00 am – 9:00 pm
Further Read: 7 Breathtakingly Beautiful Mahabalipuram Temples That Are The Soul Of South India!
Apart from the temples mentioned above, there are many other renowned temples also as Ramappa temple, Keesaragutta temple, Karmanghat Hanuman temple, Surendrapuri temple, and Kondagattu temple, etc. which form an epicenter of tourist attractions in the state. Telangana is the land of temples and it is safe to say that any worshippers or visitors will not be disappointed by the splendor of religious places present in the state. The temples in Telangana have since time immemorial created a special niche across the globe, thereby contemplating everyone to plan their next trip to South India.
Frequently Asked Questions About Temples In Telangana
Q. What is the best time to visit Telangana?
A. The best time to visit Telangana is in the winter months mostly between September to March. Summers can be really problematic as there is a scorching sun always chasing you in summers.
Q. Does Telangana offer good hotels?
A. Telangana offers some really good hotels. There are two types of hotels, namely, star hotels and heritage category hotels that serve good food and satisfy the demands of a tourist properly.
Q. How to reach Telangana?
A. One can reach the place through all modes of transport like railways, roadways, and airways.
Q. What is Telangana known for?
A. Telangana is known for its hospitality, diversity and pluralistic society. It is multicultural, making it one of the best places to live in India.
Q. When was the place originated?
A. The place has its origins 5000 years ago and is a representative of the Deccan Plateau and its cultural heritage from times that trace back to years and years.
Q. How wealthy is Telangana?
A. The gross domestic product of Telangana is ₹8.66 lakh crore(US$130 billion. and per capita GDP is ₹206,000(US$3,000. . The economy of Telangana is the eighth-largest economy of India when compared to other states.
Q. Which temple is founded by the Birla trust?
A. The Birla temple situated in Hyderabad is founded by the Birla trust.
---
Looking To Book A Holiday Package?
---
Comments
comments