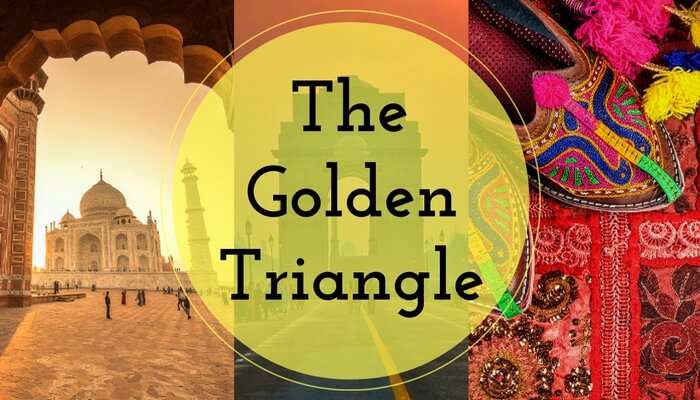 The Golden Triangle in India, comprising of Delhi, Agra, and Jaipur, is considered to be one of the best routes for a cultural tour in the country.
This unique, diverse cultural extravaganza lets travelers experience the goodness of one of the most fascinating architectural marvels of the country, delve into the medieval history, and taste delicious cuisines of the physically close, yet traditionally different cities of India.
So, immerse yourselves in the spirit of urbanism in Delhi, romanticism in Agra, and regalism in Jaipur, and peek through the kaleidoscope of three different cultures at once.
For those who wish to discover what India truly holds, there are endless things to do on the Golden Triangle tour.
Ideal duration for the Golden Triangle trip
Though the ideal duration for any trip depends on what all experiences the traveler wishes to indulge in, the ideal duration for a fun-packed vacation on the Golden Triangle is 4 nights 5 days.
Best time to visit Delhi, Agra & Jaipur
Though the three cities are year-round destinations, August to March is considered the most suitable time to embark on the tour. One must avoid visiting in the hot summer months starting from April to July.
1. Delhi: Pay your respects at the India Gate war memorial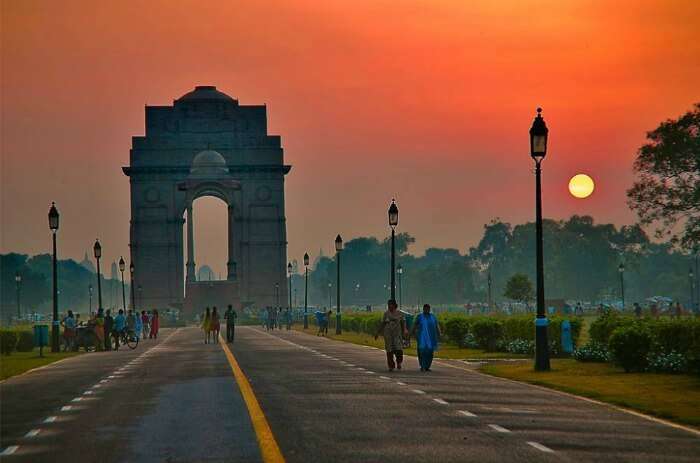 The "Arc-de-Triomphe" of India was built to commemorate the Indian soldiers who laid down their lives during World War I. The Amar Jawan Jyoti, meaning 'the eternal flame', was later added to remind the nation of the sacrifices of our soldiers. Surrounding the memorial is a vast expanse of well-kept, lush green lawns with trees lined up in perfect symmetry.
People come here to revel in the memorial's magnificence, spend a leisurely evening on the lawns, enjoy a picnic with their family, or have some ice cream being sold by the various vendors nearby. Apart from that, the road between India Gate all the way to the Rashtrapati Bhawan, together with the lovely, fresh atmosphere of the place, make it a perfect place for an evening or morning walk. One can sit on the lush, green lawns and enjoy enlivening views of the sunset with their loved ones. With so much to do, a visit to India Gate is a must on a Golden Triangle tour.
Opening hours: 5 am to 12 am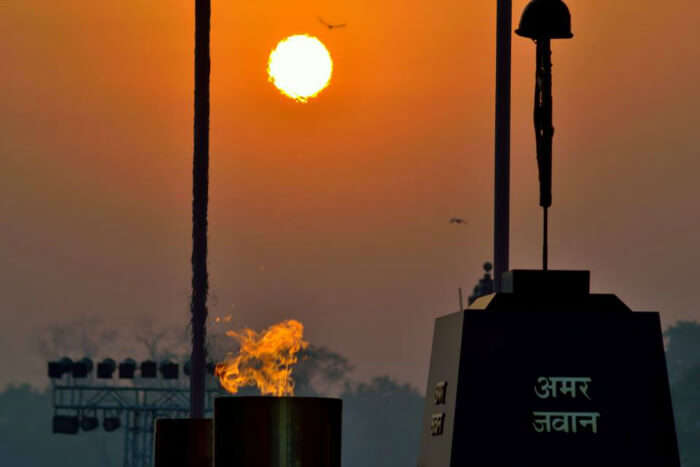 2. Delhi: Check out the remarkable epitomes of power


The Golden Triangle trip typically includes a visit to the centres of power in New Delhi behind whose walls important administrative and legislative decisions are taken every day. These include the Parliament House, Rashtrapati Bhavan (President's House), and the Secretariat Building.
Apart from being politically significant, these centres are also striking architectural marvels in themselves, with an impressive and overpowering persona. All of these, along with India Gate, are located very close to each other, and can be covered in a half a day of one's Golden Triangle tour itinerary.
Admission charges for Rashtrapati Bhavan: INR 50/- per person (entry through online registration only)
Opening hours for all three: (ranging between) 10 am to 8 pm
Tip: The Parliament House is closed on Sunday and Monday, while the Rashtrapati House is closed from Monday to Thursday, so plan your trip accordingly.
3. Delhi: Discover humble cultural centres hidden away in this vast concrete jungle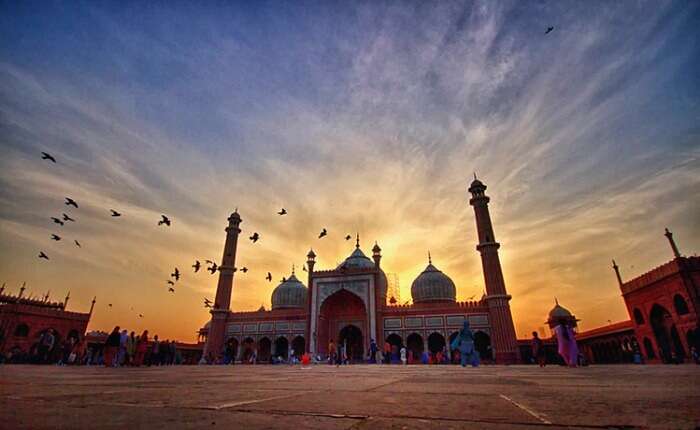 Apart from a dominating political side, Delhi also has a quaint, attractive cultural side. Some of the prime heritage sites of Delhi include the Jama Masjid, Lotus Temple, Qutub Minar and the Red Fort.
While the Jama Masjid, the largest mosque in India, draws tourists to its peaceful, calming interiors with its red and white sandstone Mughal architecture, the Lotus Temple attracts them with its enormous white lotus petals, soothing aura, and its lush, well-manicured lawns perfect for a picnic with your kins! The Qutub Minar, with its magnificent ruins and a fantastic architecture, and the Red Fort, with its brilliant, eye-catching crimson colour, are two very significant UNESCO World Heritage Sites. They tell their own tale of strength that echoes through their walls and makes them worth a visit on this Golden Triangle tour.
For details on admission charges and opening hours of these monuments in Delhi, click here.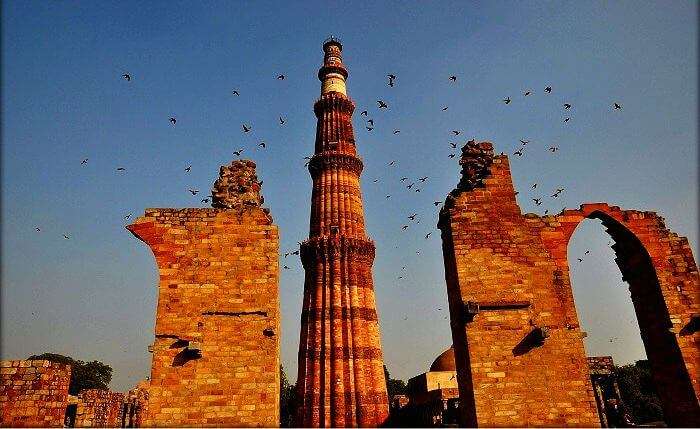 ---
Planning your holiday but confused about where to go? These travel stories help you find your best trip ever!
Real travel stories. Real stays. Handy tips to help you make the right choice.
---
4. Delhi: Treat your ears to a fine Qawwali night at Hazrat Nizamuddin Dargah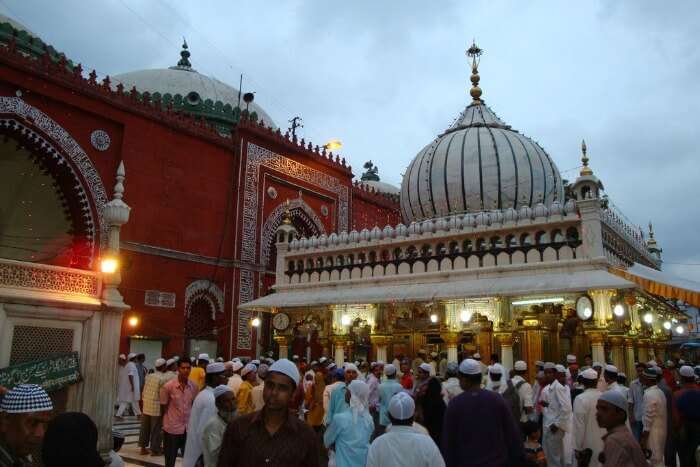 If you wish to experience something unique and special in Delhi, head to the Hazrat Nizamuddin Dargah in Nizamuddin West area of the city, and spend the evening listening to the sublime Qawwali sessions that are sure to touch your soul! There's nothing better than an evening amidst live, heartwarming Sufi music and then a dinner of hot, spicy kebabs on the streets of Nizamuddin Basti to make your Golden Triangle Delhi Agra Jaipur tour more lively.
An ecstatic Qawwali session in Old Delhi is certainly better than what most live music cafes and posh pubs across the city can provide!
Tip: Qawwali sessions at the Dargah take place every Thursday night.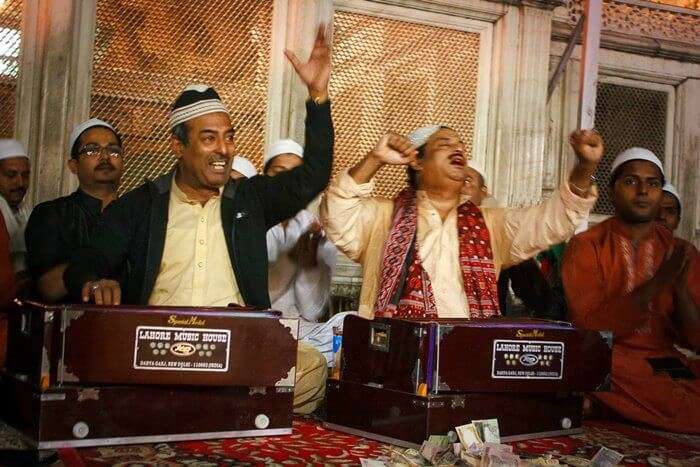 Must Read: 39 Super Fun Places In Delhi That Make It The Happiest City
5. Delhi: Gorge on delicious street food & taste the spicy, tangy flavours of the Food Capital of Asia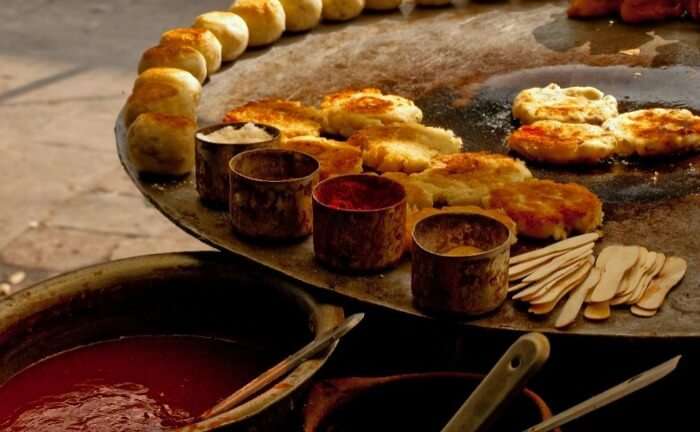 You haven't experienced Delhi if you haven't tasted its overly tempting, utterly flavourful, and highly unhealthy range of street food that shall bring tears to your eyes (like, literally!) Kamla Nagar Market, Paharganj Market, Pandara Road, Jawaharlal Nehru University, Rajinder Da Dhaba, and most importantly, the chaotic streets of Chandni Chowk are the major hubs that feed the foodie population which either resides in or visits Delhi.
The most intoxicating flavours you can devour on these streets include that of aloo tikki, chhole bhature, golgappe, aloo chaat, bhalla papdi, samose, kebabs, tikkas, chhole kulche, nan khatai, bhel poori, besan ka chila, chana zor garam, and much, much more. And if you're not into spicy food, you can most definitely try Delhi's evergreen range of sweet, creamy, treacly delights like jalebi, kulfi, rabri faluda, daulat ki chaat, and its never-ending variety of mithai (sweets) that simply melt in your mouth!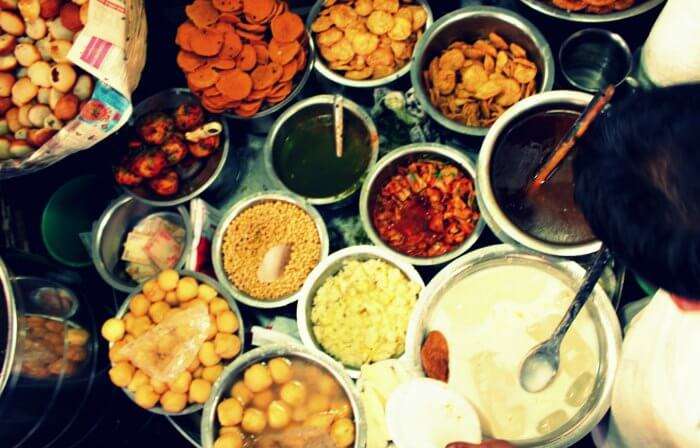 6. Embark on a smooth, fun-filled road trip to Agra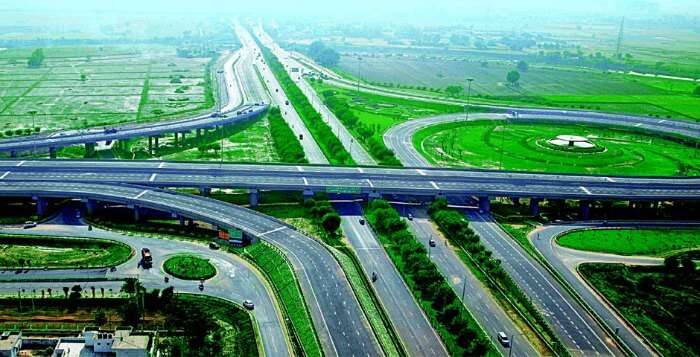 Drive away on the newly built, smooth and spacious Yamuna Expressway while you make your way to the City of Love – Agra. Ride past lush scenic views on your incredible journey, before you stop over at any eating joint on the highway for a spot of lunch. With an extensive 6-lane road network spread out conveniently, the Yamuna Expressway is a boon for travelers who flock to Agra on the Golden Triangle tour from Delhi, as it has greatly reduced the travel time between the two cities as well.
7. Agra: Let the magnificence of the Taj overwhelm you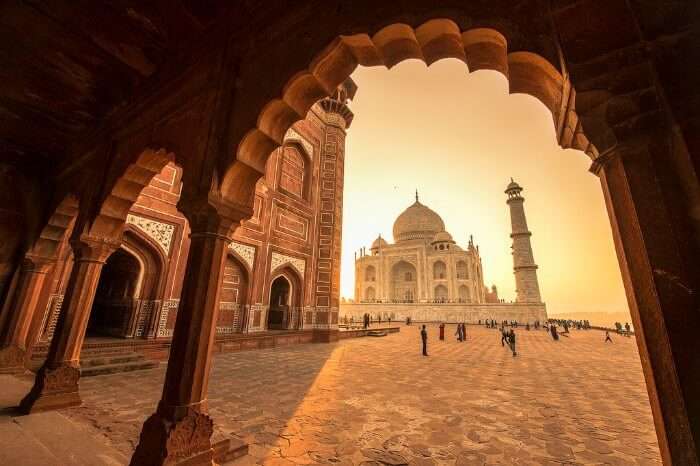 The Mughal Emperor Shah Jahan had built the Taj Mahal in 1648 in loving memory of his wife Mumtaz Mahal and post his own demise, was buried alongside her under his own creation. One of the great Wonders of the World and among the most famous UNESCO World Heritage Sites, this breathtaking mausoleum of white marble stands today as an undying symbol of love and beauty.
A massive number of people from all over the world flock to Agra to bask in the magnificence of this pale masterpiece of Art, so much so, that the population of tourists sometimes surpasses that of the city! Oozing unending charm, the Taj is undoubtedly one of the most irresistible places to visit on the Golden Triangle tour from Delhi, and perfect for some lovey-dovey selfies with your bae!
Admission charges for Indian tourists: INR 20/- per person
Admission charges for foreign tourists: INR 750/- per person
Opening hours: 8 am to 5 pm
Tip: The monument is closed on Fridays, so plan your Golden Triangle trip accordingly.
8. Agra: Gaze at the Taj's pale structure from the banks of Yamuna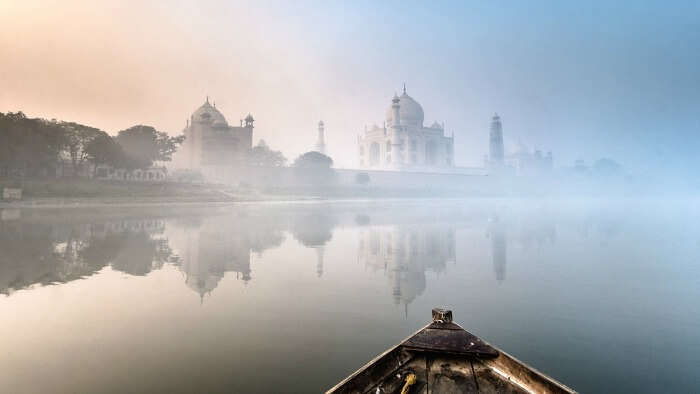 Not many know that there is more than one way to entertain oneself with glorious, stunning views of the Taj Mahal. The road beside the Agra Fort gives travelers easy access to the banks of the serene Yamuna river from where one can enjoy an enchanting, peaceful views of this wonder.
A favourite spot for photographers, it not only gives the best views of the Taj but is also free from the overflowing crowd inside the Taj complex, making it an offbeat place to explore on a Golden Triangle vacation. And the best part – it's free of cost! One can sit on the banks of the calm Yamuna and enjoy rare views of the Taj being reflected in the clear river below.
Tip: Pay boat-hands here and row away on the Yamuna with your beloved, while enjoying romantic views of this white enchantress before you!
Suggested Read: 9 Best Destinations In India For Hot Air Balloon Ride
9. Agra: Roam around the massive, regal corridors of the Agra Fort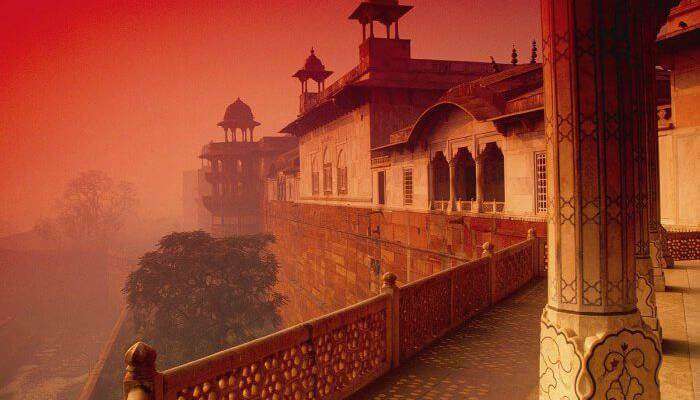 This walled palatial city is located a mere 2.5 km from its sister monument, the Taj. The Agra fort has a maze-like structure, high rise walls, a striking amalgamation of red sandstone and white marble work, and the unmatched royal persona making it one of the most preferred places to visit in Agra.
When here, you'll feel no less than a royalty of old! Make sure you do not miss out on the Diwan-i-Khas (a place for special guests of the king) and the Diwan-i-Aam (a place for public addressal) while you're here.
Admission charges for Indian tourists: INR 20/- per person
Admission charges for foreign tourists: INR 500/- per person
Opening hours: 6 am to 6 pm
10. Agra: Delight yourself with some sweet & savoury 'Pethas of Agra' that'll make you go nuts!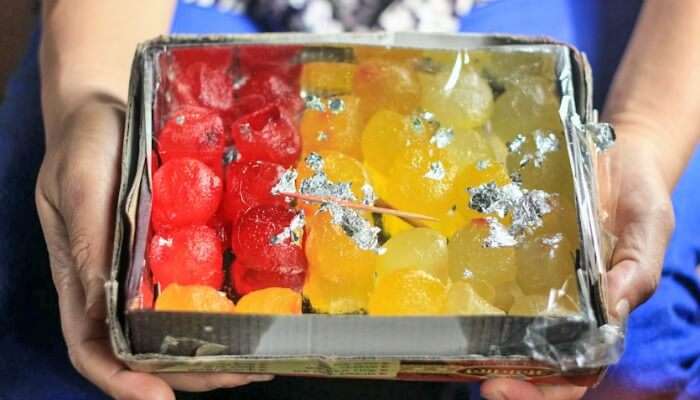 Agra isn't just popular for the architectural marvels of the Mughal era, but also for its variety of savoury treats. Among the best of these is the Petha – a rose flavoured treacle candy made from coarse ash pumpkin and glucose. In fact, among the best things to do on the Golden Triangle tour in India, is treating yourself to these delicious sweets! Don't forget to try the famous Paan Petha while you're here.
Tip: Buy pethas in Agra only from a genuine, certified outlet, like the sweet shop in Sadar Bazaar. The Panchhi Petha, known for its best quality pethas, is the most popular brand in Agra.
11. Agra: Lose yourself in the crimson interiors of the Fatehpur Sikri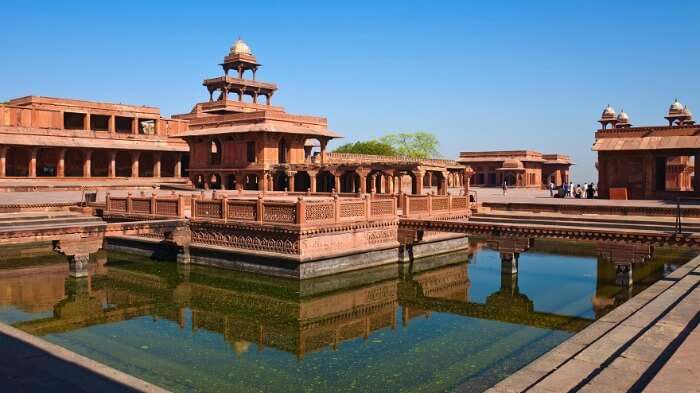 Built by Emperor Akbar, Fatehpur Sikri, or the City of Victory, was the short-lived capital of Mughal Empire. This marvel now prominently figures in the list of the popular UNESCO World Heritage Sites, and thus, also on the Golden Triangle trip itinerary.
This fortified ancient city is adorned with intricate, detailed carvings & designs everywhere that reflect the expert masonry and elaborate stonework present at that time!
Apart from the fort itself, one must also visit the colourful bazaar in the village of Fatehpur and explore the quiet village life of the charming hamlet of Sikri close by.
Distance from Agra: 37 km
Admission charges for Indian tourists: INR 20/- per person
Admission charges for foreign tourists: INR 260/- per person
Opening hours: Sunrise to Sunset
Tip: To witness the true glory of this old fort, one must visit at dusk, when its lustrous sandstone walls gleam in the orange light of the setting sun and the atmosphere turns magical.
12. Jaipur: Fall in love with the twinkling ceilings & captivating history of the Amber Fort


Another striking UNESCO World Heritage Site you'll encounter on this Golden Triangle Delhi Agra Jaipur tour is the Amber (or Amer), Fort. It sits majestically atop a small hill with stunning exteriors of red & white sandstone perfectly reflected in the Maotha Lake below. This seemingly old fort holds as many eye-catching wonders inside its wall as much a royal persona and endless battle scars it carries on the outside.
Visitors tend to get carried away in the charm of the fort, which includes regal courtyards, temples, a 'Sheesh Mahal', and the bewitching Light and Sound Show held in evenings. Also, the interiors hold unending attractions – mysterious looking carvings on white marble, thousands of intricately cut pieces of mirrors on the walls and ceilings that twinkle in the light, windows of colourful glass, and vintage, royal looking belongings of kings and courtiers of old. With so much and more, visitors of the fort are in for endless surprises and treats at every turn!
Distance from Jaipur: 13 km
Admission charges for Indian tourists: INR 100/- per person
Admission charges for foreign tourists: INR 500/- per person
Opening hours: 8 am to 5:30 pm
Tip: Indulge in a Hot Air Balloon ride at Amber Fort to enjoy bird's-eye views of the Pink City and its many opulent palaces.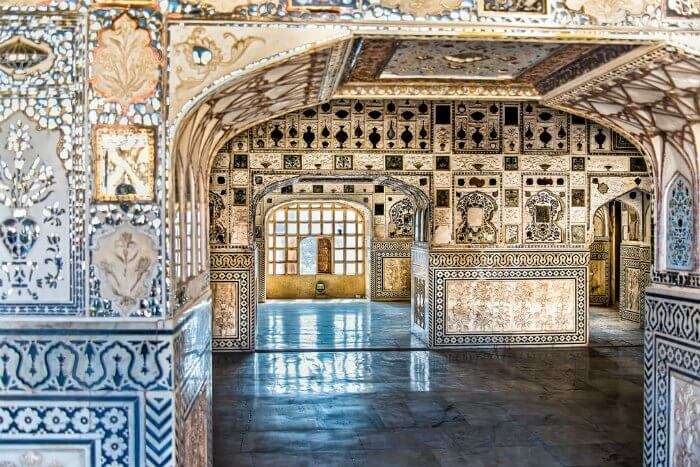 Also Read: 53 Tourist Places In Jaipur To Visit For An Experience Like Never Before!
13. Jaipur: Explore the enchanting marvels of the Pink City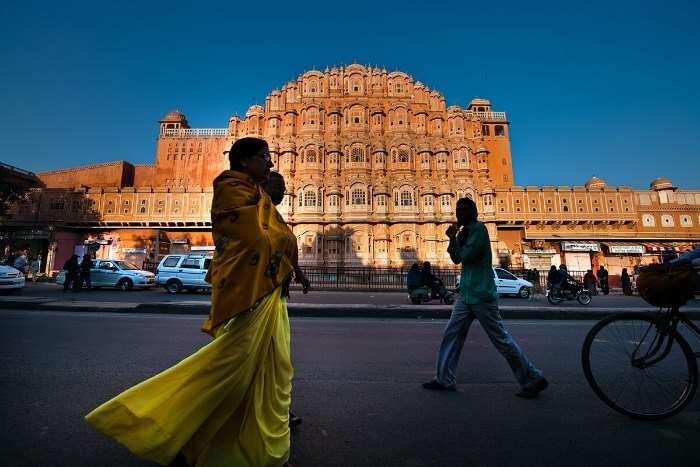 There are many forts, palaces and heritage sites in Jaipur that the Maharajas and emperors left us with and that now sparkle like gems in the landscape of the city. Apart from attracting millions of tourists every year, they are important reminders of our glorious past!
Some of these gems include the Hawa Mahal, or the Palace of Winds, that has over 900 'jharokhas', or windows, and the admirable City Palace, which is now a museum showcasing the distinctive royal heritage that once was. Other of these gems include the Jantar Mantar, one of the largest astronomical observatories ever built in the world, and the Jal Mahal, a 'floating' palace that turns a striking contrast of yellow lighting and midnight blue backdrop at dusk.
For details on admission charges and opening hours of monuments in Jaipur, click here.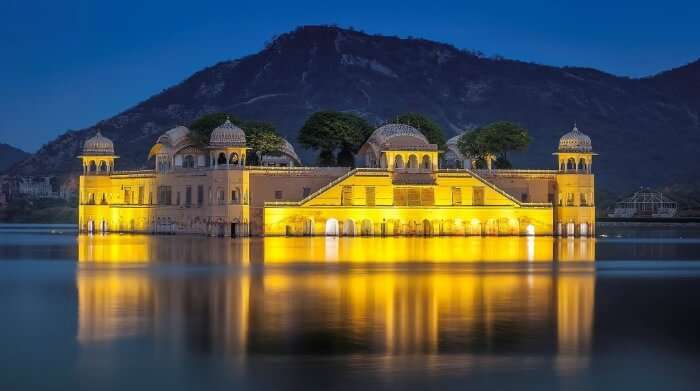 14. Jaipur: Run amok on a shopping spree in the showy, attractive streets of Johari Bazaar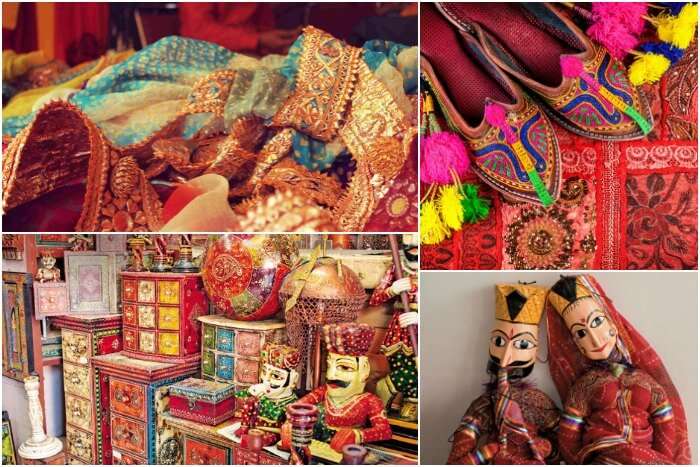 Among the many delightful things to do in Jaipur, is shopping! One can buy souvenirs and traditional home decor items made with tiny glass pieces painted in indigo blue, red and green colours and the famous Rajasthani Puppets, which is a pair of cloth dolls wearing traditional attires. The colourful 'juttis' or the flat soled camel leather shoes with a pointed top, and traditional Rajasthani attire including 'lehengas', 'dupattas' and 'ghaghra-choli', are also great items you can buy in Jaipur to please the fashionista in you.
Those looking for traditional jewelry should head to Johari Bazaar. The traditional, attractive designs and expert, age-old craftsmanship you find here will surely leave you mesmerised. Shopping in Jaipur is, without a doubt, one of the best parts of any Golden Triangle tour itinerary.
15. Jaipur: Live the rich, lively nightlife of Rajasthan at the village of Chokhi Dhani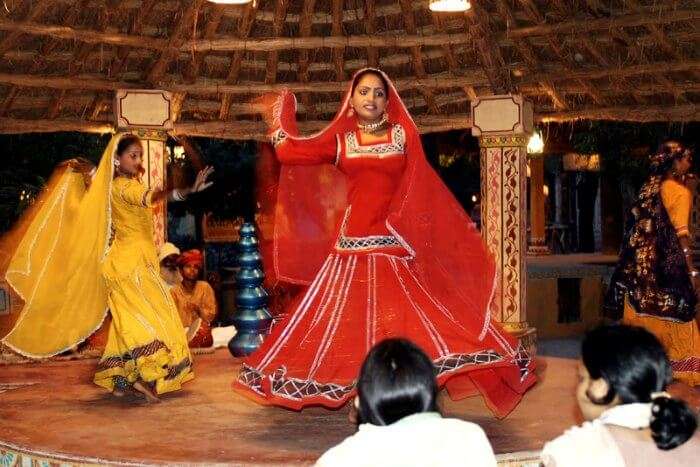 Aiming to preserve the Rajasthani heritage and art, Chokhi Dhani is an all-inclusive package that lets travelers get acquainted with the rich traditions of Rajasthan, its typical village scene, and its unmatched hospitality. Set in outskirts of the city, it aims to give people the true feel of a village in the most natural setting. The place is packed with traditional folk dance & singing, camel and elephant rides, magic shows, puppetry, pottery, palmistry and tarot card reading, outdoor games, a small temple, and a dining area serving a massive, lip-smacking thali of traditional Rajasthani cuisine, all within a beautifully decorated hamlet.
With all this and more, Chokhi Dhani promises travelers a once-in-a-lifetime experience that compels them to come again and again. A visit to Chokhi Dhani is probably the best thing to do on the Golden Triangle tour from Delhi to fully indulge in the royal charisma of Rajasthan.
Tip: Pay a visit to the small huts here & find rural women making delicious traditional treats that'll steal your hearts.
Opening hours: 5 pm to 11 pm
Admission charges: Ranging from INR 600/- to INR 950/- per person depending on choice of dining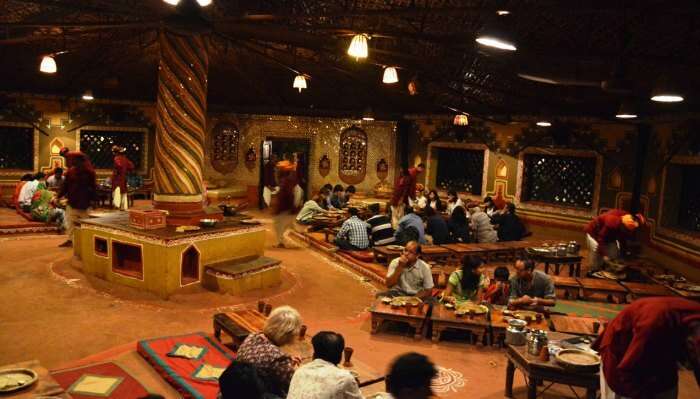 16. Jaipur: Watch a movie or two at the ultra-grand Raj Mandir cinema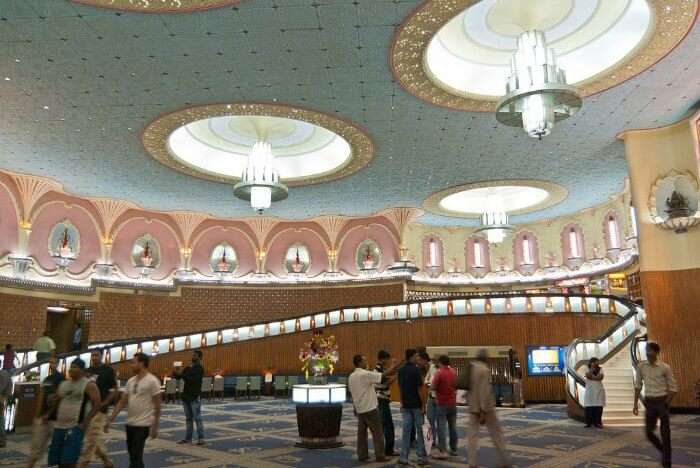 Ever been to a movie theatre that feels more like a royal palace? If not, you surely need to get to Raj Mandir. A movie hall that is beyond the conventional concepts of traditional cinema with more than mere popcorn and soda to delight people with, Raj Mandir in Jaipur is known for its exquisite style and elegance. With its glittering chandeliers, glamourous architecture, delightful lighting, the screen's red velvet curtains that part majestically before the starting of the film, and overall luxurious outlook, this single screened talkie looks nothing less of an Opera House. A visit to the theatre is highly recommended to make your luxury Golden Triangle tour more enjoyable!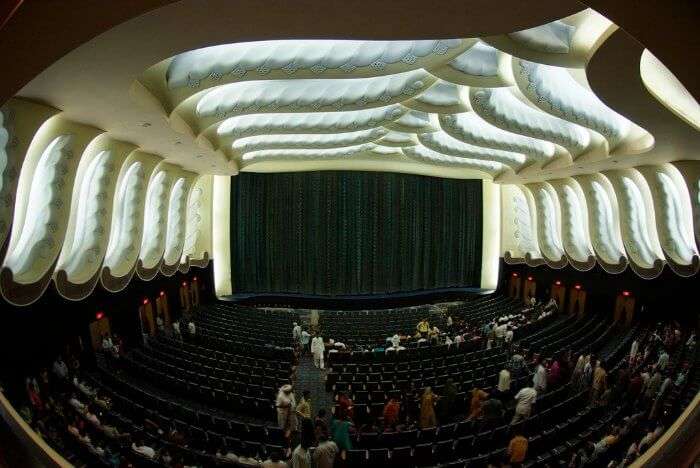 Wanderlusting much? Book your Golden Triangle trip now and gear up for an awesome ride to witness the best of India that will surely set your heart racing! If you know of any more super-awesome things to do on the Golden Triangle tour, pop them in the comments below and share your experiences. Don't forget to share this with your travel buddies.
Frequently Asked Questions About Golden Triangle Tour
Which tourist places are included in Golden Triangle?
Golden Triangle is made of three destinations, Delhi, Agra, and Jaipur. The tourist places included in it are Humayun's Tomb, Lotus Temple, India Gate, Jama Masjid, Taj Mahal, Fatehpur Sikri, City Palace
When can we visit Golden Triangle in India?
The Golden Triangle circuit is accessible throughout the year. However, the best time to visit these destinations is from October to mid-April.
Is it safe to visit Golden Triangle, given the covid situation?
Yes, it is safe to visit the Golden Triangle, given that you follow all guidelines and take all the necessary precautions. Make sure to get yourself vaccinated before planning a trip, also wear masks at all times, maintain social distance at public places and sanitize your hands regularly.
What's in the Golden Triangle?
The Golden Triangle comprises 3 cities, i.e. Delhi, Agra and Jaipur. One can cover all the major places of these three cities while covering the Golden Triangle circuit.
How long is the Golden Triangle India?
The Golden Triangle circuit is about 720 km long by road. The driving distance between all these 3 cities is about 4 to 6 hours.
---
Looking To Book An International Holiday?
Book memorable holidays on TravelTriangle with 650+ verified travel agents for 65+ domestic and international destinations.
---