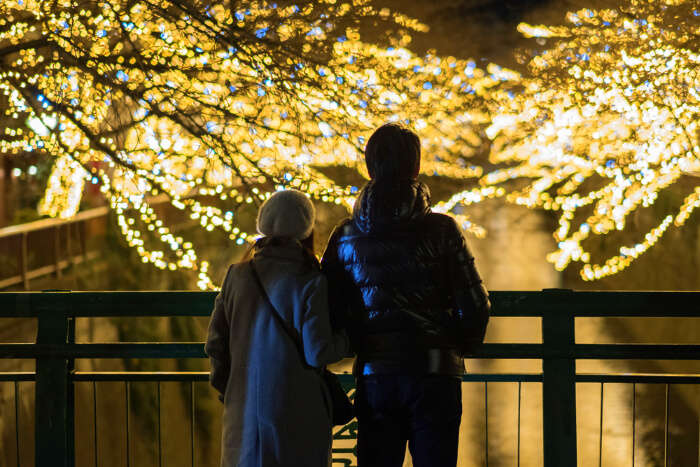 If there's one thing that you shouldn't miss in Tokyo, it is its saucy nightlife. When night falls in Tokyo, the fast pace of life slows down, young crowd begins to fill up the sexy nightclubs, the streets shine with multicolored lights, and the sound of music fills the air. The city is run by night owls, which means it doesn't disappoint anyone, and there's no dearth of clubs, karaoke, bars, and restaurants here.
Let this little guide to Tokyo nightlife take you through a list of things and experiences you can have in the city at night.
Winter Illuminations In Tokyo

During winter, the days get shorter and colder, but that doesn't let Tokyo get lost in darkness. In fact, the busy city turns into a shining winter wonderland as the trees of the town, the buildings, the shopping areas, and famous landmarks like Tokyo Tower are covered by millions of colorful lights. Winter illuminations are generally displayed from November to February, and these months also attract thousands of tourists.
Places To See Winter Illuminations In Tokyo:
Yebisu Garden Palace, Roppongi Hills, Meguro River illumination, Tokyo Midtown, Caretta Shiodome Illumination, Shubiya Blue Cave, Omotesandu street, Rikugien Gardens, Ebisu Garden Place, Yomiuri Land Jewellumination etc.
Nightclubs In Tokyo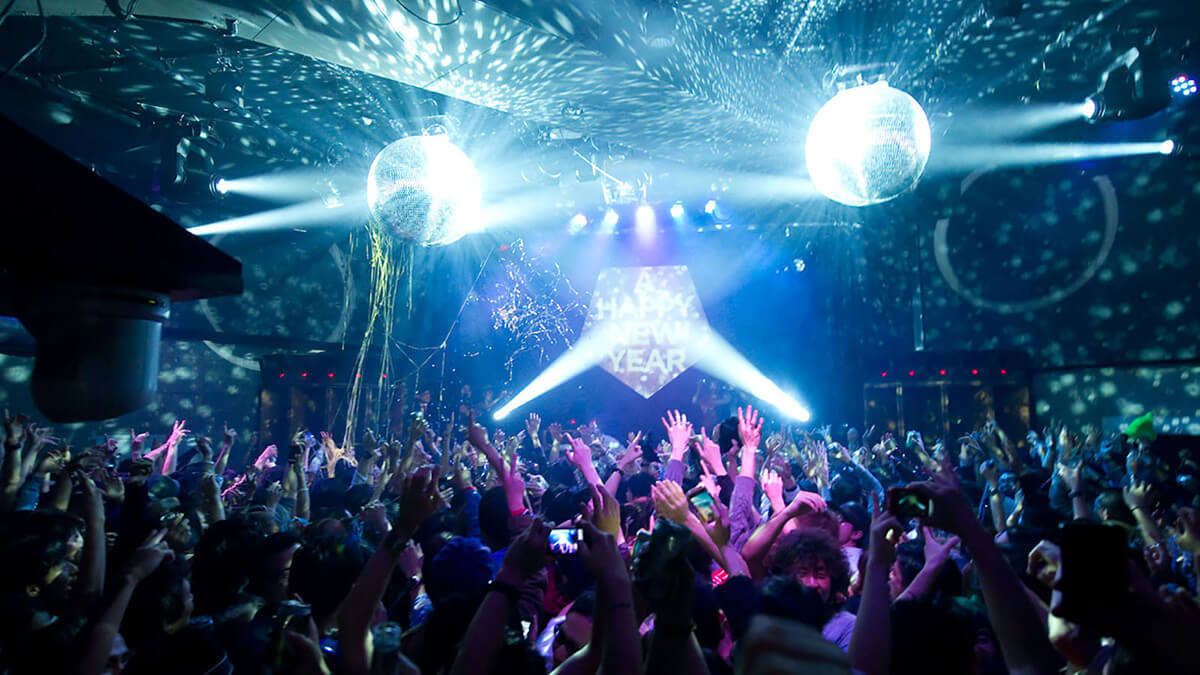 Being Asia's top nightclubbing destination, Tokyo has some of the classiest and most happening clubs and bars. Whether you're looking for techno, metal, rock, or a nightclub with a twist, Tokyo has it all. Tokyo rooftop bars are also good options to spend a night enjoying the views of the city.
1. AgeHa
A must-visit nightclub for all those who want a memorable nightclubbing experience. The club has 4 dance floors, 3 bars, 3 VIP sections, a food court, an outdoor pool, and a garden area. Some of the world's most famous DJs have held concerts here.
2. Club Camelot
A three-story nightclub with 4 bars and VIP seating area, Club Camelot organizes three different kinds of parties every night of the week. It is probably the most foreigner-friendly nightclub in the entire Shibuya.
3. Harlem
The most authentic hip-hop nightclub right in the heart of Tokyo, Harlem is always packed with Japanese hip-hop fans.
4. Womb
Popular all over Tokyo for its underground house, techno, and bass music parties, Womb is a must-visit Shubuya nightclub for tourists.
Must Read: Japan's Winter Lights Festival Is A LIT Event You Must Attend In 2022
Theme Parks And Museums In Tokyo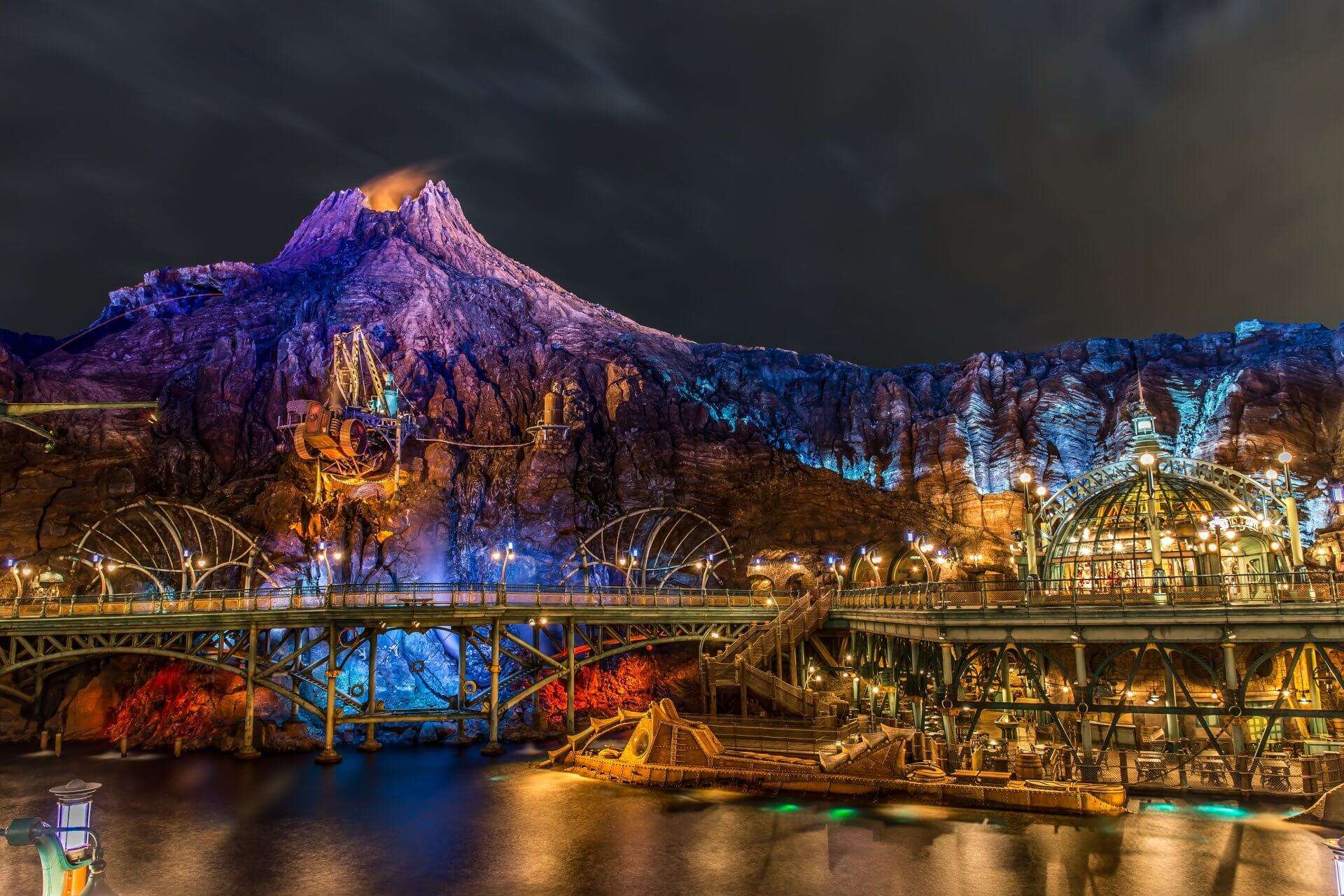 Usually, the theme parks and museums in Tokyo close around 5:00 PM to 6:00 PM. However, there are some museums and aquariums that shut down late night.
1. Mori Art Museum
A contemporary art museum in Roppongi Hills, Mori doesn't exhibit a permanent collection, but temporary exhibition of artwork by contemporary Asian artists. The museum stays open until 10:00 PM on Monday, Wednesday, and Sunday.
2. Sumida Aquarium
One of the most popular tourist attractions in Tokyo, Sumida Aquarium also welcomes night owls. This beautifully designed, modern aquarium is home to over 10,000 sea creatures, a shopping area, and an entertainment complex. It remains open until 9:00 PM.
3. Epson Aqua Stadium
If you want to spend the night seeing dolphins performances incorporating light and sound effects, Epson Aqua Stadium is the right place for you. Other zones that can be explored are Aqua Jungle, Jellyfish Ramble, and Friendly Square. The theme park stays open until 10:00 PM.
4.Tokyo Disneyland
The theme park has seven themed zones: World Bazaar, Tomorrowland, Toontown, Fantasyland, Critter Country, Westerland, and Adventureland. The park remains open until 10:00 PM.
5.Tokyo Joypolis
If you're in a mood to try something thrilling, Tokyo Joypoli is the place for you. It offers rides, games, and virtual reality experiences that make the whole experience exciting. The theme park stays open until 10:00 pm.
Suggested Read: 35 Best Places To Visit In Japan That Make It Look Right Out Of A Storybook In 2022
Tokyo Night View From Deck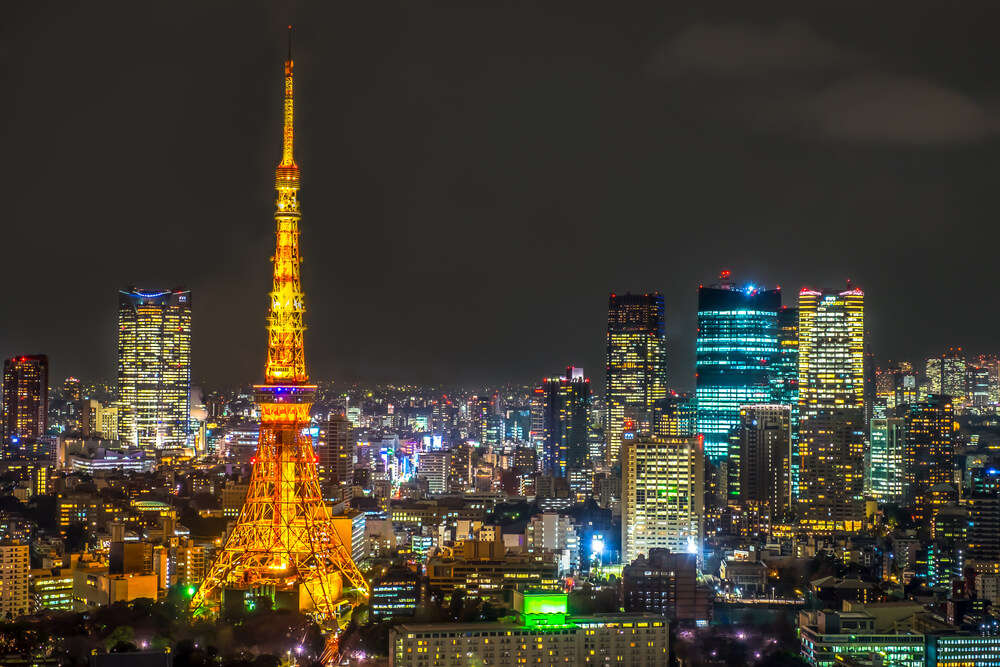 As dusk falls, the busy Tokyo city turns into an ocean of bright lights making it look all dreamy. Most of the observation decks in towers and tall buildings of Tokyo remain open until 10:00 PM. These decks are great spots to enjoy the breathtaking night views of the city that's submerged in light. Tokyo Skytree, Tokyo Metropolitan Government Building, Tokyo Tower, and Sunshine 60 are some of the best observation decks in the town.
If you want to enjoy the night views in a completely different way and don't mind shelling out some money, you can take a helicopter ride over the city. A 15-minute long ride can cost you around 15,000 Indian rupees. Too expensive? well, the good thing is there's an alternative! You can take a cruise and enjoy the waterfront views. A 2-3-hour long cruise ride along Tokyo Bay with dinner can cost you around 5,000 Indian rupees and about 2,500 Indian rupees without dinner.
Suggested Read: This Robot-Run Hotel In Japan Is Making Everyone's Jaw Drop To The Floor
Restaurants In Tokyo At Night

Late-night food in Tokyo is usually crazy delicious, and the best part is, you can avoid the mad rush. From modest restaurants to classy dining places, there's no dearth of places where you can enjoy a delicious and filling dinner.
1. Izakaya
If you want an authentic food experience in Tokyo, you should head to Izakaya. They are casual places for after-work drinking and delicious food. The dimly-lit setting of these Japanese pubs make you feel relaxed, while you enjoy the delicious servings of yakitori, buttered corn, potato salad, kamameshi, whiskey, beer etc. Some of the most popular Izakaya chains are Doma Doma, Wara Wara, Watami etc, that remain open until 5:00 am.
2. Bar Star Star
If your're in a mood to enjoy some good music with some cocktails and mouthwatering food, this is the right place. This is probably the best bar you'll find in Tokyo.
3. Le Chateau de Joel Robuchon
Want to go for a fine dine restaurant at night in Tokyo? Le Chateau de Joel Robuchon won't disappoint you at all. The ambiance is quite amazing, but it's on the expensive side.
4. Teppan Baby Shinjuku
If you're looking for some vegetarian food in the city, Teppan Baby Shinjuku can be the right choice. It is a typical Japanese kitchen, which serves authentic Japanese cuisine. In 2,500 Indian rupees, you can have fulfilling dinner with beer.
5. Peter at The Peninsula
Peter is a fine-dine restaurant. From delicious seafood to grilled Hokkaido scallops, you get everything here. While having your food, you can enjoy the stellar views of Tokyo's Imperial Palace Gardens and Hibiya Park.
After the sun sets, Tokyo, one of the busiest city of the world comes to life, and that's when you truly get to live and see the young spirit of the city.

Further Read: 23 Romantic Budget Honeymoon Destinations In Asia In 2022 For Every Budget