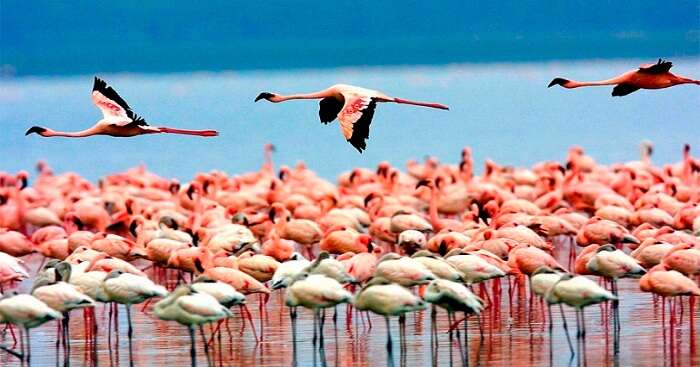 Of the numerous reasons that make Mumbai a popular tourist destination, Flamingo watching remains one of the favorites. But here's a news that doesn't augur well for the all the birders out there. The Sewri Mudflats, which has been recognized as an ideal place for Flamingo watching in Mumbai, will not be accepting visitors for the next seven years, confirms Hindustan Times. The report clearly mentions that because of the construction work in progress at the Mumbai-Trans-Harbour Link (22 km), a barricade has been raised at the site which will make the Flamingo spotting site inaccessible for tourists. The Mumbai-Trans-Harbour Link will connect Mumbai to Navi Mumbai (Jawaharlal Nehru Port).
The mud flat in Sewri is a world-renowned site for Flamingo spotting and every year this place attracts millions of birders from all around the world. Every year, Flamingos travel all the way from Kutch in Gujarat make for an adorable sight. They can be mostly spotted feeding on the mudflat. Sewri Mangrove Park, overlooking the mudflats, makes for the perfect vantage point to spot the elusive bird.
"Since there will be large machines at work on this site, we will have to cordon off the area, and citizens will not be allowed to enter for their own safety. For this, a gate is being set up. Flamingos have already begun moving a few 100 meters away from this site, and for at least the next seven years, people cannot visit this spot to see them," said a technical officer at the construction site.
Image Source
Bombay Natural History Society, for the past 6 years, has been organizing the Flamingo Festival every year at this place. However, N Vasudevan – the additional principal chief conservator of forests, State Mangrove Cell, has confirmed that the bird safari organized near Thane will continue to take place.
Another popular place in Mumbai for Flamingo spotting apart from Sewri is Airoli, Thane where playful birds can be spotted almost around the year. Airoli is the place that has been in news for organizing Flamingo Safari, and so far, it has seen a huge response from people. So, you don't need to make too many changes to your holiday plans if at all you have any! Head to Airoli and experience the wonderful Flamingo Safari.
Since there are only a few boats operating for the safari as of now, you need to make bookings well in advance. Hence, call the Coastal Marine Biodiversity Centre now and make a booking right away!
Contact number: +91-9987673737
Further Read: Flamingo Safari in Mumbai: Go Up, Close, & Personal With Migratory Birds