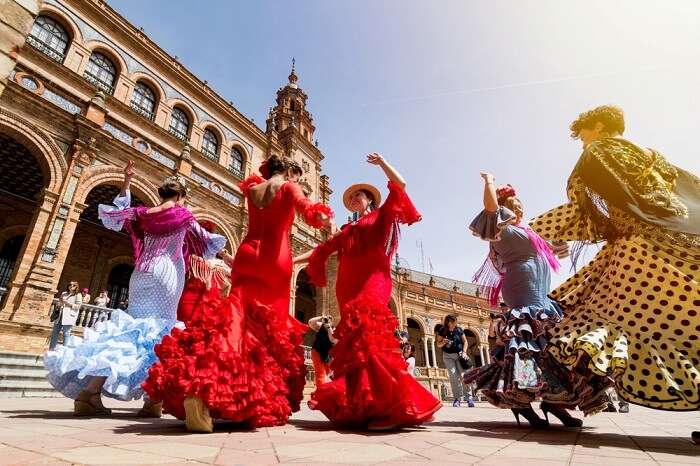 Mi casa es su casa (my house is your house) very beautifully defines the vibrant culture of Spain and also its heartwarming hospitality. From living in the big moments to celebrating the small ones, the country and its people surely know how to treat life like a party. If you're someone who believes the same or would love to experience this feeling, then all you have to do is add these Spanish festivals to your bucket list and attend them all as soon as you can. After all, it's always better to do the best things tomorrow than never, right? Go ahead and check out the festivals celebrated in Spain that have taken the world by storm.
Spanish Festivals Calendar 2020
| | | |
| --- | --- | --- |
| Month | Festival | Date (2020) |
| January | La Tamborrada | 20th January |
| March | Las Fallas De Valencia | 15th – 20th March |
| April | Semana Santa | 5th – 12th April |
| May | Feria Del Caballo | 9th – 16th May |
| May | Feria De Abril | 26th April – 2nd May |
| May | Cordoba Patios Festival | 4th – 17th May |
| June | Haro Wine Festival | 28th – 30th June |
| July | Benicassim Festival | 16th – 19th July |
| July | San Fermin | 6th – 14th July |
| August | Festa Major De Gràcia | 15th August – 21st August |
| August | Feria De Málaga | 15th – 24th August |
| August | La Tomatina | 26th August |
Top 12 Spanish Festivals
Spain is a beautiful country with an even more beautiful culture. So, there are innumerable festivals and events that take place throughout the year in the country. Among Spanish festivals, Tomatina is the most popular one. This is is one of the established facts about Spanish festivals. If there's anything that needs to be on the top of your bucket list, it is these 12 most famous fiestas. Just scroll down this list of Spanish festivals and get ready to go crazy:
1. La Tamborrada (Drum Festival)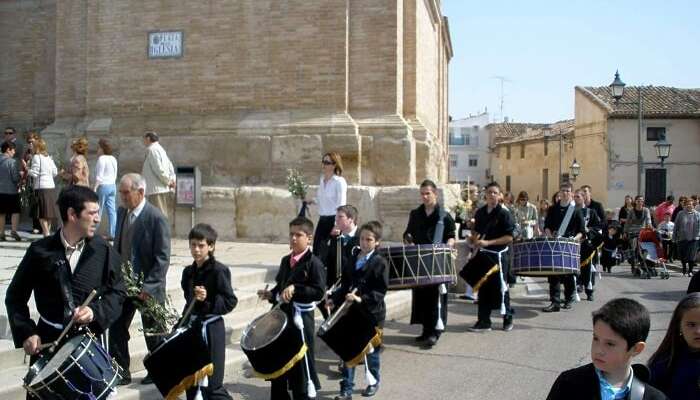 La Tamborrada is counted among the famous Spanish festivals and is certainly the noisiest one in the country and may even come across as bizarre to some. But, if you're a drum lover or have always wanted to try your hands on one, then this fiesta is where you need to be when a new year starts. Huge parades of men, women, and kids come out on the streets and bash drums throughout the night and day for 24 hours. While one side of this festival has the organized processions, the other side has free-for-all drum bashing which you can easily join and become part of the fun.
Where: San Sebastián, Spain
When: 20th January, every year
Must Read: 14 Festivals In January In India (2020)
---
Europe Holiday Packages On TravelTriangle
Explore the most beautiful places to visit in Europe, from Paris to the Venice canals and from the Greek islands to the Swiss Alps. Book customized packages by expert agents on TravelTriangle. Inclusive of airport transfers, cab, resort, sightseeing, and meals. Best holiday experience Guaranteed. Book Now
2. Las Fallas De Valencia (Festival Of Fire)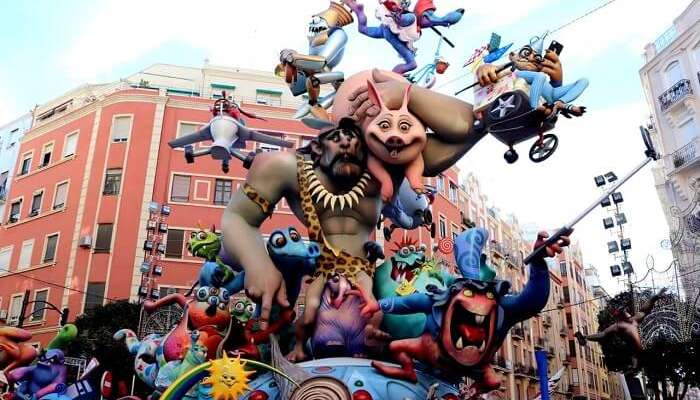 No list of Spanish festivals names can ever be complete without mentioning the Fallas in it! Literally, a party that takes place for five days in the city of Valencia, this festival brings gigantic colorful characters out on the streets. Most of these statues or figures are mostly a result of satire or pop-culture events that have happened throughout the year. Apart from witnessing the Fallas on your way, the major highlights of one of the most popular festivals in Spain 2020 are the spectacular shows and fireworks that take place during the day, and the light show on the last night.
Where: Valencia, Spain
When: 15th – 20th March, 2020
Suggested Read: 21 Captivating Spain Tourist Attractions That Will Make You Pack Your Bags Now!
3. Semana Santa (Holy Week)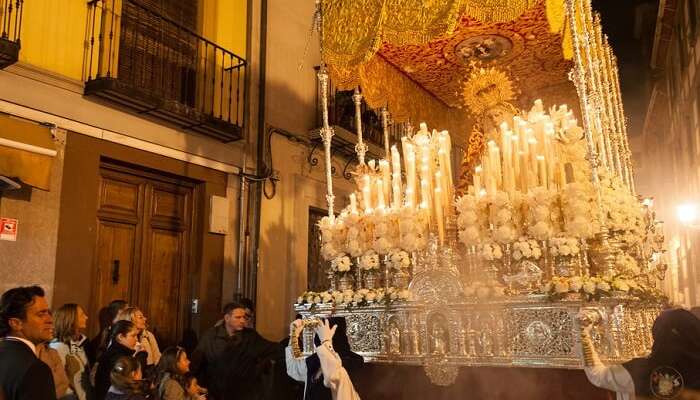 One of the most famous traditional Spanish festivals, the Semana Santa or the Holy Week takes place during the Easter. It is one of the most popular religious festivals in Spain. A dozen men and women come out to march through the streets, whilst carrying the statue of their church's patron saint surrounded by hundreds of candles. Even if you're not so religious at heart, make sure you attend this festival at least once in your life because seeing all the families come together with their chairs and snacks is surely a golden sight. This is one of the few religious festivals in Spain that will strike a chord with you.
Where: Seville, Malaga, and Castilla-Leon cities of Valladolid and Leon, Spain
When: 5th – 12th April, 2020
Suggested Read: 10 Festivals In Vietnam That Are All About Glitz, Glam, And Grandeur This 2020!
4. Feria Del Caballo (Horse Fair)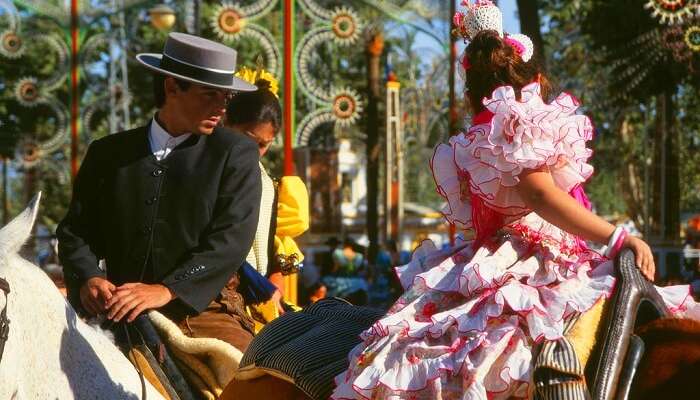 Joyous celebrations, flamenco performances, Andalusian cuisines, and a lot of horses is exactly what all the Horse Fair in Jerez brings under the spotlight. One of the major festivals in Spain in May, this fair helps everyone come together to enjoy the horse parades and indulge in tapas being sold at over 250 stalls. One of the established facts about Spanish festivals is that no matter which festival it is, there is dancing involved. While dressing up like the locals is one of the important things to do, another is to enjoy this cultural tradition to the fullest! Make sure you're present in Spain for the inauguration day- it is supposed to be legendary.
Where: Feria del Caballo in Jerez
When: 9th – 16th May, 2020
Suggested Read: 20 Remarkable Places To Visit In Madrid That Give You A Taste Of The Good Life In Spain!
5. Feria De Abril (April Fair Of Seville)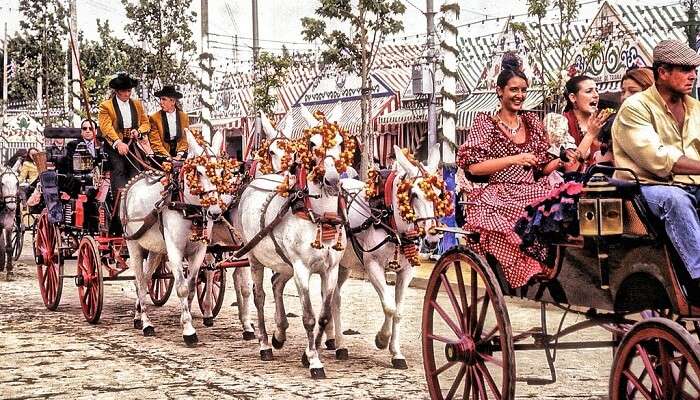 Amongst all the fascinating Spanish festivals, the April Fair of Seville is one event that would definitely make you fall in love with the country's culture. This week-long fair begins with the traditional lighting of the entrance to the fairgrounds at midnight and ends with entertainment, colors, and best of Andalusian art like flamenco. All you have to do to make the most of one of the hottest festivals in Spain 2020 is dress up like the locals, head out to the fair, and enjoy every moment like never before.
Where: Seville, Spain
When: 26th April – 2nd May, 2020
Suggested Read: Spanish Travel Words And Phrases To Help One On A Trip To Spain And Latin America
6. Cordoba Patios Festival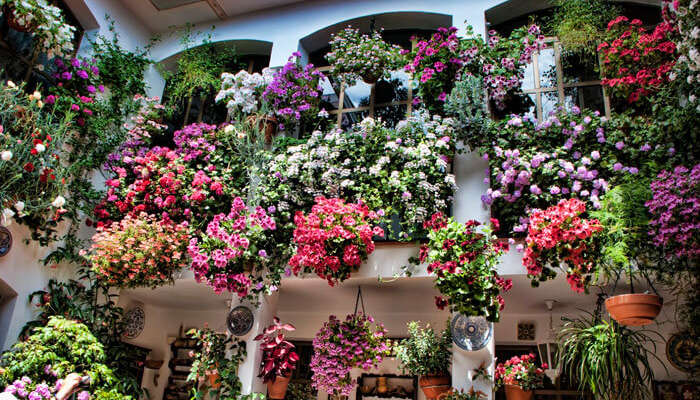 The Cordoba Patios festival takes place in the first week of May every year and is a long-standing tradition of the city of Cordoba. During this festival, the owners of the most beautiful patios open them up for public viewing. The tourists participate in this colorful fair in large numbers. Nature lovers will have a ball in Cordoba around this time. Since the first patios festival in 1918, the locals have been taking great care of their patios.
Where: Cordoba, Spain
When: 4th – 17th May, 2020
Suggested Read: 7 Stupendous Cruises In Spain Revealing The Hidden Secret
7. Haro Wine Festival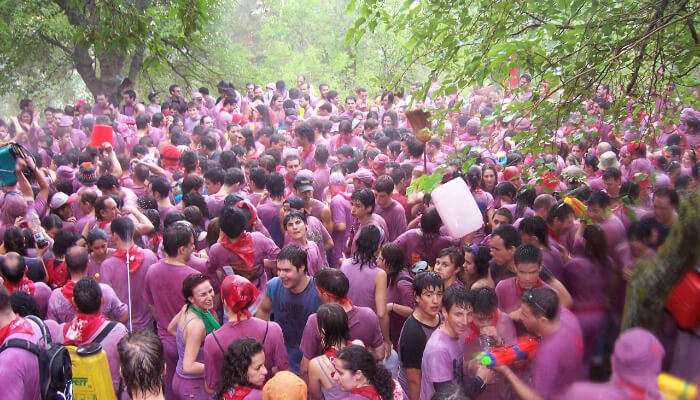 Located in the La Rioja province, Haro is a small town in Northern Spain. This place has several vineyards and is highly popular for its fine red wine production. In fact, every summer sees an interesting celebration called the Haro Wine Festival which is counted among the famous Spanish festivals. You can witness huge beer fight if you attend this one of the most exciting Spanish festivals 2020.
Where: Haro, Spain
When: 28th – 30th June, every year
8. Benicassim Festival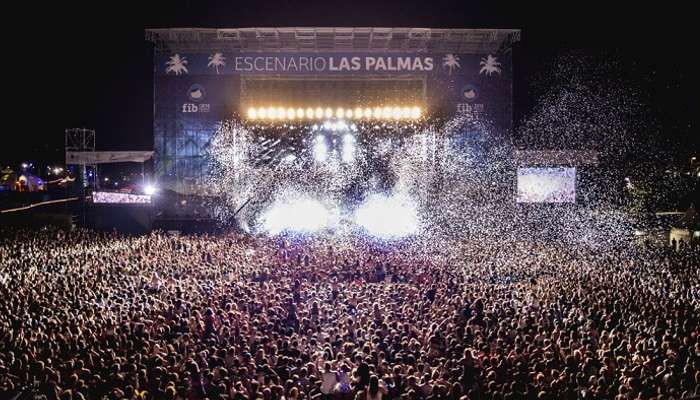 Of all the Spanish music festivals, Benicassim is the four-day event which you ought to be a part of at least once in your life. Held in Benicassim on the east coast of Spain between Valencia and Barcelona, this Spanish music festival brings all the popular bands and artists on stage. If music is what gets you high and Spain is where you always dreamt to be, then do make sure you take a trip to Spain in July and enjoy the Spanish music festival. The locals celebrate this festival by indulging in booze. Make sure that you drink responsibly.
Where: Benicàssim near Valencia, Spain
When: 16th – 19th July 2020
Suggested Read: 15 Best Things To Do In Barcelona That Are Enough To Relish The Real Taste Of Spain!
9. San Fermin (Pamplona Bull Run)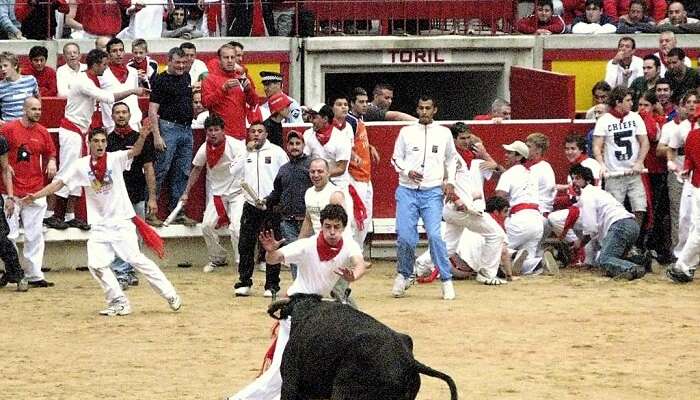 Held for a week every year at the starting of the month of July, the San Fermin Spanish festival or the Pamplona Bull Run is amongst the best festivals in Spain in July. This popular bullfighting festival in Spain begins at 8 in the morning every day and welcomes the most brave-hearted and adventurous people to run ahead of a group of angry bulls. Even if you aren't so daring at heart, make sure you at least visit the city to witness this mind-boggling scene that will leave you amazed! Add bullfighting festival in Spain to your list.
Where: Pamplona, Spain
When: 6th – 14th July, 2020
Suggested Read: Top 17 Most Beautiful Cities In Spain: You Must Be A Robot To Resist The Spell Of These
10. Festa Major De Gracia (Gracia Festival)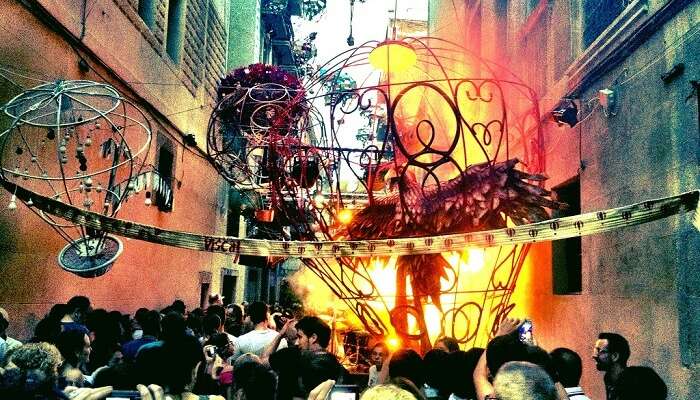 If you think Barcelona is one gorgeous place to visit in Spain, you'll be amazed to see it in prettier colors during this summer festival. The whole of Gracia neighborhood comes together and splash artsy colors all around to compete for and win for the most extravagant decoration. Apart from this, there are also parades, acrobats, and fireworks on the streets. Witnessing this mind-boggling creativity in every corner all at once, you'd surely be transported to a different world. So, don't miss out on this or the other Spanish festivals at any cost!
Where: Gràcia, Barcelona, Spain
When: 15th August – 21st August, 2020
11. Feria De Málaga (August Fair In Malaga)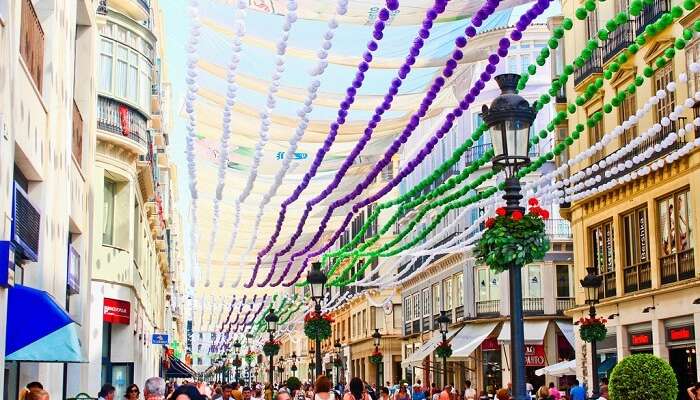 The best Spanish festival in August, the August Fair of Malaga is a week full of ultimate fun activities and events in the heart of the Costa del Sol. You can attend this fiesta both at day or night and have a summer holiday in Europe like never before. Needless to say, if you visit this fair, you will surely have the time of your life. Immerse yourself in the rich culture and heritage of Spain. We promise you'll have the time of your life while celebrating famous Spanish festivals.
Where: Downtown streets during the day and Cortijo de Torres at night in Malaga, Spain
When: 15th – 24th August, 2020
Suggested Read: 10 Most Amazing Spanish Islands That You Wouldn't Want To Leave In 2020
12. La Tomatina (Tomato Fight Festival)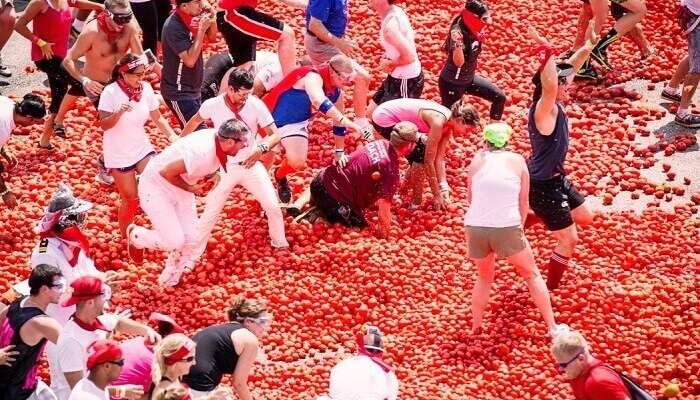 Thanks to Zindagi Na Milegi Dobara, we all know what craziness La Tomatina is! Out of all the Spanish festivals, La Tomatina Spanish festival is the most known and famous amidst people from all over the world. During this tomato festival, Spain heartily welcomes thousands of locals and tourists to the streets of Bunol who then smash and throw tomatoes at each other. Started some 70 years ago, this fiesta has now become such a popular event in the country that the 20,000 tickets get sold out in a jiffy. So, if you too wish to paint the town red or just want to be a part of this fun tradition, make sure among all festivals in Spain 2020, Tomatina is on the top of your bucket list!
Where: Buñol, Spain
When: 26th August, 2020
Further Read: Beer Spa Granada Is The First In Spain To Let You Drink And Drown In the Barrels Of Beer
Enticed already? Well, we don't blame you. Spanish traditions, festivals, its culture, and people stand out on the map and make travelers feel truly at home. So, what are you waiting for? Don't think much, simply plan your trip to Europe and get ready to be a part of Spanish festivals 2020. We promise you won't be disappointed and will have the time of your life here. Ve a Vivir Su Vida!
Frequently Asked Questions About Spanish Festivals
Q. What are the main festivals in Spain?
A. The Holy Week or Semana Santa, the Fallas of Valencia, August Fair in Malaga, and San Fermin are some of the holy festivals of Spain. Out of all Spanish festivals, Tomatina is the most fun one.
Q. What are the most important traditions in Spain?
A. Flamenco and bullfights are two of the most important folklore traditions in Spain. Bullfights are performed in all parts of the country. taking a siesta and having a tapas meal are others.
Q. Are quinceaneras celebrated in Spain?
A. Yes, it is celebrated in all Spanish speaking countries including Spain. It is the 15th birthday of a girl that means she has attained womanhood.
Q. What is Spain's favorite food?
A. Paella, a rice dish made from seafood, is hands-down the most favorite dish in Spain. Gazpacho, tortillas, Chorizo, and churros are next in line.
Q. What are the most important traditions in Spain?
A. The most important traditions in Spain are Flamenco and bullfights.
Q. What is Spain best known for?
A. Spain is famous for its wine.
Q. What is the Spanish culture known for?
A. The Spanish culture is known for Flamenco dance and music, and bullfights.
---
Looking To Book An International Holiday?
Book memorable holidays on TravelTriangle with 650+ verified travel agents for 65+ domestic and international destinations.
---
People Also Read:
Montreal Festivals Vancouver Festivals Jamaican Festivals
Comments
comments