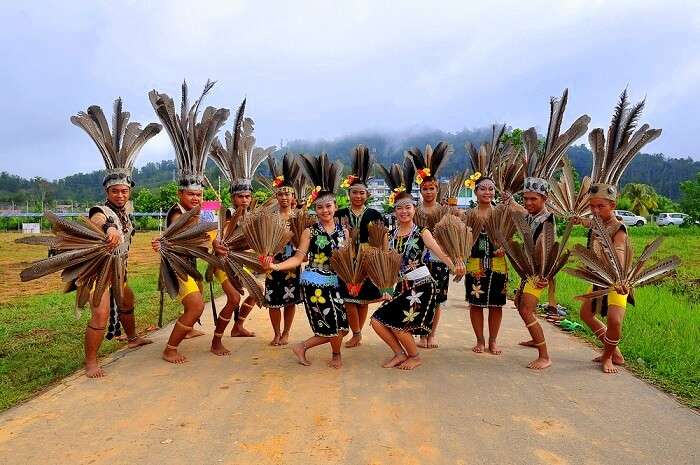 A nature lover, a beach bum, a culture enthusiast or a foodie – whatever kind of traveler you may be, Malaysia promises to be the perfect travel destination that will allure you with its magic. While Kuala Lumpur is home to the tallest skyscrapers and flashiest shopping malls, Penang is steeped in history and cultural experiences and the islands offer endless vistas of turquoise waters and pristine beaches. The range of festivals in Malaysia reflects its vibrant cultural diversity and religious tolerance, and assures you a glimpse into its rich traditions. While you saunter through this beautiful country exploring its many wonders, do try to witness a few of these Malaysian festivals and celebrations.
10 Festivals In Malaysia In 2019
The country of Malaysia has innumerable celebrations taking place throughout the year. But if you wish to witness its culture at its best, here's a list of festivals in Malaysia 2019 that you ought to attend!
1. Thaipusam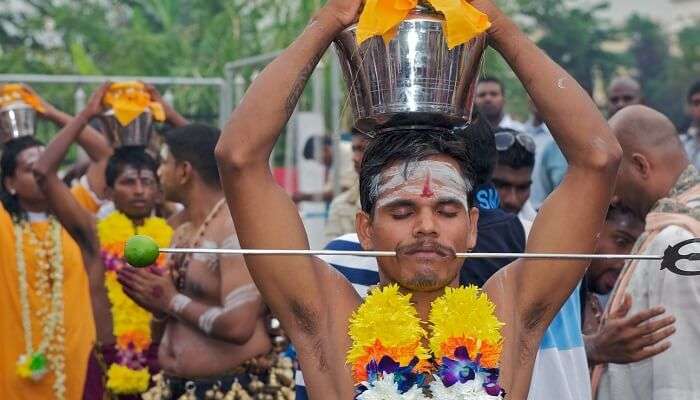 One of the most important Tamil festivals of Malaysia, Thaipusam commemorates the victory of Lord Muruga over the evil spirit Soorapadam with great pomp and show. Celebrated with fervour for 3 days at the famous Batu Caves shrine around the full moon day, you can witness the grand procession that kicks off from Kuala Lumpur. Lord Muruga is carried in a silver chariot to the sound of chants & drums while over a million devotees throng the temple to seek his blessings. It is a sight to watch ardent devotees carry 'kavadis' yoked to their body through metal spikes.
When: Late January/early February
Where: Batu Caves (Selangor); Waterfall Temple (Penang)
Suggested Read: Thinking Of Visiting Malaysia In June? Read This Before You Plan A Vacation In 2019!
2. Tadau Ka'amatan Harvest Festival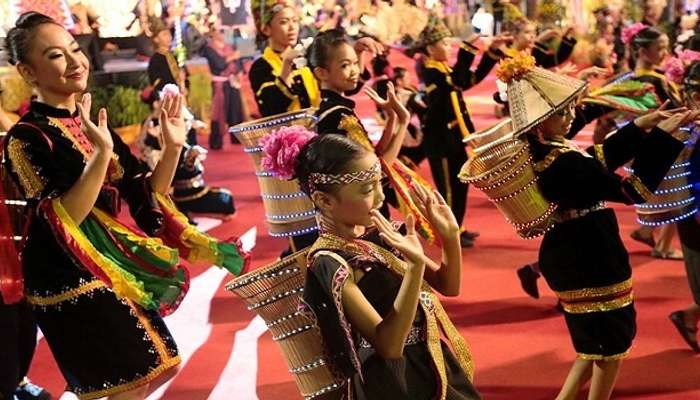 This native festival of Kadazan-Dusun, Sabah's largest ethnic group is essentially a celebration to thank the holy spirits for a bountiful harvest making it to the list of famous festivals in Malaysia. Padi farmers congregate to honour 'Bambaazon', the spirit of rice padi through traditional rites and customs followed by festivities. The headquarters of Kadazan Dusun Cultural Organisation hold ethnic dance performances as well as display of traditional sports like arm-wrestling, blowpipe shooting etc. Free-flow of Tapai and Lihing, the local rice wines adds to the spirit and fervour of one of the most interesting cultural festivals of Malaysia.
When: 30 & 31st May
Where: Sabah
Must Read: Top 7 Museums In Malaysia That Are Sure To Leave You Enchanted!
3. Wesak Day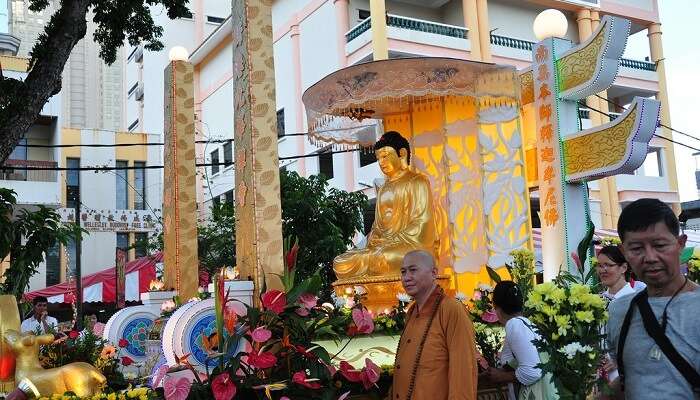 Like in all Buddhist countries, Wesak festival celebration in Malaysia gives you a chance to witness this important event marking the three major milestones in Budhha's life – his birth, enlightenment and nirvana. Buddhists across the country observe fasting to cleanse themselves and also spend time meditating at the temples all day. They also release doves and tortoises as a symbol of liberating the soul and absolving ones past life sins. This pious festival is marked with alms giving, spirituality and positivity.
When: Full moon of May
Where: Across the country
Suggested Read: 15 Honeymoon Destinations In Malaysia To Visit In 2019 That Will Surprise Your Partner
---
Malaysia Holiday Packages On TravelTriangle
Go on a trip to Malaysia. Explore it's lush green landscapes, tropical rainforests or magnificent underwater world. Book customized packages by expert agents on TravelTriangle. Inclusive of airport transfers, cab, resort, sightseeing and meals. Lowest Prices Guaranteed. Book Now
---
4. Chinese New Year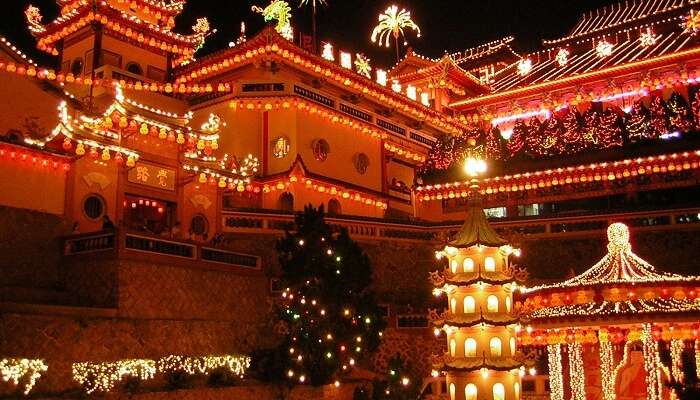 The most important Chinese festival in Malaysia is a grand cultural celebration that lasts 15 days starting from the first day of the Chinese lunar calendar and ending with a Lantern Festival. The festivities kick off with the reunion dinner on New Year's Eve and paying a visit to the temple to seek blessings from the God of Prosperity. It also involves interesting traditions like handing out the 'ang pow' to children and giving away mandarin oranges for prosperity. Remember to dress up in red, the color of prosperity when you head out to attend the grand Open Houses spectacular lion & dragon dance performances. It is one of the upcoming festivals in Malaysia that you should not forget to attend if you are around.
When: February
Where: Across the country, especially Kuala Lumpur.
Suggested Read: 8 Serene Lakes In Malaysia Which Cannot Be Missed On Your Next Getaway!
5. Hari Raya Aidil Fitri (Eid)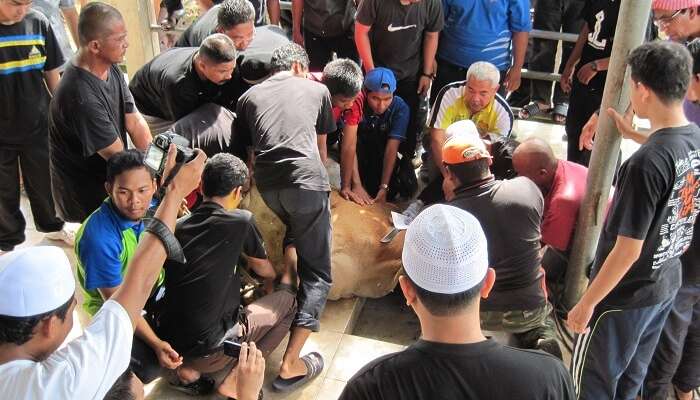 One of the most joyful festivals in Malaysia celebrated by Muslims across the country, Eid marks the end of Ramadan, the holy month of abstinence and fasting. Muslims working in bigger cities head back home to join the festivities and participate in special prayers held at mosques. Hari Raya Aidil Fitri is marked with feasting and house-visits as well as asking for forgiveness from friends and family members. The most wonderful part is the Open House where Malaysians open their doors and shower warm hospitality on all guests, with traditional delicacies and desserts.
When: June
Where: Across the country
Suggested Read: Here Is The Perfect Recipe For An Ideal Honeymoon In Malaysia, Don't Miss It!
6. Sarawak Gawai Festival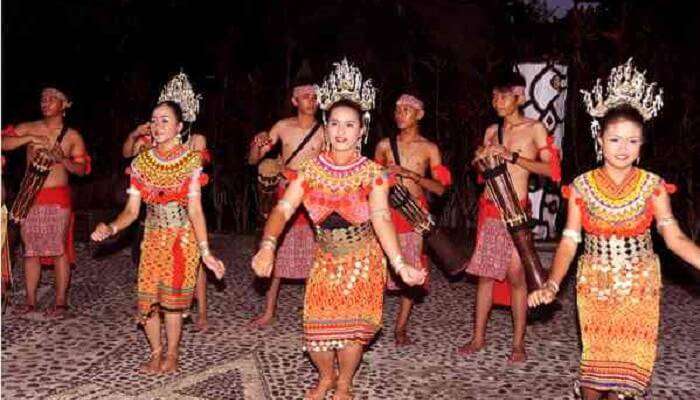 Celebrated by the indigenous Dayak's race of Swarawak, Malaysia's largest state, this harvest festival begins on 1st June and goes on for a whole month. The Dayak's dress in their traditional attire, indulge in a fascinating ceremonial offering and welcome the New Year with gusto. The best place to witness the celebrations in their full glory is a longhouse, the traditional Dayak home with over 40 families residing under the same roof! Traditional dances, feasting and free-flowing tuak (rice wine) add vigour and charm to the celebrations. No wonder it has a special place in the list of festivals in Malaysia.
When: 1st June
Where: Sarawak state
Suggested Read: 10 Malaysian Restaurants That Will Treat Your Taste Buds Like None Other
7. National Day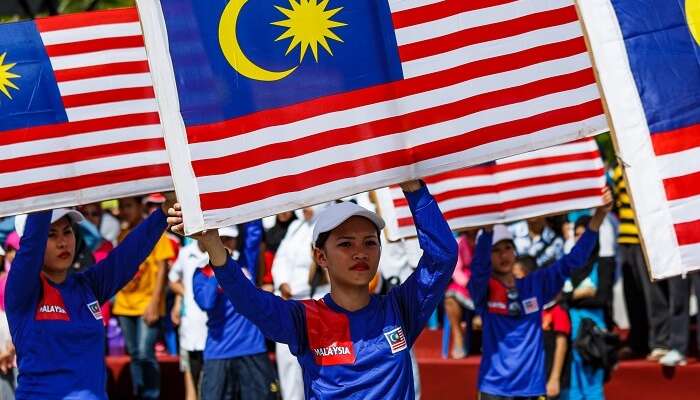 Celebrating the country's independence from British rule on this day in 1957, Hari Merdeka is one of the most glorious festivals in Malaysia that must not be missed if you're in Kuala Lumpur around this time. Spectacular fireworks on the eve of Independence Day, a grand parade at Merdeka Square in the morning and concerts as well as performances all through the day mark this important day in the life of Malay people. Parades, stage shows and exhibitions are held across the country, but the fervour at Kuala Lumpur can't be beat.
When: 31st August
Where: Kuala Lumpur
8. Mooncake Festival & Hungry Ghost Festival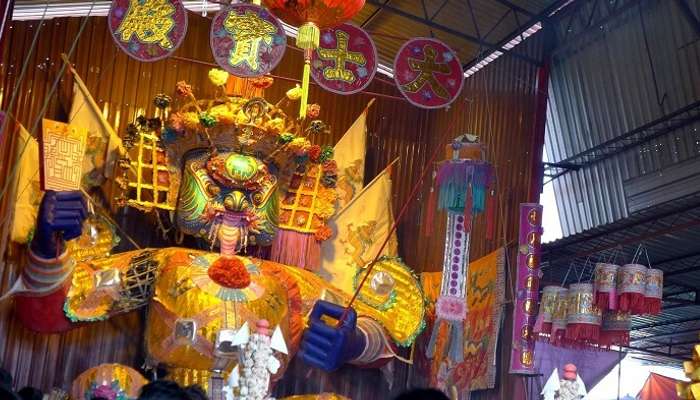 Also called the Lantern Festival or Mid-Autumn festival, this celebration follows the ancient tradition of thanking the moon goddess for a bountiful harvest. Colourful lantern processions and delicious mooncakes dominate the celebrations, which also stand for unity within the community and family. Preceding the mid-autumn festival is another unique celebration called the Hungry Ghost Festival, wherein the spirits of the dead are appeased by food offerings and traditional puppets shows, etc.
When: August/September
Where: Across the country
Suggested Read: Scuba Diving in Malaysia: 10 Top Places To Witness The Magical Hues Of The Underwater World
9. The Dragon Boat Festival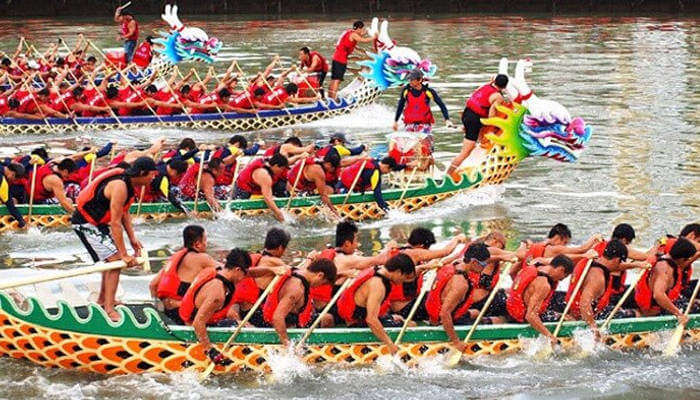 One of the most interesting festivals in Malaysia, the Penang International Dragon Boat Festival is an annual event held at the Teluk Bahang dam near Georgetown. It's exciting to witness more than 40 competitors from Malaysia and across the world participate in the race with their colorful traditional boats to the beats of the drums. You can click captivating pictures, taste local delicacies and enjoy the performances to entertain the crowds at the site. This vibrant festival is a huge hit amongst locals as well as tourists.
When: December
Where: Penang
Suggested Read: Turtle Island National Park: A Guide To Explore The Best Of Wildlife In Malaysia
10. Rainforest World Music Festival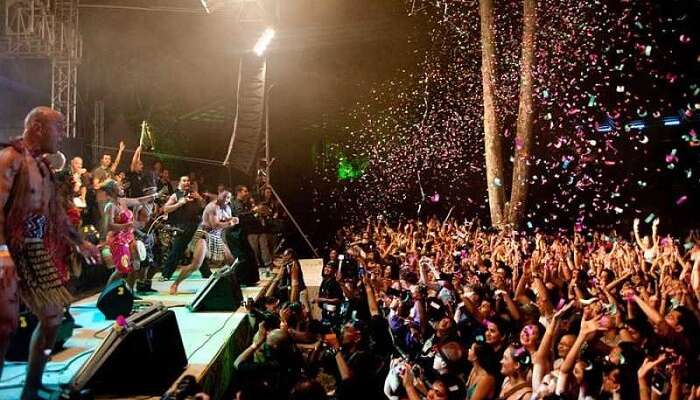 Nothing can beat the excitement of gyrating to foot-stamping music in the rainforests of Borneo with thousands of music enthusiasts from across the world. One of the most spectacular music festivals in Malaysia and amongst the largest in Southeast Asia, Rainforest Music Festival is a heady mix of live performances by top-notch international artists, cultural experiences and workshops. Head to the Sarawak Cultural Village for an unforgettable 3-day musical extravaganza.
When: July
Where: Borneo
Further Read: Top 6 Theme Parks In Malaysia That Are Perfect To Beat The Summer Heat In Style
Malaysia too like India is a place of cultural diversity which you can see clearly in its festivals and events. If you're looking for more interesting festivals in Malaysia in 2019, the Kelantan Kite Festival, as well as the Georgetown Festival, are a must-visit. So, the next time when you plan your Malaysia trip, make sure to immerse yourself in its amazing festivals to dig a little deeper into its roots.
Frequently Asked Questions About Festivals In Malaysia
Q. What is Thaipusam in Malaysia?
A. Thaipusam or Thaipoosam in Malaysia is a Hindu festival celebrated during the full moon in the tenth month of the Hindu calendar.
Q. How is Thaipusam celebrated?
A. Thaipusam is the biggest festival in the world dedicated to Lord Murugan. In this pilgrims walk barefoot for several kilometers carrying a kavadi which contains milk and is decorated with peacock feathers. They climb up the 272 stairs of Lord Murugan in Batu Cave Temple and make the offering. Some pilgrims also perform self-sacrificing rituals in the temple premises.
Q. Which are famous Indian festivals in Malaysia?
A. Some of the famous Indian festivals celebrated in Malaysia are:
1. Thaipusam
2. Deepavali (Festival of Lights)
3. Makar Sankranti
4. Lohri
5. Pongal
Q. Which holidays are celebrated in Malaysia?
A. some of the holidays that are celebrated in Malaysia are:
1. Thaipusam
2. Wesak Day
3. Chinese New Year
4. Sarawak Gawai Festival
5. National Day
Q. Which is the best time to visit Malaysia?
A. The best time to visit Malaysia is between the months of December and February when one can enjoy Christmas, New Year, Chinese New Year and other festive occasions here.
Q. What is there to do in KL for Chinese New Year?
A. Some of the things to do in Kuala Lumpur on Chinese New Year are:
1. Visit the Petaling Street or Chinatown
2. Have a traditional 'Yee Sang' meal
3. Witness the annual Chinese New Year Lantern & Floral Festival in Jenjarom.
Q. How many days are enough to explore Malaysia?
A. A week to 10 days are sufficient to explore all the places to visit in Malaysia.
---
Looking To Book An International Holiday?
Book memorable holidays on TravelTriangle with 650+ verified travel agents for 65+ domestic and international destinations.
---
People Also Read:
5 Days In Singapore For Honeymoon 9 Days In Singapore And Bali Singapore With Kids
Comments
comments