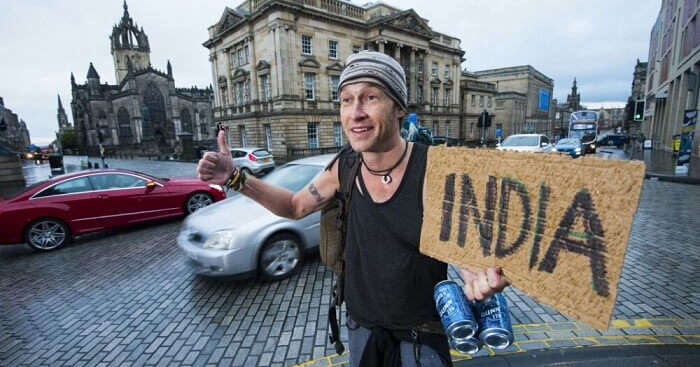 Emmanuel 'Manny' Marshall did the most unimaginable hitchhiking experience ever! Enlisted by Scottish brewers "Innis & Gunn" as their promotional ambassador, he traveled from Edinburgh to India (7600 Km) and used the brewer's 120 cans of "India Pale Ale" craft beer in exchange for accommodation, lifts, and food.
His hitchhiking adventure was a part of an homage being paid to the 18th-century brewers of "India Pale Ale" who used to send beers on 6 month long routes from Britain to India in the earlier times!
120 cans of craft beer as currency!

Image Source
Trusting the power of 'beer exchange', Manny bartered the beer cans with travelers for food, stays, and what not. According to him, the "craft beer" was famous enough to persuade people for exchanges and looking at his awesome trip, we certainly agree!
Here's his beautiful journey!
1. From Paris with love

2. To Athens

3. Beer can selfie with a 'Just Married' couple at Charles Bridge

Suggested Read: Encircling The Earth Twice: An Indian Woman On A Solo World Trip
4. Trading beer for free rides!

5. To making new friends

6. Warm welcome in Delhi

7. Beer unites us all

8. More fun on the way

Suggested Read: In Pictures: 20 Craziest, Most Dangerous Extreme Adventures Of The World
9. Finally Goa! The best place to enjoy a cold beverage!

Image Source
Now that is some serious 'BEER' love!