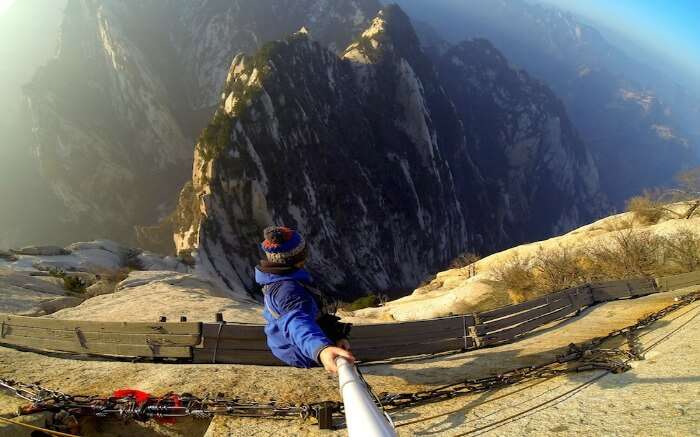 Mountaineering is okay, how about hiking to the Everest Base Camp? You might have tried sea diving, but would you dare to try diving deep into the Blue Hole in the Bahamas? Camping is okay too, but how about cliff camping at a height of 1200 feet?
The most daring souls across the globe are raising the bar of adventure to unimaginable levels! Are you up for the most extreme adventures around the world? Have a look at the images below and decide for yourself!
1. Hiking to Everest Base Camp, Nepal

2. Hiking in Angel's Landing, Utah

3. Cliff walking at Huashan Mountain, China

Must Read: Mount Huashan: World's Deadliest Hike
4. Cliff sliding from a height of 50 ft at Lake Powell, Utah
5. Sky lodging in Peru

Must Read: Skylodging In Peru: Camping While Hanging Off A 1,200 Feet Cliff
6. Cliff camping at Mt Buffalo Gorge, Victoria
Suggested Read: In Pictures: Crazy Camping Ideas To Try Before The Fire Runs Out
7. Trekking the frozen lake in Ladakh, India

Must Read: Chadar Trek: A Complete Guide For That Walk Of Life

8. Zip lining in Snowdonia, UK

9. Paddling in the Bashkaus River, Siberia

Suggested Read: River Rafting In India: 15 Places For Where You Can't Just Sit And Watch
10. Waterfall kayaking at Evan Garcia, USA

11. Diving into the Blue Holes, Bahamas
Suggested Read: Explore The Breathtaking Underwater Universe At India's Best Scuba Diving Spots
12. Snorkeling between the tectonic plates in Silfra fissure, Iceland

13. Ice diving in the Antarctic Peninsula

14. Camping with the emperor penguins in Antarctica

15. Skydiving at Wollongong, Australia

16. Sky surfing through storm clouds in Florida

17. Cycling the Death Road in Bolivia

18. Cycling The Great Wall of China

Must Read: Crazy Adventures You Need To Try At The Great Wall of China
19. Running with the bulls in Spain

20. Volcano boarding in Cerro Negro, Nicaragua

Which of these extreme adventures are you going to try before you die? Take a call before planning a holiday.
Further Read: 10 Most Dangerous Hiking Trails In India Only Bravehearts Dare Attempt