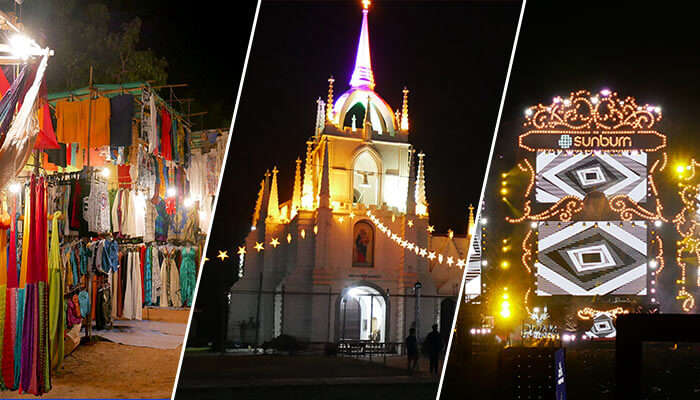 Whether it is planning for a long vacation with friends or a desire to spend some time with oneself, Goa is one destination that fits in all kinds of travel plans. Home to a fair share of striking views, expansive beaches, historic quarters, delicious food, and much more, the town promises lots of fun that can make every moment of your vacation worth every dime.
Thanks to some of ours' luck, we get to visit Goa every now and then, whereas there are few who are still dreaming of getting captured, re-enacting the popular scenes from Dil Chahta Hai. Luckily, Rohan Mayenker began 2020 on a great note and planned an escapade to Goa. Being an ardent traveler by heart with a passion for photography, this seemed to be the perfect opportunity for him to get along with his very own travel buddy and capture every minute of this beautiful journey which began with the Christmas festivities, followed by SUNBURN 2019, and a lot of town hopping.
Below is a glimpse of his experiences and how he and his buddy became closer amidst all the festive cheer. But before you swipe up further, say hello to his travel companion – the classic Panasonic Lumix DMC G-85 that will let you capture the true shades of the lively yet soothing town of Goa. Experiencing the city like never before, Rohan through the eyes of Panasonic Lumix captured the colorful and lively Goa in its true colors. The camera guided him in selecting the picture-perfect spots and offered customizations that enhanced the images further and thus proved to be the perfect travel companion on this Goa trip.
Must Read: 55 Best Places To Visit In Goa For A Splendid Vacay!
Witnessing The Shades Of Goa Through The Eyes Of Panasonic Lumix
Goa has multifold shades and with every minute that passed, Rohan witnessed a new color of nature's beauty that he captured and relived with his friend – Panasonic Lumix DMC G-85. Swipe up further and join them in their journey.
1. Entering The Mecca For Party Animals And Festivity Lovers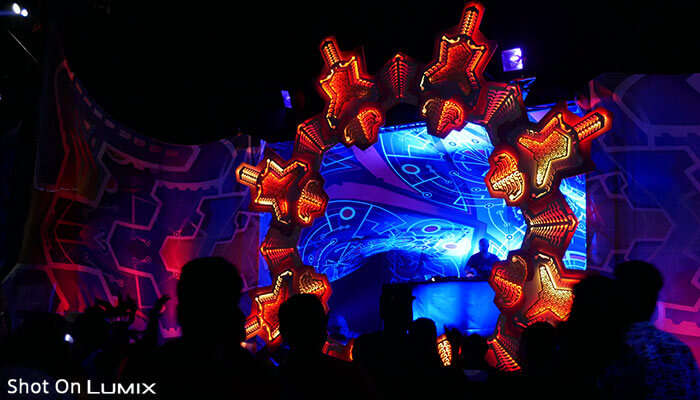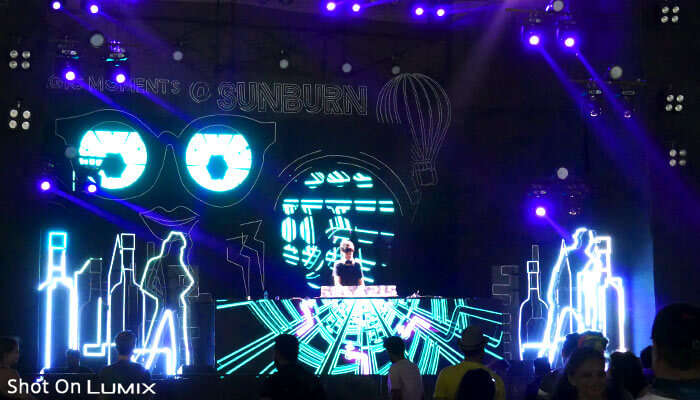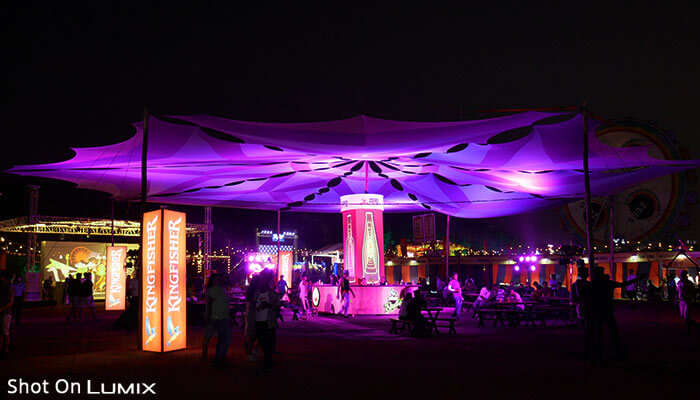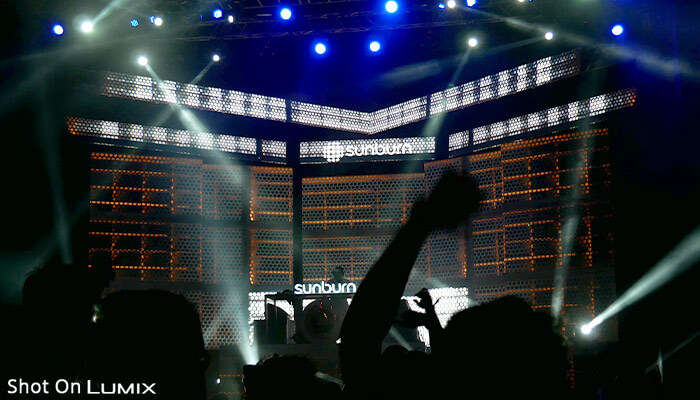 With Sunburn making a comeback to Goa and Christmas around the corner, it seemed like the perfect opportunity for Rohan to indulge in all the festive cheer. This was the best opportunity for him to introduce his camera to the real world of excitement and gel with his kind of photography. Together, Rohan and Lumix witnessed all the live-action on-site at SUNBURN 2019 and captured the liveliness with the help of 5-Axis dual I.S.2 image stabilizer that reduced the appearance of camera shake and helped them record 4k images and videos, regardless of the lighting conditions. Much to his awe, the camera features did all the justice to the idea of capturing his festivities in the most wonderful way.
Suggested Read: 15 Crazy Festivals In Goa You Need To Witness Atleast Once In Your Lifetime
2. Interacting With The Warm And Welcoming Locals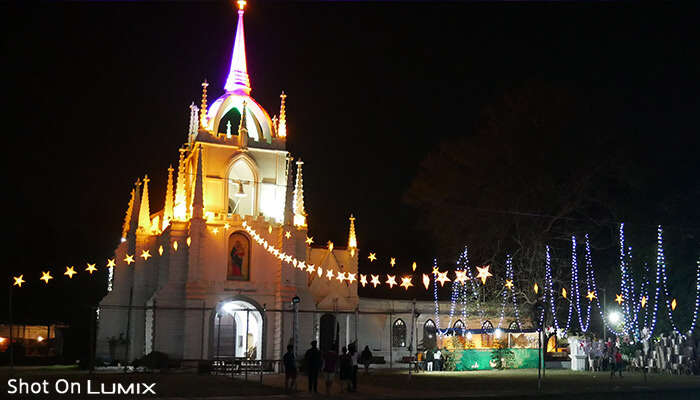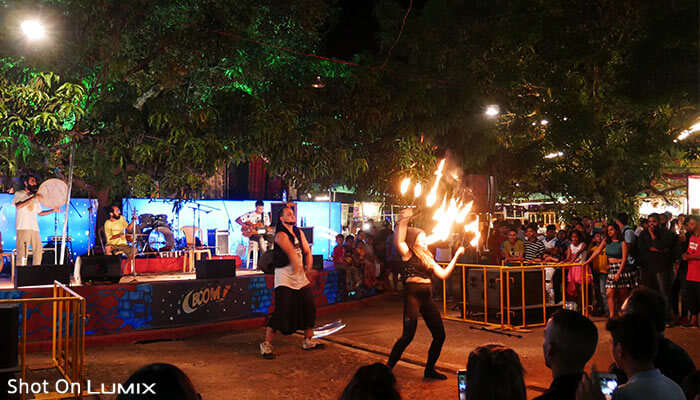 With great confidence post the very first use of this little friend of his, Rohan headed towards his next photography expedition in Goa for capturing some lifestyle shots.
While Goa on the outside might seem to be the hippest place to be but on the contrary, it is also home to people who work day in and out for making it the liveliest place that it is, bringing everlasting smiles to all tourists. And so they soon realized that their Goa trip was incomplete without interacting and capturing the beautiful smiles of the locals. Now, here Rohan wanted to get closer to even the minute detailing of the local living. Lumix's 16-megapixel Digital Live MOS characteristics enticed him to click the shots of those intricate jewelry pieces, expressions of vendors selling those products to the tourists, rusty structures of Goa style houses and much more. Voila! He was able to capture all the pictures with its true to life details.
Suggested Read: 15 Best Beaches In North Goa That Offer An Absolute Beach Vacation
3. Discovering Nature's Paradise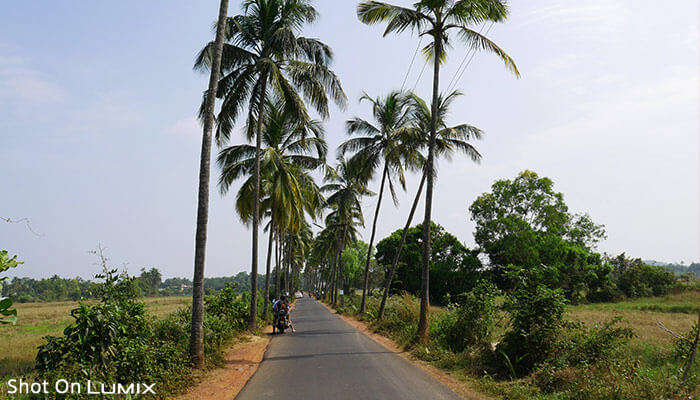 His next step was to discover the natural landscapes of Goa with his travel buddy. He thought it and he got it, with another addition to his portfolio with LUMIX's Live View Finder that has a 0.74x magnification ratio and an exceptional Post Focus feature. From the top-notch shots of lush green valleys to Dear Zindagi's shoot locations and from the heart of Goan streets to the night markets, he captured it all!
That's not all, this camera by Panasonic has already become the best travel accessory for Rohan after such great performance witnessed during his Goa trip. Let's have a glimpse of Rohan's pre and post-trip insight directly through his words.
Suggested Read: These 29 Offbeat Things To Do In Goa Are Some Must-Try Experiences
Right From Rohan's Heart About His Experience With Lumix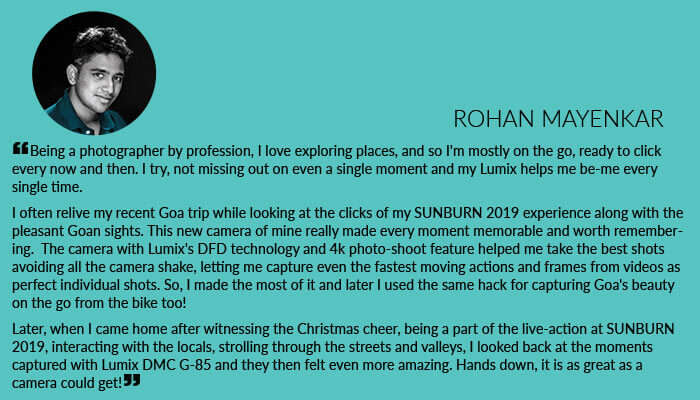 Further Read: 10 Magnificent Places To Visit In Old Goa With Friends And Family
Goa being a picture-perfect destination allows you to revel in its beauty and also liven your spirits at various festivals and concerts. But wouldn't it be better if you too like Rohan can capture these moments and go back in time only to cherish them forever? With Panasonic Lumix DMC G-85, you are all set to create endless memories with true to life details. So, think no more and get ready to enjoy the creative freedom that Lumix will give you and enhance the moments while you're on the go!