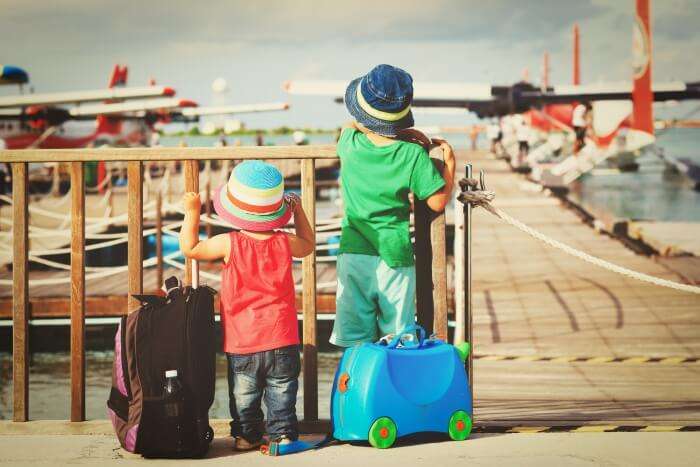 Turkey is an ideal location for family holiday, solo trip, or a romantic vacation. The place is full of historical monuments and beaches. So, you can either make it an informative and exploratory kind of a trip or a fun and relaxing one.
Since Turkey is such an amazing place to visit, it becomes a magnet for family vacations. While we understand that the vacations are supposed to be fun and relaxing but travelling with kids can make it quite the opposite. Be it tiny tots or cribbing teens, you have to be prepared for any kind of tantrums that the children may throw your way.
When Visiting Turkey With Kids
As a parent, all you need is a little guidance in such a scenario. So here, we have listed down some of the tips that will come handy while you are vacationing with your family in Turkey
1. Plan Out Your Family Travel Preferences

Each family has their own set of preferences when it comes to holidays. Your duty is to make sure that the trip is designed keeping in mind these preferences. You can have a memorable trip only if your whole family enjoys it. Hence make sure that you list down all the possible places in Turkey that you can visit according to the choice of each and every family member.
2. Flexibility

We all have a set of plans that we intend to follow when we are on vacations. But travelling with kids is a different thing and you have to be ready to accept certain changes in plans that might arise. There might be new places added to visit because your children might enjoy those more or few places cancelled because your child will not have fun there. Hence a little flexibility is required.
Must Read: 10 Iconic Places To Visit In Kusadasi On Your Turkey Trip
3. Select A Kid Friendly Hotel or Resort

There are many hotels and resorts to choose from in Turkey. It is recommended you do your research in advance and make sure that the hotel or resort has some activity areas so that there will be ample things to do in Turkey for kids. This is important because a lot of sight seeing is bound to make you tired, and you would want a nice place to relax after the day ends. Hence be smart while choosing your location of stay.
Suggested Read: Let Your Kids Have A Fun Time At These 12 Best Zoos In Turkey
4. Carry Some Comfort Items

This goes for your entire trip. Make sure you have a lot of things to keep your kids occupied. You can Carry some coloring books, some books to read, puzzles, and some compact craft supplies so that your child can stay busy throughout the journey as well as stay.
This will surely keep the little ones from getting irritated or nagging you!
Suggested Read: Top 5 Mesmerizing Temples In Turkey Which Are Absolutely Worth Visiting On Your Trip!
5. Make Your Child A Photographer

Imagine you are visiting the beautiful beaches of Turkey and suddenly your child decided to throw a tantrum. To avoid such incidents from happening, give your child a cheap camera and assign him the task of clicking photos. This will make him responsible for doing something and at the same time will him busy. And it's a win-win situation for everyone. You will have some photos as memories once you get home.
6. Appropriate Number Of Clothes

When it comes to kids, there is nothing like over packing. You have to carry a lot of clothes for your kids. Turkey is famous for its beaches and historic places and it is obvious that you are going to visit them. And kids being kids are bound to dirty themselves amidst the travelling. So it is advisable that you carry extra clothing and make sure you keep some of it with you while you go for sightseeing.
Suggested Read: Celebrate 2022 Christmas In Turkey And Make It Merry With These Fantastic Experiences
7. Medicines

This is a very important thing to keep when you are travelling with kids. Visit your kid's doctor and carry all the medicines that are required. You never know when you might need a medicine. And it is given that you cannot go searching for medicine in Turkey. Also it is possible the medicine you are looking for will not be available in Turkey.
8. Avoid Sweets

The cuisine of Turkey is indeed mouth watering, and you would want to try everything that the cuisine has to offer. While you can try most of the delectable items, the same is not true for your kids. Avoid giving them sweets as it can result in sugar rush, especially for those who are travelling with tiny tots.
Suggested Read: 7 Turkey Waterfalls That Are Counted Among the World's Most Stunning Waterfalls
9. Involve Your Teens In Planning

You do not want a sulking teenager when you are on your trip to Turkey. Hence the ideal thing to do is to involve him or her in the planning of the trip. Teens are mature enough to take decisions regarding the places they would like to visit. Make them a part of the planning process. Ask them to do survey to which places they would like to visit in Turkey. Give them a sense of responsibility and the trip is bound to get exciting for them as well as you.
10. Explain The Trip

While it is easier to explain the trip to your teens but the same is not possible with the younger children. But just because it is not possible, does not mean you should not do it. Make up some stories and explain them about the place you are visiting. Get them pumped up for the trip so that they look forward to it and are excited about it.
Suggested Read: Theme Parks In Turkey: 10 Places That Will Bring Out The Adrenaline Junkie In You
11. Child Discounts

A lot of places are known for providing certain discounts for children up to certain age. Do not hesitate in asking for those while you are travelling. There are some places where you might not even have to pay a single penny for your tiny tot. Therefore it is advisable to do a little bit of prior research and always ask for the discounts.
12. Make Your Children Learn Your Contact Information

It is always advisable to be prepared for the worst. Even if you are very vigilant, chances are there that your child might wander off somewhere. So the best thing to do is tell your child all the contact information that he or she has to learn and tell someone in case he or she is lost. This is a must mistake proofing that you have to do especially when you are travelling to a foreign land.
Suggested Read: 10 Thrilling Water Parks In USA To Pamper That Child Within You
13. Use Public Transport

Public transports are a great way of understanding a place and a great source of exploring new places at nominal costs. When you are with your kids make sure that you travel a bit by local transport like train, carts or any other local ride that might amuse your kid. This makes travelling a tad bit easier for the parents.
14. Don't Cram Too Much In One Trip

We understand that you might be excited for the trip and would like to cover as much as possible. But you have to keep in mind that you are travelling with kids and have to consider their travelling capacity which might not match yours. So try to cover the major locations and look out for at least one best place to go in Turkey with kids while keeping certain locations at lower priority where you would go if time and situation permit.
Further Read: Cruises From Turkey: 9 Liners That Will Set Your Luxury Records Straight
Travelling to Turkey with kids require a proper prior planning and a lot of things have to be given a thought. A proper plan and mistake proofing can make the trip enjoyable for you and your family. This is the exact reason we have compiled the list which you should use as a checklist before you depart for your journey. So pack up your bags and get ready for a thrilling family vacation in Turkey .
---
Looking To Book An International Holiday?
Book memorable holidays on TravelTriangle with 650+ verified travel agents for 65+ domestic and international destinations.
---