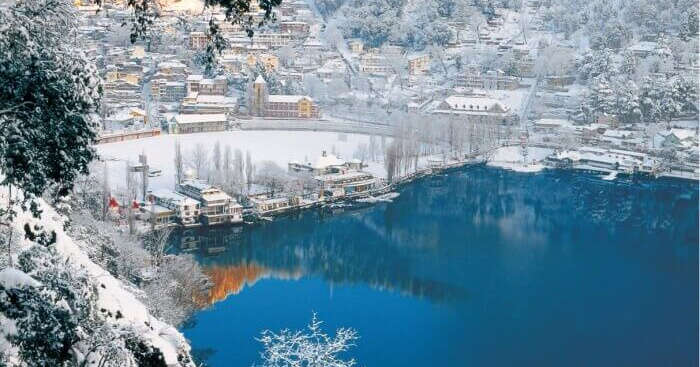 Winter in India is a beautiful affair. It is an exciting blend of chilly winds, biting cold, and occasional sunbathing – all of which when combined, add a unique flavor to the season.
But not all destinations are special during this season. Some are blessed more than the others and it is these destinations that offer a truly unique winter experience.
So to help you plan your perfect winter holiday, we shed light on some truly awesome places in India that offer a splendid experience in winters and are worth every penny you spend on them.
10 Unique Winter Places To Visit In India
Have a look at these places where you can enjoy an awesome snow-show and skii down the slopes in the winter season.
Sonamarg, Jammu and Kashmir
Patnitop, Jammu and Kashmir
Triund, Himachal Pradesh
Auli, Uttarakhand:
Gurudongmar Lake, Sikkim
Rann Of Kutch, Gujarat
Mount Abu, Rajasthan
Nainital, Uttarakhand
Shimla, Himachal Pradesh
Manali, Himachal Pradesh
1. Sonamarg, Jammu and Kashmir

Indulge in enchanting Glacial Sightseeing at this heaven in Kashmir. Sonamarg turns heavenly during winters. It is one of the few hill stations that offers glacial sightseeing (Thajiwas Glacier) apart from all the snow fun. Whether it is winter or summer, Sonmarg is always a delight. It becomes absolutely ethereal laden with snow during the winter. If you are looking for places, this is where you should be.
Suggested Read: 8 Magical Winter Road Trips In India If You Like Some Chills & Thrills!
2. Patnitop, Jammu and Kashmir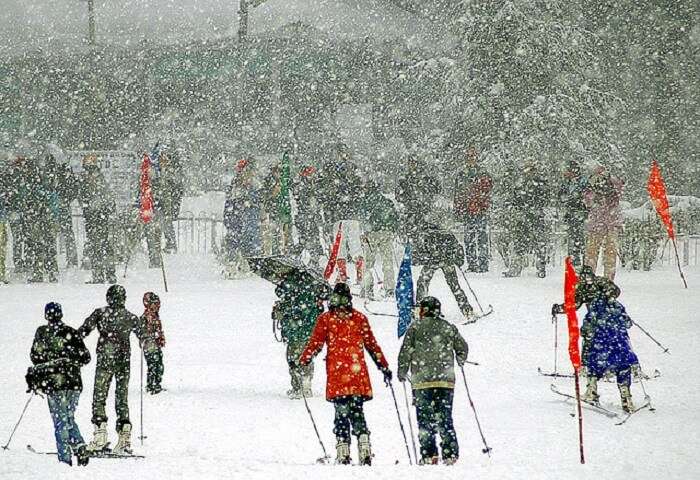 Another destination in Jammu and Kashmir, Patnitop is a must visit winter destination that allows travelers to indulge in activities like skiing, rock climbing, and sledding among many. You can experience snow adventure and more in Patnitop during the winters. Book a cottage here and spend your winter vacation in this heaven.
Suggested Read: Autumn Affair In Jammu & Kashmir: A Burst Of Colours!
3. Triund, Himachal Pradesh

More than Mcleod Ganj, it is the Triund trek in the winters from here that delivers a unique experience. A well-marked trail of about 6km is accompanied by challenges from the snow. The view from the top however is worth it. If you love trekking, you can enjoy the winter trek of a lifetime. The views of Shauladhar Ranges from the top are absolutely astounding.
Suggested Read: Explore The Himalayas: 48 Best Places To Visit In Himachal Pradesh In 2022!
4. Auli, Uttarakhand:

Apart from enjoying Asia's longest Gondola ride (Joshimath – Auli Gondola), Auli in winters is perfect for snow trekking and most importanlty skiing! It becomes a heavenly delight in the winter season. Tourists from all over the world come here especially enjoy the snow. You can view all the Himalayan Peaks above 7,000 perched with snow. The scene is just amazing.
Suggested Read: 19 Amazing Places To Visit In Uttarakhand In Winter Of 2022
5. Gurudongmar Lake, Sikkim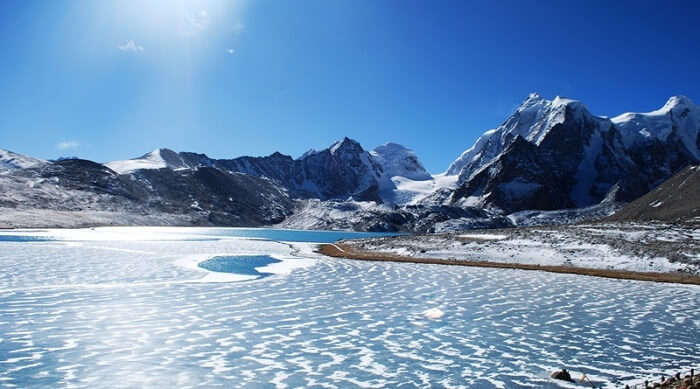 A gem of a place to visit in Sikkim during winters, this second highest lake in India is surrounded by snow clad mountains from all sides and is filled with crystal clear icy water. The beauty is so mesmerizing, it almost feels unreal. MUST VISIT!This place is a visual delight like none other! The raw beauty of Sikkim is highighted more during the winters.
Suggested Read: 47 Places To Visit In Winter In India In 2022 Which One Cannot Miss
6. Rann Of Kutch, Gujarat

Rann of Kutch is a white desert in Gujrat that turns magical during the winter months. Weather here during winters can touch 0 degrees and to accompany such a unique phenomenon and landscape, there is the Rann Utsav (November to February) held every year for travelers. Travelers can enjoy folk dance, music, arts & craft, photography, and more! Thsi winter festival is a mileu of joy, beauty, and unique experiences!
7. Mount Abu, Rajasthan

An only hill station in Rajasthan, Mount Abu offers a unique winter experience to travelers from all sides. Whether it be boating in Nakki Lake or having a gala time during its winter festival (end of December), it is one destination no traveler should even miss! You can also take a detour to Udiapur on your Mount ABu vacation if you have time on your hand. It is another place that is worth visiting in Venice.
8. Nainital, Uttarakhand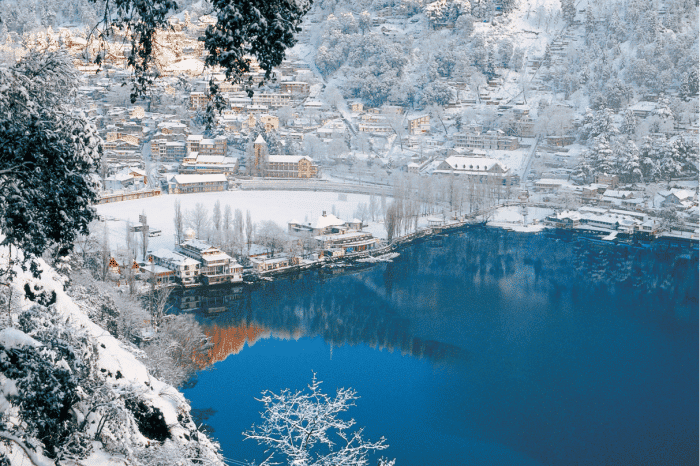 Nainital is one of the best winter places in India. Walking here, hand in hand with your loved ones in the company of the cold waters of the lake and the sweet chill of the snowflakes is an experience that can only be described when its actually happening to you. This lake paradise should be on your list if you want to spend a winter vacation in an absolutely stunning place.
9. Shimla, Himachal Pradesh

Shimla is another of the most popular hill stations in India that becomes extremely romantic during the winter season. One can witness moderate to light snowfall here during December and January and can enjoy one of its best places, the Mall Road with their loved ones. For those who love nostalgic winters, this place is a no-miss. Shimla, the queen of hills, is always a delight to visit in any season.
10. Manali, Himachal Pradesh

Manali is one of the best places in India for witnessing winters. From snowfall to sightseeing to adventure activities in Rohtang pass, there is really no reason for anyone not to visit this winter paradise. The winter wonderland is everyone's favorite. Solang Valley observes a lot of snow during the winter and attracts tourists to enjoy snow activities here. Make sure you make your bookings in advance as the tourist rush make everything expensive or sold-out.
Further Read: 15 Festivals In November In India That Call For An Early 2022 Winter Vacay
So what are you waiting for? Pack your bags and plan a vacation in India this winter! The above list is an eclectic mix of the places where you will have a good time in snow or enjoy some sun if that is what you are after.
Frequently Asked Questions About Unique Winter Places In India
Q: Which are the best places to visit in December in India?
A: Jaipur, Agra, Udaipur, and Madhya Pradesh are some of the best places if you want to escape snow and want to explore regal heritage. Snow-lovers can enjoy their winter vacation in Jammu kashmir, Himachal Pradesh and Uttarakhand.
Q: Which is the best place to visit in January in India?
A: There is not one but many great places to take take a winter vacation in India. It is hard to choose just one. However, the above-listed places make the cut to our best places to visit in India in January.
Q: Which is the best place to visit in winter?
A: It is difficult to choose between Sonamrg and Auli as a best place to visit in winter.