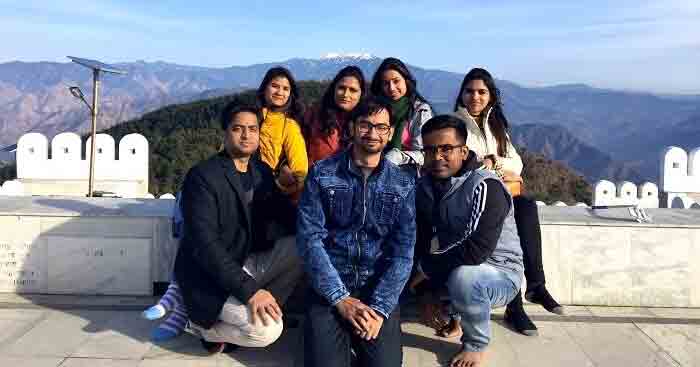 A picturesque getaway for friends to catch up with nature, and one another. Vaibhav elaborates about his exploits with his friends in the quaint Himalayan getaway for a 1 night/2 day weekend trip to Chail. The weekend trip cost them a total of INR 3300 per person on quad sharing basis which included their bus ticket, meals, accommodation, sightseeing, and transfers.
Short Trip to Chail
Day 0: Departure
Day 1: Exploring the places to visit in Chail
Day 2: Snow-laden Kufri
Trip Duration: 1 night/ 2 days
Trip Cost: INR 3,300 per person on quad sharing basis
Month of Travel: January
Distance from New Delhi: 353 km
My friends and I were longing for a trip where we could just relax and just let go. While searching for vacation destinations, I got to know about TravelTriangle weekend getaways on Facebook. All of us unanimously agreed on Chail, because it was a destination we were yet to explore.
All seven of us got our seats booked on the republic day weekend getaway with TravelTriangle. Though our motives may have varied from seeing snow, going for a trek, and taking a break, but we all wanted to spend time with each other and enjoy this trip to Chail to the fullest.
Day 0: Off we go to the hills
These Things To Do On A Weekend Trip To Dalhousie – Khajjiar Made Our Holiday One Of Its Kind!
We were asked to assemble at Vishwavidyalaya metro station at 10 pm from where we boarded our bus to Chail. We were greeted warmly by the trip coordinators, as they introduced themselves to the 25-odd travelers who come bunched in different groups. The trip to Chail started off smoothly, with a comfortable night bus ride.
Day 1: Exploring the places to visit in Chail
We made a stop at Solan at 6.30 am, to have a cup of tea and watch the scenic beauty. Upon arriving, we checked into the United 21 Hotel at 9 am. We were given a few hours to settle in and rest to recuperate from the tiring overnight journey. Being a nature lover, I was already charmed by the hill station, its remote location, and scenic views.
Afterwards, we had a wholesome lunch and got ready for the sightseeing tour in Chail. The tour began with places like the royal Chail Palace. Next up, we traveled to the Kali ka tibba temple. Built atop a hill that overlooks the Himalayan mountain range, the temple, had the best viewpoints in Chail.
 A 1N/2D Weekend Trip To Chail: Seeing Snowfall in January
We arrived back at the hotel at 7pm, and got ready for the bonfire dinner. All seven of us had a gala time sitting around the fire, having dinner, and catching up with other. We proceeded back to our rooms at midnight and rested for the night.
Day 2: Snow-laden Kufri
The next day at 9 am, we checked out from the hotel and traveled towards Kufri. This day had everyone excited, as we were eagerly waiting to see snowfall.
We arrived at Kufri, the hillside hamlet, at 11 am and immediately proceeded to try some horse riding. As it was near freezing, Kufri had a bunch of snow activities like yak riding, skating, and tube riding that we could do. Most of us chose to go on a horse ride, click pictures with a yak, and slide down a slope sitting in a tube.
After spending three hours in Kufri playing around in the snow and tiring ourselves, we finally boarded the bus to head back to New Delhi. We reached Shimla at 5 pm for a scheduled stoppage that allowed us all a quick bout of souvenir shopping at Mall Road.
Although, I wouldn't have stopped at Shimla, as I preferred places will less crowd and more scenic beauty. But sometimes as they say, for the greater good, you gotta go with the flow. At 8 pm, we all boarded our bus again to depart for New Delhi.
 Their Amazing Family Vacation Proves Why Himachal Is Still The Perfect Hilly Holiday Destination In India
All in all, it was a good weekend getaway for me and my friends. Personally, I would've preferred destinations like these over any fancy destination like Goa, Manali, or even Udaipur. Long nature walks, enough time for introspection, good friends, and a chaos free weekend. I thank TravelTriangle for providing me with the perfect recipe of a weekend full of harmony and bliss.
High points:
The scenic beauty and untamed nature of Chail had a healing effect on me.
The view from Kali ka Tibba temple was surreal.
Tips for travelers:
Visit Chail if you are a nature lover and won't mind spending some time in off-beat non commercialized destinations.
Want to enjoy on a similar vacation? You too can book the perfect Chail weekend getaway package and witness the wilderness of Chail!
---
Long Weekend Trips Starting @ Rs 3499/-
Take a trip to spend the upcoming long weekend with your buddies.
✓ Stay at 4 star rating hotels with local sightseeing, meals and transfers.
✓ Travel in AC coach round trip (from Delhi).
✓ All Inclusive Deal– Camping, Jeep Safari & Trekking as per itinerary
✓ Sign up NOW to celebrate the long weekend out of town!
---