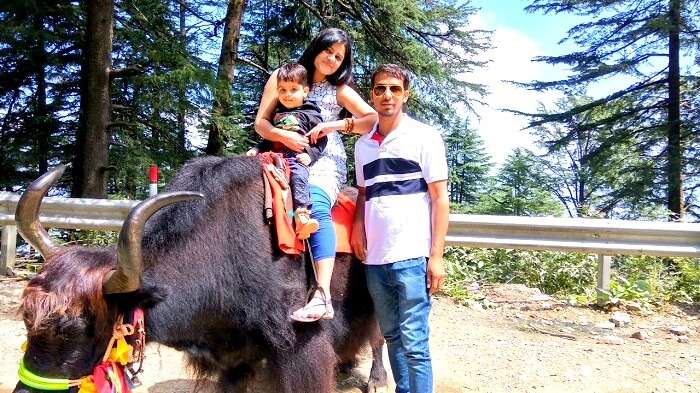 The hills of Himachal offered a perfect invitation for  Kunal and his family to go on a vacation. Read about the tales from the north in the words of a travel enthusiast and an inspiring dad. A 6-day/5-night package for 4 adults and 2 children cost them a total of INR 34,500 and it included their transfers, accommodation, meals, and sightseeing.  
The choice of destination was never in doubt for me or my brother in-law's family. We love traveling to the hills and Himachal was a clear winner.
While browsing the internet, I came across TravelTriangle which gave its customers the freedom to customize their own tour package.
I submitted a query on their page and soon received a prompt response. The travel representative called me up and understood my travel requirements. After which, he connected me with multiple travel agents who gave me various quotes for our requested itinerary (Shimla, Kufri, Chail, Manali, and Rohtang Pass). I chose the best quote from 'Rocking Trips' travel agency and was now all set for my family vacation to Himachal.
It was finally time for me to take my kids to the hills that I loved so much.
Day 1: Chandigarh to Shimla
We arrived in Chandigarh from Jodhpur via train at 6 am. After a while, my brother-in-law and his family arrived from Aurangabad as well.
A taxi driver was present to receive and drive all of us to Shimla. We reached Shimla at 3 pm and checked into the hotel. At about 6pm, we ventured out for a walk to the Mall Road and did some shopping. Afterwards, we proceeded back to the hotel for dinner and rested for the night.
Day 2: Kufri and Chail
Suggested Read: 46 Best Places To Visit In Manali And Its Precincts
Our day began with a light breakfast. Afterwards, the taxi guy was present at the hotel to drive us to Kufri.
We began our Kufri sightseeing by going to the adventure park. Over there we did adventure sports like Bungee Jumping and Paragliding. Afterwards, we did some horse riding, clicked pictures with yaks, and also visited the famous Nag Devta Temple.
After lunch, we proceeded for a short trip to Chail that included visits to the Palace of Maharaja of Patiala, cricket ground, and Kali Ka Tibba Temple. All of the experiences were marvelous and we loved every bit of what we saw. 
In the evening, we returned to Shimla and visited the church on the Mall Road. Later on, we proceeded back to the hotel and called it a night.
Day 3: Traveling to Manali
We checked out from the hotel at 9 am and proceeded on to our next destination – Manali. On our way to Manali, we stopped by in Kullu to enjoy the scenic views that the valley had to offer.
Our plans to reach Manali on time, however, were delayed by a few hours since there was a Salman Khan movie being shot. 
We reached Manali at 9pm, checked into the hotel and went early to bed for that night.
Day 4: Manali Sightseeing
Suggested Read: 37 Awesome Things To Do In Manali For Solemn Joy
Post breakfast, we got ready for the Manali sightseeing tour. Our sightseeing tour covered Hadimba Temple, Vashishta Temple, Van Vihar, and Naggar Castle.
In the afternoon, we left for sightseeing in Solang Valley. The beautiful ambiance and lush green cover around the place were really refreshing for us to see.
The tour ended at 7 pm. After which, we headed back to the hotel for the night with tired legs but happy hearts.
Day 5: Rohtang Pass
The day began early for us as we got ready to leave for Rohtang Pass at 8 am. The driver was present at the hotel to pick us up for the steep 60 km journey up to Rohtang.
Our trip to Rohtang was full of stoppages since we wanted to admire the scenery and landscapes in all their glory. And even with all these stops, we managed to reach Rohtang Pass by noon and thankfully, the extremely high altitude also had no adverse effects on our children. In fact, they seemed to enjoy being part of this adventure.
In the evening, we returned back to Manali where we explored the Mall Road and then eventually went back to the hotel for dinner.
Day 6: Departure
We checked out of our hotel in Manali at 9 am and boarded the cab for a ride back to Chandigarh. I made sure to thank the hotel staff for a pleasant stay before leaving and they were equally happy with my gesture. We arrived in Chandigarh at 7 pm after a long journey.
This was a very fulfilling holiday for my family. We got to spend some quality time with our loved ones and the setting was also quite perfect for such vacation. Every place that we visited be it Shimla, Kufri, Chail, Manali, or Rohtang Pass – offered us a hard to forget experience and breathtaking beauty. Both my wife and I now appreciate nature more than ever and believe Himachal is one destination that offers magic to people of all ages. 
High Points :
Days spent in Kufri and Rohtang were memorable
Tips for Travelers :
The best time to enjoy Manali would be October onwards when there is snowfall.
Enjoy the picturesque landscape of Himachal Book your family package to Himachal and indulge in nature like never before!