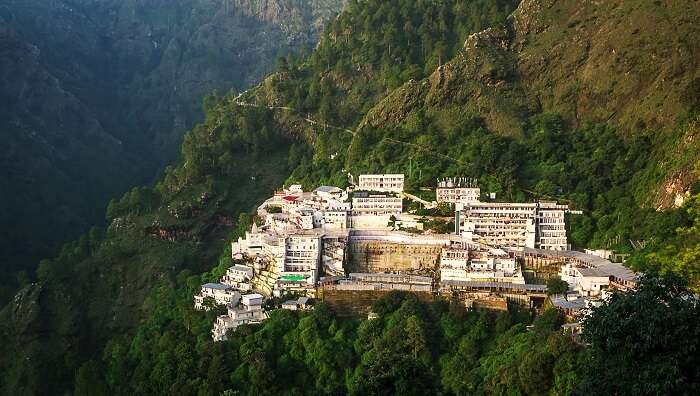 Vaishno Devi is regarded as one of the holiest pilgrimages and the famous cave abodes the Mata Vaishno Devi temple at the Trikuta Mountains. It is one of the oldest holy shrines in India, and devotees from all across the world come here to seek blessings. Here the goddess is manifested in three forms namely Maha Kali, Maha Saraswati, and Maha Lakshmi. Known by various names such as Mata Rani, Trikuta, or Vaishnavi. The trek to the temple is a 13 km path with mesmerizing views throughout. If you are planning a Vaishno Devi trip with family, then here is a guide that details all the things you need to know before planning an escape to this holy destination.
Ways to do Vaishno Devi Yatra
Vaishno Devi is indeed visited by more than 1 crore worshippers of Mata Vaishno Devi every year who plan to climb for 12 km to seek the blessings of Mata Rani. Let's give you a sneak peek at different choices that you can pick to reach from Katra to Ardhkuwari and then from Ardhkuwari to Bhawan on your Vaishno Devi trip with family.
1. Trekking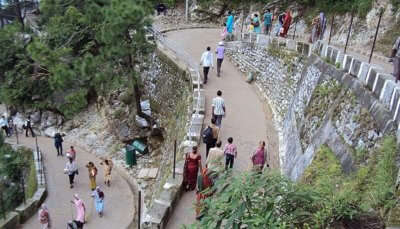 Image Credit: Vinayaraj for Wikimedia Commons
Vaishno Devi's trip with family must be well planned while choosing trekking as your mode to reach from Katra to Bhawan which is nearly 13 km. There are two routes from Katra to Ardhkuwari, each differing in distance and the same is with Ardhkuwari to Bhawan having two routes. Bhairavnath shrine is a few more kilometers up the Vaishno Devi temple, you can either trekk to the temple, or there are many ponies and palkies available on the route.
Trekking Routes in Jammu and Kashmir: Embark on 7 New Epic Trails in Major Wildlife Regions
2. Helicopter Ride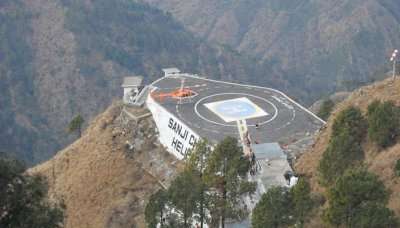 Image Credit: Varunkau for Wikimedia Commons
All the kids, adults and the elderly, a helicopter ride would add the spark of fun and excitement to the overall experience. The tourists must book the helicopter ride at least 2 months in advance. The helicopter ride takes approximately 8 minutes and can accommodate 5 to 6 passengers at a time. The helipad of Katra located on Udhampur road, is at a distance of 2 km from Katra bus station.
After reaching Sanjhichhat point, it takes almost half an hour to reach Vaishno Devi Bhawan. You can choose ponies, porter, palkis services according to your convenience or prefer to walk to the temple. For a helicopter ride, a one-way fare from Katra to Sanjhichhat will cost around Rs. 1800 for a single person, and for both sides, it will cost Rs. 3600 per person.
10 Festivals In Jammu And Kashmir: A Peek Into The Rich Kashmiri Culture (2021)
3. Ponies and Palanquins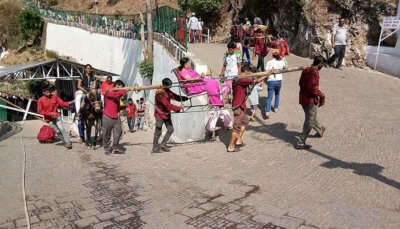 Image Credit: Nckumbhkar for Wikimedia Commons
For some devotees, it might be an arduous task to walk for 12 to 13 km at a stretch to reach Vaishno Devi Bhawan so, many of the pilgrims prefer to avail themselves of different services including ponies and palanquins. The municipal committee manages all the ponies, porters, and palanquins services for the convenience of the travellers.
Top 9 Places Near Jammu For A Rejuvenating Holiday
Temples to Visit on a Vaishno Devi Yatra
The following are the prominent temples that you will be visiting on your Vaishno Devi trip with family:
1. Mata Vaishno Devi Temple
Regarded as one of the most important temples and religious sites amongst Hindus, Mata Vaishno Devi Temple is dedicated to Vaishno Devi. The temple is considered to be one of the 108 Shakti Peethas that is dedicated to Durga who is being worshipped as Vaishno Devi.
2. Adh Kumari Temple
Adh Kuwari is considered as a halfway mark to the main Bhawan of Vaishno Devi situated at a distance of 6 km. The term Adh Kuwari means the eternal virgin and is regarded as one of the most essential temples on the way to the holy cave.
3. Bhairon Nath Temple
Situated just 2 km away from Mata Vaishno Devi Temple, Bhairon Nath Temple is dedicated to Baba Bhairavnath. It is believed that Bhairav was killed by the Vaishno Devi goddess as he was about to attack her and then she acquired the form of Kali and beheaded him. However, he repented for his sins and the goddess forgave him and specified that pilgrimage to Vaishno Devi would be incomplete without seeking the blessings of Bhairon Nath.
4. Charan Paduka
Charan Paduka is situated at an altitude of 3380 feet and is about 1.5 km from Banganga. Imprinted on a rock slab, Charan Paduka is a religious site where the imprints of Goddess pious feet are believed to be. The visitors pay their obeisance to the footprints of the Mata which is engraved on a rock slab and then proceed further for the yatra.
3 Best Places to Stay in Katra
The tourists will only discover a property that is available in Katra when they are planning for a visit to Vaishno Devi. However, you can plan your stay at Katra. The below-mentioned hotels are located in Katra which are famous for their best-in-class amenities offering comfortable stay for their guests. Let's have a glimpse at our curated list of hotels in Katra for those on a Vaishno Devi trip with family.
1. Hotel Rama Trident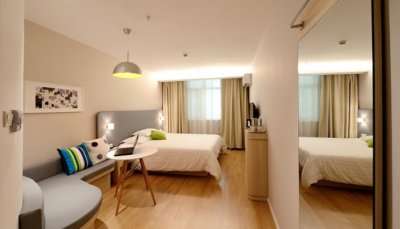 Image Credit: davidlee770924 for Pixabay
The property comprises modern architecture and the rejuvenating hotel is just 14 minutes walking distance from Shri Mata Vaishno Devi Katra train station. You can choose to indulge in nearby things to do such as visiting Baba Dhansar Temple which is just 24 minutes away. You can go for a leisure walk in the Shalimar Garden, located 8 minutes away from the hotel. Cooperative staff, spacious rooms, delicious food, and a good location are some of the amenities preferred by the guests.
Star Category: 4-star
Starting Price: Rs. 3,807 per night
Location: Railway Rd, near Ambika Chowk, Katra, Jammu and Kashmir 182301
8 Exciting Things To Do In Kashmir In June One Cannot Miss A Chance To Experience!
2. AMR Hotel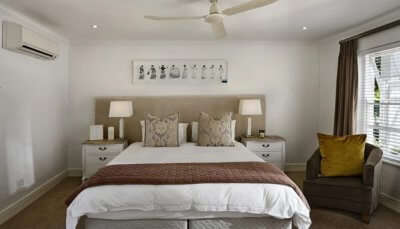 Image Credit: Peterweideman for Pixabay
The hotel is located close to a shopping mall and is situated nearby Shri Mata Vaishno Devi train station, which is around a 4 minutes walking distance from the property. The AMR hotel offers a safe and hygienic environment for its guests. The rooms are available in different categories such as Superior room, deluxe room and deluxe family room.
Star Category: 3-star
Starting Price (For Night): Rs. 16, 621
Location: Ground Floor, Jammu Road, near main bazaar Vaishno Devi Katra Jammu and
Kashmir, 182301
5 Great National Parks In Kashmir To Witness Nature's Best Creations
3. Hotel Hari Resort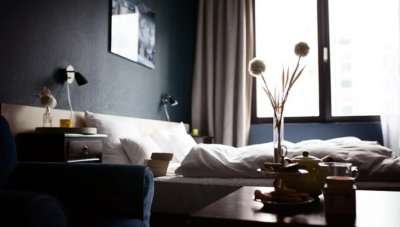 Image Credit: ManuelaJaeger for Pixabay
Hotel Hari Resort offers various amenities such as free Wifi, full-service laundry and rooms with air conditioning. The hotel is popular for organising special occasion arrangements. There are different categories of rooms available at the resort including double deluxe AC, double deluxe non AC, and super deluxe room. With its close proximity to major points, a stay in this property in your Katra tour plan with the family will be a wonderful idea.
Star Category: 3-star
Starting Price (For Night): INR 5,263
Location: Dak Bungalow Road, opp. Shalimar Park, Katra, Jammu and Kashmir 182301
10 Magnificent Lakes In Kashmir That You Must Check Out In 2022
How to Reach Vaishno Devi

Vaishnodevi trip with the family can be done by road, train, or flight. The Shri Mata Vaishno Devi Katra Railway station is the nearest terminal located at a distance of 20 km from the holy shrine of Vaishno Devi temple. There are frequent buses to Katra from Jammu Tawi, Amritsar, New Delhi, and other major cities of India. One can also reach Katra, which is about 50 km from Jammu, it serves as the base camp for the yatra. Jammu is well connected by flight from all the major cities, another way is to take a train to Jammu. There are many daily and weekly trains that operate from major cities to Jammu and there are few trains that have been extended till Katra.
Witness 9 Most Breathtakingly Beautiful Valleys In Kashmir On Your Naturescape In 2022
Best Time to go on Vaishno Devi Yatra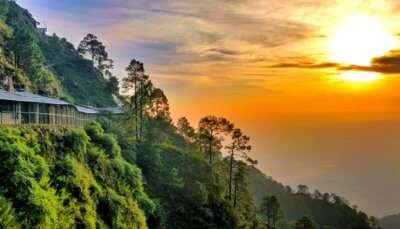 Vaishno Devi remains crowded throughout the year but it is mostly visited by tourists during the months of March to July as the weather is pleasant and comforting for the devotees. The maximum temperature is 31 degrees Celsius and the minimum temperature is 17 degrees Celsius making it appropriate for darshan and because of this many travellers prefer scheduling their Vaishno Devi trip plan with family during these months.
It usually rains between August and September, the weather conditions can get a little extreme this time, but despite that many devotees prefer travelling around this time. November to February are the winter months and many travellers do not prefer travelling during these months because weather conditions are harsh and trekking around this time becomes difficult.
Now that you know all about Vaishno Devi and everything you need to keep in your mind before planning your trip. Your Vaishno Devi trip with family will be made convenient with our ultimate guide described above. Do plan a Vaishno Devi trip as it is considered a home to spiritual culture and a sacred site for Hindus. Schedule your vacation in the season of summer when there is a nice ambience amidst the hills.
For our editorial codes of conduct and copyright disclaimer, please click here.
Frequently Asked Questions about Vaishno Devi Trip with Family
How can I plan a Vaishno Devi trip with my family?
You can plan your Vaishno Devi trip with your family with 3 to 4 days in hand. 3 to 4 days will be enough for a relaxing vacation, you can easily spend 1 night in Katra, 1 night at the Bhawan and return back to Katra.
How much does a Vaishno Devi trip cost?
The cost will largely vary on the basis of the number of days you decide to be on the trip, choice of accommodation, and other facilities such as breakfast, transfers. Having said that, the trip will cost you around Rs.10,950 for single occupancy and Rs. 7,850 for double occupancy, this will include your 1 night stay in Katra and transfers from and to Jammu. The darshan cost is not included in this.
Is it safe to travel to Vaishno Devi during the COVID situation?
COVID related protocols and guidelines have been relaxed in Vaishno Devi. The government has stated that 15,000 pilgrims can visit the holy shrine every day and the tourists must take precautionary measures such as
Wear masks
sanitize hand frequently
maintain social distancing.
Why should we visit Vaishno Devi?
Vaishno Devi is regarded as one of the holiest pilgrimages and the holy cave where Mata Vaishno Devi resides, the temple has a religious significance in the hindu culture. Visit this place to seek the blessings of Holy Vaishno Devi.
How difficult is the Vaishno Devi trek?
The mother Goddess shrine is located in the Trikuta mountains which are at a height of 5200 feet and 61 km from the city of Jammu. The devotees have to plan a journey of 13 km on foot starting from Katra. The trekk is not that difficult, it is a bit tiring due to the steep slopes at a few patches. However, there are helicopters, ponies, and palanquins available that would help the devotees to reach the shrine.
How far is Patnitop from Katra?
The distance between Patnitop and Katra is approx. 85 km by road, 38 km by flight. The travelling time by road is approx. 1 to 2 hours.
People Also Read: