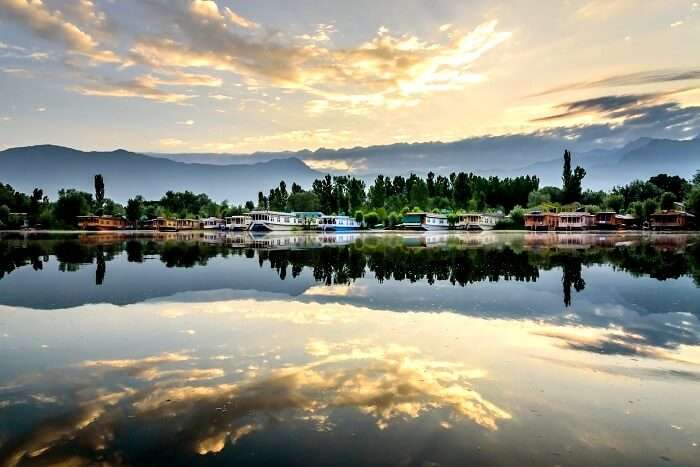 Kashmir, fondly called as heaven on Earth, is a natural paradise that can enchant anyone. Apart from its mesmerizing mountains and breathtaking valleys, the lakes in Kashmir are also world famous and a traveler's delight. And so, from freshwater to salty to hot spring ones, we give you a list of all the famous lakes in Kashmir that no traveler should ever miss!
10 Beautiful Lakes In Kashmir
Sparkling bright under the shining sun, here are Kashmir's most prized possessions that draw people from far and wide. Add them all to your itinerary before you visit Kashmir.
Dal Lake
Nagin Lake
Wular Lake
Mansar & Surinsar Lake
Gadsar Lake
Mansabal Lake
Gangabal Lake
Tso Moriri Lake
Tsokar Lake
Pangong Lake
1. Dal Lake

One of the most famous lakes in Kashmir, the Dal Lake is actually made of three lakes and doesn't look like a normal lake at all. This is due to its maze like waterways, channels, houseboats, and floating islands – all making it look like a group of islands in a water body. This is one of the most famous attractions in Srinagar and a stay in a houseboat here, truly offers an awesome experience.
Location: Srinagar, Kashmir
Things to do: Explore islands, houseboats & floating gardens, enjoy shikara rides, houseboat stay, floating markets, and swimming
How to reach: Situated in the heart of Srinagar, this lake is well connected via all kinds of transport.
Must Read: 23 Things To Do In Kashmir To See The Best Of This Heaven On Earth
2. Nagin Lake

Image Source
An offshoot of the Dal Lake, Nagin Lake offers a peaceful and authentic experience of the "lake life" in Kashmir. Surrounded by hills and greenery, one can stay in a houseboat here for several days, enjoy a shikara ride, visit floating markets or simply relax. A true romantic Kashmiri experience awaits you here at one of the most beautiful lakes in Kashmir valley.
Location: Srinagar, Jammu and Kashmir, India
Things to do: Houseboat stay, shikara ride, floating markets, swimming, and shopping
How to reach: Nagin Lake is separated from Dal Lake by a causeaway which can only be crossed by foot or by a two wheeler.
3. Wular Lake

One of Asia's largest freshwater lakes, the Wular Lake is a famous attraction near Srinagar that you should definitely visit when in Kashmir. Encompassing an area of more than 130sq KM, this lake supports rich bio diversity and has many people dependent on it for fish and aquatic vegetation. Additionally, this beautiful lake also provides flood protection to the entire Kashmir Valley. Tourists can also enjoy a panoramic view of the lake from the top of a garden that is situated on a hill by the lake. One of the most picturesque lakes in Kashmir, this one is a must visit for all.
Location: Bandipora district, Jammu and Kashmir.
Things to do: Boating, water sports, and Bird Sanctuary visit (Nal Sarovar bird sanctuary is located beside the lake)
How to reach: Wular Lake is 2 hours away from Srinagar.
Suggested Read: 23 Things To Do In Kashmir To See The Best Of This Heaven On Earth
4. Mansar & Surinsar Lake

Image Source
The Surinsar and Mansar Lakes in Kashmir are perfect abodes for nature lovers. Calm, peaceful, and serene, visitors can best experience its charm during the summer time when it is full of lotus flowers. Accommodation facilities are available near the lake thus making it one of the perfect choices for all those who crave for nature.
Location: Jammu and Kashmir
Things to do: See the water based lotus garden, photography, soak in the peaceful ambience
How to reach: The Mansar Lake is 62 km away from Jammu and the Surinsar Lake, which is an extension to the Mansar Lake, is 24 km from the main city of Jammu.
Suggested Read: A Prison You Would Happily Escape Into : Trip To Kashmir
5. Gadsar Lake

Image Source
One of the highest lakes in Kashmir, the Gadsar Lake is a hidden beauty that can only be reached through the alpine trek. Situated in what is known as the "valley of flowers", the Gadsar Lake is 28 km from Sonamarg and has an incredibly beautiful background to it. Famous for being a trekking base, it is surrounded by alpine flowers and is a delight for nature lovers!
Location: Located in Sonamarg, it is a gateway to Ladakh and situated just before the Zojii La pass
Things to do: Brown trout fishing, "trek to destination", and photography
How to reach: The lake can be reached after crossing the Gadsar Pass (the highest point in the Great Lakes trek at 13750 feet)
6. Mansabal Lake

Image Source
One of the best lakes in Kashmir, the Manasbal Lake is a beautiful option for those who love the offbeat. A bird watcher's paradise, it is home to many aquatic birds. Apart from this, one can also find a Mughal garden built by Nur Jahan by the lake. All in all, this is a must visit lake in Kashmir for all the nature and history buffs.
Location: Ganderbal District in the State of Jammu and Kashmir in India
Things to do: Bird watching, campsite stay, nearby sightseeing, trekking base
How to reach: Located in the Jhelum valley on the route to the Wular Lake via Safapur, one can reach here from Srinagar via Shadipur or via Nasim and Gandarbal.
Suggested Read: 15 Best Houseboats In Kashmir: A Treat For Nature Buffs
7. Gangabal Lake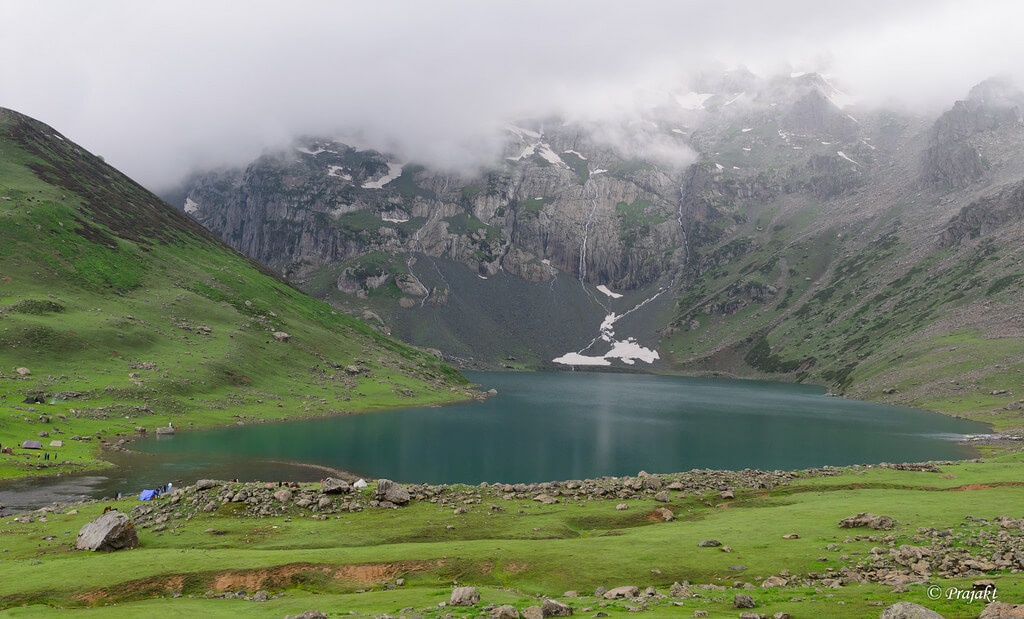 Image Source
Situated at a height of 3570 meters, the Gangabal Lake, also known as Haramukh Ganga, is located on the foothills of Haramukh Mountain. It is home to a variety of fishes including brown trout and rainbow and offers its a visitors to indulge in an enjoyable fishing session (permit needed). It may not be one of the msot famous lakes in Kashmir, but this offbeat and scenic gem provides one hell of an experience to nature lovers and adventure seekers in terms of activities to engage in and views.
Location: Foothills of Mount Haramukh in Ganderbal district, north of Srinagar city in the state of Jammu and Kashmir
Things to do: Trekking, fishing, and photography
How to reach: One can reach the lake from Srinagar (45 kilometers) by road via Ganderbal up to Naranag and then do a trek of 15 kilometers upslope to the lake (horse or by foot). Another trek (25 kilometers long) leads to the lake site from Sonamarg via the Vishansar Lake. Additionally, one can also reach the lake through a trek from Bandipore via Arin.
8. Tso Moriri Lake

One of the highest lakes in the world, the Tso Moriri lies some 137 km away from Leh and is a sight to behold. One can enjoy night camping beside it and also soak in the marvelous beauty of the Rupso Valley. The lake, which is some 40 meters deep at its lowest point, is also home to a variety of marine life. There is also a monastery nearby for those who want peace and religion.
Location: Ladakhi part of the Changthang Plateau in Jammu and Kashmir in northern India.
Things to do: Camping and sightseeing
How to reach: One can visit it while traveling from Leh to Manali or you can also include it while traveling to Pangong Tso Lake. No matter how you reach here, a night stay is recommended for all.
Suggested Read: 8 Lesser Known Secrets Of Kashmir That It Has Kept To Itself
9. Tsokar Lake

Truly, a natural marvel in Kashmir, the Tsokar Lake is located near Rupso in Leh and is surrounded by hot water springs. At a height of 5000 meters, this is truly a natural wonder that you would definitely not want to miss. There is a heavy amount of salt in the lake giving it a white sheen and a true picturesque ambiance.
Location: Ladakh, Jammu and Kashmir
Things to do: Sightseeing, hot water springs with the salt water and springs having medicinal properties, optional night camping, bird watching, and animal spotting
How to reach: The Tso Kar lies 160 km south of Leh and is close to the Leh Manali road which passes 30 km west of it. The lake is at a distance of 540 km from Srinagar.
10. Pangong Lake

The lake that was made famous by the Bollywood movie "Three Idiots", Pangong Lake is one of the most beautiful lakes in the whole of Kashmir. An extremely picturesque spot for bird watching, this lake is enchanting in its personality. One can also camp near it and enjoy the various migratory birds that flock here.
Location: Ladakh, Jammu and Kashmir, India; Rutog County, Tibet, China
Things to do: Night camping, star gazing, Marmot spotting, swimming, and photography
How to reach: The closest airport is in Leh and is 150 km from the lake. Road transport is available from here. For rail, the nearest railway station is in Kalka and one can hire buses and taxis to reach Manali via Shimla. From here, there are regular bus and taxi services for Leh. And if you're traveling by road directly, then it is at a 5-hour drive from Leh
Further Read: 30 Unbelievably Beautiful Places To Visit In Kashmir
Now that you know all about the lakes of Kashmir, we hope you do pay a visit to these incredible attractions. And just in case, if you're wondering about your trip planning, don't worry, we have you covered! Simply choose a Kashmir Tour Package and we will customize it for you.
Frequently Asked Questions About Lakes In Kashmir
Which is the most famous lake of Kashmir?
The most famous lake of Kashmir is none other than the beautiful Dal Lake. It is thronged by locals and tourists throughout the year. You can stay in an overwater houseboat or take a shikara ride on the lake. There's also a floating market that you can visit to buy souvenirs to take back home.
How many rivers are there in Jammu and Kashmir?
The Jhelum, Indus, Tawi, Ravi and Chenab are the major rivers flowing through Jammu and Kashmir. There are several places to visit in Kashmir where you can picnic by these lakes with your family.
Which is the natural lake in Jammu and Kashmir?
Dal Lake, Manasbal Lake, Nagin Lake, and Wular Lake are some of the most famous natural lakes in Jammu and Kashmir.
Was Kashmir a lake?
According to popular myth, Kashmir was earlier not an inhabited land. It was a lake surrounded by mountains on all sides.
Which is the largest lake in Jammu and Kashmir?
The largest lake in Jammu and Kashmir is Wular lake (also spelt Wullar). It is one of the largest freshwater lakes in Asia. It is located in Bandipora district in the Indian administered Jammu and Kashmir. The lake basin is fed by Jhelum river.
Which is the largest lake in India?
Wular Lake is occasionally referred to as the largest freshwater lake in India. It is located in Jammu and Kashmir.
How were most of the lakes in Jammu and Kashmir formed?
The lakes in Jammu and Kashmir are formed due to multiple geological processes. For instance, Wular Lake was formed due to tectonic activity. It was filled by Jhelum river later. On the other hand, Dal lake used to be considered as a part of Jhelum river.
---