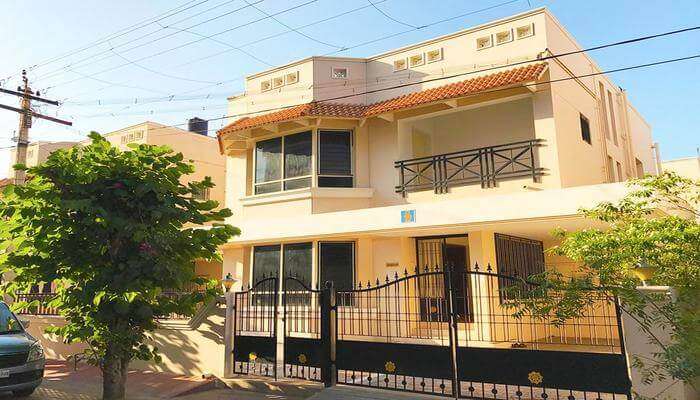 Credits: Booking.com
Madurai is one of the finest and very beautiful ancient cities which lies on the Vaigai River in the South Indian state of Tamil Nadu. It was considered to be a widely visited religious attraction owing to its skyline which is dominated by the 14 colourful gateway towers dedicated to Meenakshi Amman Temple. Several Dravidian-styled sacred temples are making the city a major Hindu pilgrimage place. It is a pleasure to witness the processions and ceremonies of Chithirai Festival known for celebrating Meenakshi and Lord Vishnu right in April. Being a widely visited tourist attraction, there are also many villas in Madurai which are said to provide a great stay to their guests and makes the stay comfortable.
5 Best Villas In Madurai
Here is a list of the best villas in Madurai which will definitely make your stay beautiful and better amidst the surreal beauty.
1. Royal Stay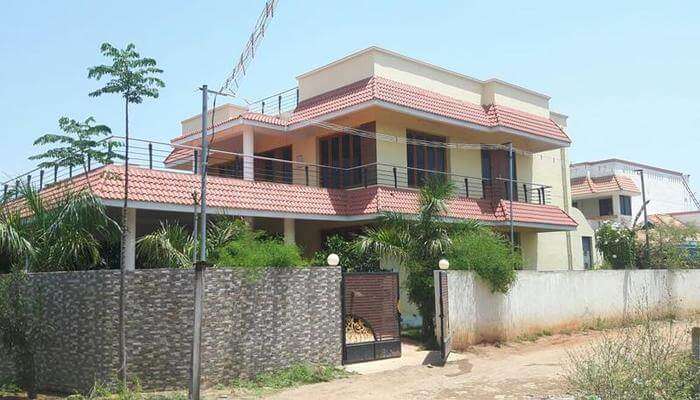 If you are in Madurai then search none but Royal Stay to have a pleasant stay with your friends and family. It is graciously situated in such a perfect location which enables it to give direct access to the guests to explore almost all the nearby famous tourist attractions. With decently spacious air-conditioned rooms along with Wi-Fi and all other basic required amenities, this accommodation is simply perfect and is known to offer you a great and a very comfortable stay. There is a very efficient and dedicated 24-hour security let alone a 24-hour room service meant for the guests' assistance and convenience. For relaxation and rejuvenation purposes, there are also some amazing recreational facilities such as the seating area which can be used for relaxing after a tiresome day and a magnificent garden known for offering some decent yet amazing views of the surroundings. Besides being beautiful, the accommodation has also earned its reputation for being quite reasonable.
Highlights: Offers free Wi-Fi, parking, garden and kitchenette
Location: Plat No-252 F-1, Masthan Patti Vikram Hospital opp ring road Tuticorin ring road Madurai Tamil Nadu 625020
Price: INR 1,000/ and above
Must Read: 8 Top Resorts In Madurai That Will Make You Wish To Stay Longer In This Temple City!
2. Coral Shelters Deluxe 4 Bedroom Villa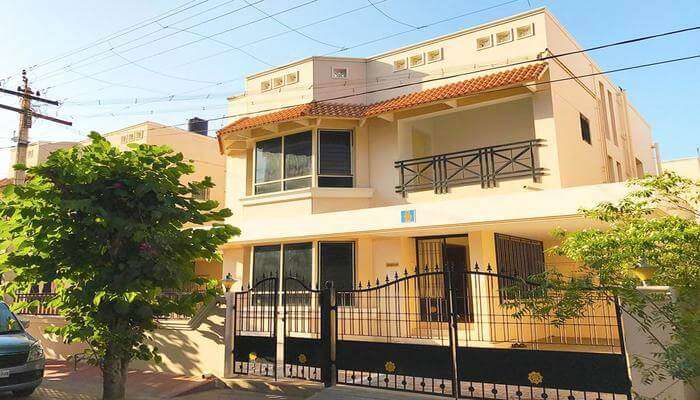 This has to be a perfect villa dedicatedly working to offer a pleasant and delightful stay. As for the directions, the accommodation is situated just about 2.6 km from the popular Meenakshi Temple while the Railway Station is within 2.3 km away. Guests can locate the property without any hassle as it lies within 50 m distance right from the main road. Speaking of some of the features offered at the accommodation, we can start with the 24-hour room service which is known for its efficiency and remarkable service and also offers a shared kitchen which is said to be accessible to every guest. The rooms in the property are well organised and certainly fitted and equipped with all the basic amenities required for a healthy stay. A flat-screen TV is fitted in every unit which can be accessed whenever desired. Daily housekeeping helps in maintaining the cleanliness and utmost hygiene at the property. It is known to be a smoke-free property and boasts a very sincere and dedicated 24-hour front desk always on toes to offer great assistance to guests during any given hour of the day. It offers luggage storage let alone a laundry service which adds more value to the already magnificent accommodation. This property is undoubtedly the finest place to stay in the region and is often praised for its hospitality. The nearest airport is about 12 km away.
Highlights: Offers Wi-Fi and laundry service
Location: Agrini Enclave, Andalpuram, Srinithi D02, Madurai Main, Madurai, India, 625003
Suggested Read: 20 Best Places To Visit In Madurai For A Spiritual Journey Back In Time!
3. Ayushman Ayurvedic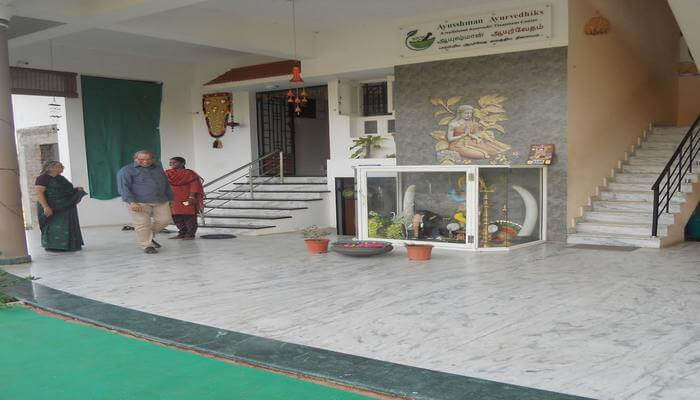 The said villa is located about 6 miles from the sacred Meenakshi Temple and is known to be a great accommodation in the region. It boasts a very beautiful garden which offers some magnificent views of the surroundings and there are a shared kitchen and shared lounge for the guests' convenience. Guests can also avail a bicycle or car rental service at the property itself and there is a playground too which is accessible to every guest. It serves a la carte and vegetarian breakfast every day in the accommodation. As for the nearest attractions, guests can visit the popular Koodal Azhagar Temple and Tirumalai Nayakkar Palace both about 6 miles away respectively. The staffs at the said accommodation are certainly known to offer great service and undoubtedly remarkable hospitality. The nearest airport is the Madurai Airport just about 7 miles from the property and the guests can avail a paid airport shuttle service. Without a doubt, this accommodation is known to be the best villas in the region.
Highlights: Offers airport shuttle, sauna and a garden
Location: Amaithi Solai Nagar Main Road Thirunagar, Thiruparangundram, Thiruparangundram, India, 625006
Price: INR 3,500/- and above
Suggested Read: 7 Airports In Tamil Nadu For An Awesome Flying Experience
4. DADS Avenue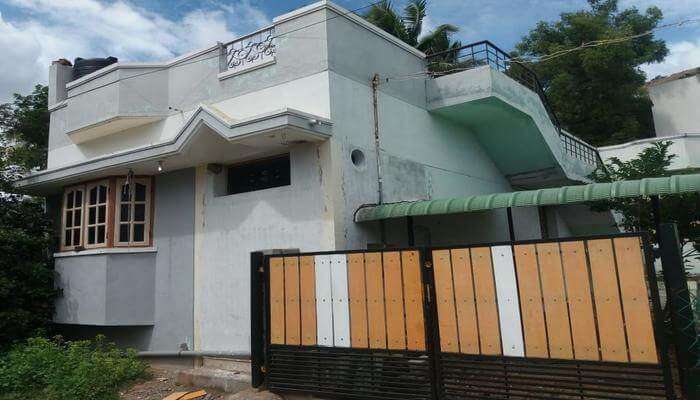 This magnificent villa is located about 7 miles from Meenakshi Temple. It boasts a beautiful garden and a terrace which offers amazing views. The accommodation has a fitness centre for relaxation and refreshment. As for the nearest attractions, the very famous Koodal Azhagar Temple and the popular Tirumalai Nayakkar Palace is about 6 miles and 7 miles away respectively. As for the directions, the renowned Vandiyur Mariamman Teppakulam is about 9 miles away while the Mattuthavani Bus Terminus is near about 11 miles away. Speaking of the rooms here at the accommodation, they all decently spacious and are well air-conditioned and along comes a bathroom with all basic amenities required for a healthy and a convenient stay. The accommodation is known for offering a delicious vegetarian breakfast every morning. Guests can also visit the Vaigai River which is near about 9 miles away and the nearest airport is Madurai Airport about 5 miles from this beautiful property.
Highlights: Offers free Wi-Fi, parking, fitness centre, airport transfer, garden and a balcony/terrace
Location: Thiruparankundram, Madurai, Tamil Nadu DADS Avenue, Kaasi Thottam, India, 625005
Price: INR 600/- and above
Suggested Read: Seaports In India: Know About The Important Ports Which Stands As A Glory Of The Country!
5. PJK Homes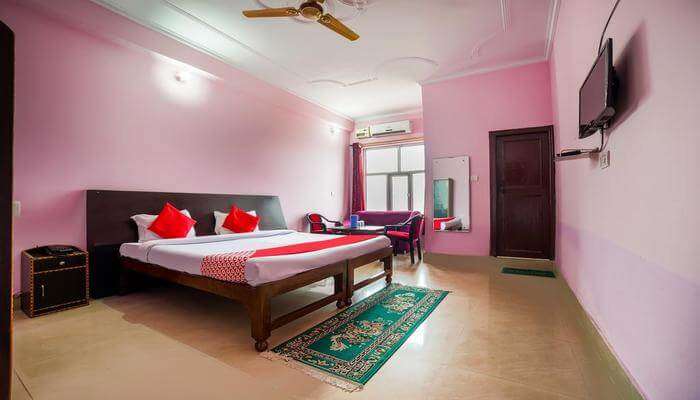 This has to be the most reasonable villa in the region yet is known to be very beautiful and comfortable. The accommodation offers free breakfast every morning and is known to have very efficient room service. The dedicated daily housekeeping is said to keep the property very clean and in utmost hygiene. It is truly a haven for the couples owing to its cosy environment and perfect surroundings let alone the romantic fireplace is known to enhance the togetherness. Guests can also avail the check-in/out express service. There are 24-hour secured security and a 24-hour front desk reputed and recognised for their remarkable assistance at any given hour of the day. As an addon, there is also a luggage storage. As for the directions, Madurai Railway Station and the Anand Elumalai Hospital is about 7.6 km and 6.9 km away respectively. The nearest airport is Madurai Airport about 15 km from the accommodation. This place is nothing but perfect to spend a good time with your near and dear ones during your stay and for sure is worth your money.
Highlights: Offers Wi-Fi and blackout curtains
Location: 145, classic avenue, Valarnagar-Byepass ring road, uthangudi, Valar Nagar, Karpaga Nagar, Madurai, India, 625107
Price: INR 1,200/- and above
Further Read: 30 Amazing Places In India To Celebrate New Year
To enjoy a relaxing time away from home, these villas in Madurai are perfect for a laidback vacation. From the best services to offering the finest interiors and staying options, these villas are equipped with only the best. So now when you plan a vacation to Tamil Nadu, make sure to enjoy a time like never before at one of these places.
Frequently Asked Questions About Villas In Madurai
Is Madurai worth visiting?
Yes, Madurai is worth a visit. It is known for its natural beauty and great hospitality. It has eventually earned its name and fame for being a perfect holiday destination in recent years.
Where is Madurai located?
Owing to its status as the cultural capital of Tamil Nadu, it lies on the banks of River Vaigai and is known to be the third-largest city in the state.
What is the best time to visit Madurai?
It is known to have a hot and dry climate for most of the year however it is recommended to visit Madurai during the winters between October and March.
What is Madurai known for?
It is widely known as the most visited Hindu pilgrimage site in the country. There are several colourful Dravidian style temples including the sacred and very popular Azhagar Kovil, Thirupparankundram and Meenakshi Amman Temple.
What are the best villas?
Royal Stay and Ayusshman Ayurvedhiks are considered to be the best villas in the region.
What are the most romantic villas?
Ayusshman Ayurvedhiks and Coral Shelters Deluxe 4 Bedroom Villa are certainly quite popular amongst the couples owing to its magnificent surroundings and a very cosy environment.
What are the budget villas?
PJK Homes and DADS Avenue are the two most reasonable yet very beautiful accommodations which shall fit in your budget without a doubt.
---
Looking To Book A Holiday Package?
---
People Also Read: