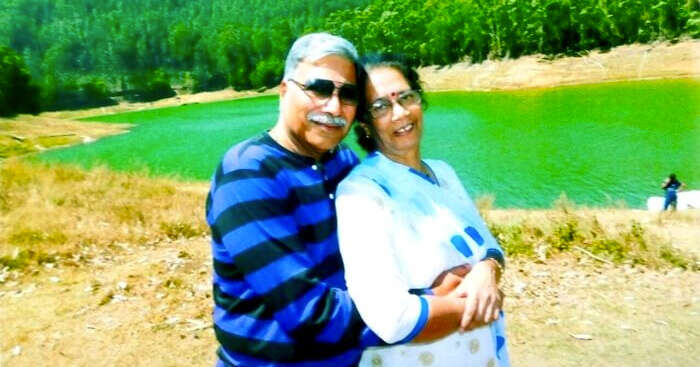 Vinay and his wife visited the best best places in Kerala and enjoyed to their heart's' content, sailing in the backwaters and trying delicious South Indian cuisine. Read on to know about their amazing experience.

Me and my wife had been planning to visit Kerala since a long time. She was eager to visit Swami Vivekananda Memorial and Guruvayur temple. So I began researching and came across some good Kerala tour packages offered by TravelTriangle, a holiday marketplace offering customizable tour packages at great prices. They got us in touch with some agents who quoted fair deals, and we finally booked an 8 Day Kerala tour package from as I found it perfect for our budget and booked my trip.
Trip Type: Romantic Trip To Kerala
Duration: 8 Days and 7 Nights
Budget: INR 42,500
Inclusions: Accommodation at Beach and Lake Ayurvedic resort, The Deshadan Resort, The Karar garden, Blue Bell valley resorts, transfers, breakfast, house boat ride, sightseeing in Munnar, Kanyakumari, Alleppey and much more
Exclusions: Paid activities, if any
Day 1 : Arriving in God's own country

Suggested Read: Awesome Places To Visit On A 5 Day Honeymoon In Kerala
We arrived at Trivandrum railway station in the morning. There, we were received by the driver, who took us to Kovalam beach, one of the most popular beaches of Kerala. The view of the horizon from the beach is beautiful, with a striped lighthouse adding to its beauty. Heading south, there is a mosque, the Vizhinjam Juma Masjid mosque which overlooks the busy fishing harbor. We stayed there for sometime before going to our hotel, the Beach and Lake Ayurvedic resort, a lovely property. One has to take a mini boat ride to reach the rooms, which is a nice experience. We stayed in the room and relaxed all day.

Hotel review: Beach and Lake Ayurvedic resort
The resort boasts of a beautiful pool surrounded by tall palm trees. The rooms are very clean and spacious with the staff maintaining them properly. Basic amenities are available. The food is okay with multiple cuisine options available.
Day 2: The journey to southern most tip of India: Kanyakumari

Suggested Read: Amazing Places To Visit On A 6D/5N Romantic Trip To Kerala
We had an early morning breakfast and left for backwaters cruise. This was one of the best parts of the trip. Oh! What a beautiful journey it was, cruising through the backwaters, with greenery on both the sides. It took us about two hours to complete our backwater ride post which, it was time to leave for Kanyakumari.

The name Kanyakumari comes from the Devi KanyaKumari Temple in the region. It is the southernmost tip of peninsular India. There, one of the most famous places of sightseeing is the Vivekananda memorial, dedicated to Swami Vivekananda. The memorial stands on one of two rocks located about 500 metres east of the mainland of Vavathurai, India's southernmost tip. Swami Vivekananda is said to have achieved enlightenment there. It is a beautiful place and one feels so much at peace here! We sat for sometime in the meditation hall to feel the positive energy that was all around us.
Later, we came back to our lovely resort for dinner and sleep.
Day 3: The Backwaters of Alleppey await

We had an early morning breakfast and left for the gem of Kerala: Alleppey. The drive from Kanyakumari to Alleppey is probably one of the most beautiful road drives I have ever taken. It is when you breathe the pure air, filled with the smell of fresh greenery, you realise and understand the value of true beauty of nature. The roads are narrow, well laid and surrounded by tall coconut trees on both the sides.

Although we had expected the backwater ride to be fun, the smell of the water was bad enough to spoil our mood. We then went to Poovar backwaters, and it was amazing. No bad smell and very clear blue waters giving a mesmerising view.
Suggested Read: 57 Beautiful places in Kerala

After completing the cruise, we checked into the Deshadan resort, a good property near the lake. We had a sumptuous dinner and retired to our rooms for the night.
Hotel review: The Deshadan Resort
A beautiful property which boasts of a lovely swimming pool surrounded by trees. The rooms are very comfortable and clean with the staff taking extra care to maintain them properly. The food is quite good too. Overall, a great stay option.
Day 4: Tea plantations of Thekkady

Suggested Read: 4 Days In Kerala: Best Places To Visit And Amazing Things To Do
We had an early morning breakfast and checked out of our hotel, as we had to leave for Thekkady. After we reached there, we first visited the Harrisons tea factory of Sanjay Goenka Group. It is perhaps one of the highest growing tea regions of India. The tour of the factory gives an interesting insight into tea plucking process, the preparation, sorting and packaging. This was the highlight our day.

In the evening, we checked into our hotel Karar garden for night stay. We had dinner there itself, which comprised of authentic South Indian cuisine post which it was time to retire to our beds
Hotel Review: The Karar garden
The location of the hotel is good, but the services are average. The rooms are clean although a bit small. The food ,even though it is decently prepared is slightly more expensive than local restaurants.
Day 5: Munnar Diaries

Suggested Read: 10 Charming Places To Visit In Kerala [Infographic]
It was time to leave for Munnar: one of the most famous hill stations of Kerala. The drive from Thekkady to Munnar was again, a beautiful one. The road was surrounded by thick forests and huge coconut trees and made our drive a very rejuvenating experience. Once we reached Munnar, we went for a jeep safari in the wilderness. We enjoyed it thoroughly.
Post that, we went to our hotel, the Blue Bell valley resorts. It's literally in the valley; one has to use the resort jeep to get there. This was one of the best stays in our Kerala trip.

Hotel review: Blue Bell valley resorts
The location of the resort is beautiful. The rooms are very clean and spacious. The staff is quite friendly and goes out of the way to make your stay as comfortable as possible. The view of the hills from the room is epic.
We had dinner in the resort itself, it was quite good. After that, we retired to our room and called it a night.
Day 6: Sightseeing in Munnar

Day 6 was reserved for Munnar Sightseeing tour. We first visited the echo point. The way to the echo point in itself is very amazing, with roads surrounded by vast acres of tea plantations. It's a beautiful place with some gorgeous views of the valley. We clicked lots of amazing pictures there before proceeding for a visit to the rose garden. The garden houses thousands of variety of roses and is a treat to the eye. After that, we came back to our resort for dinner and sleep.
Day 7: Shopping and temple visits in Guruvyar

We had a busy day ahead so we got up well on time and left for local shopping. We first visited the Kasavu aalayam, where one can shop for local handicrafts and find Kerala sarees at cheaper rates. Post that we visited the spice gardens, Kerala's speciality. Acres and acres of a variety of spices lined up in rows over vast areas is a sight to behold. We shopped for some spices there, and also bought other products such as gels, hair tonics, massage oils, etc. We had lunch at the Kerala restaurant nearby, which served delicious South Indian food.

Post lunch, we headed to our hotel Fort Gate, Guruvayur. The hotel is a pure delight to stay in. The location, the rooms, everything is just fantastic. In the evening, after relaxing in our rooms for sometime, we visited the Guruvayur temple of Lord Shri Krishna, wearing traditional dhotis. What a divine place it was! As the night sets in, the pundits of the temple light the lamps and it makes the whole scene even more beautiful.

After pooja, we came back to our hotel and called it a night as we had early morning flight back to Kochi.
Day 8: Goodbye Kerala! Until next time.

With the memories of Kerala imprinted in our hearts, we bade goodbye to God's own country and caught our flight back to Kochi.
Our trip to Kerala was a beautiful one. We covered the best places there, had amazing food, clicked lots of pictures and spent great quality time with each other in the lap of nature. We are happy that we took this trip and thank TravelTriangle for organising all of it so smoothly. Cheers!
Highlight:
Visit to Kanyakumari is a must. The Vivekananda Memorial is a very peaceful place and deserves to be on your travel list.
A visit to Kerala is incomplete without visiting Munnar. Make sure you checkout the echo point and the sunset point.
Visiting Guruvayur temple is a divine experience. Highly recommend it.
Low point:The smell of the backwaters in Alleppey really gets you. Although once the cruise starts, the bad smell fades away.
Tip for future travelers:
One has better accommodation options than Karar garden, Thekkady. The food was pretty average and the rooms were okay, not that great.
Even you can book a mesmerising romantic Maldivesand have an amazing time with your companion. Book now!