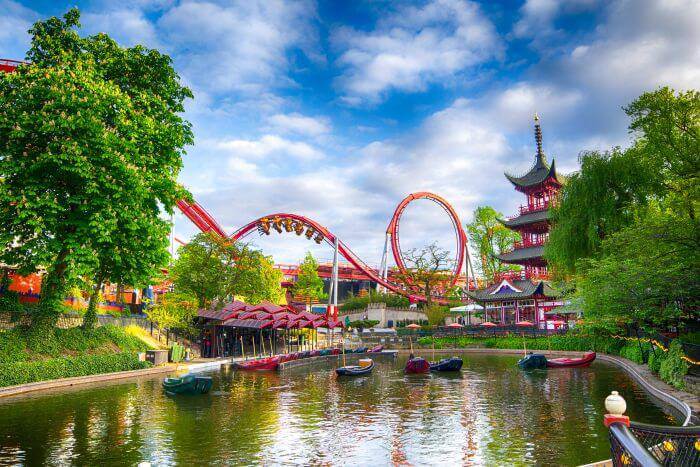 The best part about Denmark is that no matter where you are, you could never be more than 40 kilometers from a coastline, and hence, it does not come as a surprise that the Danes love to splish-splash. There is no dearth of water parks in Denmark and you will find a variety of them to suit your preferences such as wild water parks and beautiful beaches. The water parks in Copenhagen, Denmark lure in water babies from around the world to visit this country. Find a list of our favorite waterparks in Denmark to help you make an otherwise very tough choice:
10 Amazing Water Parks In Denmark
If you are going for a vacation in Denmark, then you should not miss out on these amazing waterparks that we have listed here. Take a look:
1. Fårup Sommerland

No list on the water parks in Denmark can be a good one without mentioning this super fun water park which is located near the beaches Blokhus and Løkken but is still located deep inside the forests. and yet all the way in the forest you will find the amusement park Fårup Sommerland. There is an exciting array of wild water activities to be chosen from for people of different ages, making it the perfect family vacation spot. With more than 60 rides in the amusement park and the Aqua Park, there is no way that you could live one boring moment in Farup. After you are exhausted from all the activity of the day, you can rejuvenate yourself by treating yourself to a delectable grilled dinner in the Weber barbecue area which is free of charge.
Location: Pirupvejen 147, 9492 Blokhus, Denmark
Opening Hours: 10 Am - 6 PM
Entry Fee: 2500 INR
Must Read: Christmas In Denmark: 13 Places To Enjoy The Christmas Vibes In Europe In 2022
2. Aquadome

If an out-of-the-world water experience is what is on your mind, head to Aquadome in Lalandia where the entry for the entire family is free if you are staying in Lalandia. This waterpark is set in a tropical background and is simply huge. The water here is 28 degrees and the air is 30 degrees, making it pleasant and enjoyable for everybody who visits this magic land. There are many exciting water slides to get on that will leave you with goosebumps and an adrenaline rush. After you are done with splish-splashing around, you can spend some relaxing time in a spa or sauna to relax your senses. Billund Aqua is known for a recent attraction - the twister that has gained worldwide fame because of the spinning in a giant funnel up high in the sky! With more than 31 water slides in Aquadome Billund, you are guaranteed to have a great time.
Location: Ellehammers Alle 3, 7190 Billund, Denmark
Entry Fee: INR 2500 for Adults, INR 1800 for children
3. Kabelpark

Although you might not have heard about this one as much as the above two waterparks, Kabelpark is as much fun and exciting as them and is one of the best water parks in Copenhagen Denmark. This is a cable wakeboarding and waterskiing facility in Hvide Sande and up to 10 participants can take the cable track simultaneously. Beginners and experienced players can both enjoy from this experience and children above the age of 8 are allowed here. You don't have to worry about the medium of instructions since the trainers here are fluent in Danish, German, and English. There are good chilling spots for when the fun is over as well. With an assorted workshop and a floating café with a stunning view overlooking the track. With their highly rated french fries and free Wi-Fi, who wouldn't want to spend hours here?
Location: Gytjevej 15, 6960 Hvide Sande, Copenhagen, Denmark
Opening Timings: 12 AM - 5 PM
Entry Fee: Starting from 3100 INR
Suggested Read: 16 Insta-Worthy Places To Visit In Denmark For Tourists In 2022
4. Blåvand Badeland

Located in the largest recreational area in Denmark, we do not have enough praise to sing of Blåvand. With more than 40 kilometers of white sandy beach, this area is a stunning postcard background. It is in the middle of one of the largest recreational areas in Europe with over 40 km of white sandy beach. The best aspect about this place is that there are attractions aplenty for the entire family both inside and outside the campsite, so nobody has to compromise. The most popular attractions are the 70-meter long slide, the black hole with light and sound, spa and sauna.
Location: Hvidbjerg Strandvej, 6857 Blåvand, Denmark
Opening Timings: 9:00 AM - 6:00 PM
Entry Fee:
5. Nordsø Badeland

This water park is inside the compound of a larger campsite, but nothing to worry since it is open to the public. The temperature here is 30 degrees C making it a pleasant experience in a huge 1000 sq. m area. You do not have to worry about heading anywhere else for the day since the attractions inside will keep you busy till the sun sets. Children can enjoy in the water world and adults can get their adrenaline pulling from the crazy water slides. For those who want to relax and release the tension from their nerves, there is also a steam bath, sauna, and s whirlpool.
Location: Tingodden 3, 6960 Hvide Sande, Denmark
Opening Timings:
Entry Fee:
Suggested Read: 13 Frolicsome Beaches In Europe For All The Excited Beach Bums Across The Globe
6. KCL Water and Fitness Park

One of the most popular names in the world of water parks in Denmark, KCL is known for its sheer enormity such as 50 long meter swimming pool, a 57-meter long water slide, and an equally huge activity wave pool. There is also a therapy pool where the water is warm at 34 degrees and a fitness center making it good for the heart and the soul. There is something happening in every corner here ranging from workouts, swimming, fitness clubs or plain old socializing. You will find fitness, team workouts, swimming, wellness and socializing.
Location: Skyttevej 12-14 7800 Skive
Opening Hours: 7:00 AM - 5:00 PM
7. Hasmark Badeland

Hasmark Badeland has all the ticks on your ultimate waterpark checklist and will not disappoint you on any front. There are both indoor and outdoor style swimming pools that have been designed in the Viking way with both warm water, pleasant water, and slides. Some trivia for today is that this water park is actually the largest to exist at any Danish campsite.
Location: Hasmark Strand, Strandvejen 205, 5450 Otterup, Denmark
Opening Timings:
Entry Fee:
Suggested Read: 17 Spots For Snorkeling In Europe Every Underwater Enthusiast Must Visit In 2022
8. Jesperhus Feriepark

If you think that this list is one that gets boring as it goes down, you are wrong because this waterpark is everything but boring. Its offering includes a tropical climate, artificially heated swimming pools for children, a spa pool, some crazy waterslides and a huge pool of 25 meters. One of the most quirky things here is the 10-meter long submarine toy with added effects for coolness.
Location: Legindvej 30, 7900 Nykøbing Mors, Denmark
Opening Timings: 10 AM - 6 PM
Entry Fee: 3500 INR for adults, INR 3000 for children
9. Svømmeland

If you are looking for an all-stop water shop, this is the place to be. Irrespective of what you have in mind, whether it is going out or getting some exercise, enjoying coziness of the sauna or everything: Svømmeland will make all your waterpark fantasies come true (and in one day). In fact, the swimming center here is enjoyed by locals and is a swimmer's favorite. Also famous is the Aqua-relax area where you can calm yourself after all the jumping around in a hot water pool with massage nozzles or at a bio sauna.
Location: 4600 Køge, Denmark
Opening Timings: 6:30 AM - 6:30 PM
Suggested Read: 11 Best Hostels In Denmark For A Stay Experience That Is Friendly To You And Your Budget
10. Legoland

Well, we left the best for the last and Legoland in Denmark is one of the most famous tourist attractions in the country. Any trip to Denmark cannot be a fulfilling one without a visit to Legoland in Billund Resort. The action just does not end here and the entire family can have fun in the several themes here. Each theme has both land and water rides making this one of the best water parks in Denmark. It is flocked by 2 million visitors each year and if that does not magnetize you into visiting this place, we don't know what will!
Location: Nordmarksvej 9, 7190 Billund, Denmark
Entry Fee: Starting at INR 3500
Further Read: 13 Museums In Denmark You Must Visit To Know The Rich Culture
There are no excuses when it comes to getting down and wet in Denmark water parks especially during summers! The above information must have given you a good peep into how exciting the water parks in Denmark are. Book your trip to the Kingdom of Denmark from TravelTriangle for an unforgettable experience.
---
Looking To Book An International Holiday?
Book memorable holidays on TravelTriangle with 650+ verified travel agents for 65+ domestic and international destinations.
---