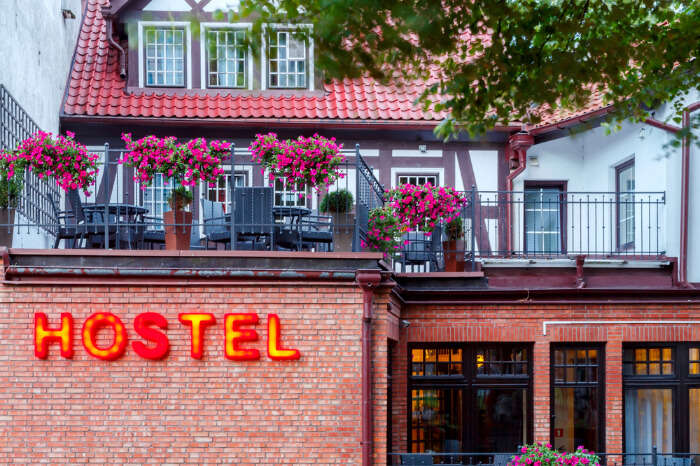 Whether you're a backpacker spending one day in Denmark or attending Denmark with family or friends, you will certainly find a place in this list that suits you. Especially when it comes to a budget travel, hostels are a great accommodation option. In a country Denmark, which is gaining attention as a tourist destination, hostels play a major role. So, here we are, taking a look at the best hostels in Denmark. Going for a hostel in the capital city of Copenhagen or it's hippy neighbourhoods will bring you a lot of nightlife opportunities too.
11 Best Hostels In Denmark
If you're looking for some budget friendly accommodation for your vacation in Denmark, these hostels are sure to fit your requirement. They're not only fun, but comfortable and friendly places where you can easily stay while you explore the place.
1. Generator Hostel

Generator Hostel Copenhagen is ideally located for walking to sight see the city. This hostel showcases sizeable, solid lockers and privacy screens on the bunk beds and all the rooms have a private bathroom. According to Hostel world guests, the regularly praised staff is friendly and considerate and are keen to provide good advice on where to go, what to eat, metro times, etc.
Location: Adelgade 5-7, 1304 København, Denmark
Contact: +45 78 77 54 00
Cost: DKK 2,284
Google rating: 4.1
2. Copenhagen Downtown Hostel

Copenhagen Downtown Hostel was named Copenhagen's Most Prevalent Hostel in 2015, and it is very obvious as to why. They are perfectly located between the Tivoli Gardens and the Christiansborg Palace, close to the Little Mermaid, Kastellet And Freetown Christiania. The bar and cafe on site have matches and a happy hour every day.
Location: Vandkunsten 5, 1467 København, Denmark
Contact: +45 70 23 21 10
Cost: DKK 2,220
Google rating: 4.1
Must Read: Summer In Denmark: A Handy Guide For Your Next Adventures With The Danes!
3. Steel House Copenhagen

Steel House Copenhagen is a premium new lavish hostel in Copenhagen city centre. The hostel is influenced by New Yorkers and has an' industrial chic ' layout with rooms steeped in raw aspects, smooth flavour and homey décor. Breathe easily in the unparalleled, comfy environment of the luxury town hostel and feel the inner-city aura that binds everything together in a home you can visit Copenhagen.
Location: Herholdts Grade 6, c/o Arp-Hansen Hotel Group A/S, 1605 København, Denmark
Contact: +45 33 17 71 10
Cost: DKK 3812
Google rating: 4.4
4. Sleep in Heaven

Sleep In Heaven was ranked the best in Denmark for Hoscars in 2010 and 2012. It is situated in the diverse environment of Norrebro, near the graveyard of Assistens and a 10-minute walk from the subway to the city centre. Guests at Hostelworld have said that this vibrant hostel is flanked by 'second – hand shops and bars'. The personnel were identified as "warm, friendly and informative." This large hostel has an open – air terrace, bar, pool tables and security keycard.
Location: Struenseegade 7, 2200 København, Denmark
Contact: +45 35 35 46 48
Cost: DKK 2402
Google rating: 4.1
Suggested Read: 16 Insta-Worthy Places To Visit In Denmark For Tourists In 2022
5. Danhostel Copenhagen City

The 5-star Danhostel Copenhagen city is situated on H.C. Andersens Boulevard, a 10-minute pace from the central train and bus station. It's the largest hostel in Europe, with 1,020 beds. Apart from the extremely beautiful viewpoint of the city skyline, the Opera House and the Brygge Islands, it is conveniently located within easy reach of all the main attractions, City Hall Square, Tivoli and the busy city centre.
Location: H. C. Andersens Blvd. 50, 1553 København, Denmark
Contact: +45 33 11 85 85
Cost: DKK 2159
Google rating: 4.0
6. Danhostel Aarhus City

Danhostel Aarhus City is a special, well-engineered hostel with a nice comfortable café on the roof. Its setting in the very centre of Aarhus gives its guests the best chance to experience the great atmosphere around the hostel. Take the elevator upstairs and savour the sunny terrace and cafe on the rooftop. Aarhus' remarkable panoramic view is totally free.
Location: Marienlundsvej 10, 8240 Risskov, Denmark
Contact: +45 86 21 21 20
Cost: DKK 1197 avg
Google rating: 3.8
Suggested Read: Denmark Nightlife: Get Ready To Party Hard At These 10 Places In This European Country!
7. Bedwood Hostel

Bedwood Hostel isn't just a place to stay–it's a living place. Its aim is to make you feel welcome as soon as you pass the door and as long as you remain in Copenhagen, Bedwood Hostel is your home. Feel comfortable in the common area. Meet other holidaymakers, exchange a book, play the guitar and share a tea pot or a beer or find out what else you've got to encounter in Copenhagen. Outside there is a delightful calm courtyard where you can have coffee in the morning before diving out to the tumultuous Copenhagen region.
Location: Nyhavn 63C, 1051 København, Denmark
Contact: +45 61 42 61 46
Cost: DKK 2155 avg
Google rating: 3.9
8. Annex Copenhagen

Annex Copenhagen is a great deal if you want to maintain your sojourn in Copenhagen to a cheap price. Situated in the vibrant and fashionable neighbourhood of Vesterbro-you're next to Tivoli, the central railway station, sightseeing and local restaurants-not to bring up the enjoyable Copenhagen Nightlife in Kodbyen. The room is spotless, simple & utilitarian.
Location: Helgolandsgade 15, 1653 København, Denmark
Contact: +45 33 31 43 44
Cost: DKK 4455
Google rating: 4.0
Suggested Read: Water Parks In Denmark: 10 Places To Have A Splashy Vacation!
9. Globalhagen Hostel

Globalhagen Hostel is Copenhagen's first hostel to be built, designed and operated by volunteers. Globalhagen Hostel is a non-profit hostel and the proceeds go to the Mellemfolkeligt Samvirke / Actionaid NGO and its efforts to champion fairness and eliminate global poverty. Globalhagen Hostel is located in the centre of Nørrebro's thriving and multiethnic neighbourhood, pretty close to clubs, bars, venues, cinemas, cafes and fast food connections, green areas, the lake and Nørrebro Station. Each room is profoundly different and some of the countries in which Mellemfolkeligt Samvirke / Actionaid operate are present. All the rooms are designed and built with recycled materials.
Location: Ravnsborggade 11 Cafe and Hostel, 2200 København, Denmark
Contact: +45 77 31 00 77
Cost: DKK 1900
Google rating: 4.1
10. City Sleep-in

It's a budget and comfortable hostel in the absolute centre of Aarhus. It's also five minutes away from anything you might want, and only two kilometres from the shoreline and the forest. There's less than ten minutes to the bus and train station. It provides a communal or affixed bathroom with dormitories or double rooms. In summer, you can BBQ in the comfortable yard or cook your own dinner in the kitchen. At the kiosk, you can slake your thirst, play billiards or just unwind in the library with a book. If you want to chill or lease a bike nearby for exploring Aarhus, you can.
Location: Havnegade 20, 8000 Aarhus, Denmark
Contact: +45 86 19 20 55
Cost: DKK 3856
Google rating: 3.1
Suggested Read: National Parks In Denmark: 5 Places That Should Be On Every Nature Lover's List In 2022
11. Mon Hostel & Vandrehjem

This country hostel Moen Hostel & Vandrehjem has a shared kitchen, car parking and a lawn with barbecue facilities. The dining room at the hostel is a pleasant place to have a meal. Guests can kick back in the television lounge. We're talking about your language! Eateries and coastline are 3 km away in Klintholm Harbour. The Geo Center Møns Klint is 5 km away. The Lake Hunosø offers great angling opportunities. Other leisure options nearby involve walking and cycling. From the property, a path leads specifically to Klineskoven Forest and Klintholm Manor, 1 km away. There is a bus stop near the entrance of Møn Hostel.
Location: Klintholm Havnevej 17, Magleby, 4791 Borre, Denmark
Contact: +45 55 81 24 34
Cost: DKK 2000
Google rating: 3.4
Further Read: 9 Theme Parks In Denmark That Will Bring Out The Adrenaline Junkie In You
Denmark is a festive place with music celebrations all year round, so these hostels provide a much-needed respite from all the pomp. The hostels listed here are from a variety of budgets and locations like Copenhagen and Aarhus, so you will easily find the one which most suits your need. Now that you accommodation concerns are sorted, plan a trip to Europe soon, head to Denmark and experience a staycation in one of these top hostels in the country.
---
Looking To Book An International Holiday?
Book memorable holidays on TravelTriangle with 650+ verified travel agents for 65+ domestic and international destinations.
---