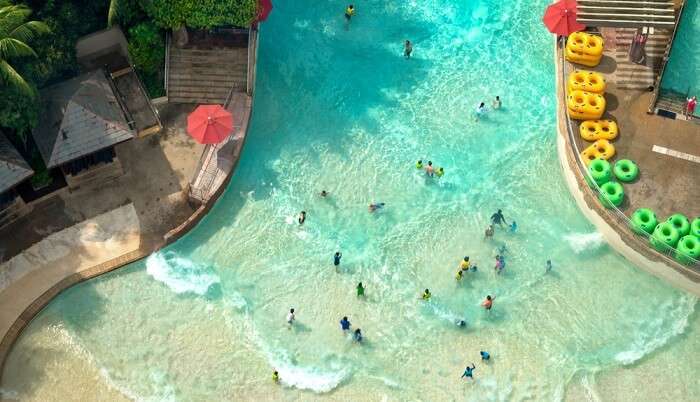 Summer in Indore can get sweltry. Thank god, for these water parks in Indore, locals and tourists have respite from the soaring temperatures. While you are in Indore, there are a lot of things that you can do. From tasting the amazing street food around here to shopping at the night market Sarafa Bazar. Other than exploring all these places, you can also head to the amazing water parks which are located in different parts of the city. Today we will be discussing about the best water parks in Indore which are worth a visit. Check them out in the next segment and see which one intrigues you the most.
4 Best Water Parks In Indore
Here is a list of all the water parks in Indore that you may visit with your friends or family for an amusing time over the weekends.
1. Mayank Blue Water Park

Mayank Blue Water Park Indore is one of the best water parks in the city. Regardless of high temperature during the summers, visiting the water park is always a great deal of fun, especially in the summer season. It is the coolest escape in Indore and undoubtedly a great place for unlimited fun.
The water park houses a lot of different rides which can be enjoyed by both adults and kids. You can spend some lazy time at the pool side and enjoy a sunbathe throughout your time. Or if you are with your friends and family, and want to experience some adrenaline packed fun, then try out the rides that are available here.
For individuals looking to get rid of stress and weekday blues, they can head to the sauna and hot bath. The water park fulfills all your desires you are in need of. The most popular rides in the water park include Wave Pool, Lazy River, Sauna and Steam Baths. You can also click some pictures under the Artificial Waterfall. With so many adventure rides that you can ride on, your entire day will pass by exploring them.
Location: Bengali Square, Indore Bypass Road, Indore
Timings: 11 AM to 6:30 PM
Entry Fee: INR 250 per adult; INR 150 per children
Must Read: 5 Places To Visit In Tikamgarh For An Enlightening Trip To Madhya Pradesh
2. Shell City Water & Adventure Park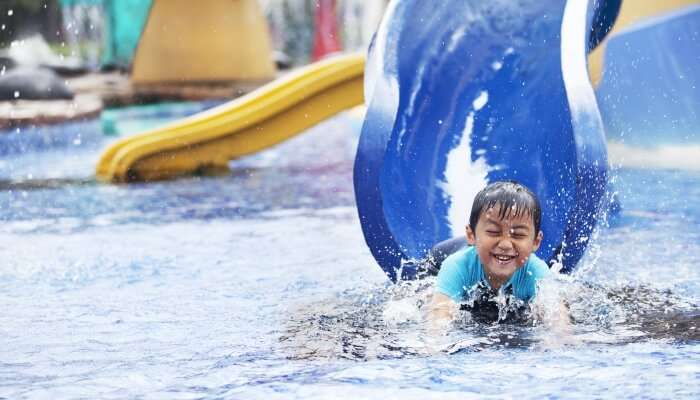 For more than 19 years, the Shell City Water & Adventure Park has been one of the best water parks in Indore, offering locals and tourists with a great deal of unwavering fun and enjoyment throughout the year, especially during the summer months when the sun is scorching down. The park is equipped with a whole lot of water rides which can surely pump the adrenaline levels in your body and is a must visit for all adventure junkies.
Spread over an area of 22 acres of lush greenery, Shell City Water & Adventure Park is the home to a wide range of attractions, slides, rides, and pools. There are also different other areas which are built for playing badminton, tennis, volleyball, etc. The biggest attraction here is the Wave Pool, where you can experience the fun and thrill of enjoying with others in a pool that generates waves like a real sea does.
There is a plethora of eateries which are available inside the water park, that serve you food of different cuisine and satisfy your hunger pangs. This is the best place to hang out with your friends whenever you feel too stressed out.
Location: Khandwa Rd, Indore, Madhya Pradesh 452020
Timings: 10 AM to 8:30 PM everyday
Entry Fees: INR 300 per person and INR 249 extra for the buffet meal
Suggested Read: 10 Best Places To Visit In Madhya Pradesh In Summer For A Soothing Trip
3. Nakhrali Dhani Water Park

The Nakhrali Dhani Water Park is spread over an area of more than 12 acres and this heritage-themed park is home to a myriad of amusements including different cultural activities, water slides, pools, rides and so much more. If you are seriously planning to experience some fun and adventure, then Nakhrali Dhani Water Park is one of the best in the list of water parks in Indore.
You can immerse yourself in the exhilarating fun and unstoppable action that the rides guarantee you. Most of the rides here are themed on water which makes them even fun to ride on during the summers when it is really hot in Indore.
Other than exploring the rides, you can also take part in different cultural activities and festivals that are organized within the premise of the amusement park. Several music artists and singers do perform here and provides a wonderful experience that will help you spend the day in jolly. The eateries and cafes available here ensures you get an unforgettable taste of food which will keep you well satisfied.
Location: Vijay Nagar Main Rd, Scheme 54 PU4, Indore, Madhya Pradesh 452011
Timings: 11AM to 11PM on all days
Entry Fees: INR 490 for adults and INR 330 for children and INR 110 for those who are a member of the water park.
Suggested Read: 10 Honeymoon Places In Madhya Pradesh Every Couple Should Visit In 2022
4. Crescent Water Park

If you are suffering from too much of weekday blues, then the Crescent Water Park is the best a must-visit place in the city of Indore. The Waterpark is situated right at the outskirts of the city and provides a calm and comforting atmosphere to the people. Whether you are planning for a picnic with your friends or family, this water park can be the best getaway.
The Crescent Water Park is equipped with thrilling rides and various adrenaline-pumping water slides that can surely give you the goosebumps you were looking for. You will be surprised to know that the water park also has an Infinity Pool. Hence, now you can click some amazing pictures at the infinity pool and brag about them on your social media.
The different levels of water slides in this water park are the main attraction of this place. You can come sliding down from the highest slide and enjoy the thrill of it! After all the fun at the park, you can head to the restaurants that are lined inside the amusement park. They offer a wide range of palatable delicacies and food items of great taste and quality to all the guests coming in.
Location: Gram Jamniya, Near Narmada Kshipra Devguradia Khurd, Kampel Rd, Indore, Madhya Pradesh 452016
Timings: 10AM to 6PM on all days
Entry Fees: INR 320 for each person
Further Read: 9 Mystical National Parks Of Madhya Pradesh
So, these are the most famous and exciting water parks in Indore which you cannot choose to miss on your vacation in Indore. All the water parks have thrilling rides and other recreational facilities which allows you to spend some quality time with your friends and family throughout the day. 
---
Looking To Book An International Holiday?
---
People Also Read:
Water Parks In Varanasi Water Parks In Chandigarh Water Parks In Surat