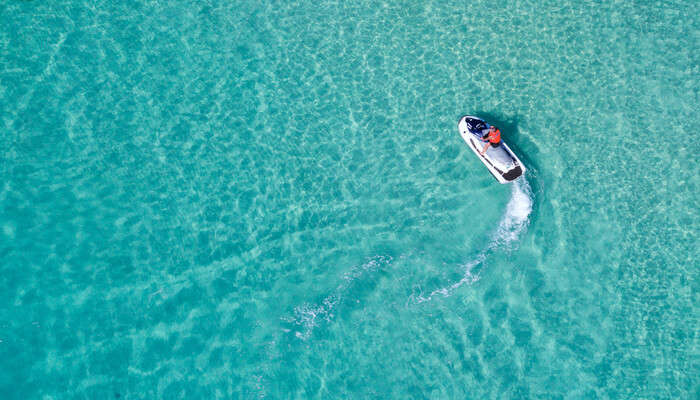 The mesmerizing town of Galle is nestled on the south coast of Sri Lanka. Galle is popular for its ancient forts and churches, mosques, museums, and forts built during the colonial period of Portuguese. The walled city has a well-preserved history and culture. The city of Galle is dotted with pristine beaches fringed with palms and white shimmering sand. There are a plethora of water sports in Galle, that can be enjoyed on the beachfront.
Unawatuna Beach in Galle is famous for snorkeling, scuba diving, and canoeing and Mirissa Beach is well known for surfing. You can also try white river rafting in the Madu River in Galle district.
10 Best Water Sports In Galle
Water sports in Galle can be best enjoyed from October to April, as the place sees less rainfall during these months. The sea becomes quiet and top water sports in Galle, Sri Lanka can be relished the most. The wettest months of Galle are from May till September, the sea is a little rough and it is difficult to enjoy water sports activities.
1. Scuba Diving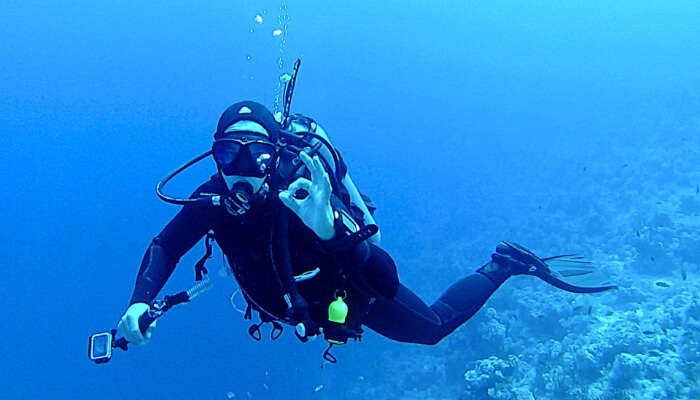 Scuba Diving is the best way to witness the mesmerizing underwater life directly. Get up close with the spellbinding marine world which is mystical and breathtaking. Marvel at the colorful and diverse marine occupants. One can swim underwater for an extended time with the help of a compressed air tank in scuba diving activity. Those who haven't tried it before need to take a training session before to learn how to use the gears while diving deep into the sea.
Scuba diving has a few health benefits such as it fights against stress by giving your body a relaxing experience and keeps you fit since its little challenging to move the gear and dive underwater. Scuba diving is the most adventurous water sports in Galle and can be tired on the beach of Unawatuna.
Best Time: May to October
Prices: Approximately INR 5104 per person
Must Read: 10 Places To Visit In Nuwara Eliya In 2019: The Mini London Of Sri Lanka!
---
Sri Lanka Holiday Packages On TravelTriangle
Book your Sri Lanka trip from TravelTriangle: Inclusive of Hotels, Sightseeing, Transfers, & Meals. Best Prices Guaranteed. Get Customizable Package & Free Guidance From Destination Experts. Book Now!
---
2. Snorkeling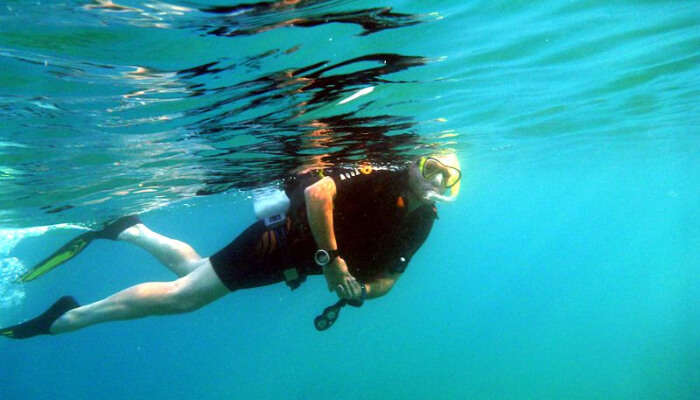 The swimming on or through the water bodies with the help of a diving mask is termed as snorkeling. This activity is again famous in Galle where you can discover the beautiful underwater world with less complicated equipment, unlike scuba diving. It is a simple activity where much of the training isn't required. Snorkeling can be tried at Hikkaduwa and Unawatuna beaches in Galle.
Best Time: March to May
Prices: Approximately INR 1400 per person
Suggested Read: 9 Things To Do In Ella That Will Take Your Sri Lanka Trip To The Next Level
3. Surfing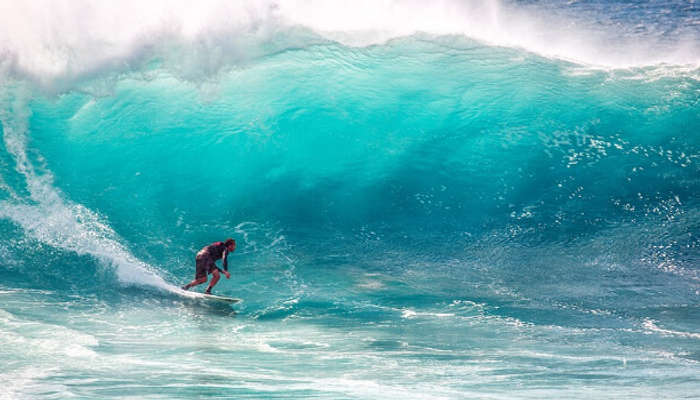 Another popular water sport in Galle is Surfing on the beach of Mirissa. Surfing is basically an activity of riding and breaking waves in the ocean by a surfboard. A little rough sea and great waves are required for surfing. Those who haven't tried surfing before need to take up training sessions. Mirissa Beach is visited by professional surfers every now and then, these experienced surfers also compete with each other.
Best Time: November and April
Prices: Approximately INR 600 for 3 days
Suggested Read: 10 Best Villas In Mirissa To Soak In A Mesmerizing Sri Lankan Holiday Like Never Before!
4. Jet Skiing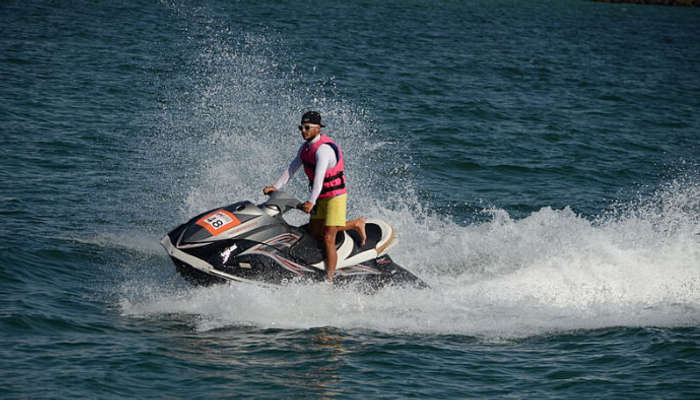 If you have a knack for high-speed, you must try jet skiing for sure on the beaches of Galle. It is one of the most sensational and stirring activities, perfect for those looking for some adventure. If you are a first-timer, you need to take a coach session which is available on the beach before you begin with it. The adrenaline attached to Jet Ski is the reason behind the attraction of thousands of local and foreign tourists toward this high-speed sport. Hikkaduwa and Unawatuna are the best beaches for water sports in Galle.
Best Time: October to April
Prices: Approximately INR 1500 for 15 minutes
Suggested Read: Viharamahadevi Park: A Handy Guide To Explore This Nature's Paradise In Sri Lanka!
5. Banana Boat Ride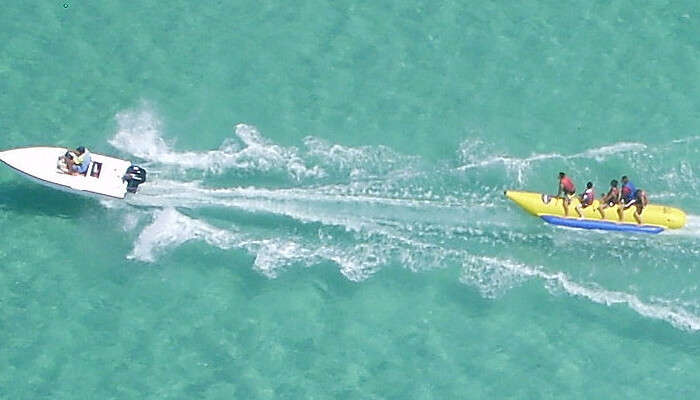 The banana boat ride is the most exciting activity which can be equally enjoyed by adults as well as children. A banana-shaped inflatable boat is used where 6 to 7 people can sit in a line. The inflatable boat is then pulled by a speed boat that sprints into the sea, giving you a thrilling and exciting experience. The banana boat ride can be enjoyed in Bentota which is a resort town in Galle district.
Best Time: October to April
Prices: Approximately INR 1600 for 4 to 6 people
Suggested Read: Ceylon Tea Museum: The Perfect Spot To Relish The Taste Of The Authentic Sri Lankan Tea!
6. Donut Tube Ride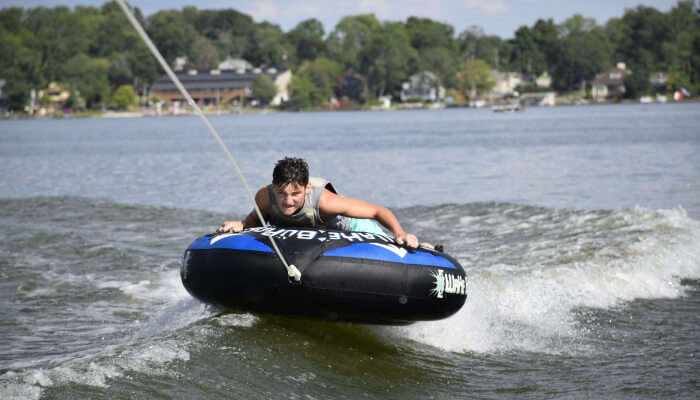 Another adrenaline-pumping ride is a donut tube ride where a donut-shaped inflatable boat is dragged by a speedboat. This thrilling and joyous activity can be enjoyed by children as well as by adults. This activity is highly popular because of its ease of use and affordability. One doesn't need to know how to swim for the donut tube ride but must wear a life jacket before hopping on the tube.
Best Time: October to April
Prices: Approximately INR 1600 for 4 to 6 people
Suggested Read: Dehiwala Zoo: A Pocket Guide To Have A Funtastic Experience On Your Next Sri Lankan Vacay
7. Canoeing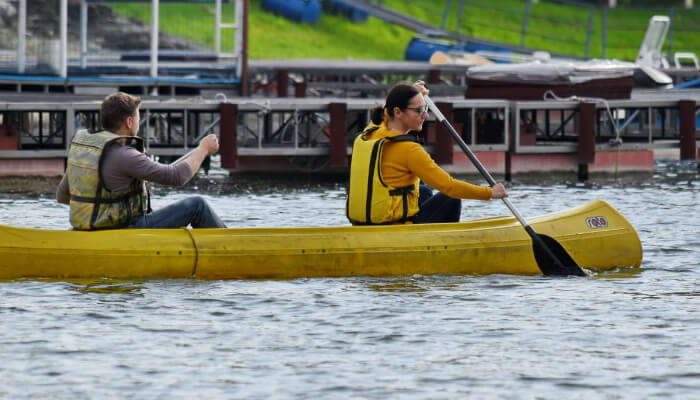 Canoes are lightweight boats, designed mostly for two people. The activity which requires you to paddle a canoe with a single-blade paddle is called canoeing. Canoeing is best enjoyed in Unawatuna Island in Galle District, the island is bestowed with mesmerizing rivers, canals, and beautiful lagoons. While canoeing on the Unawatuna Island marvel at the captivating landscapes and at the wide variety of flora and fauna. Witness the breathtaking views of mangrove trees and appreciate the charming wildlife.
Best Time: November to May
Prices: Approximately INR 2100 per canoe
Suggested Read: The Ultimate Guide To Sri Lanka's Dambulla Cave Temple
8. Kayaking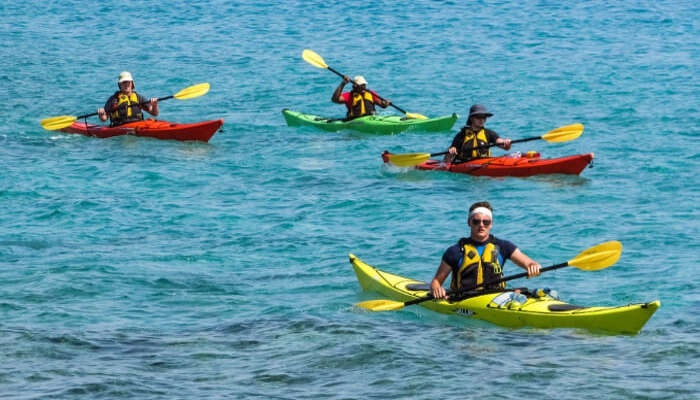 Moving kayak across the water with the help of a double-bladed paddle is termed as kayaking. The boats used for kayaking are single-seater and usually sit lower in water than the boats used in canoeing. Kayaking can be experienced in Bentota which is a resort town in Galle district. It is best enjoyed in speedy and gushy water.
Best Time: October to early May
Prices: Approximately INR 1100 per hour
9. Parasailing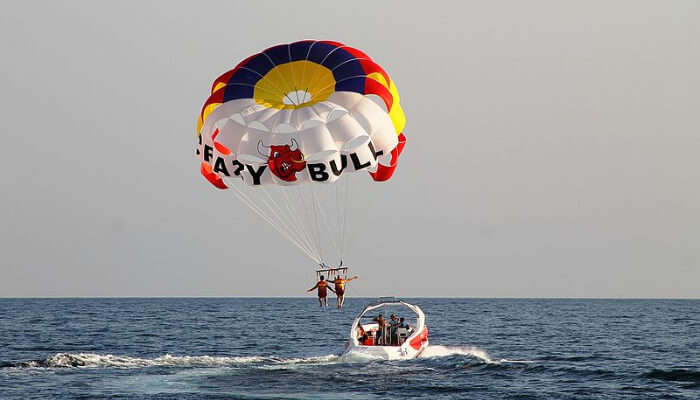 In parasailing activity, a person is towed behind a speedboat while attached to a canopy wing. The speed boat then sprints in the sea carrying the canopy wing and the person into the air. The activity is a fun ride and can be enjoyed by both adults and children. This exciting activity can be relished in Bentota.
Best Time: October to April
Prices: Approximately INR 1000
10. White Water Rafting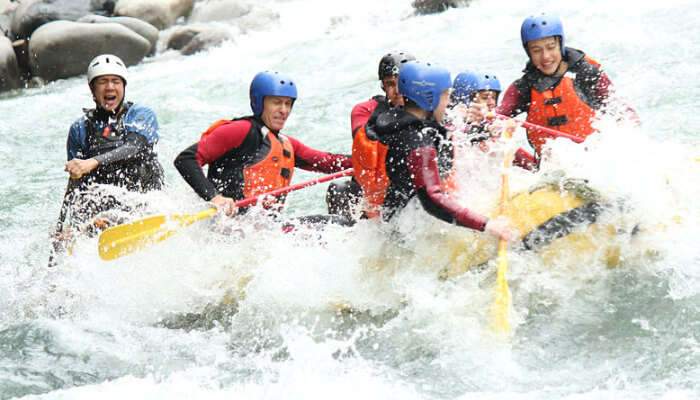 Enjoy the thrilling white river rafting in the Madu River in Galle district. An inflatable raft is used to navigate through rough and gushing water of the Madu River. Try this adventurous water sport and experience your adrenaline going up.
Best Time: April to November
Prices: Approximately INR 600 per person
Further Read: 10 Things To Do In Galle For An Entertainment Filled Holiday
Experience the thrilling and exciting water sports in Galle and have a gala time with your family or friends. A few of the water sports require you to take up coaching sessions before you attempt them and others can be tried without any training. Be careful and always take all the precautionary measures before you try any of the water sports. So go ahead and plan your vacation to Sri Lanka with TravelTriangle
People Also Read
Water Sports in Hikkaduwa Water Sports In Trincomalee Water Sports In Sri Lanka
---
Looking To Book An International Holiday?
Book memorable holidays on TravelTriangle with 650+ verified travel agents for 65+ domestic and international destinations.
---
Comments
comments