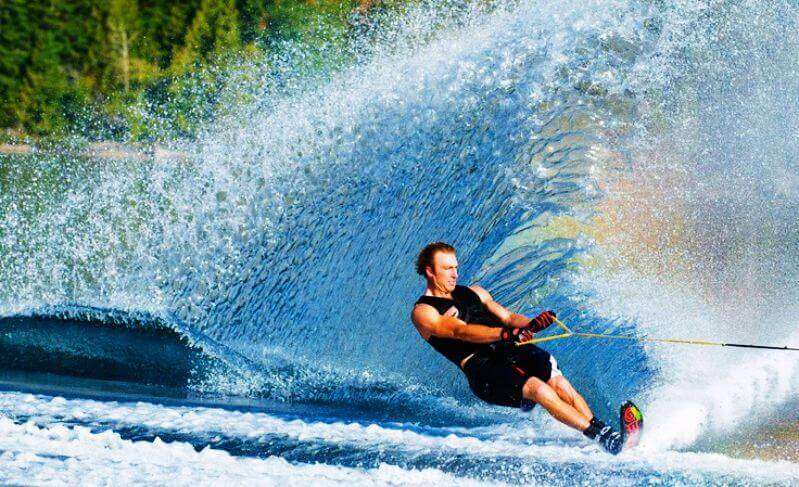 It's that time of the year again when we head to cooler places to get away from the sweltering heat. But aren't you bored of the same old getaways? To pump in a little adventure, head to Mauritius this time. Yes, we know it's a typical honeymoon place, but water sports in Mauritius are too good experiences to miss out.
From letting you beat the heat to helping you calm the adventurer in you, these activities are perfect to add to your trip itinerary. But what exactly should you indulge in? Well, don't fret about that as we've got you completely covered.
12 Top Water Sports In Mauritius
Even if you aren't a water baby, Mauritius will make you fall in love with at least the basic water sports that need no swimming training. And the below given list of the best water sports will also tell you about the cost of water sports in Mauritius!
Parasailing
Cave Sea Kayaking
Water Skiing
Windsurfing
Deep Sea Fishing
Blue Safari Submarine
Dolphin Spotting And Whale Watching
Underwater Sea Walk
Sea Hover
Underwater Scooter
Snorkeling
Scuba Diving
1. Parasailing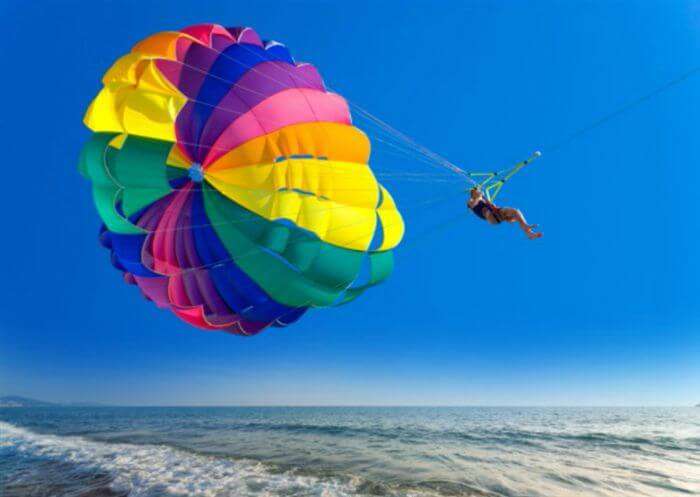 Parasailing in Mauritius is a great sport to start with. It not just gives you a bird's-eye view of the lagoons, but also an unmatched thrill. This is the best place to lose yourself in the magnificent turquoise waters and their vastness. The duration differs from place to place, but basically a parasailing flight is about 5 to 15 minutes. Parasailing is one of the best water sports in Mauritius but make sure you double check your safety gears and harnesses before taking off.
Adventure level: Moderate
Where: Grand Baie, Trou d'eau Douce, and Ile aux Cerfs.
Swimming required: No
Tips: If you carry your camera, make sure that you strap it properly. And if you are worried about the cost of water sports activities in Mauritius, don't because the experiences make every penny spent worthwhile.
Suggested Read: 8 Waterfalls In Mauritius To Witness The Prodigious Work Of Nature!
2. Cave Sea Kayaking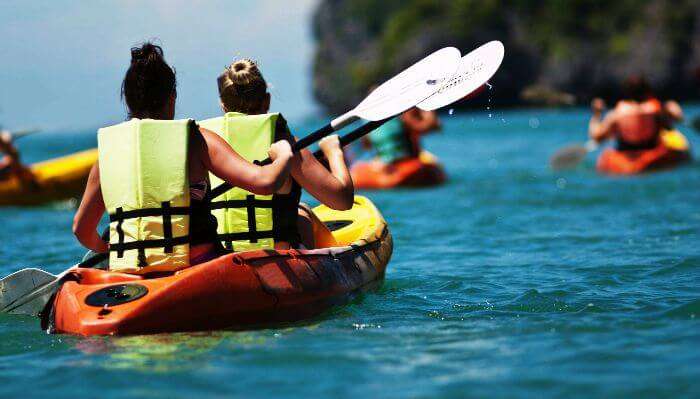 A rather easy one among various water sports holiday in Mauritius, kayaking allows you to explore mysterious islands and caves. You can opt for a single kayak or a double kayak. The best part is that you can discover a lot more on your own. If starting from Pointe Aux Sable, paddle through the water and discover the gorgeous basalt rock gardens while entering in the stunning rock caves. You will be left spellbound with the beautiful sights you witness on this journey.
Adventure level: Moderate to Difficult
Where: The Cliffs of Albion in the Mauritius West Coast; starting point is Pointe Aux Sable.
Swimming required: No
Tips: Pack extra pair of clothes, sunscreen, towels and comfortable sandals. You can also opt for Cave Sea Kayaking classes. Yemaya Adventures offers various courses.
Suggested Read: 33 Things To Do On Mauritius Honeymoon For A Ultra-Romantic Affair In 2022
3. Water Skiing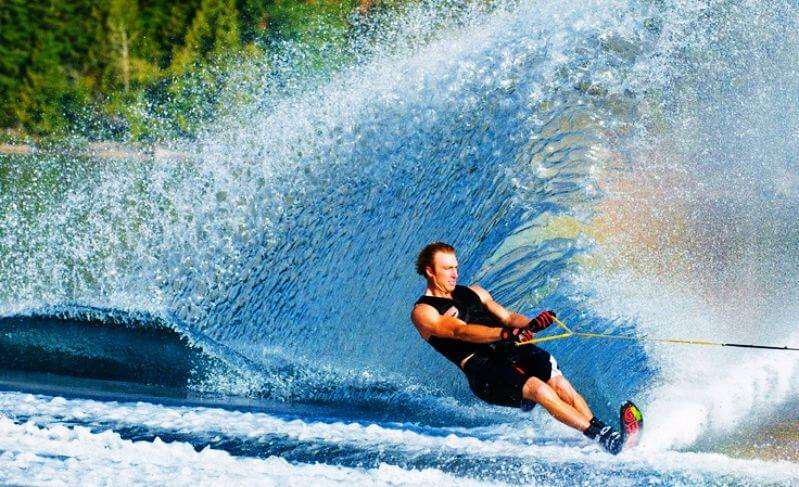 Water skiing in Mauritius is a wonderful sport to get an adrenaline rush. This high-octane sport seems a tad difficult at first, but soon it becomes a smooth sail. All you need to do is skim along the water's surface, standing upright on skis holding a tow rope. Water-ski is best enjoyed where the water is calm. This water sport will need you to use a lot of energy, so keep your energy drinks handy.
Adventure level: Difficult
Where: Trou d'eau Douce and Grand Baie
Swimming required: Yes
Tips: Before you hit the water, get a brief idea about the sport and the equipments. Don't forget to wear a life jacket.
4. Windsurfing

Windsurfing in Mauritius is exciting as well as challenging. For beginners, it involves standing on a surfboard and controlling the speed, acceleration and the direction with the sails. Crash courses are available easily. Besides being fun, it's a great form of workout and can burn upto 1000 calories per hour. That's good for a sport, right?
Adventure level: Difficult
Where: Le Morne peninsula, Small Reef, Manawa and One Eye
Swimming required: Yes
Tips: Warm a little bit before you start. Get a big board for easier surfing. Learn from the pros. Best season is December to April.
5. Deep Sea Fishing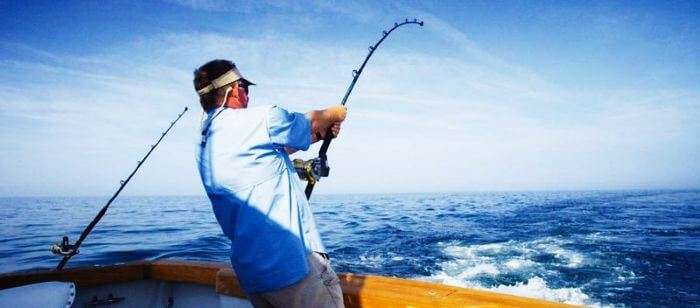 Game fishing is for people who love adventure, but not the usual way. Another of many water sports in Mauritius, it is a lot of fun and also gives you a great dish for dinner. There are overnight fishing expeditions too. But remember, this activity needs a lot of patience from your end.
Adventure level: Easy
Where to try: Grand Bay and Black River
Swimming required: No
Tips: Talk to experts for quick and easy tips. Always put attention to details like your equipments and stuff. Pick your target well. And do a proper homework. Best Season is July to October
Suggested Read: Mauritius Snorkeling: A Guide For Snorkeling In This Scenic Island Nation In 2022!
6. Blue Safari Submarine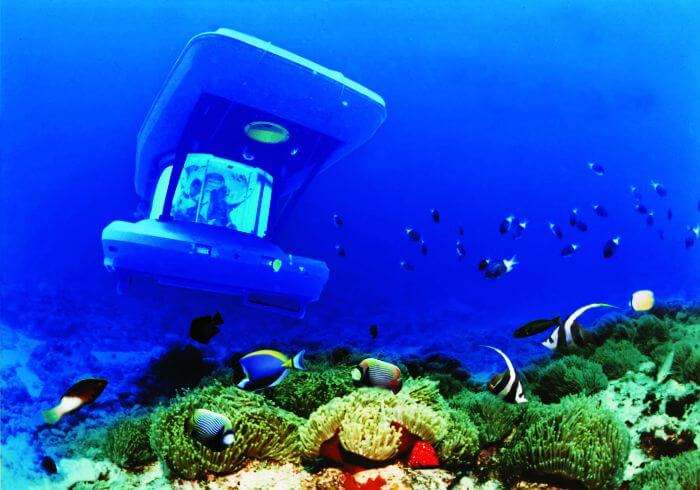 Wish to dive, but don't want to get wet? Try Blue Safari Submarine ride. It is a different one among Mauritius water sports, and takes you among the exotic corals and the ship-wreck 'Star Hope'. Located at Trou Aux Biches & Mont Choisy, Blue Safari Submarine will give you a whirlwind tour of the ocean. So, this like a aquarium but with a twist, as you are inside it!
Adventure level: Moderate
Swimming required: No
Tips: Reservations are recommended at least a day in advance.The price per adult is Rs 39,000 and for children it's Rs 23,000.
7. Dolphin Spotting And Whale Watching

If any of the above water sport activities in Mauritius don't seem like your style, try this one. Not exactly a sport, but dolphin spotting and whale watching in Mauritius definitely makes your trip unforgettable. It requires a bit of patience and hunting, but the result is priceless. Its a great feeling to witness the giants of the ocean, in their natural environment.
Adventure level: Easy
Where to try: The coast of Tamarin
Swimming required: Yes (If you want to swim with the dolphins)
Tips: This trip will take about two hours. Take enough drinking water with you. Not recommended for pregnant women. Also, the activity depends on the weather and sea condition.
8. Underwater Sea Walk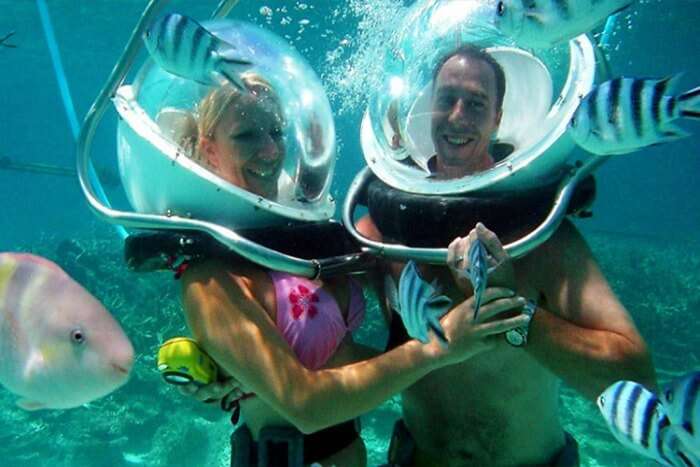 The name says it all! Try underwater sea walking if you want to explore the rich sea life. It might be little scary at the beginning, but it's worth it. Compared to other water sports activities in Mauritius, this is gives you the best underwater experience. Going out on a walk on the sea floor can also be a romantic thing to do for sporty couples.
Adventure level: Moderate
Where to try: Trou d'eau Douce and Port Louis
Swimming required: No
Tips: The underwater walk is not suitable for children below 7. Remember to get a swimsuit and a towel.
Suggested Read: 95 Best Honeymoon Destinations In The World In 2022 For A Romantic Escape!
9. Sea Hover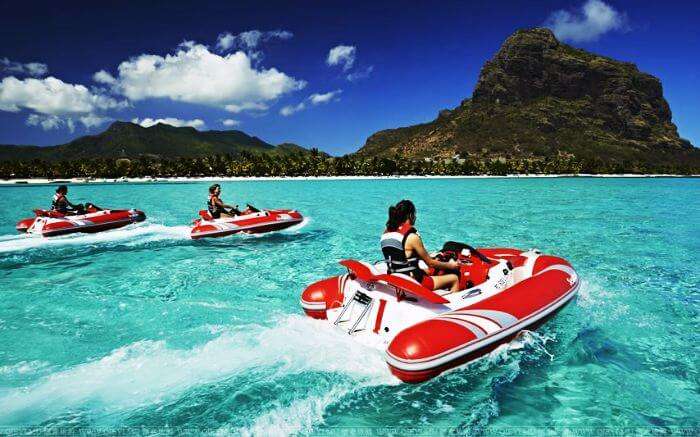 Craving for some intense fun? Try Sea hover. If you love speed and roller coasters, sea hover will be one of the most exciting sea activities in Mauritius for you. Sea Hover is recommended for adrenaline junkies out there! But make sure that you have your safety gears and that you follow all the safety instructions too.
Adventure level: Moderate
Where to try: Benitier's Island, Le Morne, La Balise Marina and the coast of Flic en Flac
Swimming required: No
Tips: Since it's all about speed, get yourself ready for some extreme fun. Don't forget your life jacket!
10. Underwater Scooter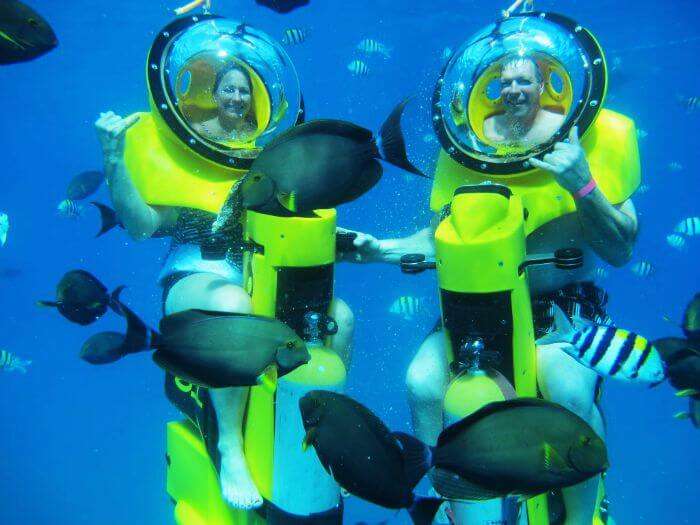 How about going on a scooter ride into the ocean? Take romance to a whole new level with underwater scooter, the latest to enter the exciting world of adventure activities in Mauritius. Perfect for couples, the experience is pretty much like scuba diving.
Adventure level: Easy
Where to try: Grand Bay and Trou aux Biches
Swimming required: No
Tips: Wear comfortable flats. Also, get your own swimwear or shorts and swimwear.
Suggested Read: Mauritius vs Seychelles – Which Honeymoon Destination Wins The Love Showdown In 2022?
11. Snorkeling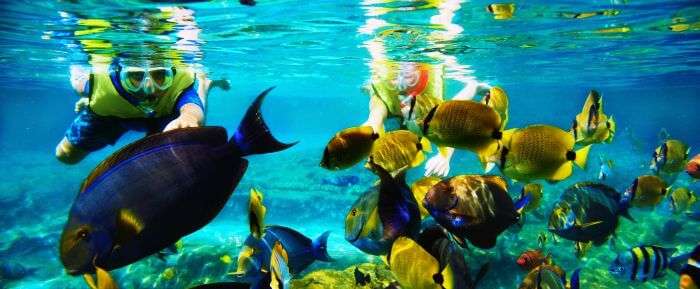 What's the fun without some snorkeling in Mauritius? Plunge into the blue sea and explore the magical corals and marine life. This is an experience you will never forget, 'cos the reefs here are spectacular. It is one of the most popular water sports at Ile Aux Cerfs, Mauritius.
Adventure level: Easy
Where to try: Blue Bay Marine Park, Pointe aux Piments, Trou aux Biches, Ile aux Cerfs or Flic en Flac
Swimming required: No
Tips: Wear comfortable light swimwear for snorkeling in Mauritius. If you want to take pictures, get yourself an underwater camera.
12. Scuba Diving

In Mauritius, the scuba diving scene is absolutely fascinating. Enjoy the colorful marine life and the peaceful silence of the sea as you dive into it. And this sport is not limited to the diving experts only. Non-swimmers can scuba dive as well, but if you know how to swim, scuba diving in Mauritius can be an exhilarating experience.
Adventure level: Moderate
Where to try: Colorado and Roche Zozo located off Blue Bay on the southern coast of Mauritius.
Swimming required: Preferably
Tips: To get the best out of your diving experience in Mauritius contact with accredited dive centers such as the Ocean Spirit Diving Center in Péreybère or Tamarin Ocean Pro Diving in Tamarin. They are totally safe and will give you proper guidance.
Further Read: 8 Exciting Things To Do In Mauritius On Your Vacation In 2022!
Mauritius has a lot to offer. And, there's something for everyone. While you splash around, don't forget to stuff yourself with the toothsome local cuisine and do check out the water sports packages in Mauritius so that you can get your itinerary planned accordingly. So, go ahead, plan a trip to Mauritius and have truckloads of fun with these amazing water sports activities in Mauritius!
---
Looking To Book An International Holiday?
Book memorable holidays on TravelTriangle with 650+ verified travel agents for 65+ domestic and international destinations.
---