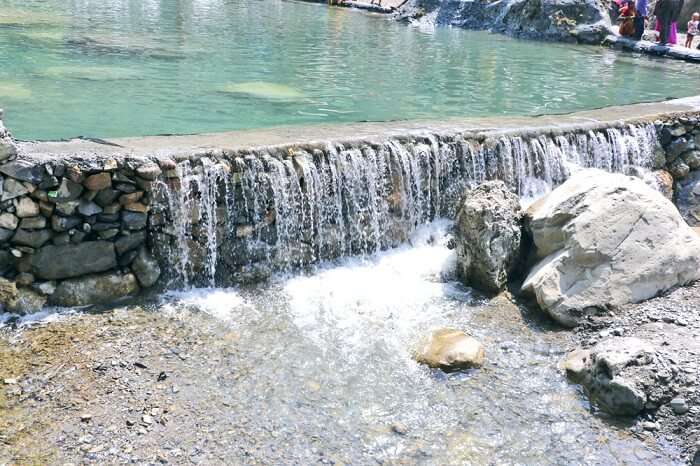 Combined with the snow capped peaks of Uttarakhand, and the lush green forests that lead you to amazing trekking memories, waterfalls in Uttarakhand rejuvenate your mind, body and soul like no other. Whether it is about bathing in the medicinal natural ponds at the edge of these waterfalls, or simply admire their beauty on a day trip, the undeniable serenity of these falls add more to your ordinary day.
If you're one of those people for whom only thinking about such places sparks joy, then scroll down to know what awaits you at these falls to plan a perfect outing!
8 Best Waterfalls In Uttarakhand
With so many serene places around the country, the charm of waterfalls can surely not to be missed. So, check out this list of the best ones in Uttarakhand for your next vacay!
1. Kempty Falls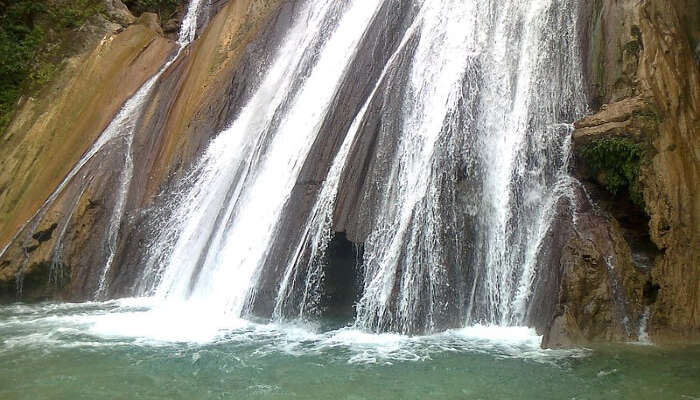 Located a few kilometers off Mussoorie, Kempty falls is a serene waterfall that is a must visit for all the tourists visiting the nearby hill station. Falling from a height of 1364 metres above sea level, these falls are an amazing site to admire. Nature's beautiful creation like this one is a perfect spot for a day trip or a picnic with your loved ones and stay till the evening time to revive your senses with a fresh cool breeze that flows around this region. So, when are you planning to visit one of the top waterfalls in Uttarakhand?
Must Read: Dehradun Travel Guide: A Traveler's Handbook To Explore The Capital City Of Uttarakhand!
2. Bhatta Falls
Earlier a lesser known place, this charming waterfall in Mussoorie has gained popularity in recent years and is surely not to be missed while you're planning a trip to Mussoorie. You can easily reach this place via bus or a car in the Bhatta village and have a fun outing with your folks! A rather steep fall, that comes directly from the hills above, hitting the rocks around, people belonging to different age groups visit this place to bathe and enjoy the serenity of this place.
Suggested Read: Uttarakhand In June: Your Personal Guide For A Blissful Vacay In Summer
3. Corbett Falls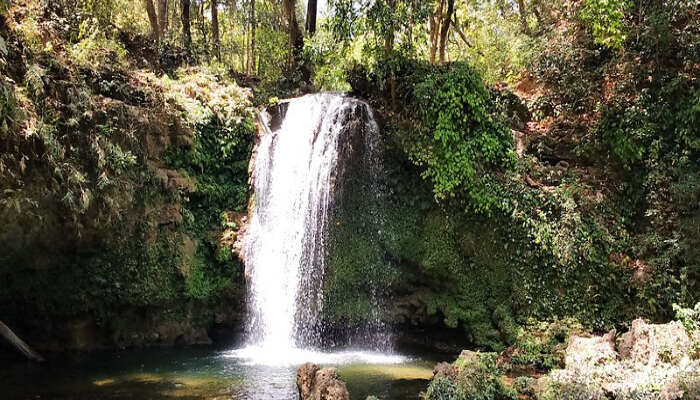 With a mere distance of 25 Kms from Ramnagar, you can easily reach Corbett falls in Uttarakhand for a day trip. The dense teak wood forest adds more to the charm of this place and a melodious chirping of the birds in this region will make you stay for a bit longer. You can either stay overnight and set a camp near these waterfalls or just have a picnic meal with your favourite travel folks. This is surely amongst the most famous waterfalls in Uttarakhand that you ought to visit!
Suggested Read: Shopping In Uttarakhand: 5 Souvenirs You Cannot Leave 'Devbhoomi' Without
4. Vasudhara Falls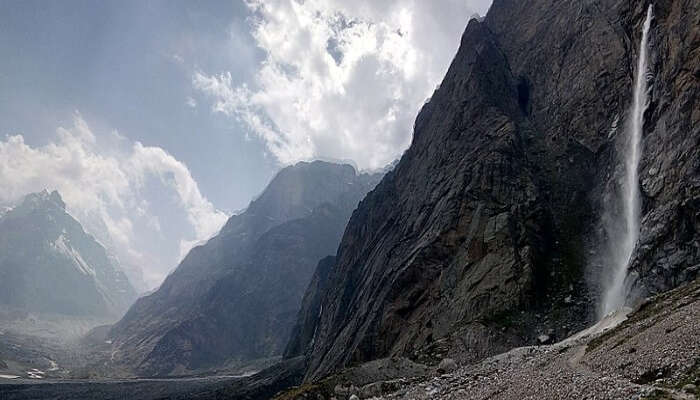 With a close proximity to Badrinath, Vasudhara falls make an amazing spot to witness spectacular views around and soak in the tranquility that accompanies this environment. Dropping from a height of 400 feet and 122 metres above sea level. Even though it is said that the true beauty of this place can only be admired by those who are guilt free, it is always a good idea to visit waterfalls to revive your senses.
Suggested Read: 8 Cozy Hostels In Uttarakhand That Are Perfect For Budget Travelers
5. Neer Garh Waterfall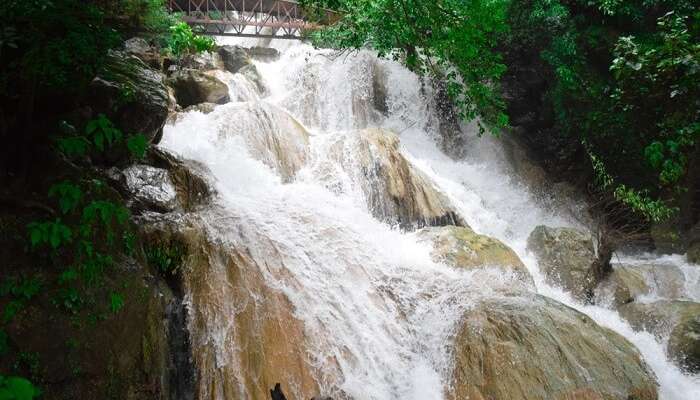 You can easily reach Neer Garh waterfall from Rishikesh railway station, as it is only at a distance of 9 km. Amongst the most popular places to visit in Rishikesh, this waterfall is known for having a fun trek abode. If you're not in the mood to exercise, then surely a dip in the cool waters of this place will be perfect for you. There are also two bridges on this waterfall and the colourful butterflies found here add more beauty to this place.
6. Birthi Falls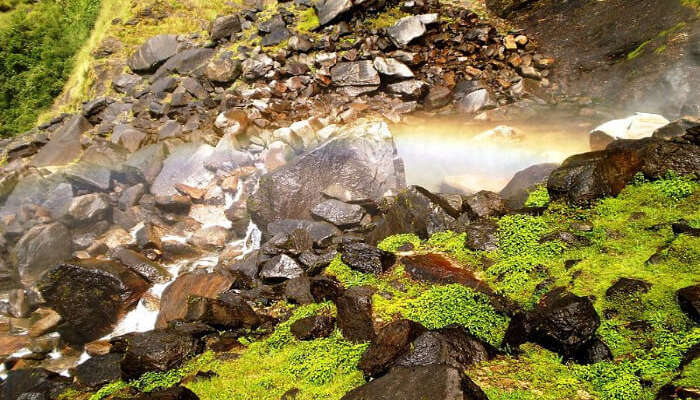 Covering a mere 14 km distance from Tejam will let you experience the splendid site of Birthi Falls in Pithoragarh district of Uttarakhand. 400 feet above sea level, the rolling water splashes on the shore with an unparalleled gorgeous view that is more than enough to make your day. You can even choose to trek to this place and have an exciting outing with your pals at this site for sure!
Suggested Read: Paragliding In Uttarakhand: 5 Best Places To Make Your Heart Skip A Beat
7. Tiger Falls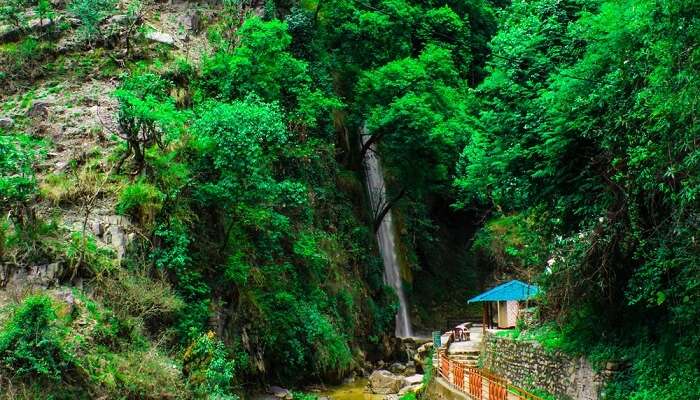 Falling from a height of 50 metres, the renowned Tiger falls offer a relaxing bath in the pond below. You can easily access this place via a short trek of 1 km after a drive on Chakrata – Lakhamandal route. An alternative route involving the scenic views of the forests in Chakrata via a 5 km trek can also lead you to this place. Be careful of the narrow and rough roads that are used to reach this place and they're only suitable for SUVs.
8. Sahastradhara Falls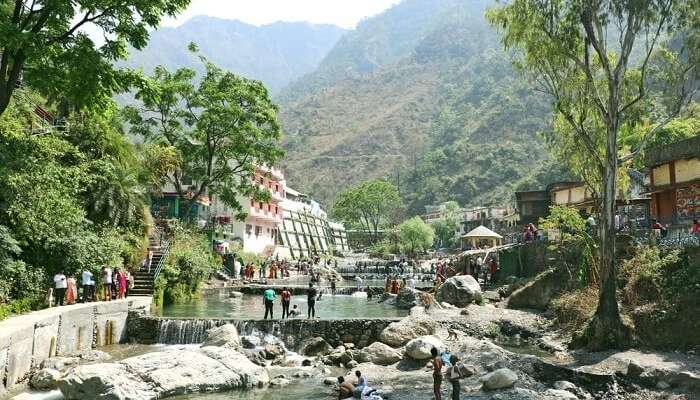 With numerous caves around, we wouldn't be surprised if Sahastradhara falls turns out to be your favourite waterfall in Uttarakhand. The sulphur content of this waterfall is said to have medicinal properties, which is why you can see many locals as well as tourists bathing in these falls. The best time to visit this place is the rainy season, when the falls have more water and the relatively greener region in the surrounding adds to the charm of this place. You surely cannot miss out on the best waterfall in Uttarakhand on your next vacay!
Further Read: Rivers In Uttarakhand: Know Everything About These Water Bodies Which Are A Lifesource Of The State!
Some of the best vacation plans are made spontaneous and if knowing about these waterfalls has sparked a crazy idea for an immediate travel plan, we wouldn't blame you. The serenity and absolute bliss that Uttarakhand has in store can be best experienced with these stunning creations of nature. So, what are you waiting for? Pack your bags and plan a trip to Uttarakhand for an ultimate holiday experience with your loved ones like never before!
Frequently Asked Questions About Waterfalls In Uttarakhand
Q. What is the best time to visit Uttarakhand?
A. Uttarakhand is one of the most popular destinations to travel that can be visited throughout the year. The peak season for Uttarakhand is the summer season when the weather is pleasant and cold. It is best to avoid the peak monsoons in July and August as the hills during rainfall can get a little risky.
Q. Can we enter the pools of waterfalls in Uttarakhand?
A. Yes, most waterfalls in Uttarakhand allows travelers to take a dip in the pools of the falls. However, Corbett Falls in one such falls that should only be witnessed from afar.
Q. Which is the highest waterfall in Uttarakhand?
A. The highest direct waterfall is the Tiger Falls that is located in Chakrata town of Uttarakhand. The Tiger Falls stand tall at a height of 312 ft, making it the highest direct waterfall of the country.
Q. Which location in Uttarakhand has maximum number of waterfalls?
A. Most of the waterfalls in Uttarakhand are located just a few kilometers away from Dehradun, making it a centre point to reach various falls.
Q. Does it snow in Uttarakhand?
A. Yes, Uttarakhand reeks of magic and resembles a white wonderland when covered in snow. Uttarakhand experiences snow during early January. The places where one can witness snowfall are Auli, chopta, Kausani, Lansdowne, Mukteshwar, and Mussoorie amongst many others.
Q. What are some things to do in Uttarakhand?
A. Uttarakhand hides numerous impeccable things that one can be a part of. From rafting in Rishikesh and camping in Chopta to trekking in Kedarkantha and shopping in Mussoorie, there is something to do everyone and anyone.
Q. What is an average temperature of waterfalls in Uttarakhand?
A. Since Uttarakhand is a hill station, the temperature of waterfall hardly rises above 15 degrees Celsius. However, the temperature falls down tremendously during the winter season.
Q. How can I reach Tiger Falls?
A. Located in Chakrata, Tiger Falls can easily be reached by road. Nearest railway station and airport are situated in Dehradun that are 86 kms and 116 kms away, respectively. To reach Tiger Falls from Chakrata, one needs to walk along a trail, it is an easy trek that can be done by beginners.
Q. Where is Corbett Falls located?
A. One of the mesmerizing falls in Uttarakhand are the Corbett Falls. These Falls are located in Nainital and offers a perfect spot to enjoy a family outing.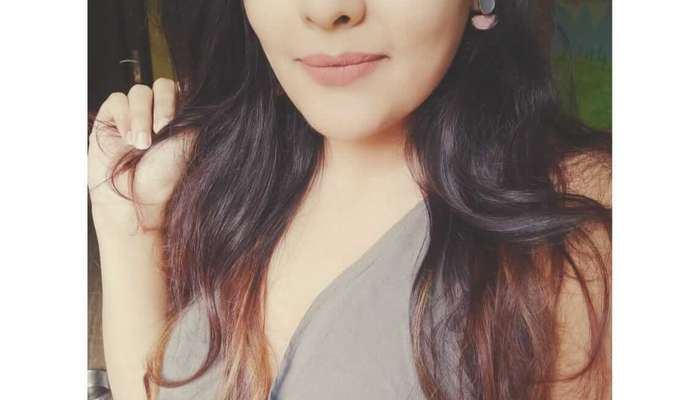 Comments
comments