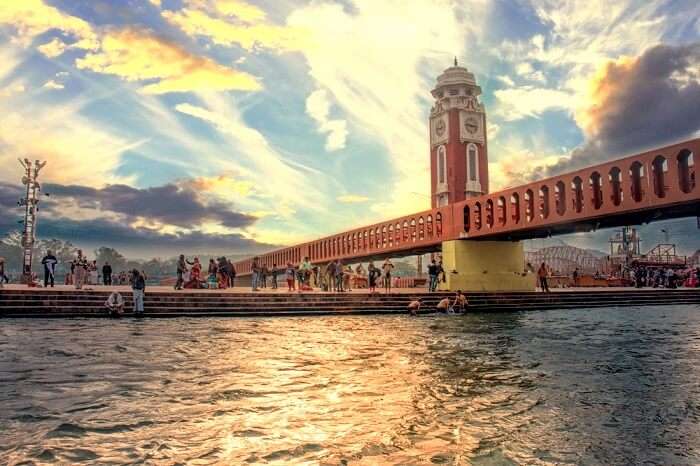 Uttarakhand is an abode of glistening rivers which flows from the imposing glaciers situated at the Himalayan peaks. Uttarakhand is a sacred land where 2 holy rivers, Ganga and Yamuna, flow through. But apart from these holy rivers, the state is also a confluence point of many other rivers.
Along with having various cities settled across its shores, these rivers in Uttarakhand are also a major source of irrigation and power generation. So, if you're planning a vacation to this majestic state make sure to take a trip around these rivers and enjoy its silent serenity, make a camp, boat, fish or raft across.
16 Beautiful Rivers In Uttarakhand
Apart from being a nature's paradise and an adventurer's abode, these rivers in Uttarakhand seek out the better part of the state. Here is a snapshot of the rivers:
1. Ganga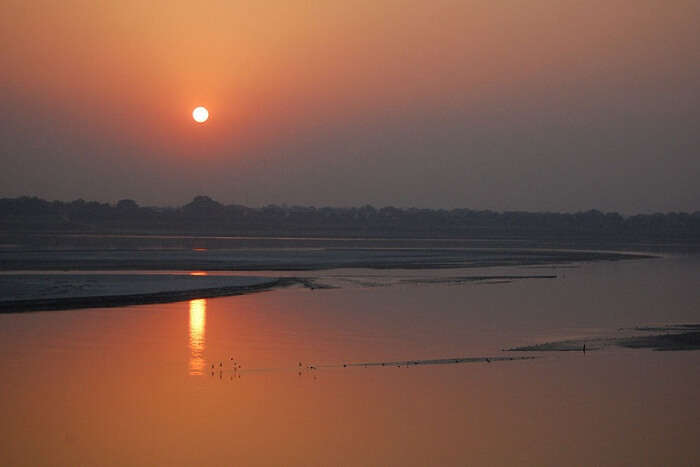 The Ganges river is considered as the holiest river according to the Hindu religion. Symbolizing elements of divinity, spirituality, moksha and purity, this holy river body has its mention in many ancient relics. Often considered as a life-giving river and goddess, the river Ganges originates from Gomukh situated in Uttarkashi in Uttarakhand.
In North India, the Ganges river is the major water body on whose banks numerous civilizations have inhabited. Emerging from the peaks of the Garhwal Himalayas, the river takes on a journey of 2,525 km while passing through Uttar Pradesh, Bihar and West Bengal and merges at the Bay of Bengal.
It is also believed that bath in the holy water or cremation and immersion of ashes at the ghats of Ganges are holy duties.
Tributaries: Alaknanda and Bhagirathi
Must Read: Top 44 Amazing Places To Visit In Uttarakhand In 2022
2. Yamuna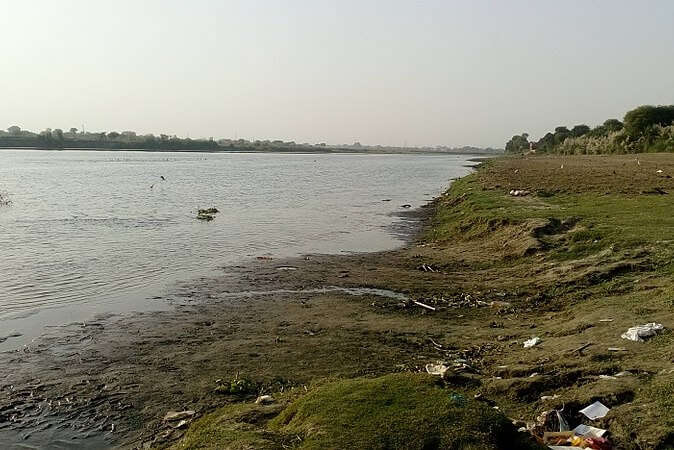 Yamuna is another holy river in the hindu mythology which originates from the Yamuna glacier which is resting at an altitude of 6,315 metres. Flowing from below the peak of Kalindi Parbat, the melted glacier settles at the Saptarishi kund from where the journey of the river starts.
The Yamuna river passes from Uttarakhand, Haryana, New Delhi and Uttar Pradesh where the river merges with Ganga at the Triveni Sangam. The literal meaning of "Triveni Sangam" is the confluence of three rivers i.e., Ganga, Yamuna and Saraswati.
This river is the longest river which stretches to 1,376 Kms until it joins with river Ganga. There are many mentions of this holy river in the ancient texts and stories related to Mahabharata and Lord Krishna.
Tributaries: Tons River, Ken River, Hindon River, Sasur Khaderi River
Suggested Read: 13 Honeymoon Places In Uttarakhand For An Idyllic Escape In 2022 Right After The Wedding!
3. Alaknanda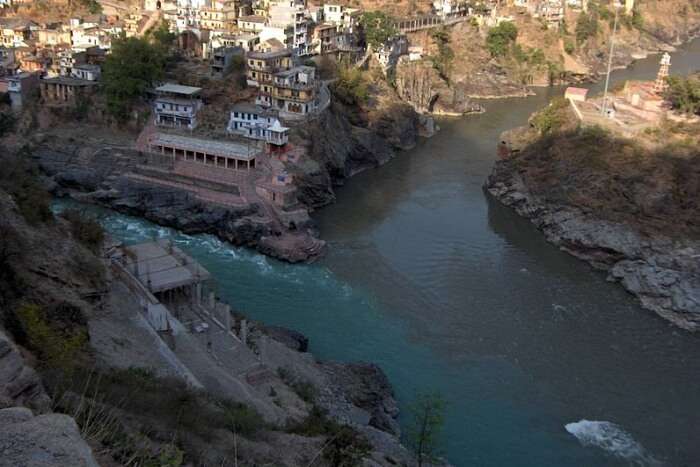 The Alaknanda river is considered as one of the most important water bodies which forms the river Ganges. It is one of the two major headstreams to form Ganga, the other being the Bhagirathi river. It emerges from the confluence of Satopanth and Bhagirath Kharak glaciers and merges at the Bhagirathi river at Devprayag.
There are many tributaries of Alaknanda which flows from Uttarakhand. Alaknanda is not only considered a major source of irrigation and power generation source but also holds a major role mythologies. Apart from this it's high currents and gushing water makes a perfect spot for various adventurous water sports.
Tributaries: Mandakini, Nandakini, Pindar
Suggested Read: 12 Places To Visit In Haldwani On Your 2022 Trip To This Gem In Uttarakhand
4. Bhagirathi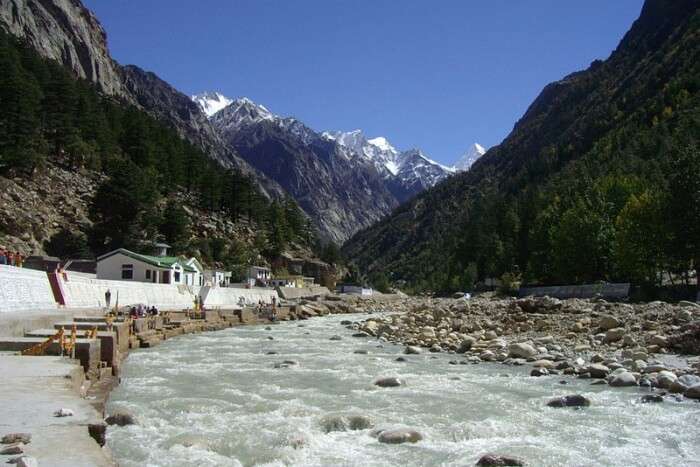 Image Source
Bhagirathi river emerges from Gaumukh which is situated at the base of the Gangotri glacier trek in Uttarakhand. This river is one of the two main headstreams of Ganga along with the Alaknanda river. Despite Alaknanda river is longer than Bhagirathi, according to mythology Bhagirathi is considered the main source of river Ganga.
The river commences a distance of 205 km and joined by small rivers and streams through its course. Alaknanda river and Bhagirathi river merges together at Devprayag located at a height of 475 metres above the sea level. This confluence point is considered as a very holy place as here the Ganga becomes complete and starts its course.
Tributaries: Kedar Ganga, Jadh Ganga, Kakora Gad, Bhilangana
Suggested Read: 28 Offbeat Places In Uttarakhand: Explore The Hidden Himalayan Gems In 2022
5. Ramganga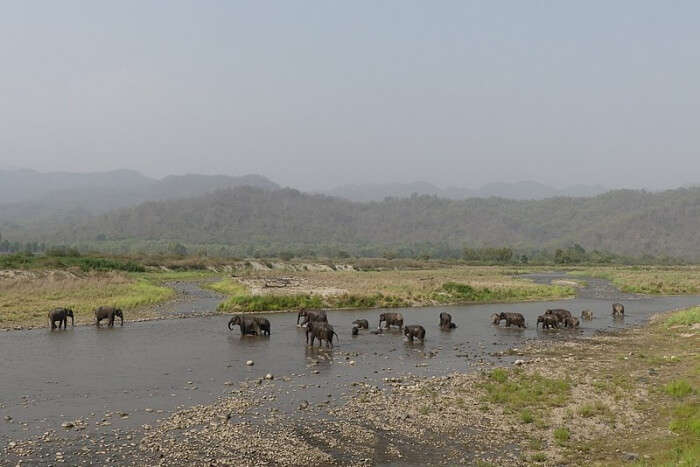 Originating from the lower Himalayas of Garhwal, the Ramganga river starts its course from a height of 3,110 meters near the Lohba village. The river flows down through a mountainous terrain and while covering its course it forms many falls and rapids. The Ramganga river is 155 km long and flows from the southwest towards the Kumaon Himalayas. This is also one of the most popular Uttarakhand rivers that you must visit during your travels. 
The course of the river passes through Jim Corbett National Park and descends to the plains. The cities which are inhabited at the banks of river Ramganga are Moradabad, Bareilly, Badaun, Shahjahanpur, and Hardoi situated in Uttar Pradesh.
Tributaries: Gangan, Kho, Kosi, Deoha and Aril
Suggested Read: Top 22 Places To Visit In Uttarakhand In Summer In 2022 To Dial Down The Heat
6. Kali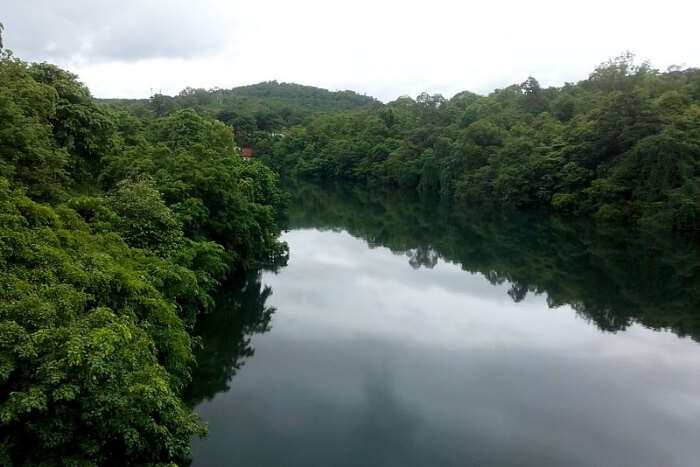 Image Source
River Kali emerges from the Trans-Himalayan zone of the Greater Himalayas which is situated at a height of 3,600 metres. Also called by the names of Mahakali, Kali Ganga and Sharda, this river flows from Kalapaani to Tanakpur and forms a liquid border between India and Nepal.
The Dhauliganga merges with Kali river at Tawaghat located in Pithoragarh district in Uttarakhand. This river creates an adventurous opportunity for people who want to experience white water rafting at high rapids. 
Tributaries: Sharda river
Suggested Read: Upcoming Eco Zones In Uttarakhand To Take The State's Tourism Up By A Notch
7. Bhilangna River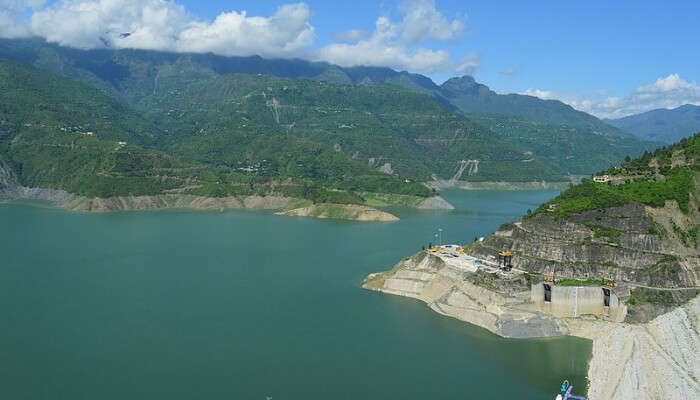 Image Credits: Yogendra Singh Negi for Wikimedia
The Bhilangna river is a tributary of the Bhagirathi river, one of the major rivers of Uttarakhand. The river rises at the foot of the Khatling Glacier while the popular Khatling trek route follows the side of river Bhilangna for a major part. The major towns which the river nourishes are Ghuttu, Biroda, Kalyani, Bhelbahi, Ghonti, etc. The river flows into Bhagirathi at old Tehri where the Tehri Dam has been built.
Tributaries: Bal Ganga
Suggested Read: Camping In Uttarakhand: 25 Best Spots To Treat The Adventure Junkie In You In 2022!
8. Saraswati River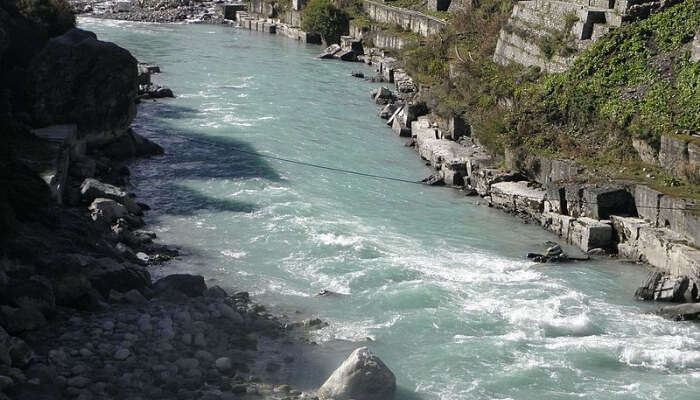 Image Credits: Karunamay Mukhopadhyay for Wikimedia
Don't be surprised by the name and if you are confused with the Sarasvati river (now lost). Even we are as surprised as you are. The Saraswati river does exist but gets sort of 'lost in translation'. It is a tributary of the Alaknanda river and joins it in Keshav Prayag near Mana village in Uttarakhand. There is a natural stone bridge called "Bhim Pul" lying across the river that eventually descends into a passage towards Satopanth lake and Vasundhara falls.  
Tributaries: None
Suggested Read: 7 Best Wildlife Sanctuaries In Uttarakhand Of 2022 Where One Can Closely Admire The Wildlife!
9. Gaula River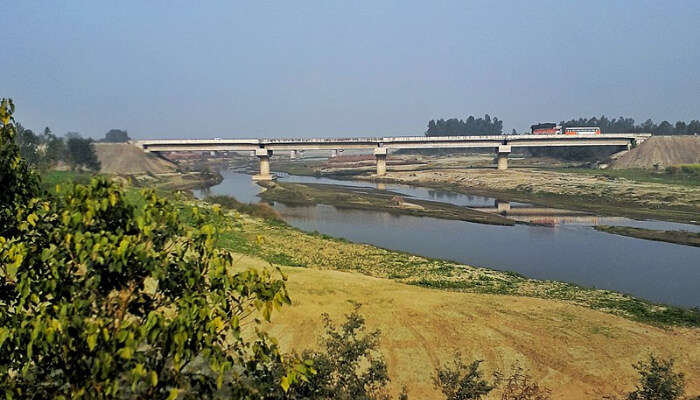 The Gaula is a small Himalayan river running for a total distance of 103 km. The river is a tributary of the Ramganga river which is itself a tributary of river Ganga. The source of the river is at Sattal lakes near Paharpani while the end point is Kichchha. The major towns that the river passes through include Kathgodam, Shahi and Haldwani. This is also one of the most visited Uttarakhand rivers for visitors planning camping. 
Tributaries: None 
Suggested Read: 19 Enchanting Lakes In Uttarakhand: Pick From Daring Treks And Soothing Getaways In 2022!
10. Gori Ganga River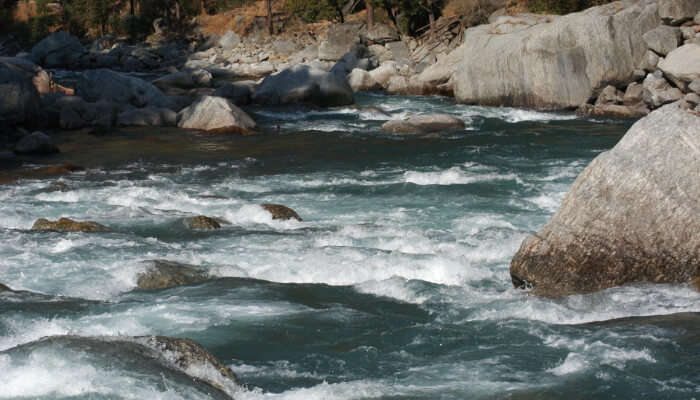 Disclaimer: The image is for representation purposes only.
Gori Ganga is a river located in the Munsiyari tehsil of Pithoragarh. The river starts from the Milam Glacier and runs for a total length of 104 km to eventually meet the Kali river in Jauljibi. The river valley has some popular trekking routes to Nanda Devi National Park, Trishuli, Panchauli and Nanda Kot. The river also flows through the mighty mountains of Rajramba and Chaudhara.
Tributaries: None 
Suggested Read: Rajaji National Park In Uttarakhand: Guide To The Beautiful Land Of Wildlife And Adventure
11. Kosi River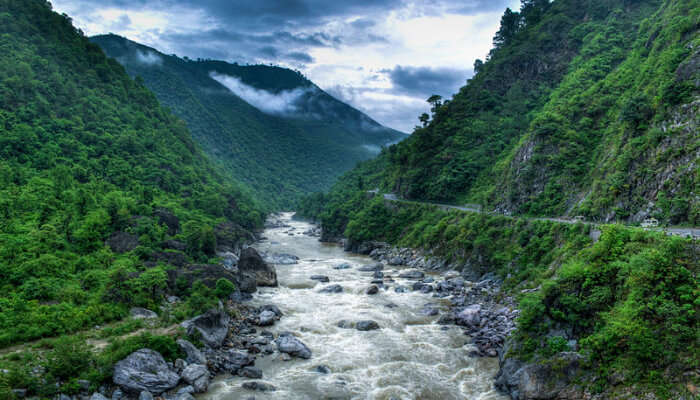 Image Credits: Rajarshi Mitra for Wikimedia
Kosi is one of the major rivers of Uttarakhand starting from the Himalayas at Dharpani Dhar and eventually joins the parallel Ramganga river in Uttar Pradesh. With a length of 170 km, the river passes through the eastern front of the famous Jim Corbett National Park, that acts as a water source for the wildlife. The river also passes through the towns Ramnagar, Betal Ghat, Bujan, and Amdana providing water for irrigation. 
Tributaries: None 
Suggested Read: Uttarakhand Cuisine: 16 Lip-Smacking Dishes You Must Try During Your Trip In 2022!
12. Mandakini River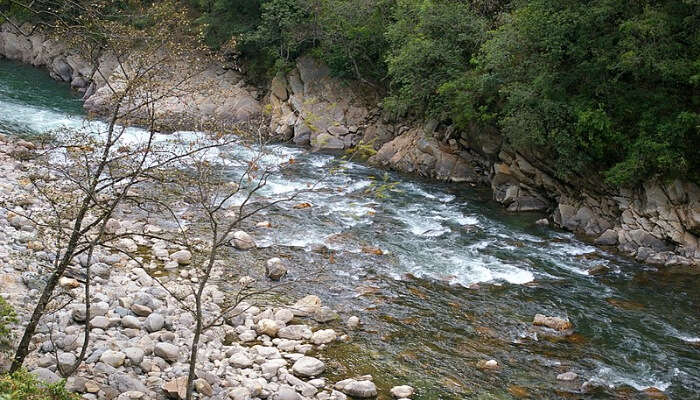 Image Credits: V Nataraj for Wikimedia
The Mandakini river is another major Himalayan river running for only around 72 km with Grade V waters for a major portion of it. It passes through some of the holiest places in Uttarakhand including Sonprayag, Ukhimath, Kedarnath and Rudraprayag. The river's flow makes it one of the greatest spots for kayaking and river rafting in Uttarakhand. 
Tributaries: Vasukiganga, Kaliganga, Madhyamaheshwar Ganga 
Suggested Read: Explore Temples In Uttarakhand For A Perfect Vacation In 'Devbhoomi'
13. Nandakini River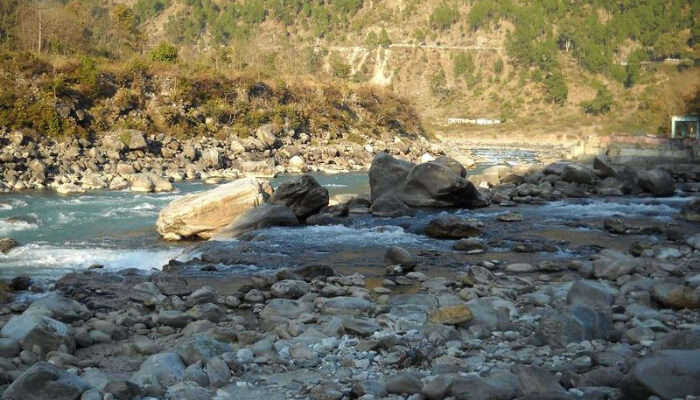 The mighty Nandakini river originates from the Nanda Ghunghati glacier near the Nanda Devi National Park. The river runs for a length of 56 km and finally exits at Nandprayag, one of the Panch Prayag, where it meets the holy Alaknanda river. This is also one of the most popular trekking places in Uttarakhand. 
Tributaries: None
Suggested Read: 6 Haunted Places In Uttarakhand That Will Give You A Chill Down Your Spine On Your 2022 Trip!
14. Pindari River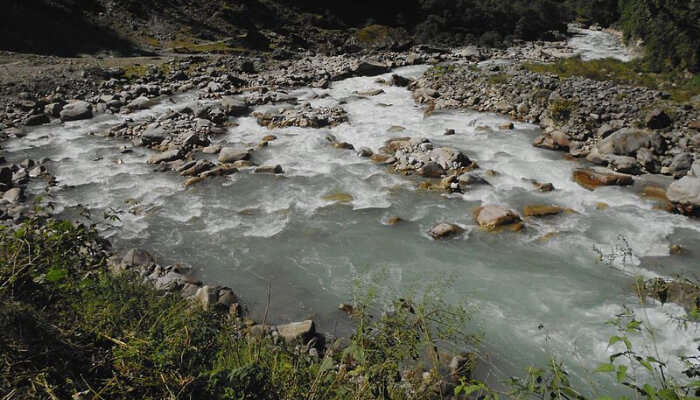 Pindari river is a major Himalayan river that originates from the Pindari glaciers, one of the major and difficult locations for trekking in Uttarakhand. Running for a length of about 105 km, the river crosses many tiny hamlets like Nauti, Bhagoli, Kulsari and Tharli. As the Nandakini river, the Pindar river also meets the Alaknanda river at one of the Panch Prayags at Karnaprayag.
Tributaries: Kali Ganga
Suggested Read: Picnic Spots Near Haridwar: 6 Wonderful Retreats Amidst Sacred Lanes Of Uttarakhand!
15. Saryu River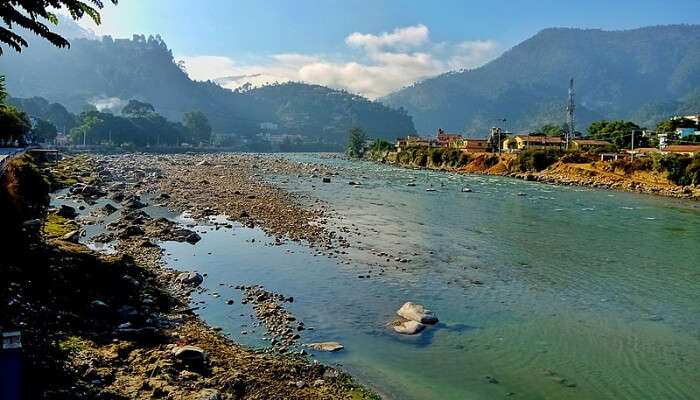 The Kumaon region gives rise to many rivers. Saryu is one of the main rivers in Uttarakhand from the Kumaon region. It starts from Sarmool and flows for 145 km to eventually end at Pancheshwar. The Sup, Ghati and Bhuni ghats are some of the most famous along the river bank. The river flows through the enchanting Malla Katyur valley and joins with multiple big and small tributaries.
Tributaries: Lahur, Gomti, Jalaurgad, Alaknandi, Panar
Suggested Read: 11 Beautiful Valleys In Uttarakhand You Have Got To Visit In 2022!
16. Tons River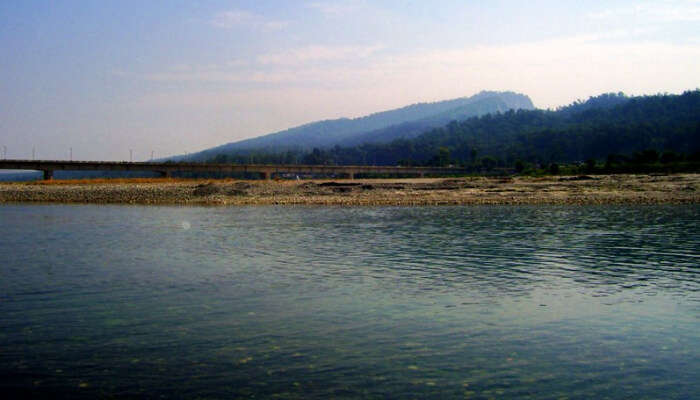 Image Credits: Shivanjan for Wikimedia
Tons is a major perennial river that flows mostly through the Garhwal Himalayas and also flows through parts of Himachal Pradesh. The Tons river carries a lot of water when it meets the Yamuna river at Kalsi in the Doon valley. The source of the river is at Rupin-Supin Glacier and running for around 148 km, it is the longest tributary of Yamuna. Enjoy a multitude of adventure activities like rafting, body surfing and kayaking at the Tons. This is also one of the most amazing places in Uttarakhand for you to visit in 2022. 
Tributaries: Pabbar, Asan
Further Read: 6 National Parks In Uttarakhand That Calm Your Adventurous Side In 2022!
Surprised enough? These rivers in Uttarakhand are a symbol of life and nature's beauty. If you're planning a vacation to this state anytime soon, make sure to go on a spree and explore one of these or all of them while on your vacation. But before don't forget to customize your Uttarakhand holiday with TravelTriangle!
Disclaimer: TravelTriangle claims no credit for images featured on our blog site unless otherwise noted. All visual content is copyrighted to its respectful owners. We try to link back to original sources whenever possible. If you own the rights to any of the images, and do not wish them to appear on TravelTriangle, please contact us and they will be promptly removed. We believe in providing proper attribution to the original author, artist or photographer.
Please Note: Any information published by TravelTriangle in any form of content is not intended to be a substitute for any kind of medical advice, and one must not take any action before consulting a professional medical expert of their own choice.
Frequently Asked Questions About Rivers In Uttarakhand
Which is the longest river in Uttarakhand?
The Alaknanda River is the longest river in Uttarakhand which is also the major source of the river Ganges.
Which dam is situated in Uttarakhand?
The Haripura dam is situated in Uttarakhand which is an earthen embankment built on the Bhakra river in Udham Singh Nagar district.
In which state is the river Ramganga situated?
The Ramganga is situated in Uttarakhand which originates from Doodhatoli ranges in the district of Pauri Garhwal.
What is Uttarakhand famous for?
Uttarakhand is famous for mountains, rivers and scenic views. There are many places in Uttarakhand that make it a good option for a blissful vacation.
How long is Kedarkantha Trek?
Kedarkantha Trek is almost 20 kms long. It takes almost 4 to 5 days to complete this trek depending upon your fitness level.
Looking To Book A Holiday Package?
---
People Also Read:
Rivers In Sikkim Rivers In Kerala Rivers In Himachal Pradesh
Comments
comments