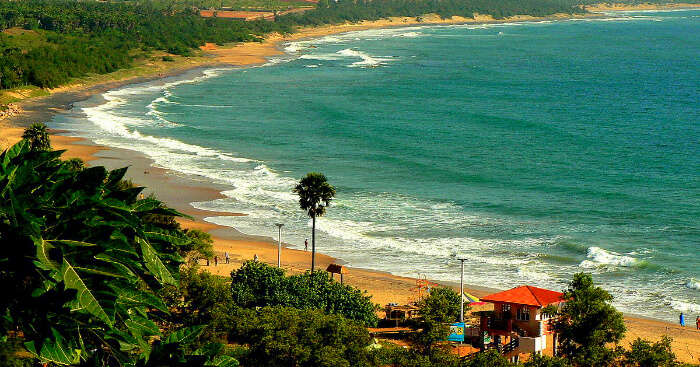 Be it breathtaking beaches, rolling mountains, or waterfalls, there's no dearth of weekend escapes near Hyderabad. If you're a beach lover planning to spend your short holiday playing in the warm waters of the ocean, making sand castles, and soaking up the sun, then this list of best beaches near Hyderabad will surely excite you. Enjoy the sun-kissed beaches on your relaxed and leisurely vacation with family or friends.
10 Best Beaches Near Hyderabad
From trying out thrilling water sports to capture the best moments by the water, there's so much for you to do on the 10 nearby beaches from Hyderabad that will fill you with happiness:
Vodarevu Beach
Suryalanka Beach
Machilipatnam Beach
Manginapudi Beach
Yanam Beach
Kakinada Beach
Uppada Beach
Bheemunipatnam Beach
Yarada Beach
Rushikonda Beach
1. Vodarevu Beach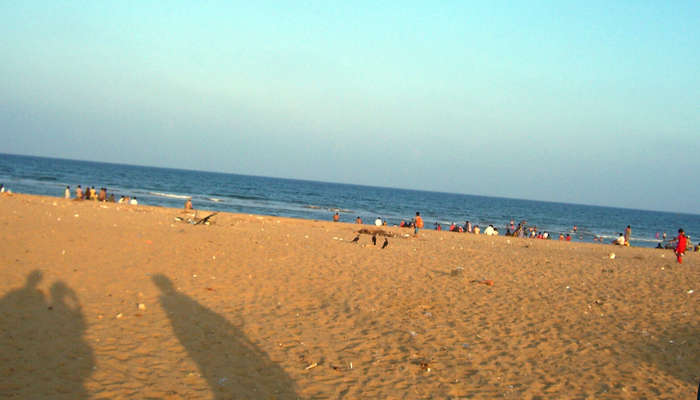 Among the best beaches near Hyderabad, Vodarevu is perfect for relaxation and rejuvenation. Located close to Chirala, Vodarevu beach is surrounded by luxuriant coconut plantations and a stretch of golden sandy beach where you can sit and enjoy the music of the ocean and the salty air that comes with it. For a stunning vista of the sea, one can also climb up the lighthouse located on the beach front.
Distance from Hyderabad: 305 km
Things to do: Swimming, fishing, boating and hike up to the lighthouse
Must Read: 10 New Year Eve Parties in Hyderabad For A Remarkable Entry Into 2019
2. Suryalanka Beach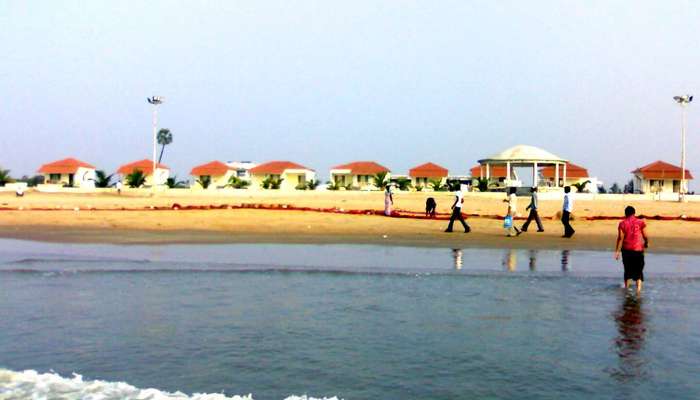 Nestled in Guntur district, Suryalanka is one of the most frequently visited nearby beaches from Hyderabad. Suryalanka beach from Hyderabad is just about 300 km, which makes a perfect weekend getaway. Coupled with the wide shoreline, overlooking the azure Bay of Bengal, the beach is also known as Baptala Beach. It is famous for dolphin spotting, particularly in November and December. People visiting this stunning beach indulge in sunbathing, leisurely strolls and astounding sunrise views.
Distance from Hyderabad: 319 km
Things to do: Dolphin spotting and swimming
Suggested Read: 21 Romantic Honeymoon Places In South India That Cast Utter Magic
3. Machilipatnam Beach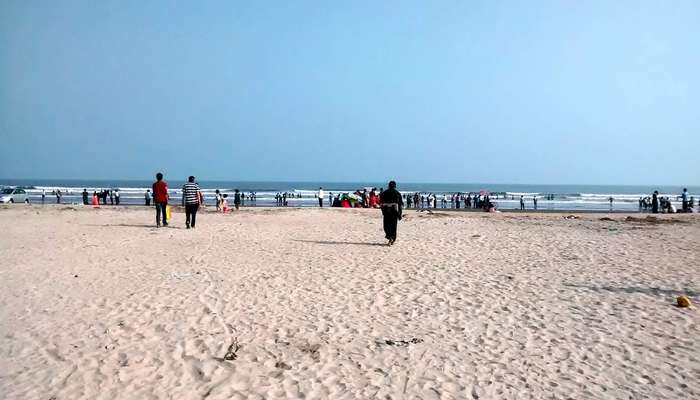 One of the best beaches near Hyderabad, Machilipatnam Beach is a fine place to spend a lazy weekend amid the serenity and scenic wonders of Machilipatnam. Encircled with coconut groves, this beach is located near Krishna delta and boasts of pretty sea views. Attracting tourists and local folks round the year, Machilipatnam Beach is surely one of the ultimate places for chilling.
Distance from Hyderabad: 340 km
Things to do: Enjoy the serenity of the beach and surrounding scenic beauty. One can hire fishing boats and sail up to the delta.
Suggested Read: 5 Charming Tourist Places Near Hyderabad To Visit On A Weekend
4.Manginapudi Beach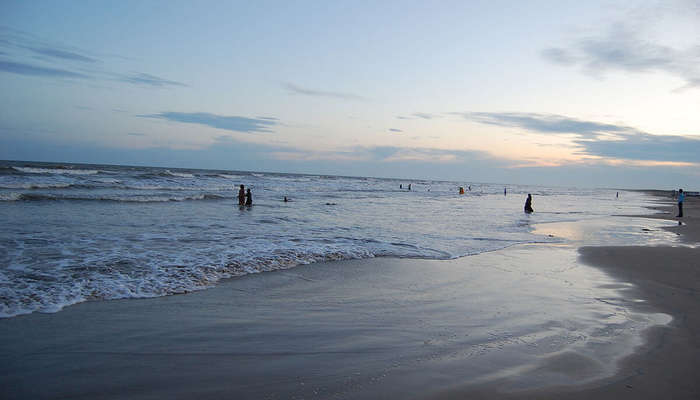 Situated close to Machilipatnam town, Manginapudi Beach is an ideal place for those looking for some respite from hustles and bustles of the city. Served as a port in earlier days, this black sand beach has shallow water level, which makes it ideal for swimming. There are many beach shacks that serve sumptuous local seafood. With famous Dattashram and Panduranga Swamy Temple, located near the beach, Manginapudi is indisputably, one of the increasingly famous nearby beaches from Hyderabad.
Distance from Hyderabad: 350 km
Things to do: Celebrate Krishna Utsav, a famous beach-side festival in Manginapudi, organized every year in February and March.
Suggested Read: 8 Picnic Spots In Hyderabad To Have A Gala Time With Friends & Family!
5. Yanam Beach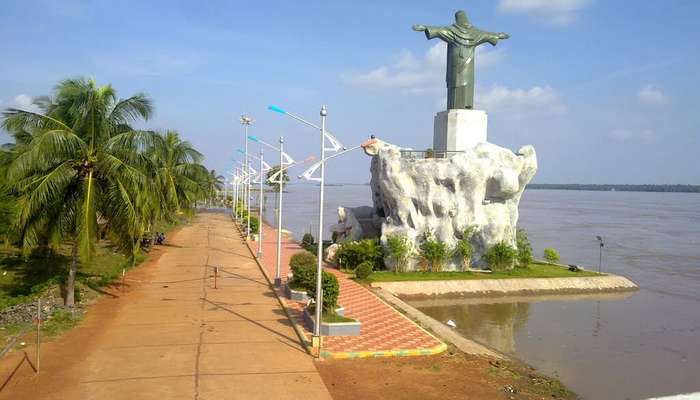 Yanam is a charming beach destination, located at the confluence of Godavari and Coringa river. Featuring less crowded shores, sparkling blue water, and stunning sea views, this place is also known as Rajiv Gandhi beach. The beachfront is adorned with statues of Jesus Christ, Bharat Mata, and Lord Shiva. Also, there are statues of elephants pouring water on the Shivalinga. With beach chairs and shacks places here and there, Yanam Beach is a perfect place to spend time with your near and dear ones. Make sure to drop by at least one of these sea beaches near Hyderabad on your trip to India.
Distance from Hyderabad: 403 km
Things to do: Boating and leisure strolls
Suggested Read: 8 Gorgeous Waterfalls Around Hyderabad That Will Make Your Jaw Drop
6. Kakinada Beach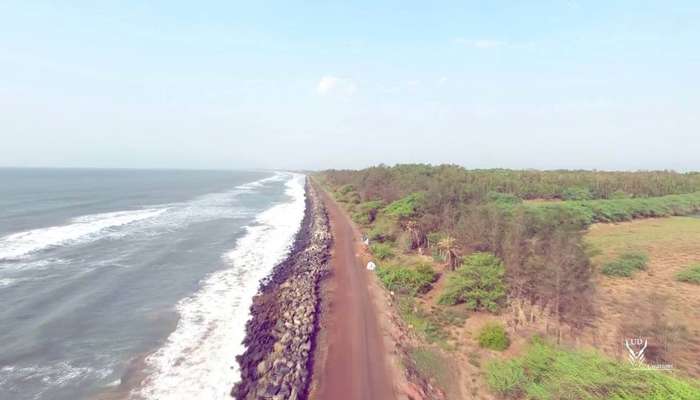 If absolute relaxation, peaceful surrounding, and stunning vistas are what you are looking for, then Kakinada Beach is your ideal destination. With amazing local seafood and best sunset views, this is surely another name on the list of best beaches near Hyderabad. Coringa Wildlife Sanctuary, Hope Island, and Godavari Delta islands are located nearby and offer amazing sightseeing options.
Distance from Hyderabad: 486 km
Things to do: Try local seafood and beach volleyball
Suggested Read: 15 Best Tree Houses In Kerala That Are Perfect For An Intimate Date With Nature
7. Uppada Beach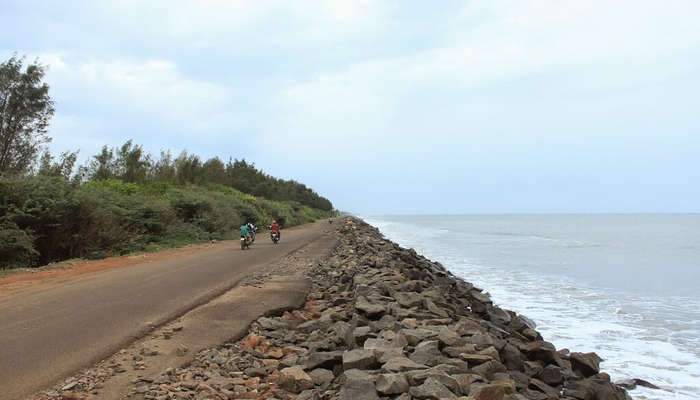 Uppada Beach is famous for sparkling white sand beaches, transparent water, and wide shores. As one of the best exciting places to explore near Hyderabad, this beach offers a lot of activities like cricket, football and beach jogging. The gradual inclination of the shore into the sea makes the place safe for swimming as well. Don't miss the snacks shop by the beach, selling fresh seafood. This is one of the most offbeat sea beaches near Hyderabad.
Distance from Hyderabad: 497 km
Things to do: Hire a local fish boat and sail with the fishermen to indulge in deep-sea fishing. The village is also famous for weaving and prawn harvest. An excursion to the village is also a fascinating idea.
Suggested Read: 8 Mesmerizing Hill Stations Near Hyderabad Waiting To Be Explored
8. Bheemunipatnam Beach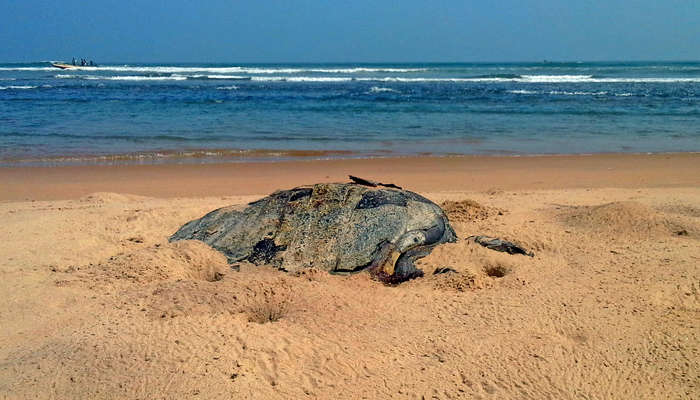 Situated near Hyderabad, Bheemunipatnam Beach is home to buzzing shores and a breathtaking backdrop. On a calm and refreshing morning, you can take romantic walks by the water with your love. You can hike the lighthouse to witness the stunning views or try out thrilling water sports; Bheemunipatnam Beach has a lot to offer. Located close to the confluence of Gosthani river with the sea, this beach with shallow water level is highly recommended for swimming and kayaking.
Distance from Hyderabad: 628 km
Things to do:: Water-skiing, snorkelling, scuba diving
Suggested Read: 15 Best Resorts In Hyderabad For Couples To Relax, Rejuvenate, And Just Chill!
9. Yarada Beach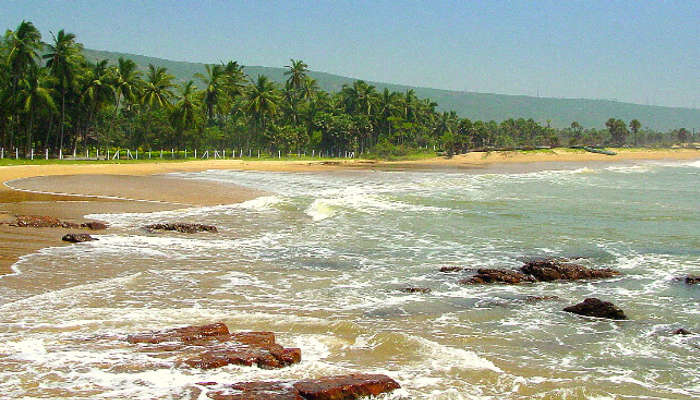 With lush green Dolphin Hills on one side and turquoise blue sea on the other, Yarada- the golden sand beach is the ideal place for leisure walks and day picnic. As the shore slopes steeply into the sea here, this beach is not recommended for swimming. The pristine surrounding and less crowd have made this place one of the most offbeat sea beaches near Hyderabad for solo travelers and honeymoon couples.
Distance from Hyderabad: 634 km
Things to do: Sunbathing, hiking up to the lighthouse and tasting roasted corn and fresh coconut water, available on the beach.
10. Rushikonda Beach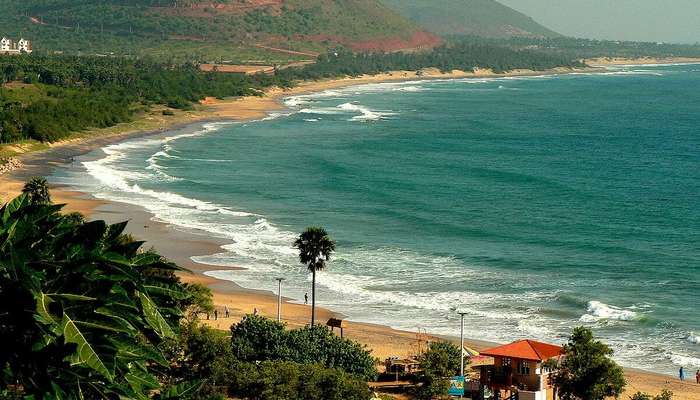 Overlooking opulent green mountains, Rushikonda is one of the most popular family beach holiday destinations near Hyderabad. This is a rocky beach, boasting pleasant weather and tranquil sea. All of the these along with a large number of water sports here, attract tourists around the year. Carry your flip flops and designer sunglasses and sunbathe on Rushikonda beach. We promise you won't be disappointed by one of the best sea beaches near Hyderabad.
Distance from Hyderabad: 648 km
Things to do: Surfing, skiing and beach volleyball
Further Read: 50 Best Beaches In India
Already excited to feel the warm sun, the soft brown sand, and listen to the music of the crashing waves? If, yes then pack your bags and book your trip to Hyderabad. You'll make the most of your time at these best beaches near Hyderabad. This will prove to be an enriching experience for you and whoever you decide to travel with. Get packing!
Frequently Asked Questions About Best Beaches Near Hyderabad
Q. Is Hyderabad a coastal area?
A. No, Hyderabad is not a coastal area.
Q. For what Hyderabad is famous?
A. Hyderabad is famous for Hyderabadi biryani, Charminar, Golconda Fort, and Numaish (an annual fair).
Q. What language do they speak in Hyderabad?
A. The official language of Hyderabad is Telugu. Other languages spoken in this region are Hyderabadi Urdu, Hindi, and English.
Comments
comments