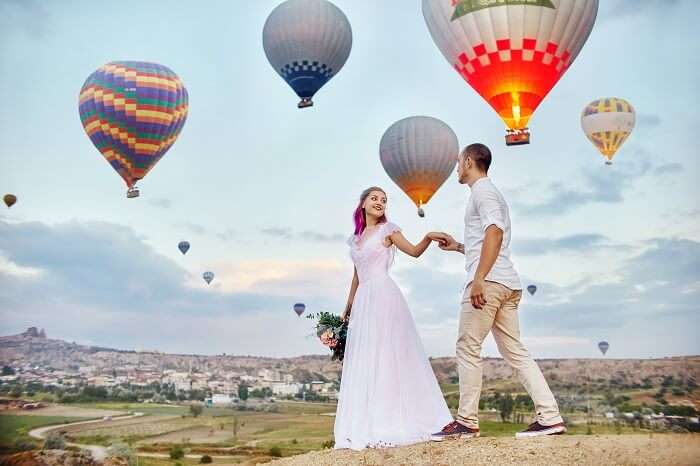 When it comes to a dreamy travel destination, Turkey is one place that comes to the mind of every avid traveler. The place exudes a charm and aura, romance and bliss, like no other. Meeting new people in Turkey can weave really good memories as the place is known for having one of the most welcoming and friendly locals.
Besides the friendly environment and offering recreation to couples, it has some of the world's most beautiful hotels, resorts and incredible beaches which make it a perfect place to tie the knot.
8 Best Wedding Venues In Turkey
Turkey hosts many beautiful places for you and your better half to take your sacred vows. Here are the top wedding venues in Turkey where you can say 'I do' to each other with spectacular scenery in the background
1. Club Arma, Kaleici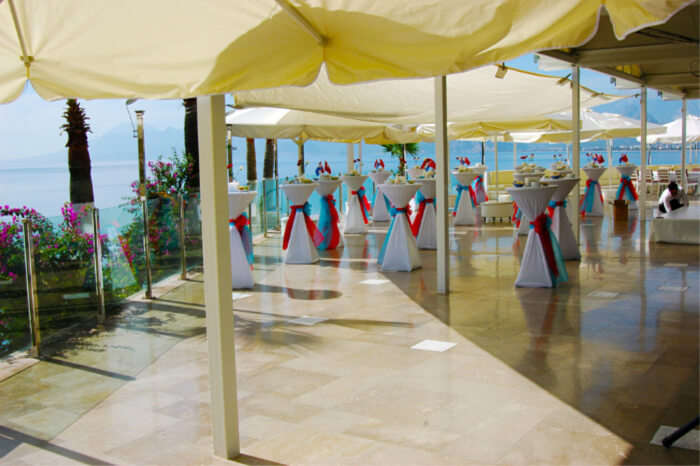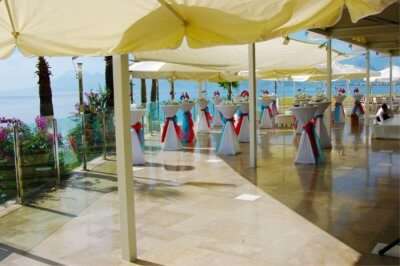 If you always dreamt of a fairytale wedding overlooking the seafront, Club Arma Restaurant in Kaleici is a perfect wedding venue in Turkey. The place is located in the old harbor town of Kaleici from where you can enjoy the uninterrupted views of the ocean. The seaside location is perfect for a sunset wedding. The horizon of the sea and sky, while the sun sets down, adds an alluring charm and a dramatic scenery to the whole set. You can also make arrangements for your guests at any of the hotels in Belek, Lara, and Antalya Resorts. This is the best place for an exquisite wedding in Turkey!
Location: Selçuk Mh., Selçuk Mah No:75, 07100 Muratpaşa/Antalya, Turkey
Must Read: 6 Best Things To Do In Pamukkale To Slay In This Turkey Town Like Never Before!
2. Green Park Beach Blue Lagoon, Oludeniz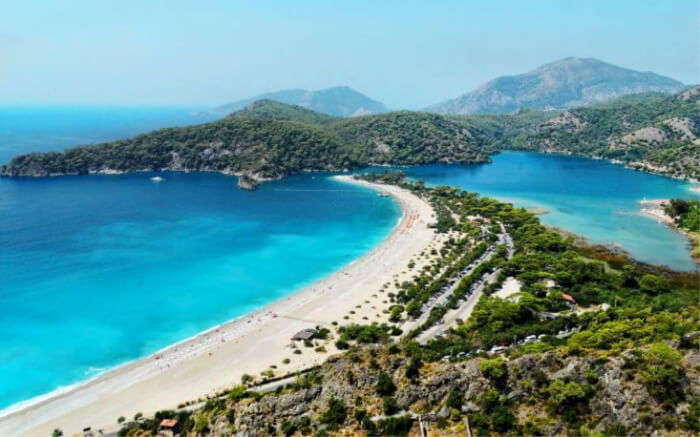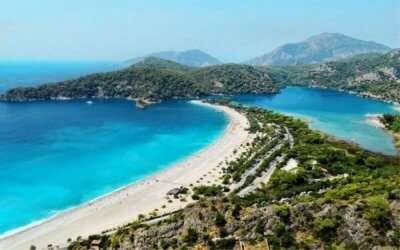 For those who love weddings on the beach, Green Park Beach Blue Lagoon is just the perfect wedding venue in Turkey for them. Imagine walking down the aisle made with beach sand and declaring your vows under a beautiful gazebo while the cool ocean breeze kisses your cheeks and the gay sun shines over the lovely couple. It is one of the popular wedding destinations in Turkey where many couples have been wed before.
Location: Ölüdeniz Mahallesi, Ölüdeniz Cd. No:2, 48340 Fethiye/Muğla, Turkey
3. Susesi Luxury Resort, Belek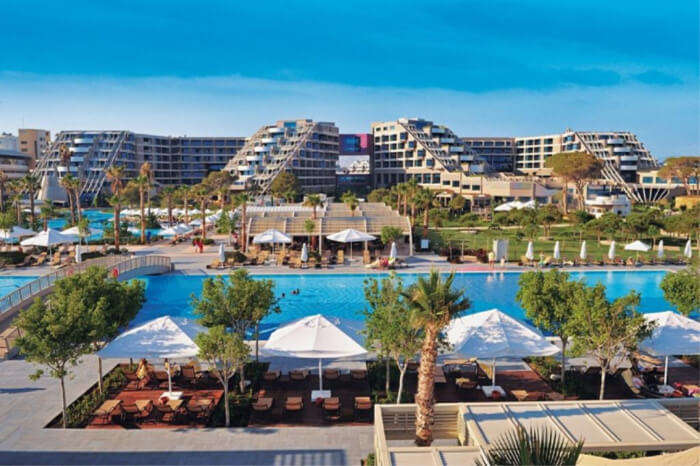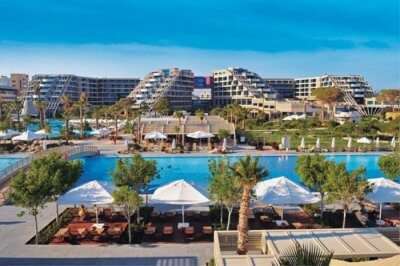 Susesi Luxury Resort is a perfect venue for a grand wedding affair. The sophisticated architectural structure venue will sweep you off your feet. This is where you can easily enjoy multi-day event wedding for a large gathering. From your bachelor party to taking vows to wedding receptions, you can hold all your events here. Whether you want an indoor function or an outdoor gathering, the resort has venues for all purposes.
Location: İskele Mevkii, 07450 Serik/Antalya, Turkey
Suggested Read: 5 Places To Visit In Pamukkale That'll Help You Witness The True Natural Beauty Of Turkey
4. Limak Lara, Antalya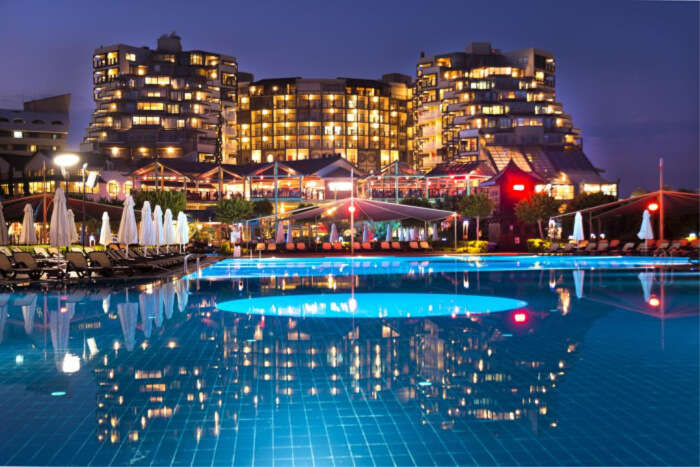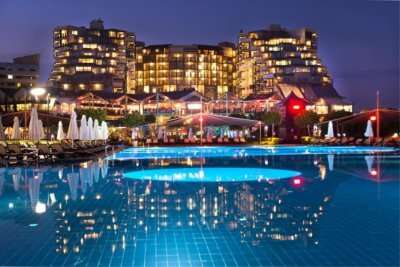 Spend an unforgettable holiday as you begin the new phase of your life at Limak Lara. Lara district in Antalis has been serenaded as the paradise of the earth because of its overwhelming beauty and unique sceneries. Find the beautiful combination of sun, azure blue sea, and the scintillating sky which will enhance the background of your wedding photos.
Location: Kemerağzı Mahallesi, Lara Turizm Yolu, 07110 Muratpaşa/Antalya, Turkey
Suggested Read: 11 Best Things To Do In Ankara To Witness A Unique Side Of Turkey In 2022!
5. Yacht Classic Hotel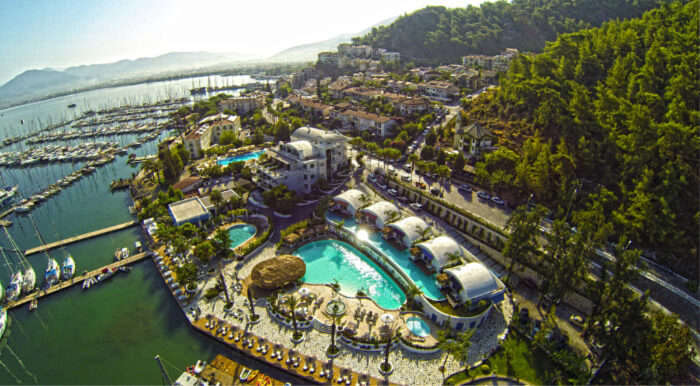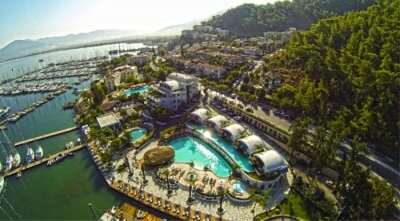 For those who have a classy and rich taste should consider getting married at Yacht Classic Hotel. The stylish venue is located right at the riverfront where yachts dot the landscape. There are five villas in the hotel where you and your guests will enjoy a world class service and exclusive experiences. If you wish you can have your wedding reception at the waterfront with Al fresco seating. In addition to this, there are even spas, saunas, and an outdoor plunge pool at the disposal of you and your guests.
Location: Karagözler Mahallesi, Fevzi Çakmak Cad No:24, 48300 Fethiye/Muğla, Turkey
Suggested Read: Snowboarding In Turkey: For An Ultimate Snowy Adventure Amidst The Serene Alpines
6. D-Resort Grand Azur Marmaris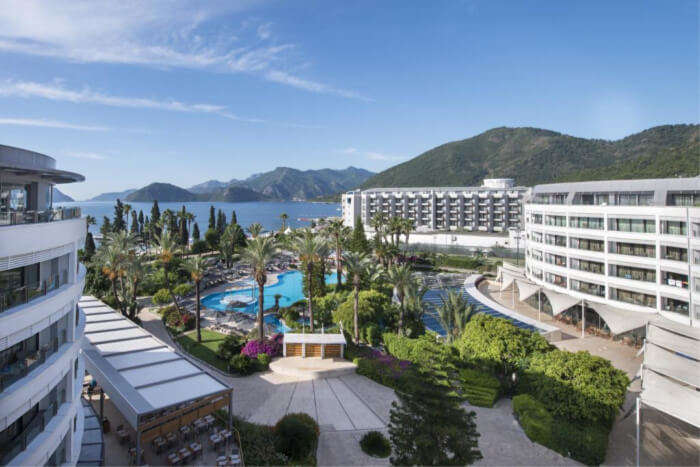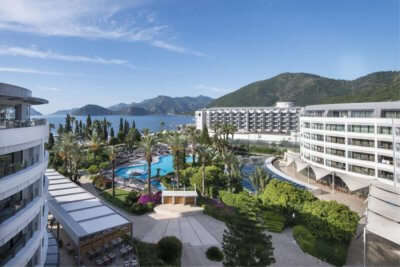 Stop looking for the wedding venues in Turkey right now because this one tops the charts. Have an amazing opportunity to get married in the spectacular surroundings of nature where you have azure blue ocean and lush flora. The resort offers dreamy wedding halls and banquets where you can have a large gathering easily. Also, the exceptional and exclusive service of this venue makes this place a wonderful choice for having a blast at your wedding. They offer a wide range of local and international cuisine and drinks along with various themes.
Location: Siteler Mahallesi, Cumhuriyet Blv. No:17, 48700 Marmaris/Muğla, Turkey
Suggested Read: 4 Best Ways To Experience Safari In Istanbul On A Thrilling Turkey Vacation In 2022!
7. BC Spa Hotel, Asiklar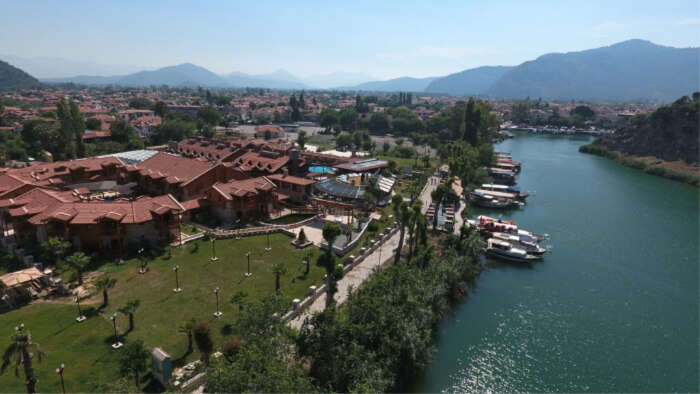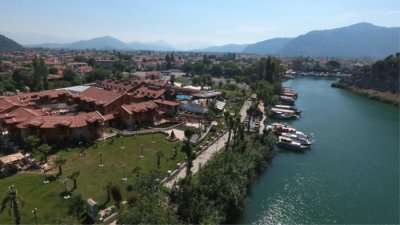 The sprawling gardens of BC Spa hotel will take you right to the Garden of Adam and Eve. Doesn't that sound a great place to get married? Located in the stupendous surroundings, this wedding venue in Turkey offers you a fusion of modernities and nature. Enjoy the world class service and hospitality at this hotel where they even serve all kinds of special and natural food. Throw a feast of Ambrosia to your guests while you say your vows to each other on this beautiful island.
Location: Gülpınar Mahallesi, 313. Sk. No:7, 48600 Dalyan Belediyesi/Ortaca/Ortaca/Muğla, Turkey
Further Read: 10 Popular Festivals In Turkey That Make It An Irresistible Holiday Destination In 2022!
8. Sait Halam Pasa Mansion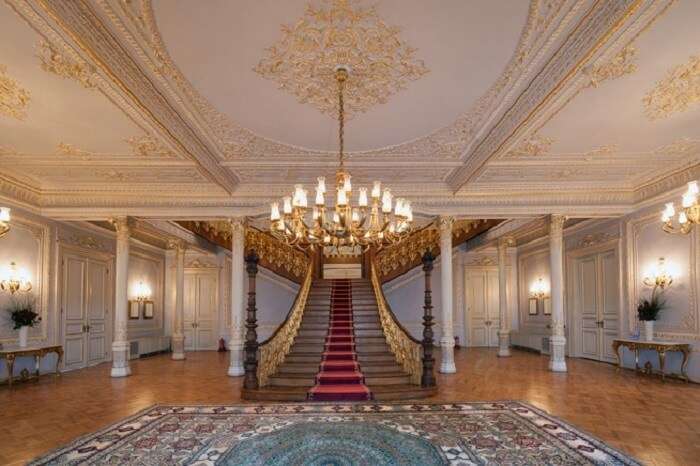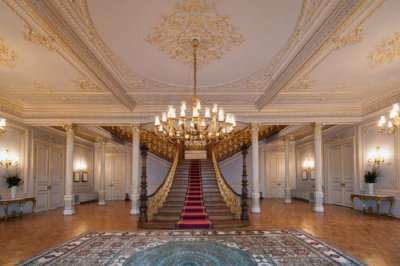 This is an age-old mansion which will put your wedding to fire by its classy and royal ambience! It offers luxurious facilities, glamorous spaces to hold a lavish wedding. The architecture is of baroque style adding more to the beauty of the mansion. Do consider this for your wedding!
The wedding of your dreams requires a special destination with a unique environment and aura. Turkey is your best bet if you are looking for one of the world's most beautiful landmarks with amazing hotels and resorts. So if you're already mesmerized by the beauty of these exotic wedding locations, then plan your vacation to Turkey with TravelTriangle and experience the most special day of your life in complete serenity.
---