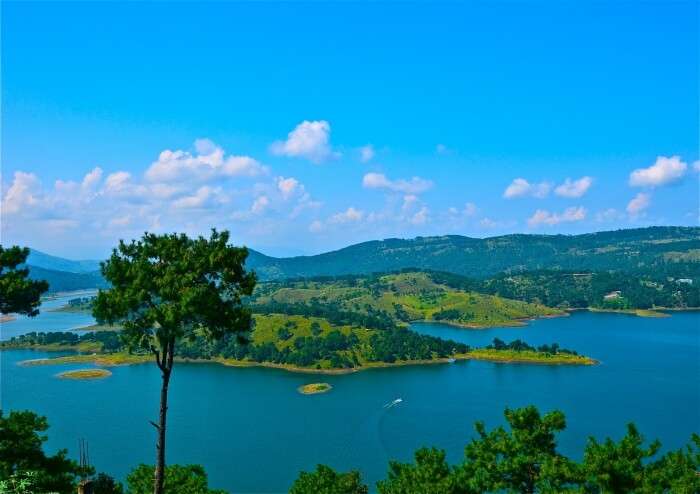 Located in one of the Seven Sisters Of India (seven states), Shillong serves as the capital of Meghalaya state in country's northeast region. There are indeed many similarities between this place with Scotland, and this is why Shillong is called Scotland of the East. And to prove that the naming is indeed done aptly, here are a few points that justify it. الدومينو
Although, we believe that each of the mentioned places have their own distinctive charm, but let's just have some fun wondering about the similarities for some time!
1. To start with, the striking similarity between landscapes is actually a major reason behind the naming
Shillong's landscape is beautified with rolling and sky soaring hills bestowed with lush greenery. Most times, you can browse through pictures of both Scotland and Shillong, and you will actually get your mind boggled wondering which photograph is of which destination! On a cloudy day the mist-laden pastures look nothing less than a paradise.
2. The meandering roads amidst valleys make way for that ultimate road trip you've been dreaming of
The road to Mawlynnong, Cherrapunji, and the curvaceous route of the Shillong Bypass surely do invite just experienced drivers. You'd anyway rather sit at the backseat, so you can peep out of the window, let your hair flutter with the breeze, as the Himalayas unfold hypnotic panorama before you.
Must Read: 31 Popular Places To Visit In Shillong In 2022 That Will Treat Your Eyes, And Calm Your Soul
3. Everyday is made fun with cultural extravaganza
The rich, colorful culture of Shillong makes it stand out. Just like the Scottish people, the tribes feel pride presenting folk performances, and it's intriguing to sit back and witness. You can also be a part of the act and join them as they are on it, but make sure you're not spoiling the fun for others too.
If not performances, you'll be bewitched by handicrafts, tribal attires, and of course traditions. For a culture vulture, the best way to get an insight to locals' lifestyle is by staying in homestays.
Suggested Read: 19 Places To Visit Near Shillong In 2022 For Experiencing Meghalaya's True Beauty!
4. The Scottish Highlands and the hills of Shillong glitter with roaring waterfalls
When you're touring through the valleys of Scotland and Shillong, be prepared to stumble upon random glistening waterfalls, specially if you're visiting in the monsoon season.
Suggested Read: 10 Best Hotels And Resorts In Shillong That Will Entice You To Explore Meghalaya!
5. The lakes of Scotland and Shillong too hold stunning resemblance
Alongside roaring waterfalls, Shillong and Scotland are bejeweled with lakes that are encircled with rolling hills. You can sit by for some time, or embrace this beautiful moment by boating on the lake. Keep aside your camera for a little while and just inhale the enchantment in front of your eyes.
6. Many regions are unperturbed by heavy tourist crowd
Even though Meghalaya in Shillong is a major tourist destination in Northeast India, but you will come across an applaudable balance when it comes to crowded attractions. There are several places in this place where you can pitch in your tent and connect with nature. The natural beauty of such place
7. The music festival scenario in Shillong is equally hypnotic as the Scottish ones!
Scotland might be hosting some amazing music festivals, but believe me, Shillong will have your jaws drop! The NH7 Weekender is a music festival which is one of India's most awaited events. ترتيب بوكر Famous artists like A.R Rahman, Steven Wilson, Farhan Akhtar and Fear Factory have performed in the festival. Here's a video featuring glimpses of all the fun people had this year.
We can come up with many similarities between Scotland and Shillong to justify its naming, but we believe, that the beauty of this beautiful Indian hiill-station is one-of-a-kind, and that it cannot be compared with any other place in the world.
Further Read: 12 Hotels In Shillong For Couples That Promise A Blissful Stay In 2022!