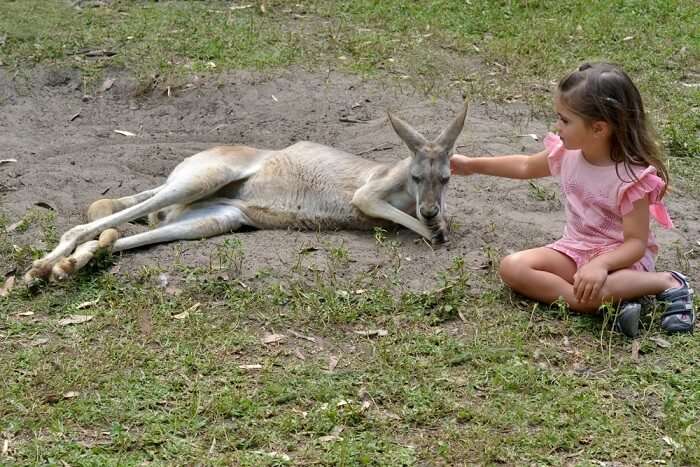 Australia is famous for its wildlife and long stretches of sandy beaches. If you want to get the best of both without having to move all over the country, stay put in Gold Coast. Wildlife in Gold Coast is plenty and so are the beaches because it is a stretch of coastal city on the South of Brisbane. The weather is pleasant all year round, with gentle breeze and very humid air during summers. This is a place worth visiting if you love national parks, theme parks, beaches, and wildlife. There is no one best place to explore the plethora of wildlife that Australia is home to.
There are way too many amazing places to visit in Gold Coast. If you want to visit the best wildlife park in Gold Coast because you are here only for the weekend, suggestions will confuse you. We have made a list of the top places to visit for a wild experience.
Wildlife In Gold Coast: 5 Places To Visit
Here's a list of numerous places that you can explore the best of wildlife in Australia, especially in Gold Coast and have a thrilling holiday. Take your pick according to what sounds like your thing.
1. Seaworld

At Seaworld, you get to watch the migration of the Humpback whale. Call them to find out the exact time of the year you will get to witness this. The whales swim past the Gold Coast, putting up a brilliant show that people can enjoy for a stretch of two and a half hours by cruise. You get to take a luxury catamaran from the Main Beach.
The penguins are not to be missed. You can join the watch for King Penguin and the Gentoo penguins. Their playful nature and friendliness will make your day. You will also get a tour behind-the-scenes of the penguin exhibit. If you are lucky you might even get to feed them and pet them. This makes it more exciting than whale watching because you get to do more than just watch. You get to shake hands with the fluffy friends in suits.
Must Read: Great Barrier Reef In Australia: An Exquisite Guide For An Amazing Destination!
2. David Fleay Wildlife Park

This wildlife park on Loman Lane in Burleigh Heads is a heritage site. You get to explore the works of Australian rangers who work to protect the native species of fauna. You can become a junior ranger and get your hands into the real work. Participate in animal husbandry in this wildlife park in Gold Coast to get close to the animals. It will be the most fulfilling experience of your entire vacation.
Suggested Read: 10 Best Heritage Places In Australia To Seek The Ultimate Thrill!
3. Animal Nursery

This Oxenford animal nursery is exactly what you would expect it to be. This is the ultimate place to cuddle baby animals. There are baby koalas, baby alpacas, guinea pigs, lambs, and more. You get to feed them, walk them, carry them. There is no restriction as long as you are being gentle. The animals are friendly with humans because they are so used to being around them. They are totally safe for children to play with.
Suggested Read: Cable Beach: A Handy Guide For Exploring This Scenic Australian Charm!
4. Currumbin Sanctuary

These weird mammals are cute and freaky. They are like porcupines, only cuter. They lay eggs but they are mammals. They are shy yet interactive depending on their mood. Australia has the short-beaked echidnas in the Currumbin Wildlife Sanctuary in Gold Coast. They are prickly but they mean no harm. They like human company if they feel no threat. If you are lucky they might even like you enough to crawl up to you and feed off your palm. Don't worry, they don't poke unless scared.
Suggested Read: 6 Best Gold Coast National Parks To Witness The Untamed Wildlife Of Australia
5. Dreamworld Tiger Cub Walk

Every animal lover dreams of cuddling tiger cubs. As it turns out, it is not an impossible fantasy. All you need to do is end up in Dreamworld in Gold Coast, Australia. Your trip, your year, even your life will be made once you get to cuddle, bottle feed, and walk these grumpy cute little tiger cubs. They are innocent and fluffy, everything you expect them to be. You are allowed to take photos too. You will be safe because the bigger tigers are in enclosures.
You need to note the day though. This opportunity to experience wildlife in Gold Coast up-close is open for you only two days a week and that too, for only four people a day. It is only fair to the little cubs who might get agitated and exhausted dealing with too many people a day. Thanks to this limitation, when your turn comes, you will find the cubs happy to be with you and not irritated. This is an experience of a lifetime. Surely you can wait for your turn. So do not forget to make the necessary arrangements with the theme park because you need to make room for your one hour of sheer bliss.
Wildlife in Gold Coast, Australia is valued for its true nature. These koalas get to stay in their natural habitat, in the trees. But do not worry, they won't be so distant. There are smaller trees so that you get to see them right in front of you. The animals are not scared of people because they are constantly being taken care of by their handlers. Hence, they are not as shy as the koalas absolutely in the wild. They have a good time with humans and even eat from your palms. Although, you must seek permission from the handler before you offer the marsupials anything to eat.
Further Read: Islands Near Melbourne: Your Guide To A Tryst With Untainted Natural Beauty In Australia
The best thing about wildlife in Gold Coast is that you get to do more than just cuddle the animals. The Currumbin Sanctuary and other animal parks encourage donations and volunteer work that will make a world of difference to these innocent creatures. So, plan your trip to Gold Coast for an amazing experience like never before!
---
Looking To Book An International Honeymoon?
Book memorable honeymoon on TravelTriangle with 650+ verified travel agents for 65+ domestic and international destinations.
---