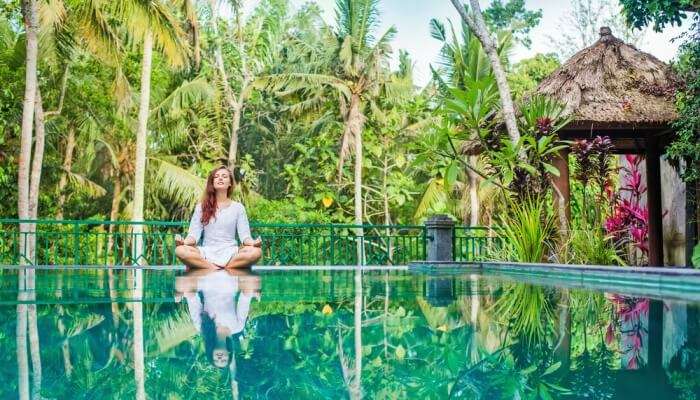 Although Yoga was discovered around 5000 years ago in Northern India during the Indus-Saraswati civilization, its usage was not prominent in many parts of the world until recently. The downward trajectory of yoga has suddenly witnessed an upward trend in the 21st century. Simple breathing exercises, body postures, and meditation have proved to be beneficial for every being, no matter what age. Along with proper guidance, there is one other thing that contributes to the effectiveness of yoga, that is, your yoga retreat. If you are not sure where to head for your R&R in Australia then you need not worry because we have scanned the country and rounded up 8 yoga retreats in Australia that will leave you contented and at peace after your session. Are you ready to take a look at them?
8 Best Yoga Retreats In Australia
Take out your yoga mats and lace up your shoes because these Australian yoga retreats are all set to offer you a rejuvenating session of yoga which will not only help you calm your senses but will also ease your day-to-day activities.
1. Billabong Retreat
Sprawled in 12 acres of natural greenery, Billabong Retreat is counted among the top choices of yoga retreats in Australia. This place offers an affordable escape from the bustling city life to 30 people at one time, including both beginners and professionals. Apart from yoga, this retreat also conducts workshops and offers accommodation in dreamy treetop cabins. The list of services does not end here as the place also provides some extra perks like nourishing vegetarian food and a magnesium-infused swimming pool. You don't have to take out a weekend to do this as the location of this retreat allows you to adjust a yoga session along with your schedule.
Location: 41 Mcclymonts Rd, Maraylya NSW 2765, Australia
Timings: 9 am – 5 pm
Cost: $200 per day, $250 per night, and $1260 per week (includes meals, yoga & meditation sessions)
Must Read: 14 Ways To Celebrate And Enjoy Christmas In Australia In 2022
2. Yoga Cucina
Another amazing yoga retreat that Australia is home to is Yoga Cucina which is located in New South Wales. This yoga retreat begs to differ from the usual retreats that are all about silence and postures, in fact, it is a new yoga-inspired escape. The sessions run a few times in the year on weekends and not only let people practice their salutes to the sun but also offer to feast on Italian fare and swim beneath waterfalls. Besides this, you will also learn how to make pasta, play games, and sample of the most delectable wine.
Location: NSW, Australia
Cost: $1050–1200 per person on weekend (includes activities, accommodation, food & wine)
Suggested Read: 8 Best Indian Restaurants In Australia To Satiate Those Desi Food Cravings
3. Glamping Yoga Retreat
Not all retreats are meant to cost you a fortune and Glamping Yoga Retreat is all about offering budget yoga sessions that too amidst natural surroundings. Maud Léger, a Melbourne-based yoga teacher, launched a new yoga retreat in Warrandyte which is not about fancy lodgings but about comfortable camping stays in the village. All the tents are equipped with mattresses, clean linens, and rugs which provide a relaxing stay for guests. The camping retreat is held for a limited time in the year for which one has to book in advance. Make sure that you book your place well in advance as this retreat is counted among the most affordable yoga retreats in Australia.
Location: Warrandyte, Australia
Cost: TBA
Suggested Read: New Year In Australia 2022: Welcome The Upcoming Year Before Anyone Else Only Here!
4. Eden Health Retreat
Head to the first yoga retreat in Australia that goes by the name Eden Health Retreat in Currumbin Valley. The best part about this place is that the professionals here design a personalized session for you, depending upon your goals. Whether you want to manage stress or want to improve your general health, you can have anything here as they offer a tailor-made experience to their guests. Moreover, the center also offers some facilities like a heated pool, natural mud bath, spa or tennis courts where one can spend some time according to their pace.
Location: 1815 Currumbin Creek Road, Currumbin Valley QLD 4223, Australia
Timings: 8:30 am – 4:30 pm (Mon-Fri), 9 am – 1 pm (Sat), 12 pm – 5 pm (Sun)
Cost: Starting from $3350 per week (includes uses of facilities, classes, meals & $300-400 worth therapies.
Suggested Read: Paragliding In Australia: 10 Best Places For Touring The Australian Sky
5. Radiance Retreats
Being Australia's yoga capital, there are umpteen yoga retreats that you will find here among which comes Radiance Retreats. It focuses on slow vinyasa and is a great choice for newbies. The place is being managed by the renowned author and yogi, Jessie Chapman. The best part about this retreat is that they not only provide yoga sessions but also arrange beach walks, spa therapies, meditation, and hikes. So, if you want to relax as well as re-energize your body then you know where you can head to in Australia.
Location: Byron Bay, NSW, Australia
Cost: $2000-$2800 per week (includes meals, activities, massages, and classes)
Suggested Read: New Year Party In Australia 2022: For Slaying The New Beginnings In Aussie Way!
6. Gwinganna Lifestyle Retreat
A winner of the Best Australian Health and Wellness Property award by Luxury Travel Magazine, this retreat is counted among the favorites of the yogi crowd. The yoga sessions are paired with meditation classes, spa, accommodation as well as naturopathy. Although a weekend session might burn a hole in your pocket, this could turn out to be a once in a lifetime experience for you. So, make sure that you include Gwinganna Lifestyle Retreat in your list to head for a relaxing yoga session.
Location: 192 Syndicate Rd, Tallebudgera Valley QLD 4228, Australia
Cost: $1000 per weekend and $3485 per week (includes classes, meals, facilities, therapies, and airport transfers)
Suggested Read: 27 Most Beautiful Beaches In Australia To Pamper The Beach Baby In You
7. Prema Shanti Yoga & Meditation Retreat
Tucked in a world heritage rainforest, this eco-friendly yoga retreat is a perfect place to resort to this year for an unwinding escape. The retreat is well-equipped with a yoga temple, boutique accommodation, and a meditation room. You can book your session from two days to a week in which your morning will start with a meditation session, followed by spa treatments and yoga classes. The classes run throughout the year and many yogis resort to this place as it not only gives a relaxing time but is also light on the pocket.
Location: LOT 183 Turpentine Rd, Cape Tribulation QLD 4873, Australia
Timings: 9 am – 6 pm
Cost: $90-&120 per room for a night.
Suggested Read: Gold Coast In Winter In 2022: To Travel This Glorious Australian City With Your Loved Ones!
8. Tranquil Point Bikram Yoga School
Established in Tasmania, this retreat is specialized not in one but many fields. Set near Hobart, this school boasts of mesmerizing ocean views, a vegetable garden, and an orchard. There are several sessions ranging from beginner retreats to weekend retreats. Apart from this, you can also opt for 30 or 60-day challenges which are meant for people who want an active lifestyle. Besides this, you can also go for kayaking and swimming in the ocean nearby and laze around on the shore.
Location: 51 Chuter St, Deep Bay TAS 7112, Australia
Cost: Room price starting from $250 to $7500
Further Read: 10 Australia Travel Tips To Swear By For A Smooth Vacay
With so many yoga retreats in Australia, one can never run out of options here. From budget-friendly escapes to lavish retreats, there are many places to explore for yoga and meditation in this country. What could be better than spending a day or a week amidst nature with a picturesque view to wake up to along with exercising every day for better health? So, with no more delays, head to one of these yoga retreats and treat yourself with a better environment and some useful asanas. If you want a hassle-free trip to Australia then make your bookings with TravelTriangle and experience a comfortable journey.
People Also Read:
Yoga Retreats In Sri Lanka Yoga Retreats In India Yoga Retreats In Bali