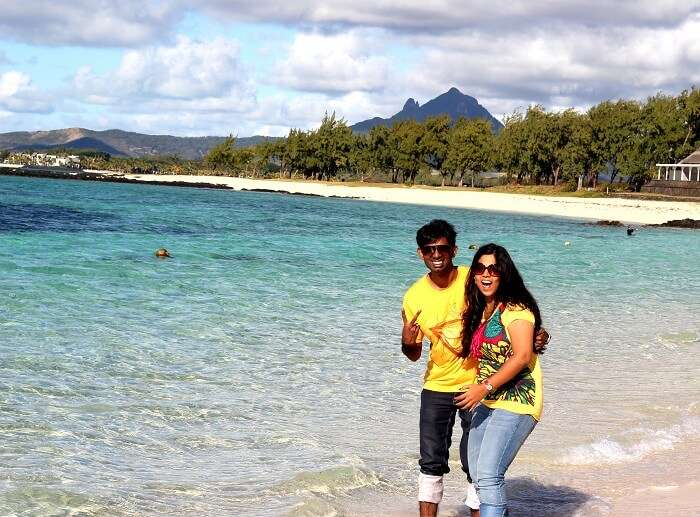 A memorable romantic trip to Mauritius that was a year in the making and it all finally came together for Zenith and his wife. Adventure, romance, cuisine and mother nature- their trip had a dash of everything. Zenith booked a package via Travel Triangle that cost him INR 34000 which included their meals, sightseeing and accommodation.
Since  long time my wife and I wanted to go to on a vacation, but for some reason or the other it got postponed. Finally, we got an opportunity to plan a luxury trip where we would enjoy the pristine views and indulge in some adventure. The choice was between Maldives and Mauritius and ultimately we zeroed in on Mauritius.
As I was looking for packages for Mauritius on the internet, I found a few websites providing packages I liked, but they weren't flexible on altering the schedule. Then, I landed on TravelTriangle which provided me with an option to alter my itinerary according to my convenience. As I inquired, I was promptly contacted by a Travel Agent representative who linked me to various agent providing packages at different quotations.
I finally found a package I liked via Verma Global Travel Services that gave me the best price along with an ideal itinerary. It was time to pack our bags, and enjoy the scenic views in Mauritius.
Day 1: Arriving in Mauritius
Suggested Read: Monday Blues to Mauritius Blues: How Mauritius Spoilt Me For Life
We had our flight from Mumbai at 6.30am departing for Mauritius. However, before our flight the immigration was a big hassle. It was annoying spending 2 hours in the immigration line just to get towards the flight boarding area.
We arrived in Mauritius at 11am and the representative from Verma Travels was present to receive us. We changed our currency with the agency itself as they provided a better rate than the other shops. We reached the hotel,Silver Beach Resort at 2pm. It was a very scenic drive from the airport to the hotel in Flacq district, Mauritius. The rest of the day we decided to relax in the hotel as we were tired from the traveling. After a delicious complimentary dinner, we called it a night.
Day 2: North Island/Port Louis Tour
Suggested Read: Family First! A Special Bonding Experience With Family On A Trip To Mauritius
Our day started off with breakfast and then getting ready for the North Island Tour. We started off with visiting the Adelaide Fort. Around 11am, we began roaming around the city of Port Louis and exploring the central area by walking.
Soon after we stumbled upon the horse racing track in Port Louis. As it was the weekend, there was a race taking place on which many people were betting. We reached a local market where we did some souvenir shopping. As soon as the shopping was done, we had lunch in a lovely restaurant called Namaste India. It was almost time for our taxi back to the hotel. We were supposed reach back to the taxi by 3:30pm, which was shared by a few others.
After shopping on the second day itself, I realised that it would have been better that we had shifted North Island tour on the final day. We almost finished our Mauritian currency and had to go for converting money again. We reached back to the hotel in evening where we had relaxed for the rest of evening and retired for the night.
Day 3: Adventure Sports
I was eagerly waiting for this day. Our dose of adventure on this trip was to be fulfilled now. Woke up in the morning to a healthy breakfast. Afterwards, we were taken for parasailing and the under-sea walk.
While planning this vacation, we felt the need to do something adventurous while on this romantic trip to Mauritius. I had prebooked parasailing and undersea walking for the both of us through Verma Travels,. The experience that followed was beyond words. The thrill junkie inside of us certainly came out roaring. A big advantage while doing undersea walking was that we could wear our specs.
The view that I got of the beach, water and the small hills while parasailing was simply unbeatable. This adventure sport is definitely one of the best I've ever done. After the tremendously enjoyable experience of parasailing and undersea walk, we were taken to Ile Aux Cerf– the party island of Mauritius. By far, the most happening and the most scenic views for a beach area was reserved for Ile Aux Cerf.
The three hours spent at this island went and came by before we even knew it. Looking back at this trip, I would've loved to stay for a day or more at Ile Aux Cerf. We departed the island via speedboat to the main island. Another adventurous part of the day was the speed boat ride. With the boat hitting speeds up to 100km/hr, people who sit in front of the driver get a very bumpy and adventurous ride.
We reached the hotel exhausted from the eventful day we had proceeded for a good night's sleep.
Day 4: Leisure/ Departure Day
Suggested Read: 18 Best Beaches In Mauritius For Your Next Reviving Holiday
We decided to vacate our hotel early in the morning after breakfast as it was our last day in Mauritius. However, our flight wasn't until 9pm which gave a solid window of 12 hours to travel a little more. As our itinerary with TravelTriangle was done, we decided to visit South Island by ourselves during the day.
We saw some absolutely spectacular place in South Island, out of the places we visited my favorites were the Black Chamarel waterfall and the Colored Earths. The Colored Earths is a colorful rock formation in the south of Mauritius formed due to volcanic activities hundreds and thousands of years ago. I felt glad after deciding to spend a little extra to visit this beautiful part of Mauritius that we otherwise would have skipped.
As the sun set, so came our time of departure from this lovely island. The wait to explore and visit this island was surely worth it. This vacation gave my wife and I a new perspective towards travel. I was grateful that I got a chance visit this serene place along with my wife. We took a taxi to the airport, proceeded towards the flight and said goodbye to Mauritius in a hope that we'll get a chance to see this place again.
High Points:
Parasailing and Undersea walk was the best part of our trip

South Island Tour is one that should not be missed.
Low Points:
Didn't spend more time at Ile Aux Cerfs.

The Mumbai immigration procedure was slow and annoying.



Tips for Travelers:
Be prepared for huge lines for immigration

Water inside the hotels is very expensive. Buy it from outside.
Discover nature, wildlife, and marine life with a trip to Mauritius.  Have the best time with your family in this nature's paradise. Book your Mauritius Package now!