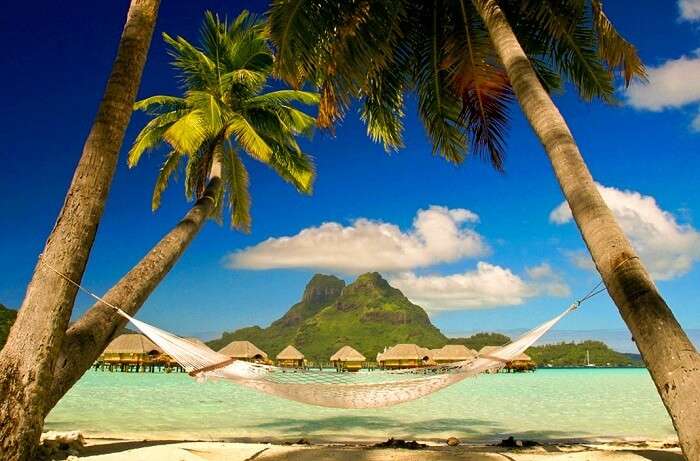 The island nation in the Indian Ocean, Mauritius is known for its vibrant culture and ethnicity. Mauritius' beaches have great reputation all over the world for their surreal beauty and natural landscapes.
Mauritius boasts of thriving tourism, owing all to its tropical climate, fantastic beaches and blossoming flora fauna. The sparkling beaches offer a plethora of water activities and tranquil surroundings perfect to bask in the lap of nature. Scroll down to know more about these stunning best beaches in Mauritius!
16 Best Beaches In Mauritius
Follow our concise guide to 16 best beaches in Mauritius that are simply mind-blowing. With each offering something unique, choosing which one to visit first shouldn't be that tough.
Tamarin Beach
La Cuvette Beach Grand Bay
Flic En Flac Beach
Mont Choisy Beach
Poste Lafayette Beach
Grand Bay Public Beach
Blue Bay Beach
Gris Gris Beach
Riviere Des Galets Beach
St Felix Beach
Île Aux Cerfs
Mont Choisy Beach
Trou Aux Biches
Pereybere Beach
Belle Mare Beach
La Cambuse Beach
1. Tamarin Beach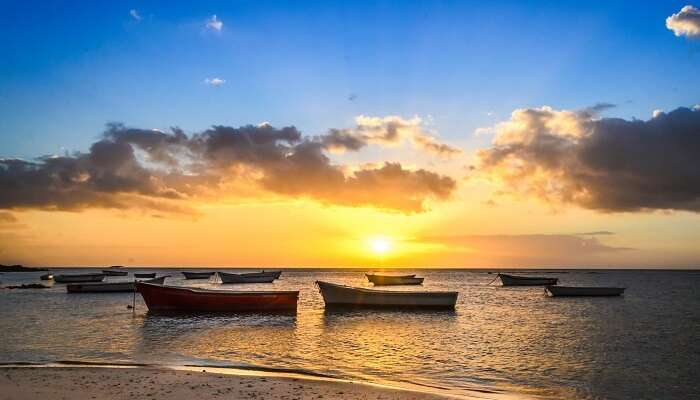 Tamarin Beach is in the Tamarin Village of Mauritius, a beautiful village that's surrounded by hills near Black River on the west coast. It is said to be the best beach in Mauritius for its popularity among the locals and tourists. Once known as Santosha Bay, Tamarin Beach in the present times is also called the 'Surfer Beach'. It offers the perfect waves for surfing and sea-bathing. Its black sand and powerful current make it a super fun beach for sea lovers. There are two amazing surfing spots, Dal and Black Stone, that instantly catch the attention of keen surfers.
Also, there are chances to meet lovely dolphins near this amazingly beautiful beach with glittering turquoise water and serene beauty all around. The sunsets here are stunningly pleasing.
Famous for: Surfing, without a doubt. Another specialty of Tamarin Beach is that it's not much commercialized. Hence, it has its natural, picturesque beauty intact and unspoilt. Tamarin is truly a perfect place for those who love to be close to nature.
Key attractions: The Tamarina Golf Club & Spa near the beach is a huge attraction. It is a perfect place to stay and enjoy the beauty of Tamarin beach and indulge in the fun.
Explore Romantic Mauritius Honeymoon Packages from India
---
Mauritius Holiday Packages On TravelTriangle
Take a break with an exotic holiday in Mauritius. Experience the best of Mauritius with North and South island tours: Inclusive of Hotels, Sightseeing, Transfers, & Meals. Best Prices Guaranteed. Customizable Package & Free Guidance From Destination Experts.
---
2. La Cuvette Beach Grand Bay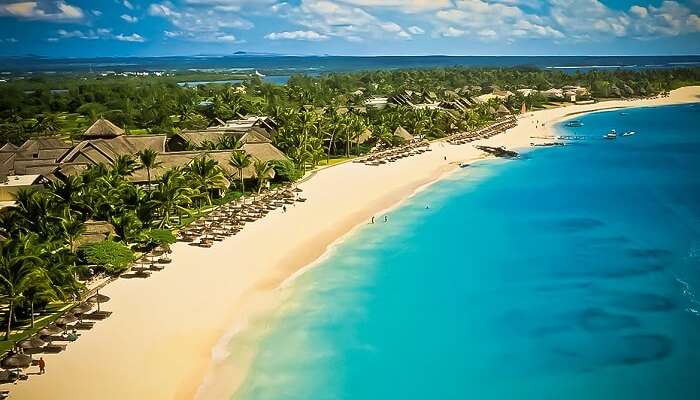 Situated near the town of Grand Bay in the northwest of Mauritius, La Cuvette Beach is a small beach as compared to the other beaches in Mauritius, but an extremely beautiful one, nevertheless. It is haven for those who love tranquil places minus all the hoopla related to heavy crowds. The azure, crystal clear waters coupled with the dazzling sand and boulders, and attractive cliffs, make for a perfect place for solitude seeking nature lovers. So, this is one of the quite beaches in Mauritius you must visit!
Famous for: Tranquility. A visit to this beach promises a refreshing pleasure of being surrounded in the peace, serenity and beauty. It is also known for its perfect currents to indulge in sailing and yachting.
Key attraction/s: The luxurious Royal Palm Beach Resort nearby is a great crowd puller.
Suggested Read: Mauritius Snorkeling: 5 Spots For Snorkeling In This Scenic Island Nation In 2018
3. Flic En Flac Beach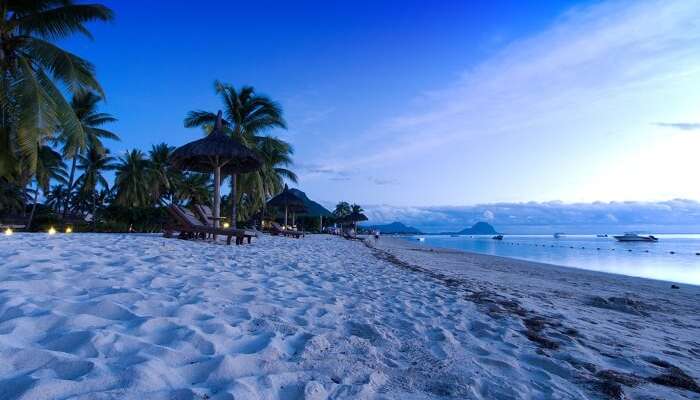 Situated in the western part of Mauritius, in the Rivière Noire district, this amazingly beautiful and charming beach has the credit of being one of the longest and most popular Mauritian beaches. In proximity to another famous beach, Tamarin, Flic en Flac Beach has a lovely lagoon accompanied by beautiful coral reefs and offers an extremely awe-inspiring view, especially at sunsets. Flic en Flac is one of the best beaches in Mauritius for swimming or snorkeling or just sit by the peaceful shore.
Famous for: You just can't miss snorkeling here. The captivating coral reef is a palette of colors.
Key attractions: Swimming and snorkeling at one of the longest Mauritian beaches. Also, the luxury resorts around ensure a vacation well-spent.
Suggested Read: 9 Most Romantic Mauritius Honeymoon Beach Resorts
4. Mont Choisy Beach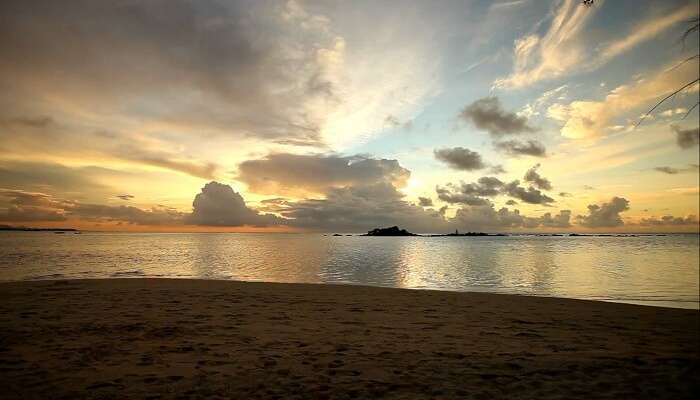 Located in the north of the country, Mont Choisy Beach is one of the most stunning beaches in Mauritius, in addition to its being the longest. Its proximity to the airport makes it a popular transit stoppage. The longest of all other best beaches in Mauritius glitters with sparkling blue water, attractive corals and the lively marine world. The gorgeous shore is perfect to sit by and unwind while watching the charming nuances of the world. The curve-shaped bay is dotted with beautiful Casuarina trees that add to the glory and serenity of the beach.
Famous for: Water sports activities like windsurfing, skiing, deep sea diving, fishing, speed boating is great fun here. Have fun playing volleyball or football on this wide, amazingly attractive beach.
Key attractions: It is the longest beach in the country with a variety of super fun water sports. Also, Mont Choisy Beach is a popular spot among nature enthusiasts and photography lovers.
Suggested Read: Paragliding in Mauritius: An Exhilarating Activity To Experience A Dash Of Adventure In 2018
5. Poste Lafayette Beach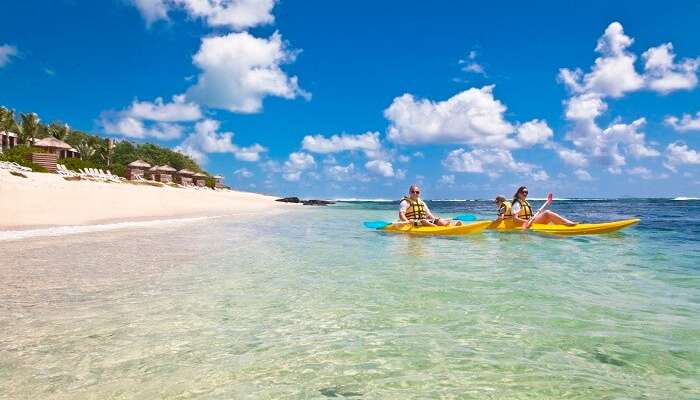 Poste Lafayette Beach is located in Roches Noires Village on the east coast of the island. The beauty of its peaceful little coves, lovely coastline and beautiful kilometer-long lagoon are enhanced with shiny blue waters and lush greenery. The allure of the beach is breath-taking, calming and refreshing, creating a perfect ambiance away from the hustle-bustle of city life. The soothing sounds of the mighty waves under the vast, majestic sky make it an experience you must have at least once in your lifetime. Plus, the restaurants and luxury hotels nearby make your visit comfortable and fun.
Famous for: Its spectacular beauty. Remember to take a silent walk along the beach, click snapshots of its glory and indulge in the fun water sports like kayaking.
Key attractions: The beach offers ample opportunities to dive, surf, snorkel, kayak, swim, and play around. No matter what you do, the enchanting beauty and right company can make your day.
Suggested Read: 10 Best Mauritius Cottages For An Entrancing Stay Experience!
6. Grand Bay Public Beach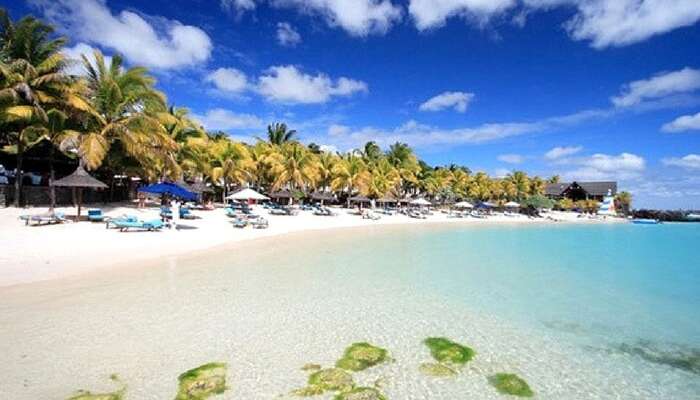 Located in Rivière du Rempart District, Grand Bay Public Beach is right along the liveliness of Grand Bay Coastal Village. Its ethereal beauty makes it one of the best beaches in Mauritius. A spectacular tourist spot with ample opportunities for boating and catamaran activities, this fantastic beach is accessible by water from anywhere in Grand Bay. You should not miss it if you love splendid beaches, bustling water sports enthusiasts. Its gorgeous blue waters, wide lagoon, sparking sand along with nearby eateries and restaurants see many tourists and natives mingling around.
Famous for: Yachting and sailing in the lagoon area
Key attractions: Bountiful fishing opportunities available here are one catch. Also, its catamaran facilities and yacht docks attract adventurous people.
Suggested Read: 10 Reasons To Visit Mauritius That Will Convince You To Book Your Tickets Right Away!
7. Blue Bay Beach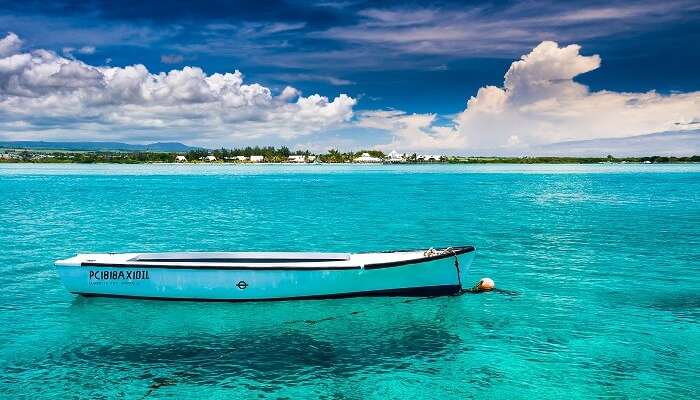 Simply pure and pristine! Located in the Grand Port district in the eastern part of Mauritius, Blue Bay Beach is an amazing spot for sea-bathing and swimming. Surrounded by Filao trees in a semi-circle, the beach has deep, azure waters, sparkling sandy shores and lively and vibrant people. There are plethora of activities like like swimming, diving, snorkeling, rowing, and fishing if you are looking at some fun and adventure. The marvelous turquoise water accompanied by the luxuriant greenery around make for a spectacular view.
Famous for: Water activities and sports – yachting and windsurfing to be precise. Also known to be a perfect destination for honeymoon and family trips, Blue Bay Beach offers many couple-y experiences like banana ride, water scooters, parasailing and such.
Key attraction/s: A peek into world's one of the biggest marine park, The Blue Bay Marine Park, certainly comes as a perk.
Suggested Read: 12 Exciting Water Sports To Try In Mauritius For An Out-of-the-world Experience
8. Gris Gris Beach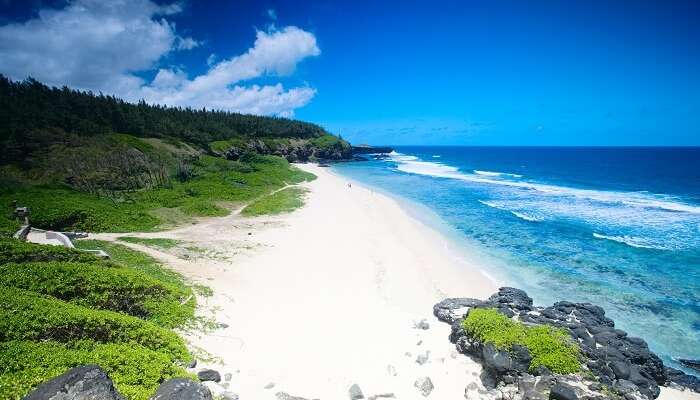 Gris Gris Beach offers the pleasure of magnificent beauty of its blue waters, spread far and wide. Located near the Souillac village in the southern part of Mauritius, the beach is known for its majestic rock formations and amazing greenery. It is an ideal tourist spot just for the reason that it brings you close to nature. A simple walk by the shores fills you up with immense tranquility, joy, and positive energy.
Famous for: Rock formations around the beach. Also, the hypnotizing sound of the powerful waves crashing against the sturdy cliffs is like a melody is being played by God.
Key attraction/s: The cliff-diving is a popular and major crowd puller here. Various cliffs of contrasting altitudes have emerged as camping spots, quite popular among youngsters.
Suggested Read: Mauritius Snorkeling: 5 Spots For Snorkeling In This Scenic Island Nation In 2019
9. Riviere Des Galets Beach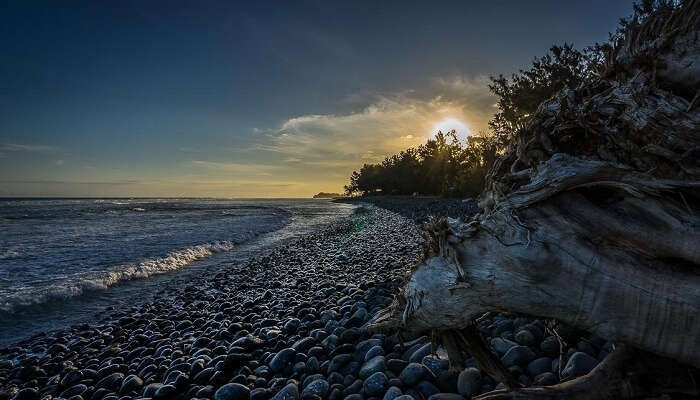 Riviere des Galets Beach is located between Souillac and Bel Ombre. A Mauritian beach with rusty, otherworldly beauty is one of the most marvelous and breathtakingly beautiful beaches in Mauritius. The presence of countless pebbles and shiny boulders along this lovely beachline are truly and art of marvel. Its turquoise water dazzles you along with its vast lagoon and dark sand. The beauty of this spot is truly majestic – its a perfect place it is to calm your soul and energize your mind.
Famous for: The beauty – boulders and pebbles at the beach, especially at sunset with leave you awestruck. Boating and diving here are special treats, but indulge only if you have some prior experience.
Key attractions: It is famous with couples and photographers both for obvious reasons.
Suggested Read: La Cambuse Beach: An Ultimate Guide To Know All About This Hidden Gem In Mauritius
10. St Felix Beach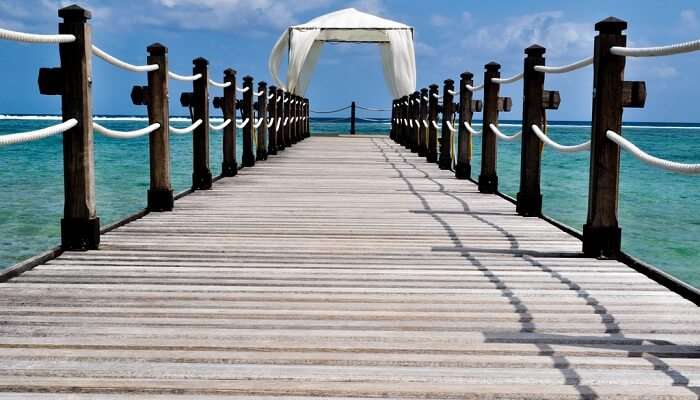 St Felix Beach is also known as 'Chemin Grenier Beach'. It is divided into two parts, with its eastern part being more famous with tourists than the western part. One of the best beaches in Mauritius, perfect for beach wedding, it offers a great delight to its visitors with the charming sites comprising azure waters and beautiful lagoons filled with wonderful coral reefs. The wooden pier, right on the beach, makes for an enchanting sight.
Famous for: Its enchanting expanse. Just gazing at its mind-blowing beauty and feeling the vibrant waves rise up to your feet is an enriching experience. As you sit by the shore or walk along the beachline, the tantalizing beauty of the beach will take you for a spin.
Key attractions: Various food vendors and beach shacks along the shore offer scrumptious delicacies like Dholl Pori, Calamari Creme, Fish Capitaine, Mazavaroo, and Fish Vindaye.
Suggested Read: Rodrigues Island: A Guide To A Hidden Paradise Off The Coast Of Mauritius
11. Île Aux Cerfs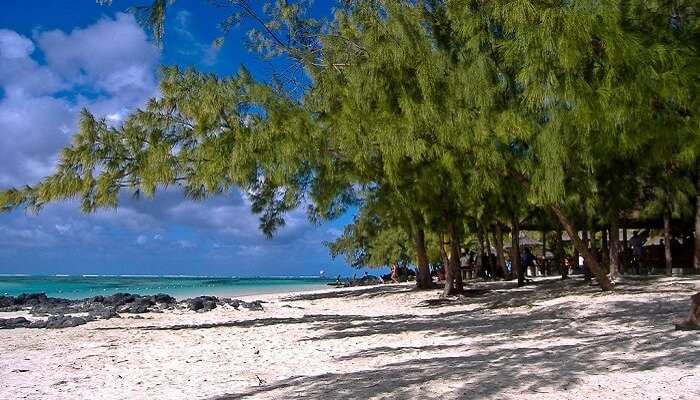 If you're in mood for some quiet time and wish to get away from the crowd in the much popular land of Mauritius, this is surely the beach to be at! Wirth exploring at least once, the Île aux Cerfs beach is covered with golden white sand and even has plenty to do around. You can choose between taking a catamaran cruises or simply fly high in the sky with parasailing. It is totally your call. This place is best for couples for some relaxing time near the beach and what's more is that it comes with it's own set of fun things to do!
Key attractions: banana boat rides, speed boats, pirate boat, catamaran cruises, and parasailing.
Suggested Read: 11 Festivals In Mauritius To Experience Its Vibrant Culture And Heritage In 2020!
12. Mont Choisy Beach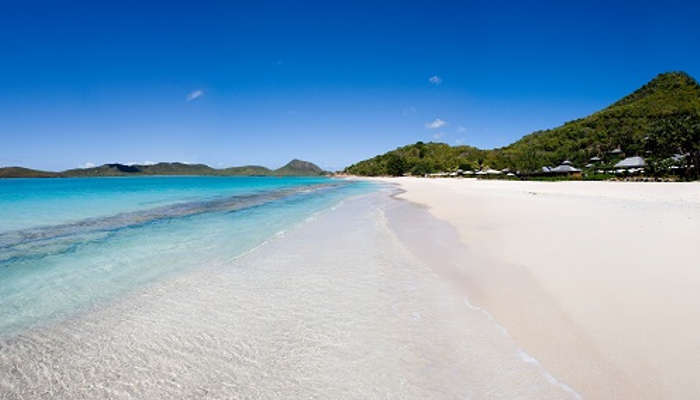 Mont Choisy beach is one of the good beaches in Mauritius. The beach is visited by Mauritians on weekends with their families and friends, while on the weekdays it remains quiet and tranquil. So, plan your visit accordingly. The beach is good for activities like aerobics, waterskiing. There is also a football field where you can spend time.
13. Trou Aux Biches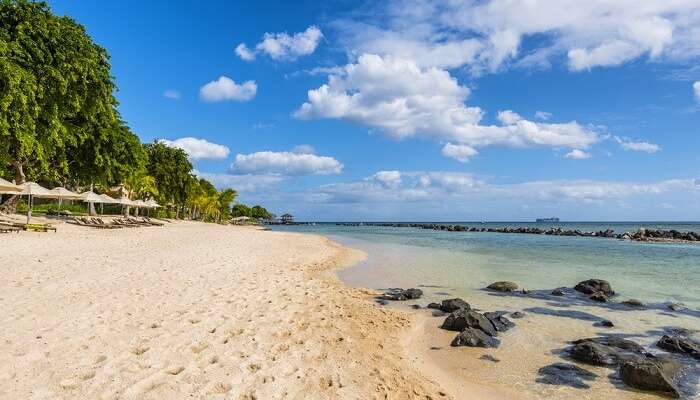 Witness the white sand and crystal clear blue waters of the Trou Aux Biches that will charm you and captivate your soul with its picturesque beauty. It is one of the most stunning beaches of Mauritius that has stunning resorts for you to find respite in and take shelter while you enjoy the beauty of this beach.
Famous for: Crystal Clear Blue waters & Stunning Resorts
14. Pereybere Beach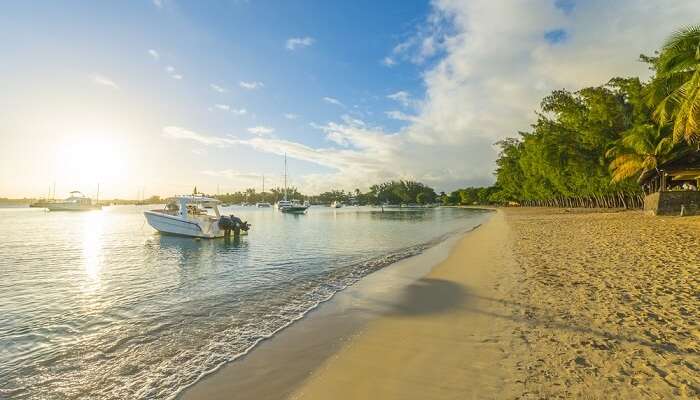 Always been a popular spot for tourists, this beach is ideal for locals and travellers who come to find respite here in the blue waters and dipping their toes in white sand.
Famous for: Snorkelling, fast food stalls
15. Belle Mare Beach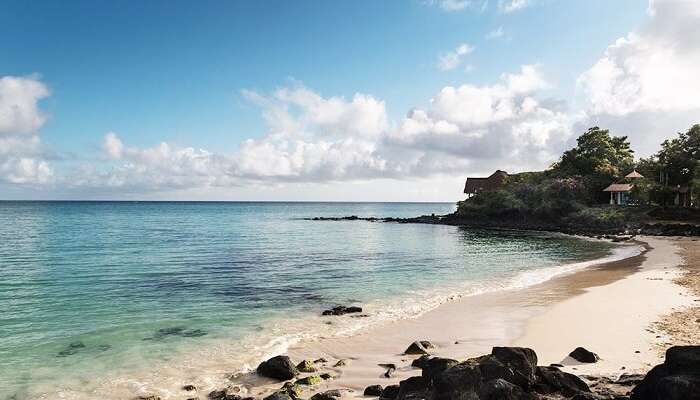 If you're looking for excitement then this beach is your go-to spot as it lies in close proximity to one of the major town of Mahebourg.
Famous for: Golf Course
16. La Cambuse Beach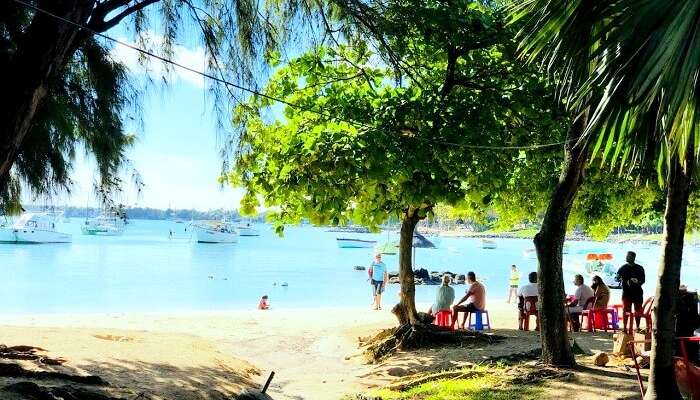 Surrounded by a lush topography of trees and muddy lanes, this beach is ideal for some relaxation and unwind with your loved ones.
Famous for: Picnic spots, camping, swimming
Further Read: 20 Best Places To Visit In Mauritius
We have given you quite a good list of Mauritius beaches. Which one of these is your dream beach in Mauritius? If you're still not sure, pack your bags and plan a trip to Mauritius and explore this stunning land of mesmerising beaches and calming waves with your loved ones!
Beaches In Port Louis Beaches In Grand Baie Beaches In Balaclava Mauritius
---
Looking To Book An International Holiday?
Book memorable holidays on TravelTriangle with 650+ verified travel agents for 65+ domestic and international destinations.
---
Comments
comments