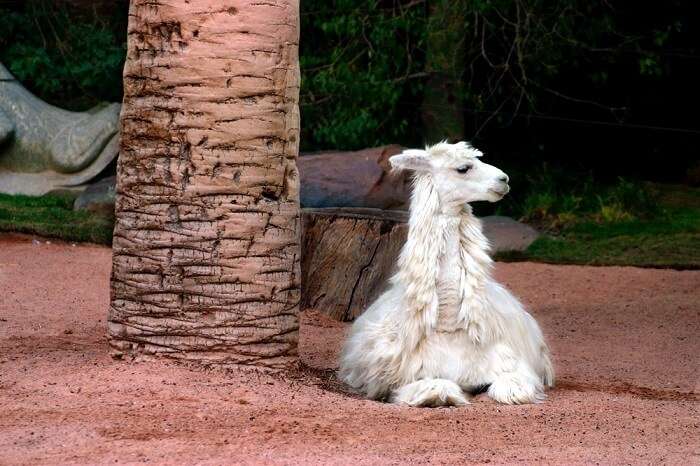 Las Vegas is a resort city famous for its vibrant nightlife, casinos and many other entertainment options. When it comes to Las Vegas, a lot of people don't think of wildlife. But, hundreds of species like horses, foxes, bats, tortoises, owls, sheep, and reptiles make it their home. There are zoos and artificial habitats that work as rescues and rehabilitation centers for these animals. If you are a wildlife enthusiast, you must visit the wildlife sanctuaries and the best zoos in Las Vegas. You will spend an amazing time with hundreds of species of animals. The greatest secret of the city is the amazing experience that it offers for getting close to the lions. So, if you are thinking of real wildlife experience, Las Vegas is just the place to visit.
So, here's a list of the best zoos in Las Vegas, some aquariums, and other conservation homes that are the most famous in the city.
7 Top Zoos In Las Vegas
Take a look at these 7 best zoos in the city that offer everything from thrill to bliss. Not just your kid, but also you will have the best time of your life on your visit to these incredible sites in Vegas.
1. Flamingo Wildlife Habitat
It is one of the most dearly loved attractions being the only one of its kind. Spread over an area of approximately 15 acres. The habitat is home to many pink flamingos, exotic birds, and more. Here you can get up close and personal with them It is open to the public on a daily basis, and it is free of cost. So, if you plan to visit Las Vegas, you should visit the Flamingo wildlife habitat.
Location: 3555 S Las Vegas Blvd, Las Vegas, NV 89109, USA
Timings: 8:00 AM – 12:00 AM (Daily)
Entry Fee: – Free
Must Read: Places To Visit In Las Vegas: 10 Places That Will Change Your Opinion About The Sin City
2. Silverton Aquarium
Image Source
Situated within the Silverton Hotel, it is a 117,000-gallon aquarium. It is the home for more than 5000 exotic fish from around the world. The aquarium features more than 160 species of fish. Forget all your worries just by watching these peaceful creatures in the colorful aquariums of Silverton. You will lose track of time watching these exotic sea creatures. The aquarium is open for 24 hours daily and free of cost. You can also learn about these creatures as there is an instructor to answer the questions of the audiences.
Location: 3333 Blue Diamond Rd, Las Vegas, NV 89139, USA
Timings: 24 hours (Daily)
Entry Fee: Free
3. Sea Quest Las Vegas
Image Source
It is located at the Boulevard Mall. It takes you on adventurous activities through the deserts, rainforest and the depth of the seas from children of all ages and families. It allows you to interact with hundreds of animals. You can feed the animals and take selfies with them. You can find 300 different species of animals. It is home to approximately 1200 animals. There are snakes, lizards, birds, sharks, turtles and stingrays among many other.
Location: 3528 S Maryland Pkwy, Las Vegas, NV 89169, USA
Timings: 11:00 AM – 8:00 PM (Daily)
Entry Fee: $9.95 (ages 2-11) $14.95 (ages 12+) an $12.95 (ages 55+ and military)
Suggested Read: 8 Best Villas In Las Vegas For A Luxurious Stay In This Bling City
4. Siegfried & Roy's Secret Garden and Dolphin Habitat
Image Source
It is a great place to watch some of the nature's most exotic creatures. You can learn and explore the enchanting world of dolphins, leopards, white tigers, white lions, etc. It is home to some of the most beautiful animals in the world. It attracts numerous visitors from all around the world. This place offers a comfortable environment to the animals. You can have a really good time watching the dolphins play. Many new things can be learned and explored about these animals. The entry fee is around USD 22.6.
Location: The Mirage, 3400 S Las Vegas Blvd, Las Vegas, NV 89109, USA
Timings: 10:00 AM – 5:00 PM (Daily)
Entry Fee: $22 for adults, $17 for children (ages 4-12) and free for children under 3
Suggested Read: 10 Dazzling Beaches In Las Vegas That Beach Bums Wouldn't Want To Leave
5. Mandalay Bay Aquarium
Image Source
It is a public aquarium located right inside the Mandalay Bay Resort and Casino in Las Vegas, Nevada. It is one of the largest aquariums in North America. Its main tank contains 1,300,000 US gallons. The floor space is 95,000 sq ft. It is huge. There are diverse species of fish you can watch and learn about. It has around 2000 aquatic animals which include jellyfish, piranha, the sawfish, endangered green sea turtle and many more.
Location: 3950 S Las Vegas Blvd, Las Vegas, NV 89119, USA
Timings: 10:00 AM – 10:00 PM (Daily)
Entry Fee: $22 for adults, and $17 for children
Suggested Read: Shopping In Las Vegas: 10 Best Places To Shop Like Never Before
6. Shark Reef
Image Source
The Shark Reef aquarium is situated at the Mandalay Bay Resort. It was built at the cost of $40 million. The 1,300,000 US gallon tank is the third largest in North America. It is home to many endangered creatures like the green sea turtle, green sawfish, Blacktip Reef sharks, etc. It has around 2000 animals with over 100 of species.
Location: 3950 S Las Vegas Blvd, Las Vegas, NV 89119, USA
Timings: 10:00 AM – 10:00 PM (Daily)
Entry Fee: – $25 for adults, $23 for seniors, $19 for kids, and free for kids under 3 years
Suggested Read: Las Vegas In December: A Guide For Planning A Kick-Ass Vacay In The Most Famous Party Capital
7. Gilcrease Nature Sanctuary
Image Source
It was established in the year 1970. For its survival, the sanctuary depends upon the help and support of the general public. From domestic to exotic, this sanctuary takes care of all the animals. It provides a healthy living environment for the animals and also provides opportunities for people to learn about these species. There are large numbers of animals like parrots, peacocks, ducks, ostriches, swans, crocodiles and many others.
Location: 8103 Rachel St, Las Vegas, NV 89131, USA
Timings: 9:00 AM – 4:00 PM (Daily)
Entry Fee: – $5 for adults and $1 for children
Suggested Read: 10 Most Famous Restaurants In Las Vegas You Must Drop By
The zoos in Las Vegas connects you to nature and provides a great wildlife experience. The wildlife habitats and sanctuaries provide the best learning experience about this variety of species. It educates us about these wildlife creatures by getting up close and personal with the animals. It also offers us to feed these unique animals and play with them. The wildlife of Las Vegas is something to look out for. So, if you are planning a trip to USA with TravelTriangle, don't forget to visit the places mentioned above to enjoy and fully experience the true essence of its nature and wildlife. Las Vegas is an amazing place to experience nature and it will never fail to surprise you with its unique & attractive wildlife.
Frequently Asked Questions About Zoos In Las Vegas
What is the Flamingo Park in Las Vegas?
This is one of its kind park, which is spread across 15 acres in Las Vegas Boulevard. It is open every morning for the public and is free of cost to visit this park. It's a gem in the kind of zoo available in Las Vegas.
What other activities are available at the zoo in Las Vegas?
Other than strolling through the zoo, you can also take part in various educational programs run by the zoo. Apart from that, you could take day trips from Las Vegas to make your trip even more exciting.
What is the best time to visit a zoo in Las Vegas?
The best time to visit the zoo can be during a pleasant spring morning. Mostly the zoo operates from 9:00 am to 5:00 pm. Also, it's the time when you can site most animals active due to pleasant weather.
What kind of travelers can go to the zoo?
It is for everyone, especially kids who love it. However, this could be an informative journey as well for anyone. It is good for solo travelers as you don't feel alone as you have the company of these zoo animals, then even families and couples come to the zoo to spend their time.
What is the cost of visiting these zoos?
Well, mostly its either free or a very nominal charge, but you can also opt to support the zoo animals by donating.
Should we take a safari to the zoo?
It could be an experience of its own. Sometimes, you even get to ride elephants to stroll across this zoo.
Can special arrangements make on special occasions to be celebrated at the zoo?
Well, for this you need to take permission from zoo admin. Mostly it should be possible.
---
Looking To Book A Holiday Package?
Book memorable holidays on TravelTriangle with 650+ verified travel agents for 65+ domestic and international destinations.
---