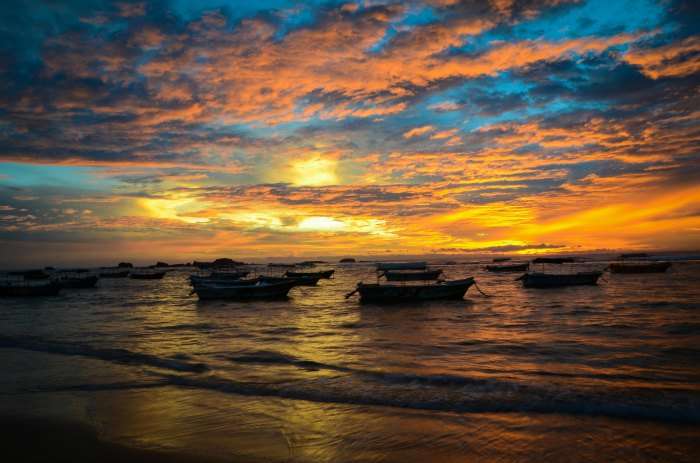 Did you know this year is full long extended long weekends? How many of these vacation breaks do you actually plan to use? May be you could use the paid time off to hang out with your loved ones in Sri Lanka.
For such a small island country, Sri Lanka has much to offer. Whether you go for its unrivaled wildlife tourism, from watching sea turtles nest to exploring the eight UNESCO sites; relax on the pristine sandy beaches stretching along the 1,300 Km coastline, or surf along the waves of the Indian Ocean.
For those who wonder what the small island country has to offer, scroll down these spectacular photographs to explore the exquisiteness of the hidden gem- Sri Lanka.
1. Sri Lankan Leopards

Image Source
Sri Lanka has been identified as one of 25 biodiversity hotspots in the world. With the favorable topographic and climatic conditions, 16% mammal species are endemic to Sri Lanka. Spot the Sri Lankan Leopards at the Yala national park which has the highest leopard concentration in the world.
2. Discover your own Beach

Image Source
Beaches, sand and sunshine make a perfect destination to relax by the azure waters of the sea. The vast expanse of Sri Lankan coastline offers a myriad of beaches -Bentota, Tangalle, Trincomalee, Hikkaduwa and many more to explore. The beaches are fairly clean and infinitely less crowded.
3. Food Paradises of Sri Lanka

Image Source
Think of food, think of fresh fish, delectable curries, coconut delicacies and barbecue. With Sri Lanka being very close to the southern India, there is a strong South Indian culinary influence in the delicacies of Sri Lanka.
MUST READ:
Top 15 Food Paradises of Sri Lanka To Visit On Your Next Trip In 2022!
4. Sigiriya Rock Fortress

Image Source
One of the eight heritage sites in Sri Lanka, Sigiriya is a major tourist attraction. The iconic rock fortress is known for its marvellous architecture – the lion head, paws and renowned as an important urban city planning sites of the first millennium.
MUST READ:
10 Reasons Why Sri Lanka Should be Your Next Holiday Destination
5. Nuwara Eliya

Image Source
The 'Little England' or Nuwara Eliya is a picturesque city located in the heart of Sri Lanka. Home to the famous Ceylon tea, the rolling mountains are carpeted with velvety green plantations.
6. Stilt Fishing

Image Source
The traditional stilt fishing requires the fisherman to balance on the stilts 2 meters above the sea and is practiced by about 500 fishing families in Galle. The concept behind such a mind boggling technique is to not disturb the fishes due to which they stay on the banks for a longer time.
7. Yellow-eared Bulbul

Image Source
Horton Plains National Park is one of the many protected areas in the country. Witness the species like Purple Faced Langur, Dull Blue Flycatcher, Sri Lanka White Eye, Yellow-eared bulbul and more that are endemic to Sri lanka.
8. Adam's Peak

Image Source
According to Islam it is believed that Adam fell to earth and this is where his footprint can be found. Also known as Sri Pada i.e sacred footprint, the districts to south and east of Adam's peak yields precious stones such as emerald, rubies and sapphires.
9. Udawalawe National Park

Image Source
Sri Lanka often praised as one of the best safari destinations outside Africa. For an authentic elephant safari experience head to Udawalawe National Park. Not only will you witness the largest land mammal and the baby elephants play-hitting in the wild, you can also be a spectator to endemic birds and other species.
MUST READ:
18 Amazing And Most-Visited Sri Lanka Tourist Places For Your 2022 Trip
10. Turtle Nesting Sites in Tangalle

Image Source
195 Kms from Colombo lies the city of Tangalle, touted as Sri Lanka's answer to paradise. Tangalle is a home to idyllic beachfront resorts perfect for a family vacation. With sandy beaches to rocky cave beaches, myriad turtle nesting sites and a 2000 year old rock monastery, Tangalle sure is a must visit when in Sri Lanka.
MUST READ:
3 Romantic Beach Resorts in Sri Lanka to Melt Your Hearts Away
11. Surf at Arugam Bay

If you're an adventure freak then off the many things to do in Sri Lanka, you must try surfing along the azure waters of the Indian Ocea. The south and southeast coast of Sri Lanka is bordered by vast expanses of ocean creating consistent swells. There are various schools at Arugam Bay to help you if you're a beginner.
12. Galle

Image Source
The fourth largest city in Sri Lanka, Galle is situated on the southwestern tip of Sri Lanka. The ancient city has been an entrepot since 1400 BC. Visit the magnificent Galle fort, Dutch Reformed Church, All Saints Church and Meera Mosque.
13. Yapahuwa Rock Fortress

Image Source
Built on a huge 90 meter rock, Yapahuwa has served as the capital of Sri lanka. Yapahuwa was a military stronghold against invaders. The ornamental stairway, remains of stupa, a Bodhi tree enclosure, caves scribbled with Brahmi script and Buddha images, Yapahuwa takes you back in time.
14. Mirissa Beach

Image Source
The largest fishing port in south of Sri Lanka, Mirissa beach is a popular hangout location for tourists. Go whale watching and spot dolphins play in the water. Mirissa is a perfect destination to try fresh fishes like tuna, mullet, snapper and butterfish.
15. Temple of Tooth Kandy

Image Source
Sri Dalada Maligawa is located in the royal palace complex of the former Kingdom of Kandy, which houses the relic of the tooth of Buddha. Every Wednesday the ritual of bathing the relic with an herbal preparation called Nanumara Mangallaya (made from scented water and fragrant flowers) takes place.
16. Polonnaruwa

Image Source
Sri Lanka's splendid medieval capital, the Ancient City of Polonnaruwa has been declared as a World Heritage Site. National Museum in Colombo is home to many relics excavated from the site such at stone lion, the Hindu bronzes and more.
17. Kosgoda Turtle Hatchery

Image Source
There are five varieties of Sea Turtles found in Sri Lanka, namely Olive Ridley Turtle, Loggerhead Turtle, Green Turtle,Hawksbill Turtle and Leatherhead Turtle. Sri lanka has various Turtle Conservation Projects active in the country protecting their nesting ecosystems. Kosgoda is one of them. Not only can you see the eggs, newly hatched turtles but you could also release them into the sea at night.
18. Nuwara Eliya to Ella Train Ride

Image Source
Hop on to one of Sri Lanka's breathtakingly scenic train routes Kandy – Nuwara Eliya – Ella. Sweep past the tea plantations, waterfalls and peaceful tiny train stations. Trains in Sri Lanka are not crowded and getting the tickets is easy. Planning for a train journey already? Read the additional info on Nerd Nomads helpful post on travelling via train in Sri Lanka.
19. Enjoy Sunset at Negombo Coast

Image Source
Negombo is a modest beach town on the west coast of the island. Head over to the pristine beaches, feel the aromatic air and soak in the picturesque sunset.
This is not it. There's so much more to this small island country. The warmth of the people, salubrious climate and exquisiteness will keep calling you back for more. Escape on any of the extended long weekends this year to the Wonder of Asia. Here's to restoring our work-life balance and planning one amazing trip at a time!
---
Looking To Book An International Holiday?
Book memorable holidays on TravelTriangle with 650+ verified travel agents for 65+ domestic and international destinations.
---