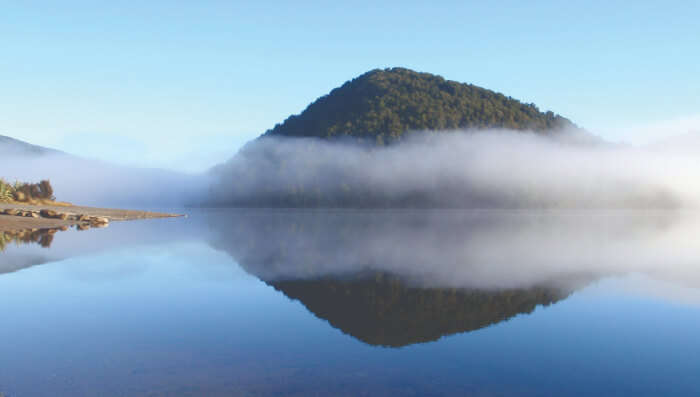 High Alps, sapphire lakes, lush wilderness… New Zealand has everything to make every nature lover's heart bloom. And to add to this scenery, it also has the largest collection of the most beautiful rivers in the world. Pure natural beauty at its best, these lakes are famous for their tranquil aura, and the mystique that draws everyone to the rippling waters.
From freezing waters to hot springs, muddy water to sparkling surfaces, each one of these lakes has only one thing in common, and that is unparalleled natural beauty. Spread all across the country and a number of national parks, these sites offer fun and adventurous Activities like swimming, fishing, skydiving, horseback riding, and even cruising!
Lakes In New Zealand
If you're a nature-lover or a peace-seeker, the gorgeous and serene lakes in New Zealand will leave your speechless. Do explore them on your trip to New Zealand.
1. Lake Wakatipu
One of the famous lakes in New Zealand, and the gem of Queenstown, Lake Wakatipu is a lake in the shape of a lightning bolt. Surrounded by majestic mountains, this lake is like a small paradise. There are many legends that surround this lake, the most amusing one being of a monster, Matau, who is in a deep slumber under the lake.
Activities: Cruising, trout fishing, swimming, photography, kayaking
2. Lake Wanaka
Lake Wanaka, NZ, is located at the foothills of the mesmerizing alps of South Island. Famous for its stunning natural beauty, and the range of Activities that it offers amidst nature, this lake is visited by people from all over the world. It is also quite close to the famous Mt. Aspiring National Park, and hence a base for adventure seekers.
Activities: Water sports, skiing, climbing, cycling, hiking
Must Read: 15 Waterfalls In New Zealand That'll Leave You Speechless
3. Lake Tekapo
Amongst all of the New Zealand lakes and rivers, Lake Tekapo is one for those interested in sightseeing. Apart from the unparalleled beauty of the second largest lake of New Zealand, there are many sites around it that are worth a visit. Lake Tekapo, New Zealand is one of the best attractions to visit for tourists. If you have heard of the UNESCO Dark Sky Reserve, you would know that this lake is a part of it, and that stargazing here it an ultimate experience!
Activities: Stargazing, sightseeing, skiing
4. Lake Pukaki
Giving views of Mount Cook, the tallest peak of New Zealand, Lake Pukaki is a popular destination for nature lovers. For those looking to experience the most beautiful New Zealand scenes, a visit here is a must! It would also be interesting to note that this location was featured in the famous Lord of the Rings movie series.
Activities: Stargazing, cycling, winter snow sports, hiking
Suggested Read: 6 Water Parks In New Zealand For An Exhilarating 2022 Retreat
5. Lake Hawea
Lake Hawea is a famous lake with a wonderful resort lakeside. One of the best places for water sports and other Activities, tourists swarm here every peak season to make the most of the waters and the views!
Activities: Water sports, skiing, swimming, boating, fishing, kite surfing, paragliding, wind surfing
6. Lake Matheson
Unlike the blue gorgeousness of the other lakes, Lake Matheson has dark brown waters that perfectly reflect the tall peaks of New Zealand on the best of days. A haven for a variety of water birds, it is a paradise for birdwatchers. If it is a clear day and you are nearby, make sure to visit the lake to gaze on the heavenly reflection of Mount Cook and Mount Tasman in the lake. In the darkness of the lake, you will also find long-finned native eels and other indigenous water birds.
Activities: Bird-watching, nature walks, photography
Suggested Read: 20 Best Beaches In New Zealand For A Lazy Romantic Holiday
7. The Emerald Lakes
Set onto the famous Tongariro Alpine Crossing, these emerald pools are a sight for sore eyes. The picturesque volcano offers stunning visuals that tourists and locals love to catch. Trekking is one of the most loved activities here. It is basically an explosion crater near the Mount Tongariro that has been filled with water. The sapphire color of the lake is due to the minerals dissolved in the water. It is one of the best lakes in New Zealand to visit on your trip.
Activities: Trekking, photography
8. Lake Taupo
Lake Taupo New Zealand is known for being the largest lake in the country that offers spectacular views of hovering mountains and the expanse of nature of the Tongariro Alpine Crossing. A popular spot for adventure seekers, a number of people come here for the thrilling Activities. Here is a fun fact: the size of the lake is as big as the country of Singapore. So, you can form the idea of its humongous beauty.
Activities: Geothermal hot pool, cruising, sky diving, bungee jumping, water sports, white water rafting, biking, hiking, trout fishing, skiing
Suggested Read: 6 New Zealand Resorts That Are Beyond Luxurious, Yet Light On Pocket!
9. Lake Mahinapua
Lake Mahinapua is a serene water body that is meant for quiet picnicking and one-day trips. The shallow waters make it perfect for children, as do the population of birds like swans, ducks, and parakeets. There is a West Coast Treetop Walkway just around the southern shore from where you get the bird's eye views of the lake. You can even take a swim in the warm waters of the lake. It is so soothing.
Activities: Camping, water sports, picnicking
10. Lake Ohau
Part of the Mackenzie Basin of South Island, Lake Ohau is a sparkling beauty. One of the glacial lakes in New Zealand, its ever-freezing waters have allured people to the spot for years now. With a few resorts and lodges here, it has become a popular spot for skiing. If you want to enjoy a high-country experience in New Zealand, this is where you should come. Its peaceful environment and bountiful of nature will win you over.
Activities: Skiing, hiking
Suggested Read: Nevis Catapult In New Zealand Turns You Into A Slingshot & Hurls You For The Craziest Jump Ever
11. Champagne Pool
In contrast to the freezing water of Lake Ohau, the Champagne Pool is a hot spring. Similar to champagne, the bubbling of this lake is beautiful to watch. With a history of 900 years, the sight of the silicate structures on the edge, the rich flora and fauna, as well as minerals makes this site very vibrant. Don't take the name literally and drink its water. It may seem bubbly but it is unfit for consumption and even for swimming. You may not even want to touch the water because it has toxic mineral deposits.
Activities: Sightseeing, picnicking
12. Lake Moke
A small lake perfect for some fun time with friends and family, Lake Moke is frequented by the locals during summertime. A number of recreational Activities are offered here for children as well as adults. Located near the suburb of Closeburn in Queenstown, it is one of the best places to venture into mountain biking. The lake is surrounded tussock-covered peaks of Ben Lomond, Ben More, and Mt Hanley and undulating beauty. On clear days, it becomes a heaven for the nature photographers.
Activities: Swimming, camping, horseback riding, boating
Suggested Read: 10 Churches in New Zealand That Are Absolutely Captivating Pieces Of Architecture
13. Lake Paringa
A tiny oasis as compared to the other lakes in New Zealand, the misty Lake Paringa is one of the best lakes in the country. There are lodges around for those who come here for a day trip. You will also find a lodge near the lake where you can crash a night or two. It is a great place for those who want to get away from everything and venture into the wild. There is even a boutique cafe to the north where you can enjoy delicious salmon dishes.
Activities: Fishing, hunting, camping
Suggested Read: Summer In Auckland: Your Personal Guide To Traverse Through This New Zealand City In 2022
14. Mirror Lakes
Still water surface on a perfect day, and the Earl Mountains reflecting in them… this beautiful sight has given these lakes the name. They are a set of lakes, or are there really? Visit the lake to shatter the illusion maybe. It is a great stopover on the way to Milford Sound and people come here to capture calm and peaceful moments.
Activities: Photography, nature walking
15. Lake Hauroko
Lake Hauroko is a nice, long 'S' shaped lake that is famous for being the deepest lake in New Zealand. Located in the valley of the Fiord-land National Park, it is one of the most glorious and also the deepest lakes in the country. It is also a playground for water activities and fishing. The enchanting scenery around the lake looks right out of a postcard.
Activities: Trekking, photography
Further Read: 10 Luxury Villas In New Zealand To Stay In 2022 That Showcase The Real Beauty!
Some other lakes that may interest you are Lake Quill, Lake Rotorua, Lake Te Anau, Lake Manapouri, and Lake Dunstan. A New Zealand trip gives you the opportunity to explore the beautiful country blessed with abundant natural beauty. There are many lakes here, each more special than the other! Plan a trip to any of these for some time amongst nature.
Frequently Asked Questions About Lakes In New Zealand
What are the most famous lakes located in New Zealand?
New Zealand is blessed to have some of the most beautiful lakes in the entire world. Some of the famous lakes located over there are Lake Wakatipu, Lake Wanaka, Lake Tekapo, Lake Pukaki, and many more.
What are some of the most beautiful lakes located in New Zealand?
Most of the lakes in New Zealand are mesmerizingly beautiful. Some of the famous lakes are Lake Hauroko, Lake Paringa, Lake Moke, Champagne Pool, and many more.
Which lake has the tallest peak in New Zealand?
Lake Pukaki is quite popular in New Zealand because the tallest peak in the country is located over there.
What are the everyday activities that tourists take part in New Zealand?
Many people prefer to take part in several activities in the lake in New Zealand. Some of them are kayaking, cycling, stargazing, hiking, and many more.
Which lake in New Zealand is entirely sapphire in color?
The Emerald lake is New Zealand is famous in the world due to its sapphire blue color. The reason behind this color is the intense concentration of minerals.
Which lake in New Zealand has a geothermal pool?
Lame Taupo in New Zealand has a geothermal hot pool, and the lake is humongous in size.
How many days are enough for exploring New Zealand?
You can explore the entirety of New Zealand within fourteen days. If you do not have much time, you can even cover the place within twelve days.
---
Looking To Book An International Honeymoon?
Book memorable honeymoon on TravelTriangle with 650+ verified travel agents for 65+ domestic and international destinations.
---